Chinese pharmacist Hong Liq created the first e-cigarette in 2004, wanting to help himself quit smoking. His father's addiction to nicotine had killed him, so he worked for a long time to find a harmless alternative. Little did he realise at the time that he was giving rise to an industry which would see the birth of a whole subculture of "vapers". Now vaping has become such a mass phenomenon that it is heard even in remote villages where men are still smoking "samokrutki" of tobacco in the garden. Entering the specialized shop can stand with a jaw drooping: the model "vape" and accessories for them so much that sometimes it's easier to choose a car or computer than an e-cigarette. To make your task a little easier, we've put together the 10 most popular e-cig models for a range of prices and features. There won't be any expensive devices here, but we've decided to leave out the disposable ones for a couple of hundred too. The ranking is up to date for 2019. 
10. Kanger Cubica ONE | от 2500 р

The first model on our list was released in 2014 and was widely regarded as one of the best of the year. It had almost no competitors in its price segment, which is why the Kanger Cubica ONE was most often recommended to newcomers. Advantages: Good, for its power, flavour transfer. No leakage. Battery capacity of 650 mAh with built-in short circuit and over-discharge protection. Charges to 100% in just 2 hours. Locking against accidental pressing. As you can see, there is nothing supernatural about it: it is an ordinary "EGO-bag" with improvements. Nevertheless, it perfectly suits people who do not want to buy "fancy" vaporizers. There are only 2 disadvantages: The original connector (a standard one would be more practical). It is a little bit overpriced. If this "electronic" released not Kanger, it would have cost 500 rubles cheaper.
9. Evod Mega 1900 mAh


This model was aimed at the most inveterate smokers, who had gone from a pack of regular cigarettes a day. Considering the price of one pack (unless it's a Belomor), buying an Evod Mega for 1,000 roubles turns out to be a much better deal, not to mention the health benefits. The device appeared on the Russian market in 2015, so it's not a novelty, but it's a time-tested and proven device. Advantages: One of the best cheap cigarettes for vaping at 1.5 ohms. Battery lasts for a day with active use. Tank holds 2.5 ml of liquid (equivalent to a packet of cigarettes). Vaporizer with 2 coils. Standard 510 connector allows you to put on the Evod Mega 1900 mAh any type of drip type (mouthpiece). Overall, the vape is not much inferior to the previously mentioned Kanger Cubica ONE, although it costs more than twice as cheap. It has no outright disadvantages, and I don't even want to pick on you and look for them at this price.
8. Joyetech eGo ONE Mega 2600 mAh from 4000 p
"The eGo One was positioned as the flagship eGo One, and the main focus was on the increased battery capacity. Indeed, 2600 mAh is solid, but the model has other advantages: You can vapour at 0.2 ohms resistance. Fully charged in 3.5 hours, and you can use the cigarette while charging. Tank of 4 ml with clear windows to check the level of liquid. Stainless steel case. The only thing that some people scolded the vape for is the tank leakage. However, this defect was not found at all, so you can attribute it to a defect in the first batches.
7. Joyetech eVic Supreme | from 1500 p 
Another 2014 "machine" that's been a real hit among vapers. It's not even a full-fledged e-cigarette, just a battery mod without a tank. The first thing you notice at once is the steel case and the weight of almost 200 grams. It is not comfortable for carrying in your pocket, but it is comfortable for backpack or home use. The pros: robust construction. Maximum power 30W. Detachable 510 mini-jack connector. OLED display with support for 16 levels of brightness. On the downside, there's no tank included: be prepared to splurge.
6. Kanger SUBOX MINI 50w | from 1500 p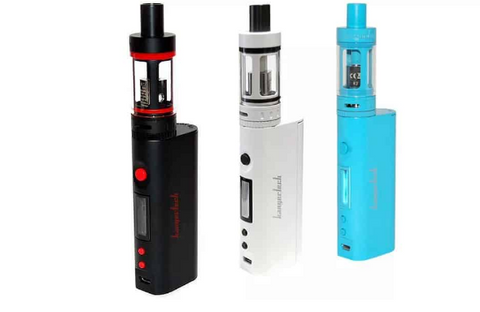 The Kanger Mini mod and Subtank Mini kit can be safely recommended to those who want a reliable, inexpensive and productive e-cigarette. One of the key advantages is the presence of a serviceable RBA base. Every beginner vaper sooner or later gets interested in winding coils, and here you can practice without paying too much. Also the device comes with a rich kit that even has a repair kit (spare screws, screwdriver, cotton, spirals).
5. iJust S Kit | from 1100 p 
0.15 ohms resistance support, 4 ml tank, charging up to 100% in 3 hours, top and bottom charging - the iJust S Kit has almost no competitors in its price range. The only drawback that may discourage a knowledgeable buyer is the non-serviceable atomizer (tank). Otherwise, the cigarette with 80 watts of power is excellent.
4. Eleaf iStick 100w TC | from 2500 p 
The Eleaf iStick TC boxmod has 100W of power, which is good enough for even the most experienced vaporizer, let alone a beginner. The most "smart" model in the series, it can run on 75W with one battery, turning into a 100W unit when a second one is connected. Advantages: Temperature control. Temperature coefficient of resistance for titanium and nickel wire can be set. You can use batteries from different manufacturers (a rather rare occurrence, especially among the inexpensive vape). The disadvantage of the model is similar to Joyetech eVic Supreme - no tank in the package. The spring-loaded 510 connector allows you to "screw" on any cigarette, but again, this is an additional cost.
3. Wismec Reuleaux RX200/RX200S/RX2/3 | from 1500 p 
We've purposely put the three Wismec models together, as they're almost equally priced. Externally, the RX2/3 features a slightly increased height and a revised design, and as for the hardware, the boxmod is now able to run on a different number of batteries. With one it will give 100 watts, with two it will give 150, and with three it will give 200. All that remains is to buy a tank (it's not included) and use at a suitable power. 
If it wasn't for the coating chipping and the need to buy 2 sets of the same batteries (charge memory wouldn't work correctly with different ones), the Wismec Reuleaux would be the unqualified sales leader. 
2. Joyetech eVic VTwo Mini Kit | от 2000 р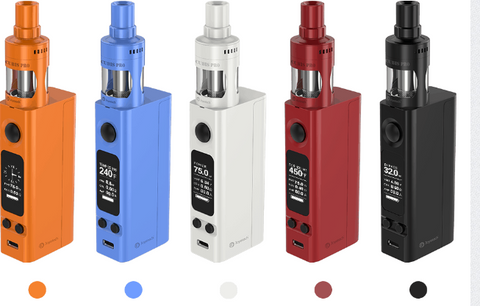 The Joyetech eVic VTwo Mini Kit was one of the best single battery boxmods in 2015 with good power (75W in 0.1W increments) and a special Start Mode for beginners. When you activate it, all unnecessary information is removed from the display and only the power bar remains. Temperature control, sabom vaping (at resistance less than 1 ohm), monolithic 4 ml liquid tank - the characteristics are really hard to find minuses.
1. Eleaf IStick Pico Kit | from 3500 p 
Compact (only 11.6 cm) and powerful (75 W), this device is better suited than many on our list for everyday use. It's easy to take with you on the road, as it won't get in the way in your pocket. Unfortunately, on many models the standard tank soon begins to leak, so be prepared to either buy another one (as the boxmod itself is not a complaint) or get used to the taste of liquid in your mouth.