Timeless was founded in 2013 with the goal of establishing a prominent lifestyle brand centered on cannabis products that prioritize effectiveness, safety, and discretion. Their dedication to research, development, and building a strong brand identity has positioned Timeless as a highly innovative and forward-thinking brand in the market.
Every element of the Timeless Vape encounter has been carefully designed to prioritize both discretion and excellence. We've given particular thought to maintaining the cleanliness of both you and your Timeless Vape through the Timeless Flip Case, designed with the intention of discreet medication.
The top-notch materials, advanced American-made hardware, and state-of-the-art technology ensure unmatched quality and performance. The unique Timeless blend incorporates a solvent-free THC distillate, meticulously created to deliver a reliable, top-tier product with exceptional flavor characteristics.
What Is Timeless Vape
Timeless vape refers to a brand of vaping products, particularly focusing on cannabis-related vaping. The brand, known as "Timeless," offers a range of vaping devices and cartridges designed for consuming cannabis extracts, particularly THC distillates. These products are crafted with an emphasis on discretion, quality, and innovative technology.
The Timeless vape experience includes features like the Timeless Flip Case for discreet storage and medical-grade materials to ensure safety. Their proprietary blend of THC distillate aims to provide consistent and flavorful vaping sessions.
Timeless vape products are intended for individuals interested in consuming cannabis extracts through vaping methods.
Why Choose Timeless Vapes
Opting for Timeless vapes offers several compelling reasons. Their products are crafted with a dedication to quality, innovation, and user experience. Timeless vapes provide:
Complex and Unique Flavors: Timeless vapes are known for their intricate and diverse flavor profiles, combining various terpenes to create a memorable and enjoyable vaping experience.
Clinically Tested Potency: Each Timeless Vapes blend undergoes clinical testing, ensuring consistent THC potency averaging 85+/-%. This means you can trust the product's effectiveness and potency.
Solvent-Free Cartridges: Timeless vapes take pride in offering solvent-free cartridges, containing only natural cannabinoids and terpenes. This commitment to purity and safety means you're consuming a high-quality product without additives or fillers.
Innovative Terpene Blends: The inclusion of specific terpenes like Limonene, Myrcene, and Caryophyllene in their strains creates tailored effects, from energizing to relaxing, enhancing the overall vaping experience.
All-in-One Convenience: Timeless vapes provide an all-in-one solution with their pre-filled cartridges and batteries, simplifying the process for users and ensuring a consistent experience.
Wide Variety of Strains: With a diverse range of strains, each with unique flavor and effects profiles, Timeless vapes offer options for different preferences and needs.
Established Brand: Timeless has built a reputation as an innovative and forward-thinking brand within the cannabis vaping market, backed by years of experience and a commitment to excellence.
In essence, choosing Timeless Vapes means choosing a brand that prioritizes quality, safety, and a tailored vaping experience, making them a compelling option for cannabis enthusiasts.
Timeless Products
Timeless Cherry Icy All-in-One
This hybrid variety boasts intricate flavors, predominantly cherry, while notes of orange, lemongrass, and pine contribute to the overall taste profile.
The presence of Alpha Pinene, Limonene, and Beta-Caryophyllene infuses this blend with an invigorating and imaginative buzz, perfect for enduring those extended summer days.
All-in-One Convenience: Battery + Cartridge
 The cartridges arrive pre-filled with your chosen flavor. Every Timeless Vapes blend undergoes clinical testing, consistently revealing THC potency levels of 85+/-% on average, making it the most potent cartridge ever presented by Timeless Vapes.
Timeless takes pride in providing a solvent-free cartridge that only contains natural cannabinoids and terpenes, with no additions or fillers.
Timeless Zebra Stripes Vape Cartridge
Zebra Stripes stands as an exclusive strain by Timeless, showcasing a remarkable assortment of terpenes contributing to its intricate taste and aroma profile.
A combination of Beta Pinene, Caryophyllene, Alpha Pinene, and Limonene come together in this strain, resulting in a delightful fusion of pine, kiwi, melon, and herbal flavors.
Timeless Flavors Review
Pineapple Upside Down Cake
Indulge in a slice and linger awhile. The delightful flavors of sweet pineapple and cherry seamlessly meld, accompanied by subtle notes of vanilla, caramel, and cake. The presence of Limonene, Myrcene, and Caryophyllene imbues this strain with an energetic yet calming effects profile.
Blackberry Kush
A delectable strain offering a robust entourage effect that primarily targets the body. Myrcene and Linalool work together to instill a sense of tranquility and relaxation. The inhalation introduces hints of pine, wood, and herbs, followed by a sweet berry finish upon exhaling.
Watermelonz
Seeded with freshness, straight from the vine. The initial inhale bursts with the sweetness of watermelon, citrus, and candy-like flavors, culminating in sour and herbal notes. Caryophyllene, Humulene, and Linalool collaborate to induce deep relaxation through a full-body buzz.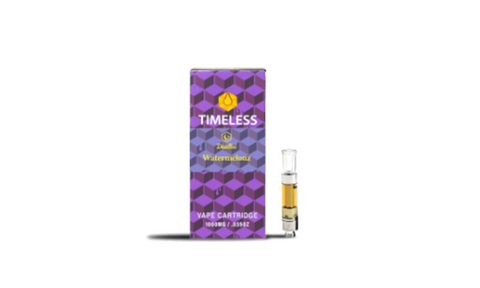 Sweet Island Skunk
Mango, guava, and pineapple notes take center stage, complemented by an unmistakably skunky conclusion. The effects profile, orchestrated by Limonene, Myrcene, and Bisabolol, elevates and inspires.
Lemon Faderade
A classic Timeless blend that has endured the test of time! Originating as an energy-infused concoction, this flavor satisfies with a Lemon-Lime essence upon exhalation, leaving you refreshingly elevated. The presence of Limonene, Terpinolene, and Citral fosters a joyful, energetic, and creatively stimulating high.
Blue Dream
Embark on a journey of tranquility with this iconic strain. Recognized for its substantial Myrcene content, this blend offers a delightful mental and physical relaxation equilibrium. The combination of blueberry and vanilla flavors is dynamically balanced by undertones of haze and freshly picked herbs.
Tangie Sunrise
Greet the day with renewed vitality. This strain bursts forth with tangerine, citrus, and pine essences upon inhalation, followed by a nuanced fusion of diesel and floral notes upon exhalation. The inclusion of Limonene, Myrcene, and Pinene in this strain results in an invigorating cerebral buzz.
Product suggestions:
Upbar-nano
The UpBAR Nano is a little box-shaped disposable vape that offers portability and convenience, allowing you to vape whenever and anywhere you want.
FRESOR technology improves e-liquid use. The Next-Gen Mesh Coil, with its precisely constructed flat-stacking construction, dramatically enhances energy efficiency and gives more puffs.
Each UpBAR Nano is precision and consistency manufactured with patented FRESOR technology, giving powerful taste, outstanding flavor replication, rich vapor, and reliable leakproof performance with every puff.
Features
2.0 E-liquid capacity
410 mAh battery capacity
20 mg/ml nicotine salt
4.0 Ω Resistance
UPENDS Mirror
The Upends Mirror vape pen is a sleek and tiny device that, owing to its lightweight and silky finish, always provides a premium vaping experience. This gadget sets new norms for vapor generation with the help of a unique mesh coil, offering a smoother and more consistent taste while preserving its attractive appearance. The Mirror definitely lives up to its reputation as a powerhouse of taste.
With its high-quality 500mAh battery, substantial 10mL e-liquid capacity, and simple Type-C charging, you may vape for as long as you like without worrying about battery life or e-liquid levels. The Upends Mirror will undoubtedly improve your vaping experience, so prepare for an extraordinary vaping journey.
Features
10mL E-liquid Capacity
0Ω Resistance
500mAh Battery Capacity
Type-C Charging Port
UPENDS UpBAR
The UPENDS UpBAR Blue Raspberry e-cigarette comes with a 2ml e-liquid reservoir pre-filled with 20mg of nicotine salt. This simple-to-use device has an integrated battery and a pre-filled tank, making vaping straightforward and convenient. Simply take a puff and enjoy the lovely sensation. The UPENDS UpBAR gives a satisfying and comfortable vaping session with 500 puffs.
Features
Size: 30 × 20 × 120mm
2ML E-liquid
400mAh battery (non-rechargeable)
500 puffs
FAQs
Can I use Timeless Vape products for medical purposes?
While Timeless Vape products are designed for recreational use, some users may find their effects beneficial for certain medical conditions. It's recommended to consult with a healthcare professional before using cannabis products for medical purposes.
Are Timeless Vape products legal?
The legality of Timeless Vape products depends on the regulations and laws in your region or country. It's important to be aware of local cannabis laws and regulations before purchasing or using these products.
Best Vape Wholesale Supplier-UPENDS
Experience the intriguing world of Vape UPENDS, where innovation and style mix to provide an unrivaled vaping experience. We extend a warm invitation to join our exclusive club, where fantastic savings await, boosting your vaping experience to extraordinary levels.
We take great satisfaction in our creative ideas, elegant designs, and fine craftsmanship at Vape UPENDS. Each inhale from our products will captivate your senses, as our team of expert artisans is dedicated to making perfect and elegant items.
Our ultimate goal is to give you the best possible vaping experience. So saddle up and prepare for an incredible journey! Allow us to explain why Vape UPENDS is the ideal choice for sophisticated vapers like you as you relax.
We go on a revolutionary journey together, with the goal of surprising you with new vaping experiences. Let us show you why Vape UPENDS is the ideal alternative for everyone looking for the best vaping experience.