What is the Uwell whirl 22?
The UWELL Whirl 22 Starter Kit is the newest pen-style vape kit from UWELL, boasting an impressive combination of performance and portability which highlights their pro-FOCS system for maximum flavor.
The Uwell Whirl 22 Stick Mod is the firm's first low-power mode, and it comes from a manufacturer that has long dominated the tank market in the United Kingdom. They're gorgeous, and the finish is top-notch. The kit is designed in the pen style for mouth-to-lung and direct lung vaping and features a 25-watt power supply. 
Unquestionably, the Uwell Whirl 22 is the future of the Pen-style mods. One of the first retailers in the UK, we're thrilled that we're able to offer this fantastic piece of kitchen UWELL Whirl 22 Kit has a wonderful aesthetic and performs well, making it an excellent beginner kit for new vapers or a terrific secondary kit for seasoned vapers. A built-in 1600mAh battery provides a maximum output of 25 watts.
The single fire button is easy to use and has a visible LED activation indicator. By removing the knurled top cap and filling up through one of the two juice filling openings at the top of the gadget, the UWELL Whirl is simple to fill.
Specifications of the Uwell Whirl 22
Dimensions - 22.2mm Base Diameter117.5mm Height
Stainless Steel, Iridescent, Purple, Gold, Sapphire Blue, and Black Stainless Steel, Iridescent, Purple, Gold, Sapphire Blue, and Black Integrated 1600mAh Rechargeable Battery
Features of the Uwell Whirl 22
Stainless Steel Construction of the Highest Quality
Integrated Unibody Design (IUD) is a term that refers to a design that
NiChrome Element 0.6ohm Whirl Coil
LED Indicator Light with Intelligence
Coil Replacement (Plug-and-Pull)
Uwell's Intellectual Property Protections
MicroUSB Port for Charging
What is included 
1x

 Whirl 22 Kit

1x

 Glass Tube Replacement

2x

 0.6ohm Coils

1x

 Pack of Replacement O-Rings

1x

 MicroUSB Charging Cable

1x

 User Manual

1x

Drip Tip Cover

 
Design and build
The build and design quality on this mod is perfect. The best thing about the quality is that all the parts are held together magnetically. Sometimes mods like this do not hold together well, but this one uses strong magnets, so do not worry about it coming apart.The exterior design makes it comfortable to hold and easy to transport in a pocket or purse. The device is also available in four colors.
The only concern about the build quality is the tab that holds the coil in place. Most systems like this are plug-and-play, and the coils stay in without the need for something additional to secure them. The question is whether the tab can stand the test of time and a lot of use. If it cannot, the coil will start leaking. Hopefully, it is well-engineered.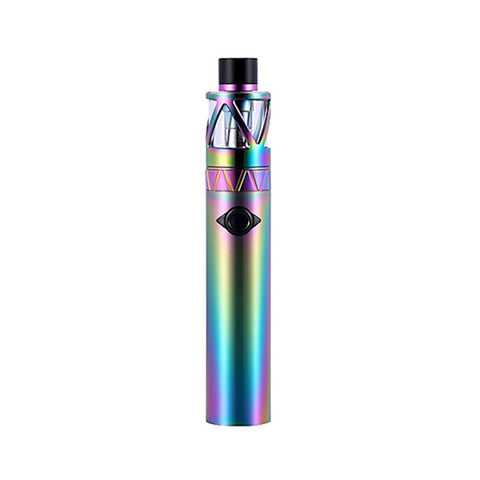 The Connick Box Mod is a fantastic addition to the game. It has a sturdy zinc-alloy chassis that feels solid in the hands. The mod as a whole is extremely well-made. It measures 87mm by 35mm by 29.6mm, which is a very small size. I think the minimalist design here is perfect. I've seen and used a lot of mods, but this is without a doubt one of the most attractive box mods available. It is without a doubt one of the most attractive box mods available.         
The Connick Box Mod has a large display screen on the front. It has a multi-color LED that indicates whether or not it is working. The display is bright and colorful, showing the wattage output, voltage, coil resistance, puff time, and battery level in percentage.
A large square fire button sits above the screen and is satisfying to press. There are three adjustment buttons below the screen: up, down, and menu. All of the buttons are easy to use and have a satisfying click The battery cap is located at the bottom of the Connick Box Mod. The threading is nice and smooth, and it screws in and out easily. A single 21700/20700/18650 battery is required.
Comparison between Whirl 22 and Whirl S
They both have two-milliliter tanks and a similar overall design.

Whirl 22 produces more vapor and handles DTL drags a little better.

The Whirl 22 has a higher wattage output and a larger juice window, making it much easier to monitor your juice levels.

The Whirl S, on the other hand, has a liquid-level observation window in the tank.

It also comes with a much more powerful battery and dual firing modes.

It's difficult to say which is superior to the other. The Whirl S is a good option for those who want dual firing modes and a more powerful battery. However, the Whirl 22 produces more output and produces better clouds.
Battery
The UWELL WHIRL 20 and UWELL WHIRL 22 Starter Kits are both powered by a direct output voltage system with a maximum output of 25W. It has a single firing button and an LED battery light indication, and it is backed by UWELL's own R&D. The integrated tank has a grooved bottom and top base and a maximum e-juice capacity of 2mL, which can be accessed via a threaded top-fill technique. 
The innovative pro-FOCS (Professional Taste Optimization Core System) flavor technology is combined with a set of 0.6ohm Whirl Coils in the WHIRL Tank, which is designed for both restricted straight to lung and mouth-to-lung users. When using any rechargeable battery at any time or under any circumstances, there is always the potential of a malfunction.
ElementVape.com and any of ElementVape.com's parent or subsidiary companies are not liable for any harm resulting from any modification of the batteries, chargers, gadgets, or other products that we sell in any way, shape, or form, including pack manufacturing
Pros and cons of the Uwell Whirl 22
Pros
It has a low weight

It is portable

Uwell Whirl 22 is Very Compact
Cons
Materials quality

Paint Quality

USB charger under the tube

Only 0.60 ohms coils

                  
FAQs about Uwell Whirl 22
How to use it and how it works?
It is really easy. Once you have unscrewed the tank, you just plug in the coil, then screw in back the tank and unscrew the cap. Fill your tank with thee-liquid that you prefer and wait 10 minutes to make the coil absorb the juice and vape. To vape it, you just have to turn it on with 5 clicks and press the fire button.
How Long Do the Coils Last?
These coils should last a week or more if they are adequately primed and used moderately. Adequate preparation and moderate usage are the keys to extending coil life. Also, using super-sweet liquids reduced the life of coils, as well.
UPENDS
Upcott
Filled with organic cotton, the Upcott pod effectively prevents all leaking, spitting and popping problems. The cotton filter inside the mouthpiece is the second defense against popping and condensate, guaranteeing an easy and uninterrupted experience.
With the 4ml capacity cotton tank, Upcott gives you a couple of days' vaping time without the hassle of replacing.
Conclusion
It is a perfect starter kit that you can give to one of your friends who are keep smoking. The capacities of the tank and the battery are good and the tank isn't hard to feel. The duration of the battery is really good and I also think that those coils can last a lot.
The cloud chasing hit is very restricted and the MTL is a very good hit. Despite this, I would never use this kit from mouth to lungs. Even in cloud chasing it isn't perfect, I would use it with the airflow fully open in flavor chasing with some really good fruity and creamy liquids
The print quality isn't ideal, but it is resistant, as I've already stated. The Whirl Starter Kit is a pocket-sized vaping gadget that is simple to use. The Whirl 22 is a pen-style kit with a long-lasting 1500mAh battery that can generate up to 25W of power, as well as a 2ml color-matched adjustable airflow tank. Available in three colors: black, rainbow, and stainless steel. Please note that 'vaping while charging' is not supported by this device.