Vaping is revolutionizing due to new vape devices. One of the best vaping devices you can buy is a vape mod. When you have a vape mod, you can control how you vape and monitor your mod's battery level. Today we will review the GeekVape Aegis Solo 100w.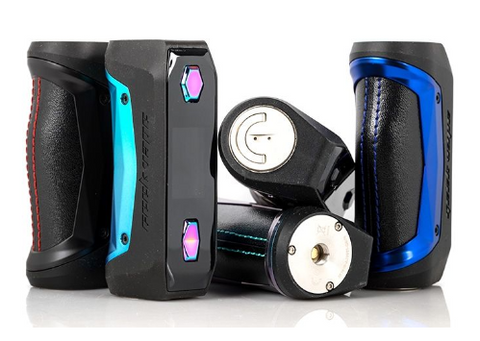 This is lightweight, indestructible, waterproof, and produces a high amount of vapor. When you compare it to the vape pods, this mod is powerful and has a large capacity. This means it can hold more amounts of e-juice, unlike a vape pen.
So, what are the features, specifications, pros, and cons of the GeekVape Aegis Solo 100w? For that and more, make sure you read this review to the end.
Specifications of GeekVape Aegis Solo 100W
The GeekVape Aegis Solo 100w vape mod has the following parts. They include;
Drip tip
Tank
Airflow control
Firing button
OLED screen
Function buttons
So, the following are the specifications of the mod.
Height – 86.4mm
Width – 41.2mm
Depth – 31.5mm
Weight – 112.5g
Power – 5 to 100w
The tank of the GeekVape Aegis Solo 100W has the following specs.
Capacity – 5.5ml
Tank's height – 42.5mm
Tank's width – 27mm
Features of GeekVape Aegis Solo 100w
This mod by GeekVape has top features that make it suitable for use.
5 Mode Options
When you have this Aegis Solo 100w vape mod, its usage is simple as it has five modes. These modes include the power, VPC, TC, TCR, and Bypass modes.
Each mode has its function. The VPC mode is known as the variable power curve mode, is responsible for customizing a power level of your choice regarding the puff or firing time.
The best thing when you use this mode option is to increase your mod's battery life. This is because you are not continuously heating the coil using the same wattage. Additionally, when you reduce the power from high to low, you will prevent dry hits.
Temperature coefficient of resistance or TCR mode is another vape mode option. This mode deals with specific resistance and heat depending on the alloy used in making the coil. There are TCR values that determine the right vaping temperature regarding the coil used in making the atomizer coil. Thus, safeguarding you and the mod.
When you set the bypass mode, you will be using the vape mod as a mechanical mod. This means its performance will depend on the battery level and coil's resistance. The mod will produce a high power when the battery is fully charged and low as you vape.
Overcharging and Discharging Protection
When the battery is out of power, you use the micro-USB to charge the mod's battery. But at times, you might forget that your GeekVape Aegis Solo 100w vape mod was charging. When it overcharges, it will spoil the battery and can burn the mod.
Furthermore, discharge is another thing that can affect the battery's life. To prevent overcharging and discharging, the GeekVape Aegis Solo 100w has a battery protection circuit that prevents over or discharging.
Also watch this YouTube video:
Over-Heat Protection
Suppose the vape mod overheats you cannot continue vaping, and this can make you feel stressed. To prevent such scenarios, GeekVape made the Aegis Solo 100w with overheat protection. This allows you to vape without worrying about the mod overheating continuously.
Anti-Dry Hit
In case the e-liquid is not well saturated in the coil's cotton wick, you will notice dry hits. Dry hits can make the coil burn producing a nauseating vapor. Constant dry hits can lead to the damage of the vape mod.
So, this vaping mod by GeekVape has an anti-dry hit feature. This protects you and the device from damage.
Water-Resistant
You may forget, or the mod falls in water by mistake. Ordinary vape mods will get spoilt, but that's not what will happen to the Aegis Solo 100w. This is because it is waterproof. So, in no way will this vaping device be damaged by water or rain.
Various Colors
What is your favorite color? This vape mod is available in the following colors.
Red
Orange
Green
Blue
Gunmetal
Black
This means you can get your favorite mod color as you are not limited to one color.
Dimension and Build Quality
This vape mod is small and fits nicely on your hand. This is due to its dimension, 86.4mm in height, 41.2mm in width, and 31.5mm in depth. This dimension makes it portable on your hand, pocket, or bag pack.
The body of the GeekVape Aegis Solo 100w is made of zinc-aluminum alloy. This makes it have a strong build quality making it durable and non-destructible.
Accessories
When you purchase this vape mod, you will get the following items on the product box.
1 Aegis Solo 100w box mod
1 Cerberus 25mm Sub-Ohm tank
2 0.3ohm Super Mesh X2 Coil
1 4ml Spare glass tube
1 battery door assist tool
1 spare parts pack
1 micro-USB cable
A user manual
Pros and Cons
In this section, you will get to know the advantages and disadvantages of this vape mod.
Pros
Resistant to water, dust, and shock
Easy to use
Good build quality
Large capacity glass tank
Various colors
Lightweight and portable
It doesn't leak
OLED display
Cons
The display is not scratch resistant
The tank generates relatively high noise levels
Features to Consider Before Buying a Vape Mod
Suppose you are thinking about buying a vape mod. What features should you look at? An exquisite vape mod provides you with a relaxed vaping time.
So, as you look for a vape mod to purchase, it should have the following features in mind.
Mode Options
For ease of use, vape mods have various mode options. For example, the GeekVape Aegis Solo 100w has five-mode options. So, make sure you check if it has TCR, TC, power, VPC, and bypass modes.
But make sure it has TC or temperature control.  This is essential as it will enable you to set your actual vaping temperature. Additionally, TC prevents dry hit or a hit from being too hot.
Safety Features
A vape mod is more of an appliance, and your safety and that of the mod are vital. You should ensure that the vape mod of choice has over & discharging protection, overheating protection, and anti-dry hit.
All these are essential in the durability and performance of the vape mod. Even though not all vape mods will have all these features, make sure it has a safety feature.
Battery Life
After how long will the mod require you to charge to it again? It would be best if you had that in mind. This is because it will depend on how long you will vape. So, go for a vape pod that has a high wattage. And if it has temperature control, then you will have an extended vaping time.
Note: The best vaping mods in the market have a 18650-battery design.
Alternative Vape Devices: UPENDS
For top vaping devices, UPENDS is the brand to go for. They have advanced vaping devices at an affordable price.
You can buy UPENDS products from vape shops and online stores. Furthermore, their products are compatible with nicotine salts, freebase, and CBD e-juices. Never use THC e-liquids on UPENDS vaping devices.
Frequently Asked Questions About GeekVape Aegis Solo 100W
How to Fill the Tank
Your e-juice is over, but how do you refill the tank to continue vaping? The following are steps you should use to fill the Cerberus sub-ohm tank.
Step 1: Take away the pod
Step 2: Twist and open the top cap of the tank
Step 3: Fill the tank with e-juice
Step 4: Wait for five to ten minutes for the coil to prime
When and How to Clean your Vape Mod
A clean vape mod is equal to high vapor production. So, when is the right time, and how should I clean the mod?
What you should know is that a coil can work for a maximum of fourteen days. Clean prevents dry hits and overheating due to clogged air vents.
Additionally, they ensure that the coil works for a long time. The e-liquid you use has a thin film that remains on the tank after vaping, for your information. This film stays on the coil leading to clogging.
These are steps you should follow in cleaning your vape mod.
Step 1: Detach all components of the vape mod. Remove the tank, coil, and battery. In case there is e-juice on the tank, pour it away.
Step 2: Clean the tank with warm water for the utmost twenty seconds. Ensure the warm water runs continuously. Thus, it would be best if you cleaned the tank using a faucet.
Step 3: Let the tank dry and use alcohol and a dry microfiber cloth to wipe the tank's inner part. When you are done, now rinse the tank with warm water again.
Step 4: Now, leave it to dry.
Step 5: Take away the wicks from the coil
Step 6: Slightly dry burn the coil
Step 7: Detach the atomizer and place it in your sink. Turn on the faucet and clean the atomizer using a brush for a few seconds.
Step 8: For a few seconds, dry burn the coils to eliminate any water droplets.
Conclusion
GeekVape Aegis Solo 100w vape mod should be at the top of your list when it comes to vaping mods. This is because it has a long life span due to its robust build quality. Also, its tank has a large capacity to ensure you vape more without refilling after a few puffs. This is all we had for you today. Thank you for your time.