As the vaping industry continues to grow, so does the demand for unique and flavorful e-liquids. One particular flavor that has gained a loyal following is "Lush Ice."
This popular flavor combines the sweetness of watermelon with the coolness of menthol to create a refreshing and flavorful vape experience. Many top vape brands have attempted to perfect this flavor and have been met with great success.
In this article, we'll take a closer look at the art of Lush Ice and explore how top vape brands are perfecting this flavorful e-liquid. We'll delve into the ingredients and techniques used to create the perfect Lush Ice flavor, as well as the unique features that make it stand out among other e-liquid flavors.
Additionally, we'll examine the growing popularity of Lush Ice and why it has become a fan favorite among users. Whether you're an experienced vaper or new to the world of vaping, this article will provide you with a comprehensive understanding of the art of Lush Ice and how top vape brands are perfecting this delicious flavor.
What Flavors Are In Lush Ice?
Lush Ice is a flavor that brings together the summery taste of watermelon with a cool menthol sensation. Infinity Lush Ice is a unique combination that will leave a lasting impression on your taste buds.
What Is A Lush Disposable Vape
Lush Ice Disposable Vape flavor is a popular e-liquid flavor that combines the sweetness of watermelon with the coolness of menthol to create a refreshing and flavorful vape experience. The flavor has gained a lot of popularity among users due to its unique taste and smooth throat hit.
What Are The Benefits Of Lush Ice Disposable Flavor
The benefits of Lush Ice flavor in e-liquids are largely subjective and can vary depending on the individual vaper's preferences. However, users have noted the following advantages as well:
Refreshing Taste
Lush Ice flavor combines the sweetness of watermelon with the coolness of menthol, creating a refreshing and satisfying taste that many users enjoy.
Smooth Throat Hit
The menthol in Lush Ice provides a cooling sensation that can help to reduce the harshness of the nicotine, resulting in a smooth and satisfying throat hit.
Unique Flavor
Lush Ice flavor is a unique combination of flavors that is not commonly found in other e-liquid flavors, making it a popular choice for users who want to try something new and different.
Convenient And Easy To Use
Lush Ice disposable flavor is available in a variety of forms, including disposable vapes, pre-filled cartridges, and bottled e-liquids, making it easy to use and convenient for users who are always on the go.
Lush Ice Flavor Disposable Products
Lush Ice By VAPORLAX
Vaporlax's Lush Ice is a carefully crafted e-juice blend that combines the flavors of sweet and savory watermelon with the coolness of menthol, resulting in a delectable summertime vape experience.
The flavor balance has been expertly designed to provide a burst of juicy watermelon flavor upon inhaling, followed by a crisp and refreshing sensation upon exhaling.
Features
5mL E-Liquid
5% Nicotine Salt
3000 Puff
Ready-to-Vape
Smok VVOW Lush Ice Disposable Vape
The VVOW Disposable from SMOK is a disposable vape pen that comes with 2 ml of nicotine salt-based e-liquid in a variety of flavors, including the well-known Lush Ice flavor. With this device, users do not need to worry about the hassle of refilling e-liquid, charging the device, or replacing any pods or coils.
Simply inhale to activate and start vaping, enjoying the unique and refreshing taste of Lush Ice without any complicated maintenance requirements.
Features
500mAh battery
2ml e-liquid capacity
500 puffs
Draw activated
50/50 PG/VG
5 ohm resistance
SWFT ~ MOD - Lush Ice Flavor
Lush Ice by SWFT ~ MOD is a popular e-liquid flavor that combines the sweetness of fresh watermelons with the cooling sensation of menthol. The succulent watermelon flavor provides a juicy and refreshing taste, while the icy twist enhances the flavor profile, creating a truly satisfying vape experience.
The balance of sweet and cool flavors has been expertly crafted to deliver maximum flavor with every puff. Lush Ice by SWFT ~ MOD is available in a range of nicotine strengths, making it a versatile option for users of all
Features
5% Nicotine Salt
No refilling
15 ml E-liquid capacity
400mAh
5000 puffs
Draw activated
Puff Bar Disposable- Lush Flavor
The Puff Bar is a popular disposable vape device that is pre-filled with a range of e-liquid flavors, including the refreshing Lush Ice flavor. The Lush Ice flavor by Puff Bar is a unique blend of sweet watermelon and icy menthol, delivering a refreshing and invigorating taste with every puff. As a disposable vape device, the Puff Bar Lush Ice requires no charging or refilling, making it a convenient option for users who are always on the go.
Simply inhale to activate the device and start enjoying the delicious taste of Lush Ice. With a compact and portable design, the Puff Bar Lush Ice is perfect for users who want a hassle-free and satisfying vape experience.
Features
300+ Puffs
3mL E-liquid
280mAh battery capacity
Draw activated
5% Salt Nicotine
No Maintenance, Refilling or Charging
Light, Compact, and Portable
Vice 2500 Lush Ice
The Vice Lush Ice Disposable Vapes are a type of vaping device that offers a whopping 2500 puffs and a variety of incredibly tasty flavors. Not only does it have a long-lasting battery with a capacity of 1000mAh, but it also has a high-quality 1.2ohm Mesh coil that enhances the flavor of the vape, allowing you to enjoy up to 2500 satisfying puffs.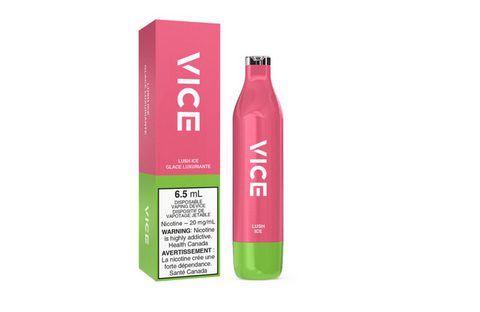 Features
2500 Puffs
2ohm Resistance
Mesh Coil
5mL E-liquid Capacity
2% Nicotine Salt
Hyde Curve S Edition Lush Ice
The Hyde Curve S Edition Lush Ice Vape stands out from other disposables due to its stylish appearance and customizable airflow. Despite being more expensive, its extra features make it a viable option to consider. However, just like the Puff Bar, the Hyde Curve S is not rechargeable.
Features
400-600 puffs
2ml e-liquid capacity
Sleek and stylish design
5% nicotine strength
Adjustable airflow
Non-rechargeable
HYPPE Bar Lush Ice Disposable Vape
The HYPPE Vape's unique hexagonal shape sets it apart from the competition. It delivers a comparable number of puffs to the Puff Bar and Cali Bar, and its price falls somewhere in between the two. While the HYPPE Bar offers a satisfying Lush Ice flavor, it may not last as long as some of its competitors.
Features
3ml e-liquid capacity
300 puffs
5% nicotine strength
Non-rechargeable
Lush Ice Disposable Vape By Fizz vapor
Indulge in your desires with Fizz Vapor's Lush Ice vape – a cool fusion of sugary watermelon and chilly menthol. Enhance your vaping experience with the convenient and disposable Lush Ice vape.
Features
5% nicotine strength
14ml e-liquid capacity
5500 puffs
FAQs Lush Ice Disposable Vape Flavor
How Good Of A Flavor Is Lush Ice?
Lush Ice is a versatile vape that has been available for a considerable amount of time and appears to remain consistently popular, with a steady supply of stock.
What Does The Flavor Lush Ice Taste Like?
Lush Ice E-Liquid is an invigorating e-liquid that encapsulates the flavor of chilled watermelon. It provides a similar experience to enjoying a revitalizing and chilly beverage on a scorching summer day.
Is Nicotine Present In Lush Ice Vape?
Yes, Lush Ice vapes usually comprise nicotine, which is obtainable in different potencies depending on the particular brand and item.
Best Vape Wholesale Supplier-UPENDS
Welcome to Vape UPENDS' fascinating universe! We are so happy to have you here and cannot wait to share with you our enthusiasm for vaping innovation. With unrivaled cutting-edge technology, fashionable designs, and meticulous attention to detail, we are committed to producing gorgeous gadgets with faultless performance. 
You will get access to our special line of goods as a member of the Vape UPENDS community, which is sure to astound both you and your clients. Our team of knowledgeable specialists is dedicated to providing you with the most excellent vaping experience imaginable since we want you to feel sophisticated and mesmerized by our goods.
 Prepare to go out on an exciting trip with us and learn why Vape UPENDS is the top choice for affluent users. Our mission is to give you a vaping experience that is unmatched and memorable. Together, let's discover this fascinating universe and create a wonderful vaping experience. Greetings from Vape UPENDS!