With disposable vapes gaining immense popularity among vaping enthusiasts, many brands are introducing innovative products. In this article, we will discuss one such brand that has made a commendable position in the vaping community - SWFT.
What is a SWFT Disposable Vape?
The SWFT Disposable Vape is an electronic cigarette that is designed to have a shorter lifespan as it is disposable. It means that you can replace it with a new one when the e-liquid finishes or the battery depletes. It is designed to provide an easy and convenient way to consume nicotine especially while traveling. Being a no-mess, compact, and portable device, most SWFT Disposable Vapes have gained immense popularity in the vaping world.
As the device is meant to be discarded when finished, it comes pre-filled with e-liquid. Here are some features that make SWFT Disposable Vape stand out…
Portability
Ease of Use
A Variety of Flavors
Convenience
Nicotine Strength Options
3 Most Sought-After SWFT Disposable Vapes
If you're wondering what SWFT Disposable Vape is worth investing in, here we've discussed 3 most sought-after products. Check them out…
SWFT Pro Disposable Vape - 2000 Puffs
The SWFT Pro Disposable Vape is the latest version of the SWFT disposable series. It features a massive 6mL e-liquid capacity and comes with a pre-charged 1000mAh battery. The disposable vape device is designed to provide up to 2000 puffs so you can have a great vaping experience.
Moreover, it is available in 16 different flavors, allowing you to choose as per your unique taste and preferences. As the device is disposable, you don't have to worry about its maintenance or refilling.
Specifications & Features
A Disposable Device - No refilling, No Charging
Nicotine Salt: 5% (50 mg)
E-Liquid Capacity: 6.0mL
Battery Capacity: 1000mAh
Puff Count: Up To 2000 Puffs
Airflow: Adjustable
Flavors: 16 Different Flavors
Activation: Auto Draw Firing Mechanism
Flavor Options…
Apple Peach
Aloe Grape
Banana Ice
Blue Razz
Cotton Candy
Cool Mint
Honeydew Ice
Hard Apple
Kiwi Berry Ice
OMG
Lychee Ice Berry
Pineapple Ice
Strawberry Banana
Strawberry Donut
Strawberry Lemonade
Watermelon Ice
SWFT Mod Rechargeable Disposable Vape Kit - 5000 Puffs
The SWFT Mod Rechargeable Disposable Vape Kit is a convenient and portable option for vaping enthusiasts. It is designed to provide a whopping 5000 puff count for the most enjoyable and satisfying vaping experience. It comes packed with a powerful 500mAh battery to offer a long-lasting vaping experience.
The mesh heating element ensures smooth vapor production and no harsh throat hits. Moreover, the device is rechargeable and can be charged using a MicroUSB charging port. It is a perfect choice for those who are looking for a rechargeable vape pen, without the need for messy refills or replacement parts.
Specifications and Features
E-Liquid Capacity: 15mL
Nicotine Salt: 5% (50 mg)
Battery Capacity: 500mAh (Rechargeable)
Charging Mode: MicroUSB Charging Port
Puff Count: Up To 5000 Puffs
Mesh Heating Element
A Disposable Vape Device
Flavor Options
Berry Blast
Blue Razz Ice
Bubble Gum
Cool Mint
Cotton Candy
Gummy Bear
Honeydew Ice
Jolly Green
Lush Ice
Lychee Berry Ice
Mango Coconut
Pink Lemonade Slush
Red Energy
Strawberry Wafer
SWFT iCON Disposable Vape - 7500 Puffs
The SWFT iCON Disposable Vape is designed to provide around 7500 puffs which are enough for a long-lasting vaping experience. The vape pen comes pre-filled with 5% salt nicotine e-liquid and has a capacity of 17mL. It is powered by a powerful 500mAh rechargeable battery that can be charged using a Type-C charging cable.
Moreover, the device features a ceramic coil allowing smooth and satisfying vaping sessions. It comes pre-filled with e-liquid and gives you all the perks of a disposable device such as no refilling, no maintenance, no part replacements, etc.
Specifications & Features…
Salt Nicotine: 5% (50 mg)
E-Liquid Capacity: 17mL
Puff Count: Up To 7500 Puffs
Battery Capacity: 500mAh
Charging Type: Via Type-C Charging Cable
A Ceramic Coil
A Disposable Unit
Flavor Options…
Apple Melon Ice
Blue Cotton Candy
Blue Razz Berry Ice
Clear
Cool Mint
Coco Milkshake
Lemon Mist Ice
Peach Jelly
Rainbow Candy
Sour Apple
Strawberry Milkshake
Strawberry Roll Up
Strawberry Watermelon Ice
Sweet Grape Ice
Sweet Ripe Mango Ice
Triple Berry
Tropical Blend
Watermelon Appleberry
Watermelon Bubblegum
White Gummy
These three are some of the most sought-after SWFT disposable vapes that you can try at least once. You will be mesmerized to see the wide range of flavor options that are designed to suit all taste buds.
Is It Worth Buying a SWFT Disposable Vape?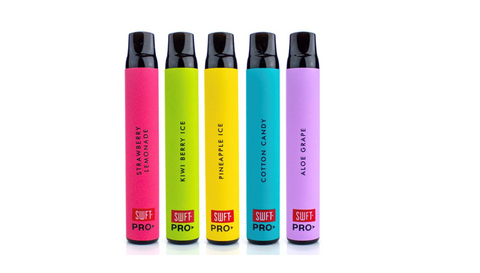 If you're looking for effortless vaping, SWFT has some of the most amazing disposable products. A SWFT Disposable vape can be an ideal pick if you're looking for something compact, lightweight, and user-friendly. You can begin vaping the device right out of the box as it comes pre-filled with e-liquid and pre-charged. The rechargeable variant is also available if you want your vape to last long and enjoy the e-liquid to its maximum.
The SWFT disposable vape is easy to use as all you have to do is simply puff on the device's mouthpiece as it features an auto-draw firing mechanism. Furthermore, the device is engineered to provide you with a maintenance-free vaping session. Therefore, it comes with the included battery, atomizer coil, and pre-filled e-liquid that work optimally without needing to adjust any settings. Also, you won't need to change the coil or any other part as it is disposable.
Furthermore, it comes with a powerful battery and you can pick the rechargeable variant that can easily be charged via a MicroUSB cable. The rechargeable variant is designed to provide up to 5000 puffs and can be charged multiple times so that you can enjoy even the last drop of your e-liquid. The staggering 15mL e-liquid capacity is enough to provide you with a satisfying, long-lasting vaping experience.
Coming to the design element, the SWFT disposable vape pen is compact and portable with a sleek design. There are no extra buttons or add-ons to make the device complicated as it comes with just a few essential design elements. It makes the device a perfect choice for beginners or those who are looking for a simple yet powerful device that they can easily carry with them.
Also, you can choose from a wide range of flavors such as Berry Blast, Cotton Candy, Blue Razz, Bubble Gum, Cool Mint, Gummy Bear, Mango Coconut, Lychee Berry Ice, Jolly Green, Honeydew Ice, Pink Lemonade Slush, and more. You can pick your preferred flavor and start enjoying it.
Top SWFT Disposable Vape Flavors
SWFT offers many different flavors that fall under categories like…
Menthol: A cool and refreshing flavor! It is great for anyone looking for a clean yet crisp flavor.
Mint: A refreshing and sensational flavor! It is suitable for those who want to enjoy a sensational flavor.
Tobacco: A rich, earthy flavor! It is an ideal option for those who prefer a more traditional smoking experience.
Fruit Flavors: A sweet and fruity flavor! It is a perfect option for those who love fruity flavors.
Dessert Flavors: A sweet and juicy flavor! It can be an ideal choice for those with a sweet tooth.
Candy Flavors: A sweet, salty, and tangy flavor! It can be a perfect pick for anyone looking for a playful vaping experience.
Beverage Flavors: A mood and moments kind of flavor! It is more suitable for people who love to enjoy beverages like tea, coffee, or energy drinks.
There is a huge variety of individual flavors that fall under the above-mentioned categories.
FAQs About SWFT Disposable Vape
Is the SWFT disposable vape any good?
The SWFT disposable vape comes with many features like a massive puff count, a powerful battery, and a huge variety of e-liquid flavors. Also, you can choose from different products as per your specific needs and vaping requirements.
How many hits are in a SWFT disposable vape?
The SWFT Pro disposable vape provides up to 2000 puffs while the SWFT iCon is designed to provide around 7500 puffs. The SWFT Mod rechargeable disposable vape provides approximately 5000 puffs.
What are the pros and cons of SWFT disposable vape?
The SWFT disposable vape offers benefits like different flavor options, convenience, portability, nicotine strength options, and affordability. However, there are some disadvantages of using disposable devices such as environmental impact, limited battery life, limited nicotine options, etc.
Can I refill my SWFT disposable vape pen?
No, SWFT disposable vape pens cannot be refilled but some models come with a rechargeable battery. Once the e-liquid is finished, you will need to mindfully dispose of the device.
Are disposable vape pens safe to use?
Most vape products contain nicotine and other harmful chemicals, so it is advised to use them in moderation. All nicotine-related products can be addictive and carry health risks.
UPENDS: Best Wholesale Vape Supplier
Wondering where to buy the best disposable vape pens? You are at the right platform with UPENDS as here you will find a wide range of high-quality, affordable vape products. We are committed to providing the most innovative, user-friendly, and powerful vaping devices that are designed to take your vaping experience to the next level.
At UPENDS, you will find some of the most innovative designs such as UPENDS MIRROR, UpBar GT, and UpBar NANO. These products are an example of futuristic designs, powerful performance, and excellent features. All we want to do is provide our global customers with something they can count on and get value for their money.
If you're planning a vape business, we invite you to contact us as we are seeking vape distributors and agents for different locations. If you're willing to take your business to new heights, it's time. Contact us for detailed information.