The goal of vaping is to quench your craving for nicotine and marijuana. Vaping has been taken as the best alternative to vaping, but this can only be true when you use the right vaping equipment and vape using the right vaping tool. There is no doubt that as a vaper, you will always come across different vape equipment on your vaping journey. One of the notable vape equipment in the market that is recommendable for vaping is the SMOK X-Force Vape Kit.
UPENDS Review and Instructions on SMOK X-Force Vape Kit
UPENDS understands that the best way to get the best in vaping is to identify the right vape tool and use the right way to vape. For this reason, we have set aside this article to give a review of the best vape tool, SMOK X-Force Vape Kit and give you useful instructions.
What is SMOK X-Force Vape Kit?
The X-Force is new vape equipment that is developed in the market that is activated and operated using one button. It mimics a box mod in shape but is highly lightweight when you compare it with the box mod. It is developed with a number of outstanding vaping features that makes it the best and number one above all its competitors in the vaping market.
SMOK X-Force Vape Kit at a Glance
SMOK X-Force Vape Kit is unique in different features. Some of the outstanding features that it comes with include;
Battery Life and Capacity
The battery is one of the key features that you need to consider as you buy your vaping tool. A good battery allows you to vape even while you are travelling or you are away from the power source.
When it comes to a battery, SMOK X-Force Vape Kit does not disappoint. It is powered by an in-built 2000mAh capacity battery that is powerful enough to allow you to enjoy vaping for days before the next recharge. In addition, it only requires one and half hours to recharge fully.
Intelligent LED Lights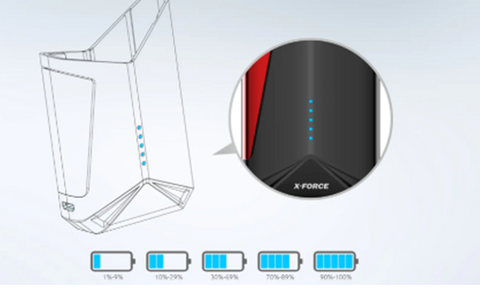 The SMOK X-Force Vape Kit battery is unique not only in its operation but also in its structure. It has a vertical arrangement of five LED indicators that clearly indicates the battery life. When the battery is fully charged, the five LEDs light and goes off one by one as the battery drains. This makes it easy for you to check the battery life.
Excellent Airflow and Coil Layout
SMOK X-Force Vape Kit is designed with an airflow system and a transverse coil that allows the air intake and the coil layout to be in the same direction. This has become a solution to oil leaking and oil frying. Now, the airflow has changed from line shape to serpentine structure that makes sure the length of the airflow is increased. This makes sure that the vapours created from the e-liquid are fully collected to produce a dense cloud and a deep flavour as you puff. This is a unique feature that is not on other SMOK X-Force Vape Kit competitors in the market.
Ceramic-Insulated Coil Base
SMOK X-Force Vape Kit's coil base is insulated with ceramic. This causes the internal temperatures to rise faster, causing sufficient atomization. In addition, the gold-plated brass has a lower resistance thus can be able to transfer the energy to the wire without losing any energy. This makes the whole set of SMOK X-Force Vape Kit power saving and more durable with a faster response after firing.
Minimalist Design
All the wonderful vaping features of the SMOK X-Force Vape Kit are contained in a sleek and slim body. This gives you as a vaper the purest vape anytime you need it as you can travel with it to any destination without causing any inconveniences.
Slanted Tank Design
E-liquid leaking is a common problem associated with many vape equipment. With SMOK X-Force Vape Kit, this problem is solved as it features a slanted tank design.
The SMOK X-Force Vape Kit has a massive capacity holding up to 7ml of e-juice. This allows you to vape massively for a while before refilling the tank again.
Cost of Purchase
SMOK X-Force Vape Kit costs about $ 19.99 in most retail outlets
Ease of Use
Assembling the SMOK X-Force Vape Kit and getting it to run is quite simple and straightforward. Even if you have not used this vape kit before, you can still enjoy vaping using SMOK X-Force Vape Kit. 
You need to take out the tank/mouthpiece from the top of the mod and insert the ceramic-base coil in the right orientation. The SMOK X-Force Vape Kit tank is accessible from the side of the kit that makes it easy to refill it with any e-liquid of your choice.
It has one firing bar that you need to click 5-times in quick succession to turn it ON/OFF. Thanks to its bright LED indicators that allow you to monitor its battery life easily.
SMOK X-Force Vape Kit Overall Performance
We can highly recommend SMOK X-Force Vape Kit for your vaping journey. It is excellent from many aspects and has no notable flaws that we can note. In addition, it is designed in a simple and straightforward design, allowing you to operate and run it easily.
It comes with a solid vaping performance, amazing battery life that combines with its ease of use and an ergonomic design that allows you to enjoy the best vape no matter your vaping experience.
Key Features
7 ml E-liquid Capacity

3 – 1.2 Resistance Range

2000mAh Battery Capacity

3 V – 4.2 Input Voltage

03 x 2.04 x 1.19 inches' dimensional size

47 Ounces Weight

45W Maximum Wattage Output
Pros and Cons
Pros
SMOK X-Force Vape Kit comes at relatively low prices.

It has a high-capacity e-liquid tank that holds enough e-liquid for a longer vaping time.

Its slim and sleek design allows you to enjoy vaping even when travelling.

SMOK X-Force Vape Kit is powered by a long-life battery that allows you to vape for a long time before stopping for recharging

It is easy to operate and use

It makes use of a side-positioned fire bar that allows you to set it ON/OFF easily.
Cons
Its recharge time may be longer
Manual, Review and Instructions
The SMOK X-Force Vape Kit is among the easy-to-use vape kits available. To set it to operate after buying, follow the following stepwise process;
Unpack the SMOK X-Force Vape mod, tank and coils.

Charge your SMOK X-Force Vape mod till fully charged

Prime the X-Force coil before installing it on the tank. Fill the tank using an e-liquid of your choice (do not exceed the indicated maximum millilitres)

Attach the tank onto the device before turning your device on using the side-firing button. Here the LED lights will light up to indicate that the device is on and indicate the battery life.

Put the mouthpiece to your lips then press the firing button then start to take puffs of a stream of smooth and steady vapour.
SMOK X-Force Vape Kit is recommendable as it will always assure you a unique vaping experience that its competitors in the market could not give you. Many vapers have come to adore it because of its build quality, high capacity battery, minimalist design and other outstanding features that give the best vaping. Its ease of use also makes it an ideal vape kit for beginner vapers.
FAQs
How Much is SMOK X-Force Vape Kit?
The price of the SMOK X-Force Vape Kit varies from one store to the other. However, SMOK X-Force Vape Kit comes in a price range of $19.9 to $34.99.
How Long does SMOK X-Force Vape Kit Last?
The durability of the SMOK X-Force Vape Kit depends on the frequency at which you use it. It also depends on the maintenance practices that you carry on it.
Alternative Vape Kits: 

UPENDS
Apart from SMOK X-Force Vape Kit, you can always get an alternative vape kit. UPENDS has been a great alternative where you can source high-quality vape tools from. Some of the UPENDS vape tools include;
This is one of the best disposable vapes you can get from UPENDs. It comes with a simple vaping experience but assures you long-lasting enjoyment. It is built with a built-in 850mAh battery and a 4.5ml e-liquid capacity. While this battery allows you to enjoy longer vaping time before the next charge, its high-capacity e-liquid tank also allows you to enjoy longer vaping time before the next refill. Try UPENDS today!
Conclusion
Vaping is meant to replace smoking thus;, you need to be careful on the vape tool you choose to make sure you achieve the vaping goal. We can recommend the SMOK X-Force Vape Kit as one of the best whether you are a beginner vaper or an expert vaper. You can also try the vape tools from UPENDS.