If you are a beginner or a passionate vaper, you will learn about some of the small vaping products available. These small vape mods are designed in a manner that will be able to offer you a satisfying vaping experience. This article clearly takes you through some of the best small vape mods available in the market currently.
What are Small Vape Mods?
Geekvape Aegis Mini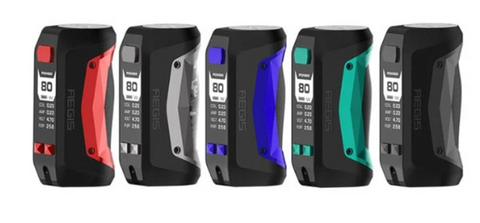 The Geekvape Aegis Mini is one of the best versions of the prevalent Aegis mod products. The Geekvape Aegis Mini is well-recognized because of its reputation for being durable and strong. The device features an IP67 water, shock, and dustproof rating, which will help the device tolerate even your gawkiest mishaps.
This device is unique from other devices because it does not compromise on style. The mod comes with an appealing design with a bigger OLED screen that is very clean compared to other mods in the market. The mod also features a 2200mAh internal battery. This feature allows you a long experience without frequent recharging during vaping sessions.
The Geekvape Aegis Mini has a unique build that makes the device the best choice. The device features a leather grip that makes you comfortable touching and holding it. Furthermore, the device has panels that you can replace. This makes it possible for you to replace them upon being scratched from an event of a drop or if you want to change the device's color.
The device features a maximum wattage of 80W. This makes it possible for the device to serve sub-ohm vapers perfectly. Nevertheless, this device works well with a mouth-to-lung vape tank that can function at lower power levels. This feature may help extend the device's battery life.
Pros
It offers 80W output power
It displays a superb build quality
It comes with a 2200mAh internal battery
It is good for vapers of different levels
It features IP67 Waterproof | Dustproof | shockproof
Voopoo Argus MT
VOOPOO company is one of the biggest corporations that deals with the manufacturing of vaping products. One of their best products is the Voopoo Argus MT. This device has similar characteristics to its sibling, the Argus XT. Nevertheless, besides these characteristics, the Voopoo Argus MT's outstanding performance and craft ship make it unique.
If you are a vaper, one of the unique features that you will find in this mod is the option of selecting between a replaceable battery or an integrated battery. These two options are important and possess unique advantages and disadvantages based on vapers' tastes and preferences. The manufacturing company, Voopoo, has staged forward to provide flexibility to address these differences.
 The main advantage you will reap from using an integrated battery is that the device features a 3000mAh in-built battery that offers a long-lasting vaping experience without frequent recharges. On the other hand, if you opt for the replaceable battery version, it features 18650 and 21700 compatible batteries that you can interchange to continue with your vaping experience.
Pros
It is Pocket friendly
It displays an excellent build and design
It comes with an in-built 3000mAh capacity battery or replaceable 18650/21700 option
Cons
It consumes a lot of power
Innokin CoolFire Z50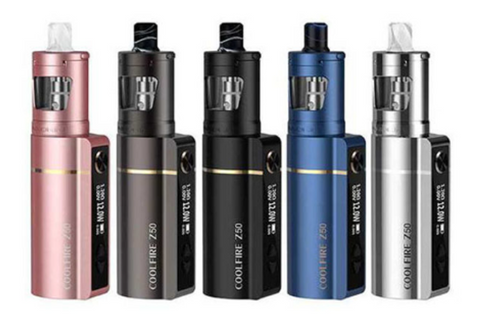 This device will impress you because it has both high-performance powers and is visually attractive. It features compact design dimensions of 69mm * 26mm * 33mm without the tank. This makes it convenient as you can carry it around effortlessly. Even without having a tank, the device features a powerful 2100mAh battery and an outstanding OLED screen, which makes this device more striking.
Building quality is one of the unique features that the Innokin Z50 comes with. The device is constructed so that it can tolerate the rigors of daily utilization. The device is also constructed to infuse any tank available in the market. This feature makes the Innokin Z50 more flexible, increasing its potential power to meet vapers' wide range of tastes and preferences since you can customize your vaping experience.
The Innokin Z50 kit has a Zlide tank constructed specifically for mouth-to-lung vaping. If you are a vaper that enjoys a more restricted airflow and a tighter draw, then the Innokin Z50 device is for you. The device can accommodate any tank if it falls under its wattage range.
The Innokin Z50 will give you an unexceptional and straightforward vaping experience since the control options are easy to use. This feature makes it easy for beginners and experts to vape easily. Its bigger screen displays important information such as the wattage, battery life, and coil resistance. The screen makes this information more visible to the users.
The device has a digital design with a compact design, making it attractive to grip and carry around. The Innokin Z500 is a real head-turner. Its color, size, and appearance will keep you attracted and enjoy a long-lasting vaping experience.
Pros and Cons
Pros
It delivers up to 50w output quality
It features a 2100 mAh battery capacity
It displays a superb build capacity
Cons
It comes in limited colors
Vaporesco GTX One
Vaporesco GTX is one of the most recognized vaping devices you will find interesting. The device aggregates a stylish and slim design with excellent functionality. The device is Pocket friendly because it is more slim than compact like the Innokin Z50. If you are a vaper and you want to have a device that you can carry around in your Pocket, then the Vaporesco GTX is the best choice for you.
The device features an in-built 2000mAh battery. This battery is just enough to offer you a long-lasting and satisfying vaping experience without frequent recharging. In addition to this feature, the Vaporesco GTX provides a maximum wattage output of 40 W. This feature will make it possible if you want to have either mouth-to-lung vaping or just a lower-wattage sub-ohm vaping experience.
When looking at this device in terms of design, the Vaporesco GTX has excellent build quality as it excels on all fronts. The device is made of high-quality materials, making it visually attractive and durable. The device has a digital appearance and is slim, which makes it more Pocket friendly. This appearance will encourage you to show off and use it even in public. The craftsmanship employed in the device's construction is excellent, as you will find the device more comfortable and solid in hand.
The Vaporesco GTX kit comes with the GTX 18 MTL tank, a feature that makes this device unique from other vaping devices. The tank has an excellent performance in that it will offer a unique flavor experience. This feature makes the device outstanding in elevating the general vaping experience.
Pros
It features a 2000 mAh integrated battery
It offers up to 40W power output
It features a great form factor and builds quality
It features dimensions of 83.6 by 29.3 by 22.7 inches
Cons
Jacvapour Series B DNA75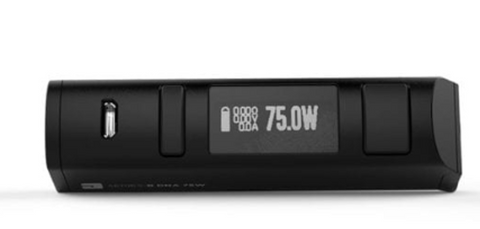 The Jacvapour Series B DNA75 mod is a compact and feature-packed device that seeks to meet the tastes and preferences of the vapers without excessive power output. The device features a robust eVolv DNA chipset and sleek design that allows the device to provide outstanding performance.
The eVolv DNA chipset is one of the most recognized features that the device comes with. This eVolv DNA chipset has advanced accuracy and capacities, which will help you customize the device based on your tastes and preferences. The eVolv DNA chipset will help you adjust the temperature and wattage and help you use more sophisticated features, such as replay mode, which makes vaping more satisfying.
Despite the device's diminutive form factor, it performs an excellent job as much as vaping experience is concerned. The device provides a maximum wattage of 75W, which is generally high and useful compared to some wattages available in the market. The smaller device will allow you to carry around from one point to another and use it even in public places.
The devices feature excellent build quality as their construction entails advanced materials. The button options are active and respond promptly, making vaping more satisfying. In addition to the build quality, the device features an OLED display screen that is bright, clear, and will allow you to read easily. The screen offers detailed information such as coil resistance, battery life, temperature settings, and other important information. It features a well-designed UI allowing you to navigate the menu more easily.
Pros
It offers up to 75W power output
It involves temperature control
It comes with an evolved DNA chipset
It is compact
It features a bright and clear OLED screen
Cons
Frequently Asked Questions about Small Vape Mods
Are Small Vape Mods worth it?
You will need a vape device that lets you carry it effortlessly and, at the same time, delivers quality vape flavor and intensity. The above-reviewed Small Vape devices prove to be the best selection f you need a small vape device.
Wholesale Vape Equipment supplier; UPENDS
UPENDS is the answer to all your vaping problems, as its products are designed to address the challenges and the preferences most customers need. The products are manufactured to achieve premium quality and delicious flavors that will keep you in high spirits all day long. For more products, visit UPENDS.com today.