The Posh disposable vape series stands out as a top-performing disposable brand hailing from the prominent vape manufacturer, Posh Vapes, based in the Midwest. Posh's range of disposable devices encompasses an extensive array of models, with the Posh XL vape holding a consistent position as a tried-and-true choice, while the newer Posh Max 2.0 represents the pinnacle of innovation, offering extended longevity.
These chic disposable vaporizers are the brainchild of Fuma Vapors, the creative force behind the creation of an elegant and approachable disposable vaporizer. Posh implements a non-refillable design, boasting a sizeable 1.8ml capacity that translates to an impressive 200 sprays per unit.
These disposable vaporizers from Posh are loaded with 60 mg of nicotine salt-based eLiquid, available in a diverse selection of flavors.
For those seeking a variety of Posh disposable vapes, Posh Plus Vape offers an extensive collection. This single-use, easy-to-operate disposable vaporizer juice device simplifies the vaping experience.
Why Choose Posh Disposable Vape
Every vape includes a scratch-off section containing an eight-digit serial code beneath it. You have the option to validate the authenticity of your product by verifying this code on the Posh website.

Numerous distributors are available throughout the nation. If you're a consumer, you can conveniently locate your nearest outlet on the website. Additionally, if you're a retailer, the website provides the means to request authorization for selling or distributing Posh products or to enroll your store.

The Posh lineup encompasses disposable vapes in diverse sizes, hues, and flavors. For the majority of models, there's no requirement to charge the battery, ensuring simplicity. Additionally, owing to the lightweight nature of each vape, you could even carry multiple flavors during an evening out.
Posh Disposable Vape Products
Posh Plus 1500
The Posh Plus 1500 is equipped with an 850 mAh battery, delivering sufficient power for approximately 1,500 inhalations. Its reservoir can hold up to 4.5 milliliters of e-liquid, employing a synthetic variant of nicotine.
The selection of 24 flavors encompasses both fruity alternatives and traditional tobacco-based profiles. Each flavor is infused with 4.5% nicotine salts, equating to 45 milligrams of synthetic nicotine content.
Each vaporizer is also furnished with a mesh coil, a metal strip punctured with perforations that augments the surface area of the vape coil. This feature is designed to enhance the vaporization of liquid with each inhalation, purportedly intensifying the depth of flavor and the volume of vapor produced.
Features
1500 puffs

850 mAh battery

24 flavors

5% nicotine salts

mesh coil
Flavors
Aloe blackcurrant

Tobacco Menthol

Apple

Banana strawberry ice

Blueberry ice

Cherry frost

Cuban tobacco

Grape

Kiwi strawberry
Push plus 2500
The 2500 model incorporates a mesh coil to enhance flavor richness and vapor production. The heightened potency of the 950 mAh battery enables approximately 2,500 inhalations. With a reservoir capacity of 6.5 milliliters for e-liquid, it features a nicotine salt concentration of 5%.
Features
2500 Puffs
5ml E-Liquid Capacity
5% Nicotine Salt
Mesh Coil Technology

950mAh battery
Flavors
Blueberry Ice | Apple Ice | Blue Raspberry Ice | Grape Ice | Kiwi Strawberry Ice | Orange Peach Pineapple Ice | Honeydew Melon Ice | Mint Ice | Raspberry Peach Ice | Strawberry Ice | Strawberry Watermelon Apple Ice |Spearmint | Watermelon Ice | Watermelon Strawberry Ice
Posh Plus 3000
With its sleek and stylish design, the Posh Plus 3K Vape is effortlessly user-friendly and ideal for those who enjoy vaping on the move. Its compact dimensions combined with an extended battery life establish it as the perfect choice for individuals seeking a hassle-free and dependable e-cigarette experience.
Featuring a diverse array of flavors, each boasting a distinct taste and aroma, the Posh Plus 3K Vape caters to all preferences. Whether your inclination leans toward fruity or minty notes, or perhaps something more intricate and refined, there's an encompassing range of Posh Plus 3K Vape flavors to satisfy every palate.
So, if you're in pursuit of an e-cigarette that encapsulates quality, flavor richness, and dependability, the Posh Plus 3K Vape is undeniably worth considering.
Features
1250mAh Internal Battery
8.5mL E-liquid
5% Salt Nicotine
3000 Puffs

Flavors
Berry Melon

JoJo (Gummy)

Kiwi Melon

Orange Slush

Pinenana

Prickly Pear
OLA 3000
The OLA 3000 Prefilled Pod Starter Kit presents a user-friendly, draw-activated pod vaping system. This kit incorporates a rechargeable 380 mAh integrated battery and three disposable 1.2 coils, all prefilled with 2 ml of nicotine salt e-liquid and accessible in an extensive selection of up to eight diverse flavors.
Delivering prefilled e-liquid pods and an optimal mouth-to-lung (MTL) vaping encounter, the OLA 3000 kit offers an exceptionally straightforward approach to vaping. The pods are conveniently available in packs of three.
Features
350mAh Battery capacity

2ml E-liquid capacity

3000 Puff

2% Nicotine

2Ω Resistance
Flavors
Blue raspberry ice

Grapes blueberry ice

Kiwi strawberry

Lemon grapefruit
Posh Max 5200
The Posh Max 5200 puffs Disposable Vape offers an ideal solution for users seeking a simple and convenient vaping encounter. Boasting an impressive 5200 puffs per unit, this disposable vape ensures several days of uninterrupted usage, delivering a gratifying vaping experience devoid of maintenance or the need for refills.
With its streamlined and compact design, the Posh Max guarantees effortless portability and comfortable handling. Featuring an array of captivating flavors, spanning juicy fruits, invigorating menthol, and luscious desserts, there's a flavor profile tailored to every palate.
Benefitting from a pre-filled e-liquid tank of 14mL capacity, you can indulge in a consistently flavorful vaping journey, all without the concern of refilling. The Posh Max is further equipped with a 450mAh battery, providing substantial power to yield a satisfying draw each time.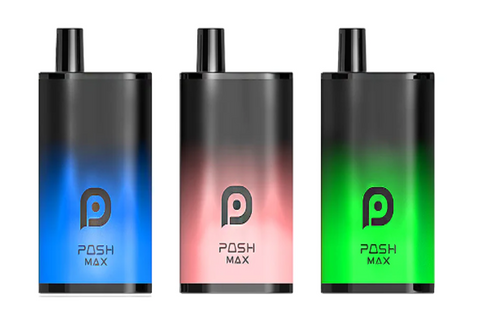 Features
14mL Prefilled E-Liquid Capacity

1500mAh Battery

5% (50mg) Nicotine Salt

5200 Puffs

Draw-Activated Firing Mechanism
Flavors
Blue Raspberry Ice

Grape Ice

Gummy Bear Ice

Kiwi Strawberry Ice

Mango Strawberry Ice

Blue B Ice

Spearmint

Razzmataz
Posh Max 2.0
Posh Max 2.0 Vapes represents the freshest advancement introduced by Posh Vapes, a prominent vape manufacturer headquartered in Illinois. These Posh Max 2.0 disposable vapes elevate both performance and aesthetics, boasting a capacity for 5200 puffs. The Posh Max 2.0 vapes come in two variations: one with a nicotine strength of 50mg (5%) and another with no nicotine content.
Features
5200 Puffs
14ml E-Liquid Capacity
Rechargeable
0% Nicotine Salt
Mesh Coil Technology
Flavors
Blueberry ice

Blue raspberry ice

Cool melon

Dragon banana strawberry ice

Fanta strawberry ice

Florida apple
Suggested products
Upbar-nano
The UpBAR Nano presents a compact disposable vape designed in a box shape, ensuring portability and convenience for vapers on the move.
Benefit from the advancements brought about by the innovative FRESOR technology, enhancing the utilization of e-liquid. The cutting-edge Next-Gen Mesh Coil boasts a meticulously designed flat-stack structure, enhancing energy efficiency and expanding the potential number of puffs achievable.
With the pioneering FRESOR mechanism, each UpBAR Nano is meticulously crafted with precision and uniformity. This mechanism ensures exceptional flavor replication, dense vapor production, and reliable leakproof performance, all while guaranteeing consistent and robust flavor with each inhalation.
Features
2.0 E-liquid capacity
410 mAh battery capacity
20 mg/ml nicotine salt
4.0 Ω Resistance
UpBar GT
The UpBAR GT, engineered by UPENDS, introduces its latest breakthrough in the vaping realm. This disposable e-cigarette arrives pre-filled with decadently flavored nicotine-infused liquids. With a capacity for approximately 600 puffs, the UpBAR GT draws inspiration from the elegant aesthetics of a high-performance car, showcasing a refined exterior while providing delightful flavor sensations.
What distinguishes the Upends Upbar GT from its counterparts is its distinct characteristic that permits users to conveniently track the quantity of e-liquid left within the device.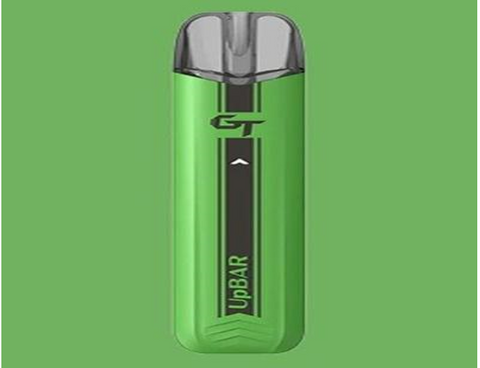 Features
2 ml e-liquid
2% Nicotine Strength
20 mg Nic Salt
410mAh battery
600 puffs
FAQs
Can I choose from different flavors?
Yes, Posh Plus Disposable Vapes are available in a variety of flavors, ranging from fruity options to menthol and dessert flavors. You can select the flavor that best suits your preferences.
Best Vape Wholesale Supplier-UPENDS
Embark on an enthralling voyage through the Vape UPENDS universe, where innovation and elegance harmoniously meld. Brace yourself for an extraordinary odyssey of vaping, promising unforgettable encounters. We extend a heartfelt invitation to join our vibrant community, where an array of exclusive offerings awaits to amplify your vaping delight.
At Vape UPENDS, our boundless joy stems from our avant-garde creations, refined designs, and meticulous craftsmanship. Our team of skilled artisans invests their passion and expertise into crafting flawless and exquisite pieces that will enrapture your senses. With each inhalation, we aspire to awaken your refined palate and ignite an enchantment that will leave you in awe of the remarkable experiences we have meticulously crafted.
Our ultimate aspiration is to deliver an unparalleled vaping journey, and we eagerly anticipate embarking on this transformative path with you. So, take a moment to unwind and allow us to showcase why Vape UPENDS stands as the premier choice for discerning individuals who demand nothing less than excellence.
Prepare to immerse yourself in a realm where imagination, style, and sheer marvel converge, bestowing an encounter that will captivate you and leave you yearning for more.