Kangvape Onee Stick Disposable is a type of disposable vape pen that is designed to provide an easy and convenient vaping experience. These devices are pre-filled with e-liquid and are meant to be used until the e-liquid is exhausted or the battery dies, at which point they can be discarded.
The Kangvape Onee Stick Disposable is a popular choice among vapers who are looking for a hassle-free and portable way to satisfy their nicotine cravings or to enjoy their favorite e-liquid flavors on the go. These disposable vape pens come in a variety of flavors and nicotine strengths, making them suitable for both new and experienced users.
What Is A Kangvape Disposable
Kangvape Disposables is a popular disposable vaping product that is known for its exceptional quality. Kangvape has revolutionized the disposable vape industry by introducing devices with rechargeable features that promise over 3000+ puffs. Additionally, Kangvape disposables feature airflow control and auto-draw technology, making them even more user-friendly.
Kangvape's range of flavors is complex and delicious, such as the Tropical Ice Cream flavor, which blends tropical fruits with a creamy finish.
Kangvape Disposable Vapes Products And Flavors
Kangvape Onee Max 6500
Kangvape Onee Max 6500 is a type of electronic cigarette or vape device that is designed to provide a satisfying vaping experience for users. It features a large, 6500mAh battery, which provides a long-lasting vaping experience without the need for frequent recharging.
The Kangvape Onee Max 6500 also has a large 7ml e-juice capacity, which minimizes the need for frequent refilling. The device has adjustable airflow, allowing users to customize their vaping experience based on their preferences.
Features
Box-style design
Provides 6500 puffs
Contains 22 mL of nicotine salt e-liquid with a 5% nicotine strength
Equipped with a 650 mAh rechargeable battery that can be charged using a USB-C cable
Available in 20 different flavor
Kangvape Onee Stick 5500 Disposable Vape – 5500
The Kangvape Onee Stick 5500 disposable vape is a skillfully made vaporizer with a cylindrical shape that is small enough to fit in your pocket without difficulty. Despite its diminutive size, this vape pen has a sizable vape tank with a capacity of over 20ml and a maximum puff capacity of 5500. The gadget features a portable, fashionable design.
It is available in a range of flavors, including fruity, menthol, and dessert flavors. Although the Kangvape Onee Stick 5500 cannot be refilled, it is equipped with a strong 2000 mAh battery to ensure long-lasting use.
Features
The device offers more than 15 flavors to choose from.
It has the capacity to deliver up to 5500 puffs.
The pre-filled e-liquid tank has a generous capacity of 19.9ml.
The device is equipped with a powerful 2000 mAh battery.
Kangvape Onee Max Disposable Vape Pen - 5000 Puffs
The Kangvape Onee Max Disposable Vape is a compact and convenient pre-filled vaping system that uses salt nicotine. It is activated by drawing on it, and its 1000mAh battery provides a powerful experience that lasts for about 5000 puffs.
The device comes pre-filled with 20mL of 50MG (5%) NIC salt juice and is available in various flavors. It is also available at the most affordable prices online.
There are two versions of the Kangvape Onee Max Disposable Vape pen, which are rechargeable and non-rechargeable. Unfortunately, there is no way to determine which type of device is included in the package before it is shipped.
Features
Consist of a pack of 10.
Contains 50MG (5.0%) nicotine by volume.
Pre-filled with 18.5ml of e-liquid.
Provides approximately 5000 puffs per device.
Includes a powerful 1000mAh integrated battery.
Designed as a disposable and non-refillable product.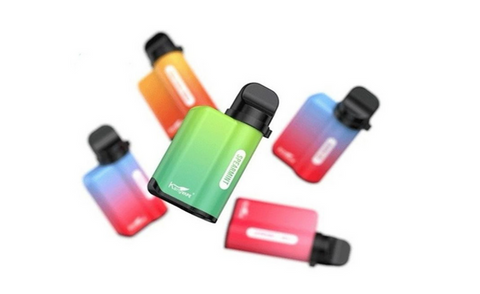 Kangvape Onee Stick Disposable Vape Pen – 3000 Puffs
The Kangvape Onee Stick 3000 Puffs Disposable Vape Pen is a noteworthy product from Kangvape that you may want to consider. It offers a diverse selection of flavors, with 22 options ranging from Blue Razz Ice to Watermelon Cream, providing customers with intensely satisfying and realistic tastes. If your customers are in search of a medium puff count disposable vape pen with unique and uncommon flavors, the Kangvape Onee Stick 3000 is an excellent choice to recommend.
Features
22 flavors available
Provides up to 3000 puffs
Contains 12 ml of vape juice
Equipped with a 1600mAh integrated battery
Kangvape Onee Stick Plus Disposable Vape Pen – 1900 Puffs
The Onee Stick 1900 Puffs – Disposable Vape is a compact and handy vaping device that comes pre-filled with salt NIC juice. This draw-activated device is capable of delivering approximately 1900 puffs, thanks to its powerful 1200mAh battery. It contains 6.2ML of 50MG (5%) of NIC salt juice and is available in different flavors to suit your preferences.
Features
consist of a pack of 10.
Contains 5.0% (50MG) Nicotine by Volume.
Each device contains 6.2ml of E-Liquid.
Powered by a 1200mAh battery.
Provides approximately 1900 puffs per device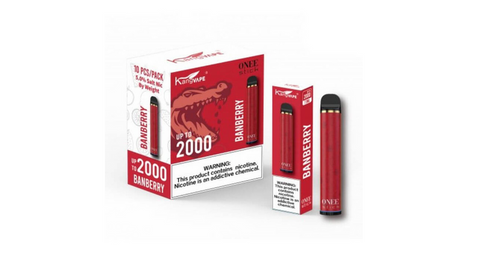 Kangvape Onee Stick 5000 Disposable Vape Pen – 5000 Puffs
The disposable vapes called ONEE STICK 5000 from KANGVAPE have an enormous pre-filled e-juice capacity of 18.5ml, which is more than sufficient to satisfy any customer. These vapes are capable of lasting up to 5000 puffs!
Features
Available in 10 pack
Contains 50MG (5.0%) Nicotine by Volume
Pre-filled with 18.5ml of E-Liquid
Provides approximately 5000 puffs per device
Equipped with a 1000mAh integrated battery
Designed to be disposable and non-refillable
Kangvape Onee Pro Disposable Vape Pen – 2600 Puffs
The KangVape Onee Pro Disposable Vape is characterized by its high capacity of 11ml of nicotine salt e-liquid, which contains 50 mg (5%) of nicotine. Additionally, it utilizes a 1200mAh built-in battery, which eliminates the need for charging or intricate adjustments. Moreover, each KangVape Onee Pro Disposable Vape has the ability to endure up to 2600 puffs.
Features
10 Pack availability
50MG (5.0%) nicotine by volume
11ml pre-filled e-liquid
Approximately, 2600 puffs per device
1200mAh integrated battery
Disposable, non-refillable, and non-rechargeable
Kangvape Onee Stick Disposable Vape Pen – 2000 Puffs
The Kangvape Onee Stick 2000 Puffs Disposable Vape Pen is a highly desirable disposable vape pen that boasts numerous appealing features. It is offered in 17 scrumptious flavors such as Classic Custard, Creamy Float, Fanta, and Tropical Ice Cream, providing a broad selection of flavors to suit your taste preferences. Moreover, this disposable vape pen comes equipped with adjustable airflow, allowing you to regulate the amount of vapor produced.
Features
Available in a 10 pack
Contains 50 mg of nicotine salts
Equipped with 7ml of e-liquid
Provides approximately 2000 puffs per device
FAQ About The Kangvape Disposable Vape
How Long Does A Kangvape Disposable Device Last?
Kangvape offers a broad selection of disposable vapes, which vary in size from small pen-shaped devices that deliver approximately 600 puffs to larger rechargeable models that offer more than 6000 puffs.
Assuming a nicotine strength of 5%, Kangvape disposables can typically last for a few days to a few weeks for regular users who take between 50 and 250 puffs per day, depending on the user's vaping habits and the specific model.
How Does The Onee Max Differ From The Onee Stick And Onee Pro?
Onee Max, Onee Stick, and Onee Pro are disposable items offered by Kangvape, some of which are branded with the Kangvape logo and others of which are offered under the SMOD name.
Because the names are frequently used interchangeably by retailers, you might need to look at the characteristics to be sure you're getting the product you want.
How To Charge A Kangvape Disposable Vape
Several Kangvape models with a puff count of 4000 or more can be recharged using a USB-C cable. The charging port's position varies depending on the model, either on the unit's base or side. If the battery is almost depleted, it may take more than an hour to charge fully, so it's advisable to keep an extra vape on hand.
What Causes The Blinking Of My Kangvape Device?
Kangvape disposable devices emit a blue light during operation, and if the light starts flashing, it's likely that the battery is getting low. If you're not certain, you can consult the instructions for confirmation.
Best Vape Wholesale Supplier-UPENDS
At Vape UPENDS, we're fascinated with making vaping a totally immersive, thrilling sensory encounter that piques your interest across the board. Our team of professionals is committed to developing distinctive and fashionable vaping goods that will elevate your vaping experience. We design products that look gorgeous and function flawlessly by leveraging cutting-edge technology and paying special attention to even the smallest details.
As a cherished partner of Vape UPENDS, you'll have access to our special selection of goods that will captivate and enthrall your clients. Come along on this thrilling adventure with us and learn why Vape UPENDS is the top vaping destination for all discerning users.