Have you heard about Pure Vape before? Would you like to know the full details of the Company? Hang in there! There are lots of vape companies out there and one of them is Pure Vape Company. It is essential that you choose the best companies for your vape products as this would make vaping exciting experiences. One of the tops selling vape companies out there is Pure Vape, we know you might have been wanting to know what the company is all about and that is why in this article, we shall be bringing a Review of Pure Vape.
1.      What is Pure Vape?
Just as the name of the company sounds, Pure Vape is a well-known company that deals in the sales of pure and original cannabis. The company is located in Southern California and they have their website as . This company is known to have been perfectly extracting THC and CBD from the cannabis plant ever since 2017. The company gives great preference to quality and all their products are original, natural extracts, and very safe to use. They make sure that their products all pass through efficient and standard laboratory tests before they are introduced to the market. The company does not deal in dry herbs but cannabis only.
A brand is a great option for people who are looking to switch to vaping and it is as well the best choice for experienced vapers too. Pure Vape has excellent customer care service and they have amazing offers for their customers. Their product line includes pre-filled 510-cartridges, disposable vape pens, prefilled syringes, and 510-batteries. You should try checking them out one of these days as the brand is one of the best vape brands you would come across.
1.1 Pros
Great Value for Products
Easy to Use Products
Excellent Customer Care Service
1.2 Cons
Their products are not so potent and so it might be a no for someone looking to have something very strong
2.      Pure Vape Product Line
2.1 Pure One Cartridges
This is a top-selling product of Pure Vape. These cartridges are loaded with original cannabis that is highly potent and the lab test for them gives a result of 85% THC content and 1.4% CBD content- that is quite huge! These cartridges come with heating elements that are ceramics- otherwise known as the CCELL technology. What this means is that they are quite strong and very durable. The material used in constructing the product is glass and stainless steel, and it has a ceramic mouthpiece at the top the product is quite attractive!
The cartridges come with 510-threads at the base and they are quite portable to hold and carry. There are various strains of these cartridges available, you have the option of choosing Indica, or Hybrid, or Sativa Selection. There are only two sizes available and they are the 0.5g and the 1g. These products come in a whole lot of amazing flavours, there is the Critical Kush flavour, the Skywalker OG flavour, the Purple Punch for Sativa, then the Indica strains options like the Sour Diesel, the Tangie, Amnesia Haze, amongst others. The product is an awesome one.
2.1.1 Pros
Very Easy to Use
Great Vapor Production
Lots of Flavors Available
2.1.2 Cons
It is not highly potent
2.2  Pure Disposables
This is the right product for you if you are looking for very easy to use vape pens that speaks quality. This package features Pure Vape's proprietary cannabis THC distillate that is available in more than ten awesome flavours. The pens are disposable and the flavours present in three main strains which are the Sativa, Hybrid, and Indica. These pens come in bright and attractive colours and they are very easy to use which makes them a great choice for newbies in vaping.
The oils have an amount of potency that range between 70% THC to 80% THC, and they are with just a little quantity of CBD- about 0.4%. Each strain of the product is available in four different flavours, which gives users the privilege to choose between flavours like Banana Smoothie and Raspberry Twist for the Indica Strain. There is the Passion Fruit flavour and the Blood Orange Flavour for the Sativa, amongst others. The pens are simple to use as they are draw-activated and quite portable. They also can last up to 120 t0 200 puffs.
2.2.1 Pros
Various Strains Available
Easy to Use
Great Vapour Production
2.2.2 Cons
The prices are not so Cheap
2.3  Pure Vape Batteries
If you give high preference to convenience while vaping, then you should try getting these batteries from Pure Vape. The batteries are quite strong, very easy to use, and perfectly compatible with any cartridge from pure Vape. The batteries come with 510-threaded cells and they heat up very fast in just about 1 seconds. These batteries can last for up to 7 hours non-stop when fully charged. The cells present in various awesome colours like orange, blue, black, yellow, pink, and others. The batteries are draw-activated and they come with no button, they come with rechargeable cells, and there is also a USB charger in the kit.
2.3.1 Pros
Fast Heat-Up
Quite Easy to Use
Lasts Long
2.4  Pure Syringes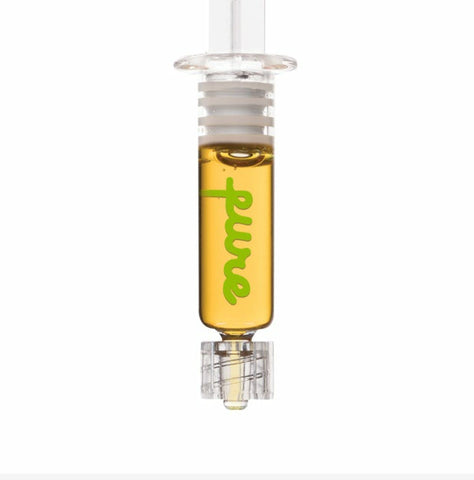 This particular product from Pure Vape makes it very easy for you to refill pods and tanks, neatly and perfectly. The syringes contain Pure Vape's high-quality THC juices and each of the syringes can take in 1g of liquid per fills. With this syringe, you can easily fill vape tanks and refillable pods with liquid, you can also blend your liquid with food, you can add it to rolled joints, amongst other uses. The syringes present in various strains that feature here different flavours. You can choose any of the selections like Skittles, Granddaddy Purple, and OG for the Indica Strains. You can also choose between flavours like Durban Poison, Lemon Haze, and Green Crack, from the Sativa Selections.
2.4.1 Pros
Great Quality Oils
Easy to Use and Convenient
Wide Range of Flavours Available
2.4.2 Cons
It is not so Potent
2.5  Pure CBD Disposables
This particular product from Pure Vape features only CBD. There are however various options of CBD to choose from. The available options you can choose from include:
The non-psychoactive Boost option (1-part CBD: 0 parts THC)
The low-psychoactive option called Rise and Shine (4:1)
psychoactive blend that offers equal parts CBD and THC (1:1)
These pens present with no buttons or switch as they are fully automatic and easy to use. All you have to do is simply remove the device from its pack, and then sit back to enjoy your awesome vaping session. The pens present in various options like the French Vanilla, the Strawberry, and Frozen Grape.
2.5.1 Pros
It activates Automatically
Nice Vapor Production
Available in Three Flavors
2.5.2 Cons
It does not have a Long Vape Life
3.      Frequently Asked Questions (FAQ)
3.1 What are the Delivery Options of Pure Vape?
You can only get products from Pure Vape in California; they do not ship any of their products to anywhere outside California. Also, it is only people that have state-issued medical marijuana licenses that have access to their products- they sell to these people only. If you re buying from their website, you have to first put in details that confirm that you are a valid license-holder before you would be able to buy from them. You can also get their products from any licensed dispensaries all through the state.
3.2 What is the Discount Offers of Pure Vape?
As of now, Pure Vape does not offer any discount opportunities to their customers and this is mainly because of the fact that they are mainly wholesalers and they also do not sell directly to their customers. They sell to various licensed dispensaries, which you can then buy from.
4. You want another Awesome Vape Store? Try UPENDS!
4.1 UPENDS
Uppen
Upcott
Try checking out the products at UPENDS.com. If you looking to experience a unique and intriguing vaping experience easily accessible at wholesale price.
UPENDS.com is one of the best companies that provide you with the best vaping devices at wholesale prices. Their products are beautifully designed and very portable to carry anywhere, this makes them very convenient and safe to use too. You get to enjoy the best vaping experience at really affordable prices.
UPENDS, the rising e-cigarette brand is presently recruiting agents worldwide…
5.      Conclusion
You can fully trust any product from Pure Vape as all their products are loaded with quality and efficiency. Pure Vape products are quite easy t use, and they are produced using purely natural ingredients. Though they do not ship their products anywhere outside California- which might make it a bit difficult for you to buy and access, you can be confident about all their products. They have quite a diverse range of collections and their customer care service is awesome. You should check upends.com out if you are looking to try out other great vape products too.