Vaping technology's daily advancement has come up with disposable vapes that have changed every vaper's lifestyle. Disposable vapes are electronic cigarettes that are designed to be used until their content is depleted. Once the electronic cigarettes' e-liquid is depleted, the device is safely disposed of. The e-liquid in the disposable vape devices is prefilled, and this allows the vapers to enjoy vaping once the device is discharged from its package.
Popularity in the use of disposable vape devices for the past years is not a surprise anymore as most people have come to embrace the devices more than other vaping equipment. Disposable vape devices bring convenience and quality vaping sessions as you will need more of the wide range of flavors they deliver. In this blog post, you are lucky to encounter one of the best disposable vape devices in the market- Puffins disposable vape.
What is Puffins Disposable Vape?
Puffins Disposables is a well-known brand that produces disposable vape equipment that delivers a vast range of flavors with various nicotine strengths. You will appreciate the sleek and compact design that the Puffins disposable vape comes with. The Puffins disposable vape is designed to achieve a cylindrical figure with a mouthpiece on one end and a built-in battery on the opposite end. The vape device is absolutely simple and fun to use as it features a discreet and comfortable feel.
Thanks to the capability of the Puffins disposable vape of ensuring you access a wide range of quality flavors. The sweet flavors include fruit, tobacco, and menthol flavors that are available in 2% and 5% nicotine strengths. You are free to choose the disposable vape device that will give you the desired level of nicotine satisfaction. This disposable vape device comes with a prefilled e-liquid that levels up to 1.3ml.
It is worth recognizing the wonderful battery life of 300 puffs that are delivered by the amazing Puffins disposable vape. There is a non-rechargeable built-in vape battery that is geared towards ensuring all the vape e-liquid is vaporized. With a package of marvelous disposable vape features, the Puffins disposable vape is a highly competitive vape product in the market.
Pros
It is highly reliable
It comes with high portability levels
It offers a wide range of flavors
It delivers smooth throat hits
It features a long-lasting battery
It is easy and simple to operate
It is ideal for use by both beginners and experienced vapers
Cons
Puffins Disposable Vape Reviews: Is Puffins Disposable Vape Good?
Certain features make a disposable vape be termed as worth buying. The disposable vape in check should be in a position to deliver the services you like. Check out the wonderful features of the Puffins Disposable vape;
Puffin P Disposable Vape
This Puffins Disposable vape is reliable as it comes in various flavors that include Blue Razz ice, grape bubblegum, lush ice, peach strawberry, watermelon skittle, Red Pineapple Coconut, kiwi guava passion fruit, among other delectable flavors. This disposable vape device comes with a prefilled e-liquid capacity of 10ml, which is enough to offer a vape user up to 5000 puffs. The Puffins disposable vape features an integrated 550mAh battery that is pre-charged for you to start vaping right from the moment you purchase the vape device.
You are guaranteed pure flavors with high-quality clouds as the Puffins P disposable vape employs a mesh coil that offers a resistance of 1.2 ohms. For those vapers who seek nicotine satisfaction, the Puffins disposable vape delivers up to 50mg of nicotine strength.
Pros
It is simple and easy to use
It features a powerful battery
It employs a mesh coil for pure flavors
It has a huge puff count
It offers nicotine satisfaction
It is highly portable
Cons
It is non-refillable
It is expensive
YOHO Puffin Disposable Vape
Welcome to the most efficient and convenient Puffins disposable vape that has captured every vaper's interest. The vape device is especially adored by the way it delivers quality strawberry flavor. This is due to the installation of the cotton mesh coil of 1.6ohm resistance that ensures quality vape clouds are produced. With this Puffins disposable vape, you will be in the best position to enjoy the excellent taste at up to 800 puffs from the 2ml prefilled e-liquid that is available.
For your Puffins disposable device to be reliable, a 400mAh built-in integrated battery is installed. You are free to choose from the vast range of the most coveted flavors in the vape market through the Puffins disposable vape. With the smooth throat hits you take, you will get the right amount of nicotine, as every prefilled e-liquid contains 20mg of nicotine salt.
Pros
It comes with a variety of vape flavors
It offers nicotine satisfaction
It is draw-activated hence easy and simple to use
It uses a cotton mesh coil
It features a high level of portability
It offers the user a huge puff count
Has an attractive physical appearance.
It gives you a comfortable feel
Cons
It is non-refillable
It is non-rechargeable
UPENDS UpBar GT Disposable Vape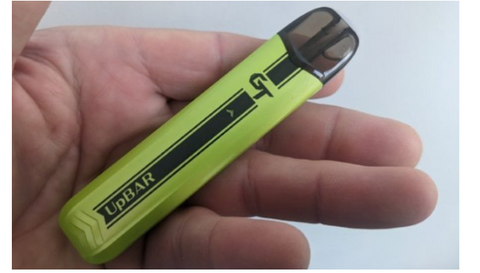 This disposable vape is a world-class tool for making your vaping lifestyle worth looking forward to. This product is manufactured and retailed by the UPENDS company. At first glance at this vape device, you will adore the sleek and slim design that makes it streamlined and comfortable to handle. A 1.4-ohm mesh coil is installed to give the user an authentic flavor. It is thrilling as the disposable vape device can be accessed in a wide range of amazing flavors.
The Upends UpBar GT Disposable is meant to offer long-lasting service as it is powered by a 450mAh battery that is responsible for heating the prefilled e-juice. You will love every puff of the 600 puffs that are offered by this wonderful disposable vape device. This device is absolutely simple and pretty easy to use as it involves draw-activation technology.
Pros
It offers a huge puff count
It is highly portable
It is draw activated
It uses a powerful battery
It is easy and simple to use
It offers a nicotine satisfaction
Cons                          
Frequently Asked Questions Puffins Disposable Vape
Apart from what you have already gathered from the above reviews, there are certain basic and essential factors that you need to be aware of. From the following common questions, you will stand a better chance of selecting and properly using the right disposable vape.
What are the different types of Puffins Disposable vape kits?
There are exceptional Puffins disposable vape models that are availed for you to select your favorite. The models include the Puffins P disposable vape and YOHO Puffin disposable vape. The difference between the two models is minimal, as one is capable of offering more puffs than the other, as reviewed in this article.
How long does a Puffins Disposable Vape last?
The average lifespan of a Puffins disposable vape solely depends on the frequency of use. The Puffins disposable vape is known to offer up to 800 puffs that will keep a vape user going for days before another disposable vape is needed. Once the contents in the vape device are depleted, you are required to carefully dispose of the vape device properly.
How do you charge a Puffins Disposable Vape?
The Puffins disposable vape is designed to come with a pre-charged battery that is powerful enough to heat the device's contents, and hence there is no need for you to recharge it.
Is the Puffins Disposable Vape worth it?
Every vaper who encounters the Puffins disposable vape can attest to its premium quality as it displays the classic vibes you will love. You will get a variety of amazing flavors that bring your vape lifestyle to a new exciting level. The disposable is worth its price as it serves you as you wish.
How do I turn on my Puffins Disposable vape?
Unlike other vape devices that require looking for the switch button, your Puffins disposable vape allows you to start vaping right away. This is possible as draw-activation technology is employed in the product's design. With the first puff, you are good to go with your adventurous vaping sessions.
Best Vape Wholesale Supplier-UPENDS
Welcome to the drastically rising world-class vape company that has been praised for its excellent products and customer service by its professional staff. UPENDS is ranked to be the largest e-cigarette wholesale supplier in China. With products from UPENDS, you are assured of quality in every aspect. There is a high level of research on the latest products with the desired features of the UPENDS team. You are advised to visit this excellent disposable vape product supplier that brings products that achieve the best design, taste, and ease of use. This is where you will access high-quality vape products at a very humble price. In case you need the best disposable vape device, you have to contact UPENDS for your dreams to be manifested.