Disposable vape equipment, also known as disposable vape pens, are pre-filled electronic devices that are designed for one-time use. They are a convenient and easy-to-use option for vaping, as they do not require any maintenance or charging. Here's how to use a disposable vape pen for vaping: using the disposable vape is quite easy; Remove the disposable vape pen from its packaging and remove any protective covers or caps. Check the airflow by drawing air through the mouthpiece without inhaling. Some disposable vape pens may have adjustable airflow, while others have a fixed airflow. If the device has a button, press it to activate the Battery. If not, simply inhale from the mouthpiece to activate the Battery and begin vaping. Inhale the aerosol slowly and steadily into your lungs, holding it there for a few seconds before exhaling.
Even with the effectiveness of disposable vapes, not all the disposable vape brands in the market can work the best for you. This way, we have brought you a detailed review of one of the best disposable vapes in the market; Pop Bar Disposable Vape.
What is Pop Bar Disposable?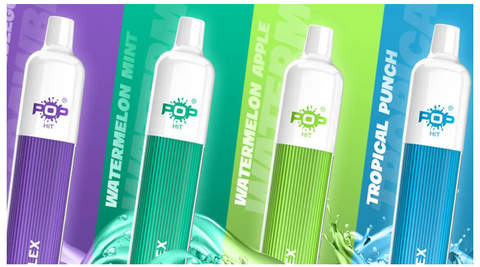 Pop Bar Disposable is a disposable vape pen pre-filled with e-liquid and designed for one-time use. It is a compact, portable device that does not require maintenance or charging, making it a convenient option for on-the-go vaping. The Pop Bar Disposable features a sleek and simple design, with a mouthpiece on one end and a battery or LED light on the other. The e-liquid in the Pop Bar Disposable comes in various flavors, and the device typically contains a high nicotine concentration, making it suitable for smokers trying to switch to vaping. The exact specifications of the Pop Bar Disposable may differ depending on the specific product and flavor.
Pop Bar Disposable Vape Pen Review: Is it Worth It?
Key Features
400+ Puffs
3ml E-liquid Capacity
8-ohm Coil
280mAh Capacity Battery
7 Input Voltage
Pop Bar Disposable Flavors
Blue Razz – this is a sweet and tangy blue raspberry flavor that is popular among vapers.
Mango Peach Pineapple - A tropical blend of juicy mangoes, ripe peaches, and tangy pineapples that provides a refreshing vaping experience.
Lush Ice - A menthol-infused watermelon flavor that is perfect for those who enjoy a cool and fruity vape.
Peach Lemonade - A combination of sweet peaches and tart lemonade that is perfect for a hot summer day.
Banana Ice - A creamy banana flavor with a cool and refreshing menthol finish.
Pina Colada - A classic cocktail flavor featuring a blend of coconut and pineapple with a hint of rum.
Battery and Battery Capacity
The Pop Bar Disposable Vape pen is powered by an internal battery that is pre-installed in the device. It comes with a capacity of 550mAh, a capacity that allows you to enjoy all the e-liquid before it can die. This Battery is not rechargeable, and once it is dead, you only need to dispose of it.
The Pop Bar, a Disposable Vape pen, can provide around 300 to 800 puffs. However, the actual number of puffs can vary depending on factors such as the user's inhaling habits, the temperature of the device, and the e-liquid flavor. The Battery is able to power it until you enjoy all the puffs with any recharge.
Once the Battery has been depleted, the disposable vape pen can be safely disposed of in the trash. It's important to dispose of the device responsibly and according to local regulations to prevent environmental harm.
Cost Of Purchase
The cost of purchasing of Pop Bar Disposable Vape Pen varies from one vape shop to the other. However, most vape shops allow you to access it at a price of $13.99. As you go shopping, you need to check from one shop to the other so that you can only choose the best that suits your vaping needs and that does not strain your budget.
Pop Bar Disposable Vape Design
Pop Bar Disposable Vape pen features a sleek and compact design that is designed for easy use and portability. The pens are cylindrical in shape, with a smooth exterior and a comfortable mouthpiece for easy vaping.
The body of the disposable vape is designed with lightweight materials and comes in a variety of colors and designs, depending on the specific model. Some models may feature a matte finish or a glossy exterior, while others may feature patterns or graphics on the device.
At the base of the device, there may be a small LED light that illuminates when the device is activated or when the Battery is running low. Some models may also feature a button that needs to be pressed to activate the device, while others are draw-activated and simply require the user to inhale from the mouthpiece to begin vaping.
Overall, Pop Bar Disposable Vape Pen is designed to be easy to use, convenient, and stylish, making it a better choice for you if you want a hassle-free vaping experience.
General Performance
The Pop Bar Disposable Vape pen is a compact and portable disposable vape pen that comes pre-filled with e-liquid. It is designed for convenience and ease of use, as it does not require any charging or refilling. Once the e-liquid is depleted, the device can be disposed of.
This equipment has a built-in battery and a 1.3ml capacity tank that contains a blend of nicotine salt e-liquid. According to the manufacturer, the device is rated for approximately 400 puffs per unit. The device is draw-activated, meaning that users simply need to make a puff to activate the heating element and produce vapor.
The performance of the Pop Bar Disposable Vape pen delivers a satisfying vaping experience with a smooth and consistent draw. The nicotine salt e-liquid produces a strong throat hit, which is similar to smoking a traditional cigarette. The flavors are also reported to be vibrant and enjoyable, with a variety of options available to suit different preferences.
Pros and Cons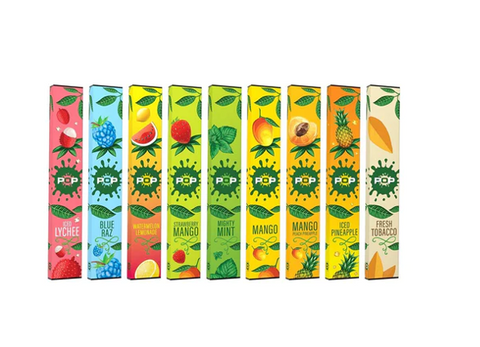 Pros
The Pop Bar Disposable Vape Pen is easy to use as it has no physical buttons
This vape pen is designed with a minimalistic body to allow for on-the-go vaping
Pop Bar Disposable Vape Pen is a highly lightweight and portable
This vape pen is available in variable flavors that you can choose from
It is tightly designed to make it leakproof hence no leakage inconveniences
Cons
Many vapers complain that its flavors almost taste the same way.
FAQs About Pop Bar Disposable Vape
What is a Pop Bar disposable pod device?
The Pop Bar is a disposable vaping device that is designed for one-time use. It comes pre-filled with e-liquid and a heating element, and it is activated by inhaling through the mouthpiece.
How long does a Pop Bar last?
The battery life of a Pop Bar disposable pod device varies depending on usage, but it typically lasts for around 200-300 puffs. Once the e-liquid is depleted, the device must be disposed of and replaced with another one.
What flavors are available for the Pop Bar?
The Pop Bar comes in a wide range of flavors, including fruit flavors, menthol flavors, and dessert flavors. Some popular options include Lush Ice, Blue Razz, and Mango.
Is the Pop Bar refillable?
No, the Pop Bar is not refillable. Once the e-liquid is depleted, you must dispose of the device and acquire a different one.
How much nicotine is in a Pop Bar?
The Pop Bar comes in a variety of nicotine strengths, ranging from 20mg to 50mg. It's important to note that high nicotine levels can be addictive and may have health risks, especially for young people and pregnant women.
Is the Pop Bar suitable for beginners?
Yes, the Pop Bar is designed to be easy to use; thus, it is a great option for you if you are a new vaper or if you prefer a simple and straightforward vaping experience.
UPENDS: Wholesale Vape Equipment Supplier
UPENDS is a vape equipment supplier that provides high-quality products to wholesale customers. They offer a range of vaping products, including e-cigarettes, vape pens, and e-liquids, as well as accessories such as chargers, batteries, and replacement coils. UPENDS is committed to providing innovative and reliable products to its customers and to supporting the growth of the vaping industry.
In addition to their products, UPENDS also provides a range of services to their wholesale customers, including product training, marketing support, and customer service. They work strictly with their customers to understand their needs and to provide tailored solutions to help them grow their businesses.
If you are a wholesale customer in the vaping industry, UPENDS may be a supplier worth considering. However, it's always important to do your own research and compare different suppliers to find the one that best meets your needs.