Disposable vape pens or e-cigarettes have become extremely popular, all thanks to the ease of use and convenience they offer. Disposables are meant to be used a limited number of times and once the e-juice or battery finishes, they are discarded. There is no need to replace any parts of the device or refill the tank.
In this article, we will discuss one such popular disposable named Pod 5500 V2 Disposable Vape, and see if it is worth the value. 
What is a Pod 5500 v2 Disposable Vape?
The Pod 5500 V2 Disposable Vape is disposable and designed to provide approximately 5500 puffs. It features an integrated tank with a 12mL e-juice capacity and is rechargeable via the Micro USB port. It has a bottom control ring to adjust airflow to the desired preference and have a great vaping experience.
There is a lot to love about this vape pod by Pod Mesh that we'll discuss, from its sleek and stylish look to its features and functionality. There are many flavor options and the device is designed to provide the same taste with each puff, with no drop-off in performance even when used continuously.
Pod 5500 v2 Disposable Vape Main Highlights
Check out some amazing features of Pod 5500 v2 Disposable Vape by Pod Mesh…
A Disposable Vape Pod
Available in 10 Pack
12 mL Pre-Filled E-Liquid
5% (55mg) Nicotine by Volume
Approximately 5500 Puffs Per Device
600 mAh internal battery
Non-Refillable and Rechargeable
Draw-Activated Firing Mechanism
Adjustable Airflow Control
Mesh Heating Element
USB Charging Port
A Huge Variety of Flavor Options
Pod 5500 v2 Disposable Vape Flavors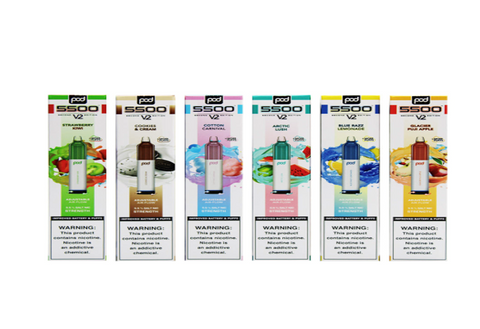 Pod 5500 v2 Disposable Vape comes in a wide range of e-liquid flavors so that you can pick as per your specific taste. Listed below are some most popular flavors available to choose from…
Allow Grape
Arctic Lush
Arctic Blue Razz Watermelon
Banana Frost
BlueBerry Muffin
Berry Lush Apple
Blue Razz Chew
Blue Razz Lemonade
Cookies and Cream
Frozen Strawberry Guava
Frozen Sour Apple
Glacier Fuji Apple
Glacier Grape Chew
Glazed Doughnut
Hawaiian
Mighty Mint Sapphire
Marshmallow
Plum Berry Freeze
Pod Energy
Polar Peach
Strawberry Kiwi
Sour Strawberry Gummy
Watermelon Soft Chew
Pod 5500 v2 Disposable Vape Review
Pod 5500 v2 Disposable Vape is one of the popular vape pods in the market. It features a sleek and stylish design that fits perfectly in your hand. With its large e-juice capacity and rechargeable battery, the vape pod is designed to provide a pleasant vaping experience. Talking about its functionality, the device works great and offers a unique flavor selection.
The vape pod boasts a solid and stylish design and fits perfectly in a handbag or pocket. One of the standout features of this device is its impressive puff count, all thanks to its generous 13mL e-liquid capacity. It allows you to enjoy your favorite for longer without worrying about refilling or maintaining the device.
Additionally, it has a rechargeable 650mAh battery which means you can fuel it up when it depletes. The battery capacity is enough to provide a long vaping session without the need for frequent charging. And when the battery dies, you can easily plug in a Type-C charging cable to the port that is located at the bottom of the device.
Coming to its quality, and durability, the Pod 5500 V2 Disposable Vape is doing great. It has a sleek body form with a tube-like design that fits perfectly in your pocket. The lower half of the body is white, while the top section is shiny which gives it a clean and solid look. The flavor is embossed on the white plastic section.
Moreover, the Pod 5500 V2 Disposable Vape is designed with durability in mind. Though the body is kept stylish, the device is also sturdy and functional. It is designed to withstand wear and tear as most vapers use such devices on a daily basis. Talking about the mouthpiece is designed in a way that it won't become loose or break off.
The Pod 5500 V2 Disposable Vape is a high-performing device, thanks to mesh coil technology. It offers smooth, cool hits and what makes it even better is the huge selection of flavors. If you prefer a mouth-to-lung (MTL) draw, this device can be a perfect choice. All you need to do is simply inhale and then it will activate and be ready to use.
Pros of investing in a disposable V2 vape pod…
No worries about refilling and leaky tanks
A satisfying vaping experience with no efforts
Simply but classy look and feel
Durable and functional design
Compact and ergonomic
Smooth, cool hits
A whopping puff count
Great performance
No maintenance required
Convenient package
Mouth-to-Lung draw
Satisfying Draw
Cons…
Not environment friendly
No battery level indicator
More fruit flavors, not tobacco or dessert
FAQ About Pod 5500 v2 Disposable Vape
How long does a Pod 5500 v2 Disposable Vape last?
A 5000-puff disposable vape usually lasts about 5-6 days. However, it also depends on the frequency of use.
Is it worth investing in a Pod 5500 V2 disposable Vape?
The Pod 5500 V2 Disposable Vape has a great design, and premium build quality, and offers impressive performance. The device has some amazing features that make it worth considering.
How do disposable pod vapes work?
Disposable pod vapes work just like vape pens or box mods. They use a vape coil that heats the vape juice using the battery and creates vapor. The only difference is that there is no access to change the coil as the coil is hidden.
How to take care of a disposable vape pod?
It is best to store your vape pod in a cool, dry place as heat or moisture may affect its battery life and performance. Also, you should always keep such devices out of the reach of children and in direct sunlight.
What are the benefits of using disposable vape pods?
Disposable vapes are easy-to-use, convenient, and no-maintenance devices. They are great for people who travel a lot and want to avoid the hassle of refilling or cleaning their devices.
What features does the Pod 5500 V2 disposable vape have?
The Pod 5500 V2 Disposable Vape comes pre-filled with 12mL e-liquid and has a rechargeable battery. It provides around 5500 puffs per pod and has 5.5% nicotine.
How many flavors of Pod 5500 V2 Disposable Vape are available?
Currently, the Pod 5500 V2 Disposable Vape is available in 23 different flavors so that users can choose as per their specific tastes.
How many minutes or hours should I charge my rechargeable disposable device?
It is better to follow the instructions printed on your product as they may vary in terms of puff count, battery capacity, etc. Generally, most vapes need to be charged at least 30 minutes every couple of days.
How many puffs of vaping in a day are considered safe?
Well, there's no such exact number of vapes that are safe but it is recommended to limit your daily intake to 60 to 80 puffs per day.
Can I leave my disposable vape pod charging all night?
No, It is not recommended to leave any of your electronics to charge overnight and you should unplug your chargers before bed.
How many hits or puffs of a disposable vape are equal to a cigarette?
Around 14 to 15 puffs would be equal to one cigarette while a 60 mL of 3mg e-liquid equals around 15 cigarettes.
UPENDS: Best Wholesale Vape Brand
UPENDS brand is a well-known name in the vaping world and it provides a wide range of premium quality vape products and accessories. The main products include Disposable Vapes, Pod Systems, Vape Pod Mods, and Accessories. The company has been manufacturing a remarkable line of vaping products that are available in many different features and flavors.
We at UPENDS aim to provide the best vape products and unmatched customer service. It is because we believe that no sale is complete until and unless it is followed up. Therefore, we are always open to feedback so that we can provide the best value for your money.
Moreover, UPENDS believes in giving back to nature and therefore follows a no-waste manufacturing process. Also, all products are tested for quality and if necessary sent to third parties for further evaluation. This makes it possible for us to provide flawless products at a great price.
As we want to take this wonderful adventure worldwide and provide our global audience with a memorable vaping experience, we are looking to extend our team. We are looking for vape distributors and agents at different locations.
If you want to be a part of our journey and grow your business, contact us…