Vaping has become a popular alternative to smoking traditional cigarettes, as it offers a less harmful and more customizable experience for users. With the market expanding rapidly, it can be overwhelming to choose a reliable and high-quality vaping product.
Oryon Canna is a company dedicated to producing high-quality cannabis products that meet and exceed industry standards. Since its inception, the brand has established itself as a leading name in the Oklahoma market, known for its focus on superior quality and user satisfaction. The Oryon Disposable is a product that showcases this commitment to excellence.
What Are Oryon Disposables
Oryon disposable is produced by Oryon Canna disposable, and it is dedicated to delivering an outstanding cannabis experience to all consumers.
Oryon disposable vape products feature a sleek and tidy design and offer a smooth and enjoyable draw with each use. The rechargeable battery ensures a consistent experience until the very end.
The distillate is carefully blended with natural botanical terpenes, resulting in distinct flavor combinations, and is rigorously tested in a laboratory to surpass industry benchmarks and remain free of harmful solvents and pesticides. With Oryon, users can expect a superior quality product from a top-notch device.
Why Choose Oryon Disposables
What sets Oryon Disposable apart from other vaping products is its use of all-natural botanical terpenes. These terpenes are added to the distillate, creating unique flavor profiles for users to enjoy.
The brand takes pride in hand-mixing the distillate with these terpenes to ensure the highest quality and consistency in each product.
To guarantee that each product meets the brand's rigorous standards, Oryon Disposable is lab-tested to surpass industry benchmarks. This ensures that the product is free of harmful solvents and pesticides, making it a safer choice for users.
Oryon Disposable is an exceptional choice for users looking for a vaping product that prioritizes quality, consistency, and flavor. With its sleek design, rechargeable battery, and all-natural botanical terpenes, Oryon Disposable is a brand that users can trust to deliver a superior vaping experience every time.
Pros
The Oryon Disposable vape is designed with a sleek and compact structure, making it portable and easy to use.
The rechargeable battery ensures consistent performance throughout each use, making it a reliable choice for consumers.
The device provides a smooth and satisfying draw with every puff, resulting in a superior experience for users.
Cons
The cost of continuously purchasing Oryon Disposable vapes can add up quickly, especially for heavy users.
Disposable vapes like Oryon Disposable contribute to the growing problem of electronic waste.
2 Gram Oryon Disposables Review And Flavors
800mAh
2-3 second puffs
2G
Net weight: 2000 mg
Strawberry Shortcake
Strawberry Shortcake is a hybrid strain that is well-suited for the needs of medical patients. It has been carefully created by combining Juliet and Strawberry Diesel in equal proportions, resulting in a unique experience that offers both calming and uplifting effects.
The combination of these strains gives Strawberry Shortcake a pleasant aroma that blends fuel and strawberries, which is reflected in its flavor profile, described by the breeder as reminiscent of old-fashioned and bubble-gum-scented Jolly Ranchers, sweet cotton candy.
Banana OG
Banana Punch is a hybrid strain produced by Symbiotic Genetics through the combination of Purple Punch and Banana Kush. This strain is known for its powerful effects and is recommended for experienced smokers due to its potency. With a THC content of approximately 18%, Banana Punch has a distinct aroma that includes notes of fruity spice, banana, and candy.
This strain offers a balanced blend of mental and physical benefits, making it suitable for those seeking relief from chronic pain or for those simply looking to unwind after a long day. It can induce a deep sense of relaxation throughout the body, providing both euphoric and therapeutic effects.
Blackberry GG4
Blackberry GG4 is a strain that caters to those who prefer Indica varieties. This strain has a delicious flavor that results from the combination of two parent strains, Blackberry and GG4, which gives it a sweet taste with grassy undertones. The effects of this strain are predominantly relaxing and sedative, making it an ideal choice for an evening smoke session.
Ice Cream Cookies
The Ice Cream Cookies strain boasts a delicious taste that takes after its parent strains Wedding Cake and Gelato 33 and has a combination of both a heavy body high and a relaxing cerebral high.
Users have reported that this strain has a sweet aroma, with prominent notes of sugar, berries, and vanilla. Its flavor is described as being reminiscent of vanilla and sweet earth.
Georgia Peach
Georgia Peach" is a strain that is ideal for those who prefer Sativa-dominant varieties and have a sweet tooth. This strain has been created by crossing the parent strains and Space Jill and Girl Scout Cookies and is known to provide a feeling of being transported to a beautiful, sunny day, which is perfect for spring.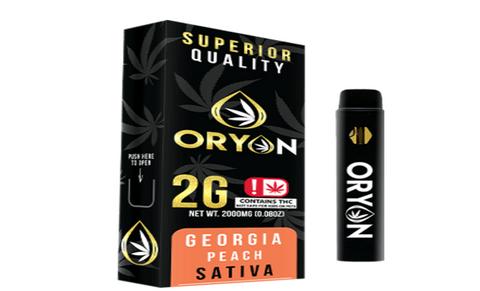 1-GRAM Oryon Disposables Review And Flavors
THC: 80.49%
Terpenes: 1.16%
Net Weight: 1000MG
2-3 second puffs
Sour Diesel
The Sour Diesel strain, often referred to as Sour D, is named after its strong and distinct diesel-like scent. This strain is a great option for starting your day, as it can effectively relieve both stress and pain.
Cactus Cooler
Cactus Cooler is a type of plant whose origins are uncertain, but it is thought to be a hybrid of Blue Dream and OG Kush. People who have used Cactus Cooler describe its flavor as less tropical than the soda it is named after, with fruity and piney undertones. The scent of this plant is a combination of earthy, floral, and woody notes, with a touch of spice.
Mystery Box
Mystery Box, a hybrid strain, delivers a complete body euphoria, and its pleasant and unusual flavors make it a treat for the senses. Its sweet and exotic taste is apparent, and it's no secret why this strain is so enjoyable.
OG Kush
OG Kush is considered a classic and is known for its distinctive terpene profile, which gives it a complex fragrance characterized by hints of skunk, fuel, and spice.
Individuals who use Kush can anticipate a prolonged and potent, yet adaptable sense of euphoria, as well as a skunky-citrus taste and scent. The corporation's current emphasis is solely on producing strains and items derived from OG Kush.
Forbidden fruit
Forbidden Fruit is a delicious hybrid strain that results from the combination of Cherry Pie and Tangie. The blend of terpenes found in this strain creates an ideal balance between the musky, sweet cherry undertones of Cherry Pie and the vibrant tropical flavors of Tangie.
Coconut Cream
Coconut cream is a mellow Indica hybrid that combines the flavors of whipped cream and coconut milk to transport you to a personal paradise. With its tropical pine terpenes and gentle ocean breeze, simply close your eyes and indulge in the soothing experience.
FAQ About The Oryon Disposable
Can I recycle an Oryon Disposable vape?
Oryon Disposable vapes are not typically recyclable, as they are designed to be used once and then discarded. However, some manufacturers offer programs to recycle used vapes, so it's worth checking with the manufacturer to see if they have any recycling options.
How do I know when my Oryon Disposable vape is empty?
Most Oryon Disposable vapes have a small window or indicator light that shows the level of e-liquid remaining in the device. When the e-liquid level gets low, you may notice a decrease in vapor production or a burnt taste, which is a sign that it's time to replace the device.
Are Oryon Disposable Vapes Safe?
While Oryon Disposable vapes and other vaping products are marketed as a safer alternative to traditional cigarettes, there are still potential health risks associated with vaping, including lung damage and addiction to nicotine. It's important to talk to your healthcare provider and do your own research before using any vaping product.
Are Oryon Disposable Vapes Legal?
The legality of Oryon Disposable vapes and other vaping products can vary depending on your location. In many countries, including the United States, the sale, and use of vaping products are regulated by local and national laws. It's important to check the laws in your area before using any vaping product.
Best Vape Wholesale Supplier-UPENDS
At Vape UPENDS, we're committed to revolutionizing your vaping adventure with an unforgettable experience that will excite all your senses. Our team of experts is dedicated to producing distinct and trendy vaping products that take your vaping escapades to the next level.
Using cutting-edge technology and paying attention to the smallest details, we create devices that not only work exceptionally but are also visually stunning.
As a respected partner of Vape UPENDS, you'll gain access to our exclusive collection of products that will surely leave your customers mesmerized and craving for more. Come along on this thrilling journey and discover why Vape UPENDS is the ultimate destination for all discerning users.