This article addresses the best electronic nicotine delivery system that is commonly termed as electronic cigarettes, e-pipes, e-hookahs, vape pens, tanks, mods, vape, and other many names that identify this device. Electronic cigarettes resemble the standard smoking cigarettes, pipes, or even cigars. Other larger vape pens take after USB stick pens and other common items we use daily.
These devices have the accessories that they come with, and some need to be purchased separately whenever required. Over the years, we have only two kinds of vape devices with either open or closed systems. The open systems will need you to add an e-juice for you to make a successful vaping, whereas the closed systems utilize the pre-filled cartridges or pods instead.
There are several vape brands and wholesale organizations that offer the supply and delivery of such vape equipment and products. The Nord vape proves its capability to offer the best products and delivery services that every customer will appreciate.
What is the NORD vape kit?
This is a machine that balances within the range of power, flexibility, and simplicity of any desirable vaping system. The Nord vape kit offers several replaceable components that you will always feel free to change over time. The best quality accessories are available for you to see you through unforgettably fun vaping moments. One of the features that make the Nord vape kit unique from other vape mods is how the pod and the atomizer coil are separate in that you can replace them independently. This starter should be your favorite choice as it delivers contrasting vaping experiences.
Nord Vape Juice
The Nord vape kits are brilliantly flexible when it comes to the kind of e-juice that you intend to use. Here is the Candy king e-juice that infuses five different flavorful fruits. The fruits include raspberry, strawberry, blueberry, green apple, and orange, all in one accord. You can just feel the sour, tangy, and sweetened taste that will be gliding against your tongue with every single puff.
Mostly, you find the Candy king e-juice packed in a 100ml bottle with various essential additives. There is a standardized amount of Propylene Glycol, Vegetable glycerin, Nicotine, Distilled water, Alcohol, Acetyl Propionyl, acetoin, and other exceptional flavorings.
The moment you exhale, the tangy notes and the sour green apple that are sourced from the orange are released. The very final effect is the sweet and delicious strawberry flavor that comes into your rescue by smoothing out the final tart and sour. The Candy king e-juice proves to be the people's best choice.
Smok Nord 2 Kit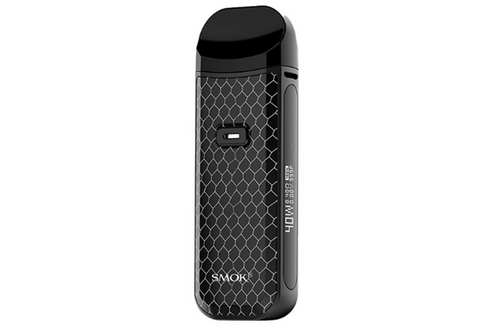 If there is any perfect vape kit that is recommended for both beginners and experienced vapers, then it is the Smok Nord 2 Kit. This is made possible by its digital and adorable versatility, where the device can be used for a tightly restricted vape or a much airier inhale. This device allows you to operate it through a button system by pressing the button five times to turn the vape on and hold down to start vaping.
The Smok Nord 2 Kit comes with a 1500mAh battery capacity, meaning that this model has 400mAh more power than the original Smok Nord. Your device can be used with a wide range of a variety of resistance coils to give a wattage output of between 1 to 40 watts. This high battery capacity is definitely a guarantee that you will be experiencing longer vaping sessions through this type of vape kit.
This Smok Nord 2 Kit features two distinct pods to make your vaping style more interesting. You are offered a 0.8-ohm coil that is pre-installed on the Smok Nord 2 Kit. This suits the best mouth–to–lung vape with Nic Salt e-juices or 50/50 VG/PG blends. The other one is the 0.4 mesh coil that is also pre-installed, which is ideal when you need more vapor production. There is even more vapor production when you use higher VG e-liquids. Along with the device's small dimensions of 3.4cm by 10.2cm by 2,48cm, this makes it highly portable, and you will love the fun it brings whenever you hold it.
Smok Nord 4 kit
If you are searching for an easy-to-use, stylish and attractive vape pen, you will be right if you go for the Smok Nord 4 kit, which will suit you the best. This device comes in a variety of bold colors, such as white, black, or blue, and you are left to choose the one that will be good in your eyes. Another appealing physical outfit is the zinc alloy coating that is armored on the Smok Nord 4 kit.
This is an absolute reliable vape kit that has the possibility to offer adjusted airflow due to its great flexibility. With this ability to adjust this device, you can be able to receive a restricted Mouth Lung airflow.  It is clear that most cloud chasers would love the way the device can offer them Directly to Lung vaping.
With the help of the display screen, once you locate the two buttons that are close together, press the button on your right, and by so doing, you would have increased the wattage from 5W to a maximum of 80W. This wide range of power will help you achieve as much cloud vapor as you will desire. The device uses the type C charger, which ensures that you get faster recharging in preparation for a long vaping session.
 Nord Vape Coils
There exist three types of Nord vape coils that can accommodate any vape pen. These coils usually come in packs of five. In case you wish to have a Mouth to Lung vaping, there is a 1.4 Ohm coil that is absolutely perfect. This ceramic kind of coil has got a long life span due to its high-temperature resistance.
The other vape coil is the 0.6 ohm that has been made for sub-ohm vapers who have the intention to puff huge clouds. Then you have the 0.8 ohms. This coil is pre-designed intentionally for Mouth lung vaping. You will have all your needs sorted out with the presence of these types of Nord coils.
Those vapers would seek longevity in their vaping moments; they are advised to buy the Smok Nord ceramic coil that impressively delivers wonderful temperature resistance. Thanks to the ability of the Noord coils to be compatible with the following devices, the Trinity Alpha, Nord, Nord 2, Nord AIO 22/19, Fetch Mini, Priv N19 vape pen, ROM 40, and other vape pen, models.
Nord Vape Pod
Both the beginners and experienced users will, at a certain point, need a smaller setup, attractive, and an easy-to-operate vape pod. The Smok Nord vape pod comes in to bring you the perfect features every vape user would crave for. The device has a compact design that allows it to settle wherever it is placed properly.
You are given an opportunity to choose from four different bold colors, that is, Red, Gold, Black. Rainbow. Your Smok Nord vape pod is powered by a 1100mAh battery, which is quite a large capacity a vape pod can have. A powerful battery means that you will be enjoying longer vaping moments. This goes well with the 2ml refillable pods that have enough capacity for longer vaping.
Additionally, there are two coils included in this device. You will find the 1.4 Ohm coil is a standard coil meant for mouth-to-lung vaping. The other vape mesh coil is 0.6 ohm that will definitely support Direct Lung vaping.
Frequently Asked Questions
Several questions usually come into the minds of those seeking to know what will best fit them at the point of desire. Here are the simplified answers to the commonly asked questions on what you have never known or it found hectic to understand.
Are Nord Vapes good?
Absolutely, yes! The Nord vapes deliver impressive and outstanding performance. The presence of the mouth to lung coils helps you get huger clouds when compared to the standard pod vape. Additionally, the 0.6 Ohm mesh coil makes even a much decent and dense cloud that allows you to succeed in making direct-to-lung vaping.
What is the newest Nord vape?
Currently, the most recent Nord vape is the NORD X, which has much adorable and essential additional features that include the 0.69 inches OLED screen. There is an upgraded, long-lasting 1500mAh battery that you can recharge, the IP67 intrusion rating, and many other awesome features you will not dare to miss.
Conclusion
You can conclude that the Nord vape kits and equipment are worth having. You can travel with them regardless of distance, occasion, or time since they are lightweight in nature. Plus, their attractive design will bring the feel of modesty and a sense of fashion into your lifestyle. Get the best into your life with the Nord vape products.