With the ever-growing popularity of disposable vapes, many manufacturers and brands are coming up with unique and innovative solutions. Vaping has evolved and now become the new form of smoking, especially with the younger generations. It has surpassed the popularity of smoking as people take it as a healthier alternative to smoking.
Also, vape products are more affordable and accessible with so many online stores and traditional shops selling a wide range of products and accessories. Although there are many vape brands out there, today's article is all about Monster Bar Disposable Vape so that you know what you are buying.
Check it out...
What is Monster Bar Disposable Vape?
Monster Bar Disposable Vape is manufactured by Monster Vape Labs. It is a disposable vape pen that comes in many different flavors. The device comes pre-filled and powered by a 550mAh battery. It is designed to provide more than 600 puffs and is available in many flavors. It is a sleek and convenient vape device and offers a powerful draw to satisfy your vape needs.
Who Manufactures Monster Bar Disposable Vape?
Monster Vape Labs (MVL) manufactures Monster Bar Disposable Vape and related products. The company is based in Florida and has been creating high-quality vape products since 2016. The company's manufacturing unit is considered one of the cleanest and most technically advanced facilities in the world.
It manufactures and distributes a wide range of vape products, including Disposables, Zero-Nic Disposables, 10 ML Salts, Monster Brands, and Monster Vape Labs Nicotine products. MVL has also switched to Non-Tobacco derived Nicotine since 2021. The nicotine is 100% free of any tobacco and provides a smooth vaping experience.
Monster Bar Disposable Vape Product Highlights
Monster Bars Disposable Vape device is equipped with several features such as…
Compact and sleek design
2ml e-liquid capacity
20mg (2%) salt nicotine
More than 600 puffs
550mAh battery capacity
50VG/50PG e-liquid ratio
102 x 20mm dimensions
PC / ABS material
Auto Draw activation
Mesh coil
Variety of flavors
Powerful draw
Sleek, convenient device
Good battery life
More than 350 puffs
Monster Bar Disposable Vape Flavors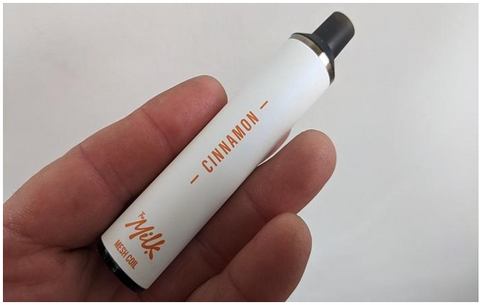 Bar Disposable Vape comes in a huge variety of flavors, including…
Cinnamon Milk: Cinnamon flavor accentuated with toasted and crunchy milk.
Banana Ice: Sweet ripe banana flavor accentuated with refreshing menthol.
Blackberry Jam: Sweet blackberry jam flavor with a taste of lightly buttered toast.
Fruity Milk: A balanced flavor of fruit cereal dipped in milk.
Mint: A menthol taste for true tobacco lovers.
Smooth Tobacco: A tobacco flavor with hints of Spanish Cream.
Strawberry Jam: The flagship flavor combines the sweet strawberry jam flavors with a hint of savory butter over toast.
Blueberry Jam: Sweet blueberry Jam flavor with a taste of buttery toast.
Watermelon Lemonade: A sweet and sour flavor of a freshly squeezed Lemonade infused with fruits.
Blueberry Raspberry Lemon: A flavor of fresh blueberries and raspberries with a hint of lemon.
Mango Peach Guava: Sweet tropical mango flavor combined with juicy peaches and fresh guava.
Mango Peach Guava Ice: Sweet tropical mango flavored with juicy peaches and fresh guava combined with refreshing menthol.
Mixed Berry: A perfect flavor of mountain-fresh berries.
Mixed Berry Ice: A flavor of mountain-fresh berries with a hint of cool menthol.
Passion Fruit Orange Guava: A blend of sweet passionfruit, freshly squeezed orange, and juicy guava.
Strawberry Kiwi Pomegranate: A combination of fresh strawberries, juicy kiwi, and fresh pomegranate.
Strawberry Kiwi Pomegranate Ice: A blend of sweet strawberries, juicy kiwi, and pomegranate with a hint of cool menthol.
Vanilla Custard: A perfect flavor of rich and creamy vanilla custard.
The flavors are mentioned as listed by the company, they may or may not taste the same. Also, there are other flavors available too depending on the type of product you choose.
Monster Bar Disposable Vape Review
Not bad at all is what we can say about Monster Bar Disposable Vape Pen. The device, being a disposable one, offers ease of use and convenience. It can be a perfect choice for an on-the-go vaping experience as the device comes ready to use and is draw-activated. As far as the battery performance and number of puffs are concerned, it offers a great battery life and more than 350 puffs.
Coming to the flavors, they remain consistent throughout the vaping session. There may be a slight change in the flavor when the battery begins to weaken. There is a LED on the base which illuminates solid blue while the device is in use. However, it flashes around 10 times when the battery is about to go and it's vape over.
Talking about the vapor production of Monster Bar Disposable Vape it is quite impressive. Moreover, the device's internal components are designed to work flawlessly while eliminating the need for complex settings. It is a simple, draw-activated device that comes pre-filled with e-liquid and pre-charged.
With a 20mg salt nicotine strength, Monster Bar Disposable Vape is well-suited to beginners as well as regular smokers. The nicotine-free versions are also available in the market for those who just want to enjoy vaping and ditch the habit. The MTL (Mouth to Lung) inhale delivers a smooth hit without irritating the throat.
Monster Bar Disposable Vape Pros and Cons
The Pros…
Pre-filled and pre-charged
Easy to use and convenient
Sleek and stylish
Highly portable
A simple, draw-activated system
A powerful battery
Ceramic coil for great performance
Choice of flavors
No complex setup
No maintenance
The Cons…
No customization of vaping settings
Not environment friendly
What are the Benefits of Using Monster Bar Disposable Vapes?
Nowadays, a lot of individuals are shifting from smoking traditional cigarettes to vape pens or other vape devices. Though there are many brands available out there, Monster Bars have gained immense popularity. Here are a few benefits of using Monster Bar Disposable Vapes…
Easy to Use and Easy to Carry
Monster Bars are compact and convenient, making them an easy-to-use option and perfect for on-the-go. They are lightweight and sleek in design so that you can effortlessly fit them in your pocket or bag.
High-Quality Materials
These e-cigs are made with high-quality materials, making them an ideal choice for those who want value for money. They are equipped with long-lasting batteries, and high-grade atomizer coils, and are filled with top-rated e-liquids.
Engineered to Work Flawlessly
Most disposables are made to provide the best vaping experience with no complex setup. All you have to do is open the package, take your device out of it, and simply draw on its mouthpiece.
Wide Range of Flavors
Monster Bar Disposable Vape comes in more than 30 different flavors so you can pick as per your taste.
FAQ About Monster Bar Disposable Vape
What makes Monster Bar Disposable Vape so popular?
Monster Bar Disposable Vapes are best known for their long-lasting battery life and large size. This makes them an ideal choice for those who prefer a long-lasting vaping experience.
Is Monster Bar disposable Vape worth the money?
Monster Bar Disposable Vapes has many features like a high-capacity battery, pre-filled e-juice, a huge variety of flavors, and a simple draw-activated system.
What is the cost of a Monster Bar Disposable Vape?
The cost of Monster Bars may vary depending on the retailer and location. However, the typical cost of purchase ranges somewhere between $7 to $10.
How does Monster Bar Disposable Vape perform?
Talking about the general performance of Monster Bar Disposable Vape, it provides a smooth and satisfying vaping experience that is long-lasting.
Can Monster Bar Disposable Vape be refilled or recharged?
No, Monster Bar Disposable Vape cannot be refilled or recharged as it is a disposable vape device. It has to be discarded once the e-liquid finishes and the battery dies.
Where can I buy Monster Bar Disposable Vape?
You can either explore an online store or visit some local vape shops to find your favorite product.
UPENDS: Best Wholesale Vape Supplier
It seems like vaping has dramatically risen in popularity as it is extremely popular among the younger generation. Vaping has garnered its crowd of vape users and appeals to smokers who are looking for an alternative to traditional cigarettes. We can say that vaping is here to stay and that's why a lot of vape manufacturers are coming up with unique and innovative products.
However, this makes choosing the best vape supplier or distributor an extremely challenging task. A brand like UPENDS offers a wide selection of high-quality vape products and accessories. The company aims to provide premium-quality products at a price that you would love to pay.
UPENDS, being a renowned vaping brand, focuses on innovation and creating unique and functional vaping products. In addition to offering premium products, the company also supports local suppliers and distributors to promote their business.
If you want to be a part of the UPENDS team, the company is looking for distributors at different locations. Contact to be a part of the most trustworthy and innovative brand…