A vape shop is a brick-and-mortar retail establishment that focuses on selling a wide array of products and accessories for vaping enthusiasts. These stores provide an assortment of goods, including electronic cigarettes, e-juices, vape devices, batteries, coils, and various supplies associated with vaping. Vape shops cater to individuals who have embraced vaping as a substitute for conventional tobacco smoking, offering a diverse selection to accommodate varying tastes and levels of familiarity with vaping.
Because of the rising demand for vaping equipment, there are many vape shops being opened. The vape shops operate online, physically, or both. This way, you may get it hard to choose the best vape shop that you can trust to supply you with the vaping equipment you need. In this article, we shall discuss more Mi Pod Vape shops as one of the best vape shops you can count on.
What is Mi Pod Vape Shop?
Mi Pod Vape Shop is one of the unique vape shop operating both online and physically. This vape shop is unique as it works in collaboration with renowned vape equipment developers to make sure you get a variety of vaping equipment on their shelves and on their website when you pay them a visit.
Physical Location: 4908 E. McDowell Rd, #100 Phoenix, AZ 85008 USA
Website: mipod.com
Operational Hours: Monday to Friday, 8:00 AM – 5:00 PM AZT
                           Saturday – Sunday: Closed
Contacts: +1 800 766 9982
                  +1 800 775 8972
Main Products: Vape Pods, Disposable Vapes, Vape Kits, Vaporizers, Vape Juices
Mi Pod Vape Shop Vape Equipment Review
At Mi Pod, you can access a wide range of vape equipment that you can access at any time you need them. They Include:
Puff Bunny 8000 Disposable Vape Pen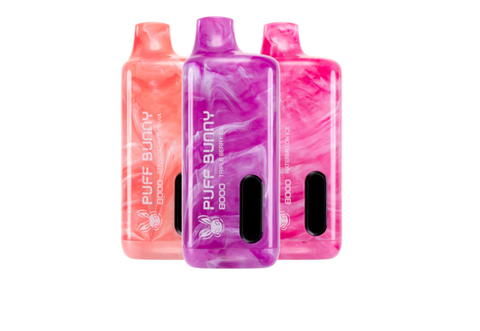 The Puff Bunny 8000 Disposable Vape Pen boasts a notable range of features that enhance your vaping experience. With a generous 19ml E-Liquid Capacity, you can indulge in prolonged vaping sessions without the need for frequent refills. The substantial 8000 Puff Count ensures a long-lasting and satisfying usage period, making this vape pen a reliable companion for extended enjoyment.
Equipped with a 650mAh Capacity Rechargeable Battery, the Puff Bunny 8000 ensures consistent power delivery to support your vaping needs. The rechargeable battery feature adds convenience and sustainability, allowing you to revive the device using a suitable charging method, ensuring minimal disruptions to your vaping routine.
With a nicotine level of 50mg, the Puff Bunny 8000 delivers a satisfying nicotine experience, catering to those who seek a fulfilling vaping encounter. The variable flavors offered include Watermelon Ice, Strawberry Banana, and Berry Ice, providing a diverse spectrum of taste profiles to suit your preferences. Whether you crave the cooling essence of Watermelon Ice, the delightful fusion of Strawberry Banana, or the invigorating Berry Ice, these flavor options add a personalized touch to your vaping journey.
Draco Disposable Vape Pen
The Draco Disposable Vape Pen, available at Mi Pod Vape Shop, offers a range of appealing features to enhance your vaping journey. With a substantial 16ml E-Liquid Capacity, this vape pen ensures an extended vaping experience, allowing you to savor your chosen e-liquids for a prolonged period without frequent refills.
Boasting an impressive 6500 Puff Count, the Draco Disposable Vape Pen guarantees lasting usage, catering to both casual vapers and those seeking extended sessions. The variable flavors offered include Strawberry Cream, Citrus Lemonade, Peach Ice, Mango Dragonfruit, Mango Berry, Blue Lush, and Cool Mint. This variety empowers you to explore an array of delightful taste profiles, adding a personalized touch to your vaping encounters.
The inclusion of an LED Puff Indicator enhances user convenience by providing visual feedback on puff count, ensuring you stay informed about your usage. Powered by a robust 1000mAh Capacity Rechargeable Battery, this vape pen ensures reliable and consistent power delivery, minimizing interruptions and allowing for extended vaping sessions.
Furthermore, the adjustable airflow feature of the Draco Disposable Vape Pen enables you to fine-tune your vaping experience according to your preferences, enhancing vapor production and flavor intensity. This customization option adds an extra layer of control to your vaping encounters, ensuring a satisfying and tailored experience.
Caliburn AK2 Pod Kit
Introducing the Caliburn AK2 Pod Kit, a distinctive vape device available at Mi Pod Vape Shop. Built to elevate your vaping experience, this kit offers a range of compelling features.
With a practical 2ml E-Liquid Capacity, the Caliburn AK2 ensures you can enjoy your favorite e-liquids without the need for frequent refills. The 530mAh Capacity USB-C Rechargeable Battery provides reliable power, ensuring uninterrupted vaping sessions. This modern USB-C charging interface enhances convenience and efficiency.
Equipped with a 0.9-Ohm Resistance Coil, the Caliburn AK2 delivers optimal vapor production and flavor richness, ensuring a satisfying vaping experience. The kit is available in an array of attractive variable colors, including Neon Orange, Turquoise Blue, Classic Black, and Graphite Grey. The color variety lets you choose a style that suits your personal preferences.
Helios Mi-Pod Pro+ Vape Pod
Helios Mi-Pod Pro+ Vape Pod is another vape device from Mi Pod Vape Shop. It is a cutting-edge vaping solution designed to enhance your vaping experience. This pod system is equipped with a range of impressive features that ensure both convenience and performance.
The Helios Mi-Pod Pro+ is powered by a robust 950mAh Capacity Rechargeable Battery, providing ample power for extended vaping sessions. With USB-C Rechargeable capabilities, the device offers efficient and rapid charging, minimizing downtime and ensuring that you can enjoy your vaping moments with minimal interruption.
Featuring a 0.9-ohm Mesh Coil, the Helios Mi-Pod Pro+ delivers optimized vapor production and flavor quality. This advanced coil technology ensures a satisfying and consistent vaping experience with each inhale. The 2ml Capacity Refillable E-Liquid Pod offers ample space for your chosen e-liquids, reducing the need for frequent refills and allowing you to enjoy your flavors for an extended duration.
Voopoo Vinci Pod Kit
Presenting the Voopoo Vinci Pod Kit, an innovative vaping solution designed to elevate your vaping journey. Packed with a range of notable features, this pod kit offers a seamless balance of performance and versatility.
Powered by an 800mAh Capacity Rechargeable Battery, the Voopoo Vinci Pod Kit ensures lasting power for uninterrupted vaping enjoyment. The 2ml Refillable E-Liquid Capacity Pod gives you enough capacity for your e-liquid, dropping the need for time-to-time refills and increasing convenience.
With a versatile 0.6 – 3.0-Ohm Resistance Range, the Voopoo Vinci Pod Kit caters to various vaping preferences, allowing you to customize your vaping experience to your liking. The kit also offers the advantage of variable e-liquid flavors, enabling you to explore a diverse array of taste profiles to suit your mood and cravings.
Mi Pod Vape Shop further stocks a wide selection of e-liquids that you can choose from. The juices include;
I love Salts – this is a tobacco-flavored e-liquid that gives you a smooth tobacco flavor with additional nutty sweetness. It is available in 30ml capacity bottles.
Vaporlax Lush Ice Salt – this is another nicotine salt juice that allows you to enjoy a watermelon flavor with an icy menthol undertone. It exists in 25mg and 50mg nicotine strengths.
Alternative Wholesale Vape Equipment Source: UPENDS
UPENDS is a leading wholesale vape equipment supplier, offering a diverse range of high-quality vaping products to retailers and businesses. Their commitment to excellence is evident in their wide selection of items, including disposable vape pens, pod systems, coils, and accessories. These products are tailored to meet the evolving demands of the vaping market, emphasizing reliability, innovation, and user satisfaction. With competitive pricing, efficient distribution, and a collaborative partnership approach, UPENDS aims to provide top-notch vaping experiences to consumers around the world.
One of the best UPENDS vape equipment is the UPENDS UpBar GT, a standout choice that caters to your vaping preferences. Carefully crafted to provide an exceptional vaping journey, this pen features an innovative mesh coil design. This cutting-edge element heightens your vaping enjoyment by enriching flavor depth, ensuring a gratifying taste experience, and promoting harm reduction.
Dive into a world of captivating flavors offered by the UPENDS UpBar GT. These delightful options span a spectrum of fruity essences, allowing you to indulge in your favorite fruit profiles. From the invigorating Lemon Mojito to the refreshing Blueberry Peach Ice, the selection encompasses a variety of enticing choices, including Tigar Blood, Strawberry Smoothie, Banana Ice, Ice Mint, White Peach Tea, Tobacco, Blueberry Ice, Lemon Ice, Mixed Berry, and more.
Seamless usability defines the UPENDS UpBar GT experience. Pre-filled with your chosen e-liquid flavor, this vape pen ensures effortless operation. Moreover, its leakproof design, reinforced with a multi-layer seal, ensures the secure containment of e-liquid within the pods, eliminating any risk of leakage. With a generous 2ml capacity, the UpBar GT allows you to relish up to 600 puffs before needing a replacement, delivering extended vaping satisfaction.