In an era when everyone is looking for products with advanced technologies, vaping has become the latest craze. Vape products have taken over traditional cigarettes to a great extent, probably due to the convenience they offer. Though vapes are not completely safe as they contain nicotine and other harmful chemicals, they are known to be less harmful as compared to smoking tobacco. This could be the biggest reason that e-cigarettes are gaining immense popularity.
As the vape industry is flourishing every single day, a lot of vape brands are introducing the newest vape products. In this article, we will discuss one such brand that has gained immense recognition - the Loon Vape and Loon Disposable Flavors. Continue reading to know more…
What is Loon Vape?
Founded in 2013, the Loon is a U.S. vaping company best known for its flammable cigarettes. Loon vape is an electronic nicotine device used by vapers and is one of the most sought-after among vapers. The Loon devices are designed to provide a long-lasting vaping experience and the company is a leading name in the disposables market.
Loon is known to be the game-changer and appreciated for bringing the concept of non-combustible e-cigarette smoking. The company manufactures a wide range of products, including vape pens, e-liquid, cartridges, vape salts, and more. It also provides a huge variety of merchandise and apparel, including hats, belts, sunshades, etc.
The Loon has manufactured a wide range of e-cigarette devices, each with different features and flavors. The long list of flavors is what makes the Loon a big hit among the vaping community.
Let's know more about the Loon Disposable flavors…
Different Types of Loon Flavors
Loon is one of the most popular brands in the vaping world and is known for offering an incredible range of flavors. All of these flavors are refreshing and can be divided into two categories: the Loon Salts and the Loon disposable Vape Flavors. Let's check them out…
Mint Crush
It is one of the softest and most refreshingly delicious flavors. It has the freshness of mint that brings a sense of coolness and is a perfect pick for spring/summer. It helps the mind to freshen up as it gives cooling effects.
Blue Lightning
This is one of the most unique flavors that has a perfect mix of blueberries and offers a tangy taste. It consists of juicy blueberry combined with citrus soda and gives a delicious taste. It is an ideal choice for anyone looking for a smooth vaping experience.
Iced Lush
A perfect go-to flavor for summer evenings that provides a taste of cool and watery watermelon with a hint of crushed ice. This fruity blend can be a great choice for anyone looking for a refreshing experience.
Blue Razz Slushy
It is one of the most sought-after Loon Dispo flavors, thanks to the amazingly sweet taste of blue raspberries. This flavor provides the sweet flavor of raspberry in every puff and is great for people with a sweet tooth.
Iced Pineapple Express
It combines the freshness and sweetness of the island pineapples accentuated with crushed ice. Being a mix of ripe juicy pineapples and the coolness of menthol, the flavor gives a frozen paradise to the vapers.
Bowzer Berry
It is a perfect blend of three summer fruits: watermelon, strawberry, and kiwi. When combined, all of these fruits provide a fruity blast and a perfect flavor for fruit lovers. It can be a great pick for anyone looking for a unique flavor.
Frozen Grapes
This is a mix of cool and sour minty grapes with crushed ice for a perfect flavor full of freshness. This provides a sweet and juicy flavor of ripe grapes that are frozen to preserve their natural goodness.
Gum Mint
It is a perfect combination of the cool scent of mint and the sugary taste of bubble gum. The minty extracts provide freshness and can be a great choice for those looking for a smooth and satisfying vaping experience.
Strawberry Watermelon
This is a powerful punch of fresh red, watery fruits: strawberry and watermelon. It is one of the most sought-after flavors, thanks to the sweetness and freshness it offers.
Strawberry Bad Bull
Just like its name, the flavor is also unique and combines the sweet and sour taste of fresh strawberries. It is best known for enlightening and uplifting the mood.
Iced Banana
It is a creamy flavor of banana with hints of crushed and slushed ice for a cool and refreshing taste. It is something that gives both sweet and frosty flavors and is a perfect pick for banana lovers.
Creamy Frostbite
The flavor combines the cool freshness of mint incorporated into the creamy frostbite. It provides a minty flavor with a hint of cream and can be a great choice for anyone looking for a smooth flavor.
Frozen Mango
A tropical flavor combining the creamy taste of mangoes and the freshness of ice. It is a tropical mix of the juicy flavor of fresh mangoes and crushed ice.
Berry Lemon Bubble Gum
It is a perfect mixture of flavors like blackberries, sour lemon, and bubble gum. It can be a perfect choice for people who prefer a sweet and tangy taste.
Orange Fantasy
It is one of the most popular flavors as the citric orange flavor is something that no one can resist. It is a perfect mix of tangy orange combined with soda.
Classic Tobacco
This flavor gives the taste of pure tobacco and can be a great option for people who prefer traditional flavors in a new device.
Iced Guava
Guava is one of the tastiest tropical fruits and when it is enhanced with crisp ice, it makes a great iced guava flavor. It provides a sweet and tangy taste that will leave anyone's taste buds tantalized.
Peach Mango Fusion
It is a perfect blend of mango and peach with the sweetness of mango and creaminess of peach. It can be a great choice for anyone wanting to try something new and out of the box.
Dragon's Blood
As the name suggests, it is a unique flavor - a heavenly blend of strawberries and dragon fruit. The flavor can elevate the mood instantly and is one of the most popular ones among vapers.
Banana Taffy
A perfect mix of the authentic taffy flavor and creamy banana. It is a mild flavor and is liked by people who are looking for a smooth vaping experience.
Pink Berries
This is one of the best flavors from the limited edition of Loon flavors. It includes the freshness and great taste of sweet and tangy pink berries.
Types of Loon Disposable Vapes
Here we've discussed some of the most popular Loon Disposable Vapes that you may want to try…
This disposable device by the Loon features a 1.3mL e-liquid capacity and 5% nicotine salt by volume. This is one of the basic products by Loon and is designed to provide up to 300 puffs. It is available in various flavors and each package contains 1 disposable vape.
This disposable vape by Loon comes with a 2mL e-juice capacity with 6% nicotine salt by volume. It provides up to 500 puffs and is available in many different flavors. It is known for its sleek and attractive design along with a distinctive feature that it can contain increased nicotine juice.
This disposable vape pen by Loon provides up to 500 puffs at its full capacity and comes with a 1.7mL e-juice capacity. It has better battery power and, therefore, will last long compared to other products on the market.
Available in many different flavors, the Loon Air Plus Disposable provides up to 1000 puffs and requires no charging or refilling. It boasts an 800mAh battery and comes with 4.5mL vape juice with 5% synthetic nicotine.
It is one of the most popular Loon disposable devices featuring a massive 1000mAh battery and 6.5mL e-liquid capacity with 6% nicotine by weight. It also comes with an adjustable airflow and is available in a huge variety of flavors.
FAQ About Loon Dispo Flavors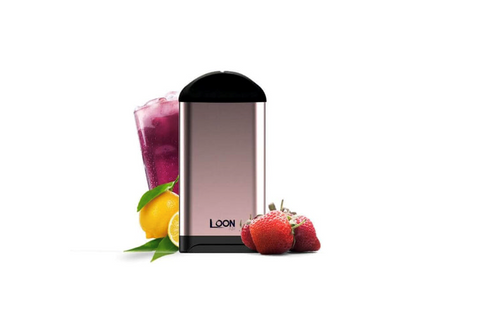 Are Loon disposable vapes good?
The Loon disposable vapes are simple and sleek devices that are perfect for both beginners and experienced vapers. Some of the models come with a massive e-liquid capacity.
What are the pros and cons of Loon Disposables?
The Loon disposables are convenient to use and available in a wide range of flavors. However, they are not suitable for heavy or frequent vapers due to their limited battery life and simple design.
Can I recharge or refill my Loon disposable vape pen?
No, Loon disposable vape pens come pre-filled with e-juice and pre-charged but cannot be refilled and recharged.
What is unique about Loon Dispo flavors?
When you look for the Loon disposable flavors, you will find a huge variety of unique and refreshing flavors.
UPENDS: Best Store for Wholesale Vapes
Whether you're looking for a high-quality disposable vape pen or some of the best flavors for your device, UPENDS is your one-stop shop for all vape products. It is a brand that specializes in providing a wide range of vape products, including vape pens, e-liquids, pod mods, and accessories. Our focus always lies on providing the best quality and affordability to our end customers.
As we believe in staying current, we have also introduced some of the best vape pens that would entice you. Our latest product lineup includes UPENDS MIRROR, UpBar GT, and UpBar NANO. These products boast amazing features packed in a unique design.
At UPENDS, we aim to serve our global customers with premium-quality vaping products. To convert our dreams into reality, we're looking for vape distributors and agents at different locations. If you think you can do it, this opportunity is just for you.
Contact us to know more about it…