What is live resin?
Live resin is one of the popular cannabis concentrates on the market. It is a favorite for most vapers thanks to its unmatched potency, which provides a flavorful vapor. Besides, it has a unique extraction compared to other concentrates. 
The extraction process involves adding a solvent to frozen cannabis plants. One then uses high pressure to extract the flower's cannabinoids and terpenes. The result is a dark yellow, amber, or brown liquid. It comes out as a sticky and thick liquid, almost resembling honey. 
The chief reason why live resin is more potent is freezing the cannabis plant. Other extract do not use frozen plants, hence lose terpene and cannabinoid. As such, live resin has become a favorite among vapers and dabbers. 
Unlike other concentrates, live resin does not go under drying and curation. Instead, the flower is collected and immediately frozen. This allows it to preserve the compounds that make it more potent. 
How do you smoke live risen?
As you'd expect, the best way to smoke live resin in this age is through a vape pen. This can be a disposable or a normal pen. Conventional means of consuming live risen was through dabbing. The manual process requires the dabber to do the dirty work of heating the rig so that the resin can produce the vapor. 
You can also sprinkle it on top of joints and bowls. However, this method can be harmful to novice dabbers since live risen is stronger compared to other concentrates. As such, you should use a live disposable vape pen. 
Why is live resin flavorful?
Generally, a recently harvested plant has strong flavor, scent, and cannabinoid content. Most growers will trim the flowers after harvest to curate them. In the process, the plant loses some of its flavors, scent, and cannabinoid compounds.
However, with live resin, the process does not include drying and curating. Rather, it is flash frozen as it is. This allows the plant to preserve its chemical composition, resulting to bolder flavor thanks to the present terpenes compound. 
Difference between live risen and other concentrates 
Live risen vs shatter 
Shatter is a concentrate, which has a brittle consistency. One uses a solvent to extract its components and then spread on a drying tray. Once the material is dry and brittle, it is broken into small pieces, hence the name shatter.
Live resin vs live rosin
Live rosin does not use a solvent during extraction. It is for this reason the media and the CBD industries champion it since it is the most natural way to consume CBD concentrates. 
Unlike live resin, the flower is dried and curated. Later, it is put under extreme heat and pressure to squeeze out a sap-like substance, namely rosin. 
Live resin vs cured live resin 
While live resin does not undergo the curing process, cured live risen is first cured then flash frozen. Generally, curating and drying the cannabinoids changes the chemical composition of the plant, hence affecting its potency. 
Growers will curate and dry the plant to extract the cannabinoids compounds and the flash freeze to preserve the plant. However, this is not a common practice. 
Live resin vs distillate 
Another concentrate one can use is distillate. As the name suggests, growers use the distillate method to exact specific compounds. Distillate concentrate have only one compound are used to produce specific products. They are common in vape juices and tincture. 
Potential benefits of live resin 
Lowers blood pressure 
Blood pressure is a common condition among many people. It is triggered by several events such as chronic stress, lack of exercise, lack of enough sleep, excessive salt intake, excessive alcohol intake, and other conditions. 
Consumption of live resin has shown to lower blood pressure especially when combined with exercises or other physically demanding duties. Studies have also shown it can reduce ones resting blood pressure hence reducing the chances of a stroke.
Manages multiple sclerosis symptoms 
Multiple sclerosis (MS) is an illness affecting the spinal cord or the brain. The condition impairs ones balance, vision, and sensation, arm and leg movement. A recent study found that consumption of live resin improves MS symptoms such as muscle stiffness problems. 
Improves sleep 
In another study, consumption of live resin affects one sleep quality. The participants sleep quality improved, making it an ideal option for people with insomnia. They also reported decreased time to fall asleep. It also help improve restless legs syndrome symptoms. This condition causes one to move their legs involuntary during their sleep.
Alleviates anxiety 
Another benefit of live resin is to help alleviate anxiety. However, when taken in large doses, it can cause the opposite effect. A study showed that consuming live resin in moderation improves anxiety over time. 
Relieves nausea
Another study showed that consuming live resin can greatly relieve nausea. The process can take anywhere from five minutes to one hour. It showed an improvement of 4 points out of 10 moments after consumption. However, the results are not conclusive; research is still on going. 
Improves chronic pain
Another crucial benefit of using live resin is to improve chronic pain. This is thanks to the psychoactive substances in the concentrate. When the psychoactive substance is inhaled, there's stimulation of the brain's reward system. As such, the body's pain level is reduced. 
A 2015 study shows that live resin can be used to treat chronic pain such as numbness or neuropathy. Another study showed that live resin was beneficial to cancer patients and those with chronic migraines. 
Best live resin disposable vapes in the market 
Tre House Delta-8 Live Resin Disposable
This Tre House live risen disposable comes in a 2g capacity ideal for everyday vaping. It has a wide array of cannabinoids ensuring you get that uplifting experience. The disposable offers a long lasting vaping experience so you can enjoy for long. The best part is that it maintains natural flavor, taste, and aromas of a hemp tree. 
You can get it in ice cream cake, super lemon haze, and wedding crasher. It comes with a Type-C Port at the bottom. It does not contain additives or other chemicals, making it a safe choice to vape. Besides, it has undergone third party lab testing. Thanks to the draw-activated mechanism, you don't need to press buttons. 
URB Delta-8 THC Live Resin Disposable 2g
The URB Delta live resin disposable comes in a 2g capacity ideal for several weeks of vaping. You can get it in different strains such as cake batter (Indica), lemon tart (hybrid), maui mango (sativa), and tropical skunk (hybrid). It comes with a rechargeable battery and a ceramic coil to heat the live resin.
Thanks to the LED battery indicator, you'll know when it needs recharging. The polycarbonate chassis is resistant to accidental drops and other pesky scratches. To ensure safety to the user, it has undergone 3rd party lab testing. Like other disposable, it features the draw-activated mechanism. 
Treetop Delta-8 Live Resin Disposable 2g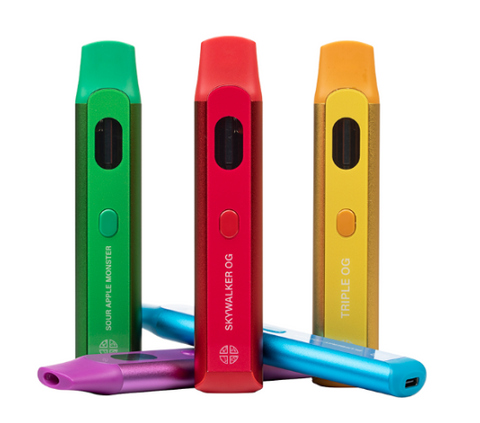 This is yet another live resin disposable you can buy today. With a maximum capacity of 2g, it comes pre-filled with your favorite cannabinoids. You can choose from seven strains namely:
Berry runtz (hybrid)

Gorilla Cake (Indica)

Diablo Kush (Indica)

Brain Crusher OG (Hybrid)

Blue Dream (Sativa)

Watermelon Zkittlez (Indica)

Fruity Charms (Sativa)
Like other live risen disposable, it comes with an integrated rechargeable battery which you can charge using a Type-C cable. The ceramic coil heats the live risen in the tank, producing a flavorful vapor. With an LED indicator, you can know when it needs recharging. It contains no fillers meaning you are getting a natural product. 
Treetop Delta-10 Live Resin Disposables 2g
This model also has a 2g capacity, coming in six strains, which are:
Double Bubble OG (Hybrid)

Sour Apple Monster (Hybrid)

Skywalker OG (Indica)

Super Sour Diesel (Sativa)

Blueberry Cookies (Indica)

Triple OG (Hybrid)
It contains less than 0.3% Delta-9 THC making it safe to consume regardless of your vaping experience. What 's more, it comes with an LED indicator so you can know when to recharge it. It comes with ceramic coil, which ensures even heating of the live resin. 
The cannabinoid contains CBN, Terpenes, CBD, D10, and D8. Thanks to the draw-activated mechanism, you can use it immediately after unboxing. The polycarbonate exterior is resistant to scratches and accidental drops. 
Cake Delta-8 Live Resin Disposable 1.5g
Finally, you can get yourself this 1.5g live resin disposable. It comes with several strains such as:
Samurai Jack (Sativa)

Ghost Haze (Sativa)

Pancakes (Hybrid)

Hippy Crasher (Indica)

Animal Mints (Indica)

King James XIII (Hybrid)

Marlin Poundcake (Hybrid
Like other live resin disposables, it comes in a draw-activated firing system, rechargeable battery, ceramic coil, and a Type-C port. It contains no fillers and zero additives. 
Conclusion 
Live risen is no doubt a potent concentrate that will meet your vaping needs. Coming with most cannabinoid and terpenes compounds, you are sure to enjoy vaping it using a live risen disposable.