What is the Knox vape pen?
For those who know about vape pens, you might have come across Knox vape pen. The Knox vape pen is a portable vaporizer that can be held in the hand. The vape pens from Knox are medical grade and have gained so much reputation for being some of the most effective treatment options available.
The introduction of vaporizers that utilize oils has seen an increase in the number of people who choose to treat medical conditions using vapes.          
The Knox vape pen is very much new to people but the Knox products have been around for a while. The vape pen turns out to be a jewel and performs well compared to other vape pens.
The pen is simple but it carries a ton of amazing features that could easily elevate your vaping experience. 
This pen has an adjustable component and it is compatible with sub-ohm cartridges and a tiny drilled in LED display that shows how much power your device is getting as it charges. 
The Knox vape pens have received good recognition and they would sell even more if they choose to strongly market their products. Their pens have the capability to compete fairly in the market and their unique quality would be a central selling point.
The oils in these pens are hybrids of indica and sativa. They both give different kinds of body effects and are can easily be distinguished from the other. For better experience, you need to find a pen that easily performs for you.
Knox vape pen for beginners
When designing this pen, the manufacturers had the beginners in consideration. Most beginners would find that vaping on oils is much different than vaping on dry herbs and e-liquids.
Especially considering the effects, it may be a whole new experience for them. When you get yourself a kit having Knox vape pen, you will get a few components.
You may get a USB charger, an extra cartridge with oil and a carrying case.
Design and build of the Knox vape pen
The Knox vape pen is nice and simple looking. This pen is very attractive by the first touch and it may be confused for a Kandy pens vape pen. The device is made to look like a normal vape pen and it is a compact design pen.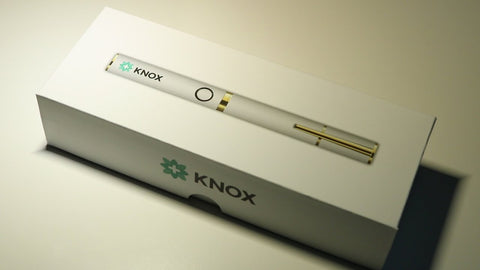 This is one of the vape pens that has a unique type of airflow because the coils are found at the top of the pen. The pen does not have many removable parts. You can only take out the sub-ohm cartridge and fix another one when your pen runs out of oil. This device can be made even smaller. 
The Knox vape pen comes in different colors and you have the choice to select a color that matches your personality. 
Knox vape pen quality 
The Knox vape pen has a type of quality that you cannot easily get in a vape pen. It has a nice rubber like feeling and a matte black finish. The single control button is there looking like a flush but you could easily feel it in your hand and not miss a grip on it.
The battery is built-in and when you shake the pen hard, you will not feel any rattling or movement because it is compact and well fixed. 
The cartridge tanks also work well and it has a cap that holds the cart securely so that your mouthpiece does not get contaminated. Considering this is a medical grade pen, you will have to take proper care of it against bacteria and impurities that may interfere with its purity.
The pen can stay in the open all night or day and you will not experience any leakages. This implies that this pen is safe for use and trustworthy. 
How the Knox vape pen performs
When you buy the pen, it comes with a 0.3 ohm coil which is available in the package. Such coils are powerful and they deliver a massive amount of vapor that is satisfactory.
The vapor is equally potent and of quality because for a medical grade marijuana oil, they are well selected, tested and experimented. This flavors are varied in strength so for beginners, you may need to try something with softer effects.
The coils are fitted on the cartridge and the mouthpiece as well. This pen comes with a standard USB charger that is fitted on the port found at the base of the pen. The cartridge is fitted in place with a 
510 threaded cartridge that allows the compatibility of other 510 threaded cartridges. The built-in lithium ion battery is perfect for operating the pen because it can hold power for longer periods without running out.
The sativa hybrid of the pen can deliver more massive and potent vapor compared to the indica. This could be attributed to the performance of the sativa with the extra mix of terpenes. 
How to maintain your Knox vaporizer
Before you begin vaping on your newly acquired Knox pen. Ensure that your pen is always having some charge in the battery. This helps you avoid running out of charge in the middle of a session or even ruining the quality of your vapor. 
Once you are sure that your battery is in perfect condition, proceed to screw in your cartridge and ensure that it does not leak or rattle around when it is shaken. The tanks can be refilled using Knox vape oil so you do not have to worry about buying new oil when you run out.
When filling your tank, ensure you fill up to three quarters to avoid spillage or getting rips during vaping. After your tank is filled up, let it rest for a while to allow it get absorbed into the coil head for better heating.
Battery power of the Knox vape pen
The Knox vape pen so powered by a 650mAh battery that has the capability of lasting a full day and delivering up to 250 puffs. The pen is not a variable voltage so you cannot control the power output. It runs on constant power output that alternates to avoid overheating your coils.
The pen is small and you can move with it around anywhere you want to go with it. It looks like a pen and that means that it is discreet and cannot be easily seen. 
FAQs about the Knox vape pens
How long does a Knox vape last?
When fully charged, the Knox pen can give you close to twelve hours of usage when routinely vaping on lighter draws. This pen has an internal power regulation system that keeps your power output at regulated levels.
How do you charge a Knox vape pen?
When you purchase Knox vape pen, you get a USB cable charger that you have to connect to the charging port on your device, you then have to plug the charger into a charging block on the wall or in the car charging system. The charging process will not take more than 3 hours but for the best charge, keep it charging overnight to maximize power storage.
Is the Knox worth it?
Many people who Vape may ask themselves about the worth of purchasing a vape pen, well, you need to know that the Knox pens are worth every penny. They are reliable, versatile and portable. In addition to that the Knox has a reduced market price compared to the earlier released medical cannabis vape pens to carter for those who were left out. You can be assured of good quality by using these products.
Conclusion
The Knox vape pen is a good competitor among the other medical grade cannabis vape pens. It has received some recognition and is becoming popular among vape users.
One thing about this device that stands out is that it can be recharged and this is something that most medical marijuana vape pens do not deliver. By using this pen you are sure that you are getting value for your money.