Presenting the KangVape Onee Stick Disposable Vape, a portable and powerful vaping tool created to provide a superior vaping experience. With its impressive features and specifications, this disposable vape is perfect for both beginners and experienced users alike.
The Kangvape Onee Stick Disposable Vape is thoughtfully crafted to provide an exceptional journey into the realm of vaping. Whether you're a beginner exploring the wonders of vaping or an experienced user seeking a reliable and hassle-free option, this disposable vape is designed to cater to all. Let's delve into its impressive features and specifications that set it apart from the rest, making it a must-have in your vaping collection.
The Kangvape Onee Stick Vape
The Kangvape Onee Stick Vape is a disposable vaping device designed for convenience and portability. It is a self-contained unit that comes pre-filled with e-liquid and a built-in battery. The device is designed to be used until the e-liquid is depleted, after which it can be safely discarded. The Kangvape Onee Stick Vape is typically draw-activated, meaning it activates automatically when you take a puff, eliminating the need for buttons or complicated settings.
Why Choose Kangvape Onee Stick Vape
There are several compelling reasons to choose the Kangvape Onee Stick Vape:
Wide Flavor Selection: Kangvape Onee Stick Vape offers a diverse range of flavors to suit every taste preference. With a variety of options, you can enjoy different experiences with each disposable vape.
Convenience: This disposable vape requires no maintenance, charging, or refilling. It is designed for hassle-free use, making it perfect for on-the-go vaping.
Long-lasting: The Kangvape Onee Stick Vape is available in different puff counts, providing options for extended usage. Whether you choose the 2100, 3000, or 5500 puff variant, you can enjoy a substantial vaping experience before disposal.
Rechargeable Option: Some models, like the Kangvape Onee Stick 5500 puff, comes with a rechargeable battery, allowing users to fully utilize the vape juice before discarding the device.
Portable: The sleek and compact design of the Kangvape Onee Stick Vape makes it easy to carry in your pocket or bag, ensuring you can vape discreetly wherever you go.
Quality and Flavor: Kangvape is known for providing high-quality disposables with intense and authentic flavors, delivering a satisfying vaping experience.
Transparent Design: The transparent design of certain models allows users to monitor the e-juice level, ensuring they never run out unexpectedly.
The Kangvape Onee Stick Vape Product Options
Kangvape Onee Stick Plus - 1900 Puff
The KangVape Onee Stick Plus 1900 Puff Disposable Vape stands as the most compact option among all KangVape disposables, yet it boasts exceptional construction and a burst of intense flavor. With a range of 17 exclusive flavors, this disposable offers a vaping experience like no other.
The convenience of this device is unparalleled, as it comes prefilled and precharged, requiring no additional effort other than using it and discarding it when finished. Its draw-activated feature means there are no buttons to deal with; simply inhale, and it starts working. This disposable has garnered 65 five-star reviews, solidifying its reliability and making it an ideal choice for anyone considering the KangVape Onee Stick Plus 1900 Puff Disposable Vape.
Features
50mg of nicotine salts
2ml E- juice
1200 mAh battery
Flavor profiles:
Banberry
Blue Razz Ice
Blue Cloud
Classic Custard
Kangvape Onee Stick Plus- 2000 Puffs
KangVape presents the Onee Stick 2000 Puffs Disposable Vape, a remarkable addition to their collection of disposables, featuring 17 unique flavors that exemplify the intensity and originality KangVape is renowned for.
Similar to many contemporary disposable vapes, the KangVape 2000 Puffs model incorporates adjustable airflow, empowering you to customize the draw to your preference. Whether you desire a more relaxed or tighter inhalation experience, the adjustable airflow allows you to fine-tune it accordingly.
Features
50mg (5.0%) nicotine
7ml E-liquid
2000 puffs
Features 19 flavors
Kangvape Onee Stick Plus- 3000 Puffs
If you're a fan of KangVape disposables but desire a longer-lasting option, look no further than the KangVape Onee Stick 3000 Puffs Disposable Vape Pen. Boasting an impressive puff count of 3000+, this disposable promises weeks of usage. With a selection of 22 intense and authentic flavors to choose from, picking a favorite might prove challenging.
Designed with draw activation, the KangVape Onee Stick 3000 Puffs starts working with a simple inhale, requiring no buttons or settings. It arrives prefilled and precharged, requiring no maintenance; once the vape juice runs out, you can effortlessly dispose of it.
At eJuiceDB, we offer great pricing on KangVape disposables, ensuring you get an excellent deal whether purchasing a single pack or more. Enjoy an extended vaping experience with the KangVape Onee Stick 3000 Puffs Disposable Vape Pen.
Features
50MG (5.0%) Nicotine
12ml E-Liquid
3000 Puffs
1600mAh Battery
Non-Rechargeable & Non-Refillable
Kangvape Onee MAX - 5000 Puffs
Kangvape ONEE MAX Disposable Vape presents an extensive selection of 23 flavors, showcasing not only diversity but also incorporating the latest features found in modern disposables.
Sporting a compact yet potent 1000mAh battery, this disposable vape offers the flexibility of being available in both rechargeable and non-rechargeable variants. Regardless of your choice, each device comes equipped with 50mg of nicotine salts and is available for purchase as a single unit or in a convenient 10-pack option.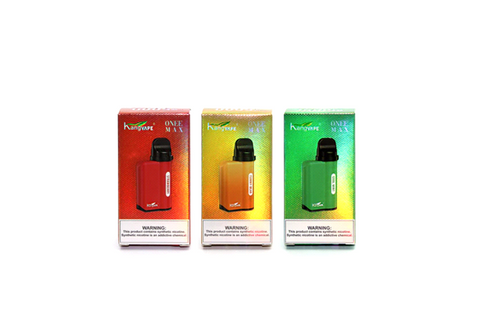 Features
23 flavors
5000 puffs
20ml of e-liquid
Kangvape Onee Stick- 2100 Puffs
The KangVape Onee Stick 2100 Disposable Vape offers a convenient and straightforward vaping solution with no need for maintenance, charging, or refilling. Once you've finished, simply puff away and dispose of the device.
With an impressive 1100mAh internal battery, each unit can support up to 2100 puffs. The combination of 5% synthetic nicotine and an 8ml vape juice capacity ensures a satisfying experience with plenty of flavors.
You can simply monitor the level of e-juice thanks to the transparent design. There are no buttons to worry about; just vape directly through the mouthpiece. Despite its compact and lightweight build, this disposable vape maximizes your vaping experience with premium prefilled e-juice.
Features
50MG (5.0%) Nicotine
8ml E-Liquid.
2100 Puffs
1100mAh Battery.
Non-Rechargeable & Non-Refillable
Kangvape Onee Stick - 5500 Puffs
The Kangvape Onee Stick 5500 disposable vape pen has a sleek cylindrical design that is convenient to carry along. Despite its substantial 20ml vape tank, which allows for an impressive 5500 puffs, this device remains sleek and highly portable. The Kangvape 5500 puff flavors span a wide range, from fruity to menthol and even dessert-inspired options. Although non-refillable, the Kangvape Onee Stick 5500 puffs feature a robust 2000mAh battery for long-lasting power.
With over 15 Kang Vape Onee Stick vape flavors at your disposal, you can keep your customers delighted with a device that not only offers a generous and seemingly endless tank but also a diverse array of expertly crafted vape juices. Thanks to the large tank capacity, this disposable vape battery is designed to be rechargeable by the user, allowing them to fully enjoy the vape juice before eventually disposing of the device.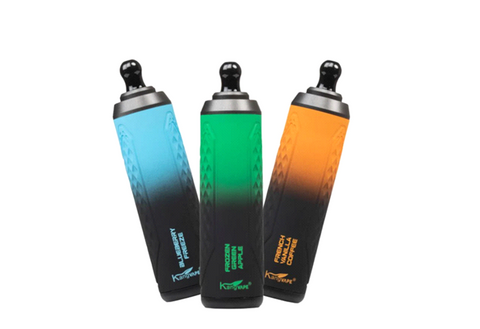 Features
15+ flavors
5500 Puffs
9ml e-liquid
50MG (5.0%) nicotine
2000 mAh battery
Related products
Upbar-nano
The UpBAR Nano is a compact and highly portable mini box-shaped disposable vape, providing you with the flexibility to vape at your convenience, wherever you may be.
Enjoy an improved e-liquid experience with the innovative FRESOR technology. The advanced Next-Gen Mesh Coil features a carefully engineered flat-stacking design, significantly increasing energy efficiency and the number of puffs you can enjoy.
The patented FRESOR technology ensures that every UpBAR Nano is manufactured with precision and consistency, guaranteeing robust flavor, excellent flavor replication, dense vapor, and reliable leakproof performance with each puff.
Features
2.0 E-liquid capacity
410 mAh battery capacity
20 mg/ml nicotine salt
4.0 Ω Resistance
FAQs
Where can I buy the Kangvape Onee Stick Vape?
The Kangvape Onee Stick Vape is available at authorized Kangvape retailers and online stores. Please ensure to purchase from reputable sources to ensure the authenticity and quality of the product.
Best Vape Wholesale Supplier-UPENDS
Welcome to Vape UPENDS, an enthralling world where innovation and flair converge to provide you with an unmatched vaping experience. We cordially invite you to become a member of our exclusive club, where tantalizing savings await, elevating your vaping experience to new heights.
We at Vape UPENDS are incredibly proud of our original concepts, elegant aesthetics, and exquisite craftsmanship. Each inhales from our items will excite your senses since our team of talented artisans is committed to creating perfect and exquisite products.
The best vaping experience is what we want to provide you in the end. So fasten your seatbelt and get ready for an unforgettable ride! As you unwind, allow us to explain why Vape UPENDS is the best option for picky vapers like you.
As we embark on a transforming journey together, our company's ultimate goal is to astound you with unique vaping adventures. Give us an opportunity to explain why Vape UPENDS is the best option available to anyone looking for the best possible vaping experience.