In this day and age, disposable pens have become very common amongst the cannabis-loving community. Like with a lot of products, there are numerous options of its kind available on the market. This often raises the question of which brand is the best and which is guaranteed to satisfy your personal taste and preferences.
The answer is not far-fetched as our detailed review on Goldfather disposable products will highlight the most important things you need to know about this brand and if its vaping products are right for you.
What is Goldfather Disposable?
Compared to other cannabis brands, Goldfather is what you might call the newcomer on the block. Irrespective of their newness in the game, they have managed to leave an impression thanks to their top-notch ability to extract a great flavor out of any product they sell. Their disposables and THC oil cartridges are also not left out, as they are not just well-made but they are also effective products.
The Goldfather Disposable brand and products mostly take into consideration the importance of using natural ingredients. Every of its Cannabis is gotten directly from the United States and goes through intense processing in FDA-approved facilities. It is also worth noting that all their products are tested in independent labs. By doing this, the company guarantees no foul play during production.
With the Goldfather Disposable, you also enjoy a wide range of rich flavors, each offering satisfaction and a sense of uniqueness.
General Features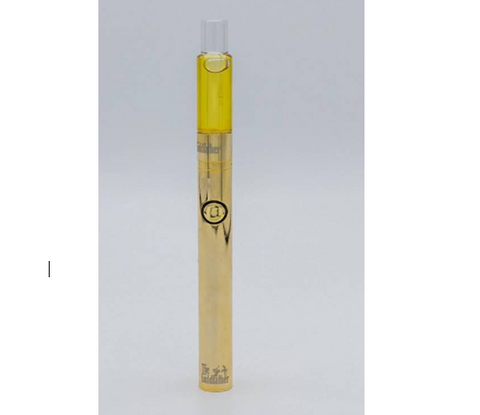 One of the perks of the Goldfather disposables vape is that you get to enjoy a wide assortment of natural flavors and strains. This ensures that you are able to get the one that best suits your taste and preferences. This advantage is not common with many other brands, and it remains a major reason why the Goldfather disposable brand is globally revered. Each product is made to perfection, and its packaging is top-notch in the sense of quality and design.
With any Goldfather disposables products, including the vape pen, you don't have to worry about any being of lesser quality. Their disposable vape contains 900 mg of THC, which makes them potent and nice indeed. The product gives off an intense but inviting sensation. Most importantly, it promises user satisfaction, especially as you are sure to get the desired effect from its use.
This is another major advantage of the Goldfather disposable product. As with a lot of other disposable vapes, you do not have to spend time worrying about cleaning or buying new batteries. This makes them perfect for people looking to get their first taste of the vaping experience.
The reality is that not everyone has those "big bucks" lying already. With Goldfather Disposables, you don't have to worry about spending big just to partake in the entire vaping experience. You'll be getting a pretty good pricing deal. It is important you know that there are no bulk discounts; however, you are guaranteed to get a good 25% discount, that is when and only if you take out a subscription with the company.
Another core feature of the Goldfather disposables product is its discreet and portable design allowing easy transportation and use. They require no effort at all to use, and they go a long way toward contributing positively to the entire vaping experience.
As earlier implied, the Goldfather disposables brand offers a wide range of disposable vapes, which is why we have helped narrow down some of the best choices and all you need to know about them.
Relevant YouTube Videos
GoldFather Disposable Reviews: Is the Goldfather Disposable Vape good?
Goldfather Disposable "Apple Fritter" flavored Vape Cartridge
As stated earlier, the Goldfather Disposable Vape is the perfect tool for first-timers. This Apple Fritter flavored cartridge is easily affordable and takes no effort at all. Its package design and carefully formulated flavoring offer users the best vaping experience. In addition, it is made with proper precaution and ensures the overall safety and protection of the consumer.
Features
It can be installed easily with little to no effort
Long lasting depending on how the user consumes it
Formulated to perfection to bring out the flavoring
Quality packing to secure the content in place
Sleek and plain design
Pros
Its compact and portable design contributes to its lightweight
Super easy to use and install
It requires no major investment and is less costly
Fewer maintenance requirements which make handling less tasking
Perfect for those who are just starting out or choosing to vape once in a while
Cons
Can't be reused or refilled once exhausted
Not as strong as other modifications
Goldfather Disposable "Lava Cake" Flavored Vape Cartridge
FAQ about GoldFather Disposables
How to choose the best Goldfather Disposable vape?
Like many other vapes on the market, the key is to look out for their core features. If you are choosing to buy a Goldfather Disposable Vape, you should consider the quality of the cartridges and make sure that it doesn't give off any foul odor as, most times, this could result in unpleasant side effects. Another thing you mind want to consider is the price. You don't necessarily need to spend a fortune before you can partake in the enjoyment of vaping. Finally, the size is also important; it is necessary to opt for a vape pen that you easily put in your pocket or purse, allowing you to have it on you for use anytime and anywhere.
Where can I purchase a Goldfather Disposable Vape?
It is necessary to understand that numerous fake Goldfather disposable vapes are on sale, and if you are not vigilant enough, you might just end up with one. To avoid this, buying directly online from the brand's official website is a much better option. Through this, you will get access to a variety of flavors and other products that might suit your taste. A major benefit of purchasing directly from their website is that you enjoy a 25% discount when you subscribe to the company. However, if you are not too tech-savvy and encountering issues while navigating through their site, you can purchase from a local retailer like UPENDS that maintains similar quality as you would find on the brand's website 
Is the Goldfather Disposable Vape expensive?
No, they are not. One of the major benefits of the Goldfather disposable vape is that you don't need to break the bank before you can get one. Also, at that affordable price, you can enjoy high quality as they provide the user with noticeable physical relaxation, a calm mind, and happiness.
How much is a Goldfather Disposable Vape Cartridge?
One Goldfather Disposable Cartridge will cost you little, which makes it super affordable. For an average price, you can benefit from the joy that comes with smoking at your convenience. Do not rush to pick the strain that satisfies your needs; take your time and only make your choice when you are sure.
How long does a Goldfather Disposable Vape pen last?
Most times, this comes down to how you use it. Normally Vape pens aren't made to last for a long time. However, a good Goldfather father disposable pen should last a couple of weeks if you are a regular smoker.
Best vape wholesale supplier-UPENDS
How would you like to get top-quality vaping products at great prices? UPENDS is an amazing e-cigarette disposable vape brand retailer that specializes in stocking only products sourced from expert-vetted factories in China. Before purchase, these are properly monitored by a team specializing in research and development to ensure all products meet high-level standards of excellence. You can always count on a properly stocked catalog with guaranteed product quality to meet your needs.
At UPENDS, you can shop for a wide variety of disposable e-cigarette products that stand out in quality, taste, design and overall look. So, be sure to shop at UPENDS for a one-of-a-kind experience.
UPENDS is looking for authorized disposable e-cigarette agents, distributors, wholesalers worldwide, if you are interested, please contact us now!