In the world of vaping, finding the perfect balance between simplicity and performance can be a challenge. Innokin aims to tackle this challenge head-on with their Zlide Tube Kit. Designed for mouth-to-lung (MTL) vapers, this kit combines the Innokin Adept Mod with the popular Zlide MTL tank to deliver a satisfying and hassle-free vaping experience. In this comprehensive review, we will dive deep into the features, specifications, and performance of the Innokin Zlide Tube Kit.
Design and Build Quality
The Innokin Zlide Tube Kit boasts a sleek and unadorned exterior, emphasizing simplicity and functionality. The sturdy construction of the Adept Mod is evident, with its durable IP67 waterproof, shockproof, and dustproof design.
This means that the kit can withstand everyday wear and tear, making it a reliable choice for vapers on the go. The Zlide tank, with its 22mm diameter and 2mL e-juice capacity, complements the mod perfectly and completes the minimalist look.
Innokin Adept Mod
The heart of the Zlide Tube Kit is the Innokin Adept Mod. Powered by a 3000mAh rechargeable internal battery, this mod provides ample power for MTL vaping. With its automatic wattage output feature, the Adept Mod intelligently selects the best wattage ranges for the Z-coils, ensuring optimal performance and flavor. The mod offers four optimized wattage levels, ranging from 11 to 17 watts, making it suitable for a wide range of vaping preferences.
The Adept Mod features a tri-colored LED light that indicates the battery power level, allowing users to easily keep track of their remaining battery life. The mod is equipped with two adjustable buttons for easy navigation and operation.
Additionally, it offers multiple safety features, including over discharge, charge, and voltage protection, as well as short circuit and overheat protection, ensuring a safe vaping experience.
Zlide MTL Tank
The Zlide MTL tank is the perfect companion to the Adept Mod, offering exceptional flavor and vapor production. With its 2mL e-juice capacity, the tank strikes a balance between portability and convenience.
The Pyrex glass reinforcement and stainless-steel build ensure durability, while the top refill system with a sliding top cap allows for easy and mess-free refills. The Zlide tank is compatible with the Zenith Coil Line, offering a wide variety of coil options to suit individual vaping preferences.
One of the standout features of the Zlide tank is its airflow control. With a four-hole design and bottom adjustable airflow control valve, users can fine-tune their vaping experience to achieve the perfect balance between flavor and airflow restriction. Whether you prefer a tight MTL draw or a slightly looser draw, the Zlide tank has you covered.
Performance
Now let's dive into the performance of the Innokin Zlide Tube Kit. Since this kit is designed specifically for MTL vaping, we focused our testing on the Zlide tank and the Z-Coil range. The kit comes with a 0.48-ohm coil and a 1.2-ohm coil. While the lower-resistance coil is technically considered sub-ohm, it offers a surprisingly satisfying MTL experience.
With the 0.48-ohm coil installed, the Zlide Tube produced thick, flavorful vapor. The Z-Coil series has always been known for its versatility and cross-compatibility, but it truly shines in MTL applications. The 16-watt maximum power output of the Zlide Tube was more than enough to deliver a satisfying MTL vape with the lower-resistance coil.
What impressed us the most was the longevity of the coils. Even after more than three weeks of heavy use, the included coils were still performing like new. This speaks to the durability and quality of the Z-Coil series, making it the gold standard for flavor and longevity in the MTL segment.
Battery Life
One aspect that could use improvement in the Zlide Tube Kit is the battery life. While the 3000mAh capacity may sound impressive, the limited power output of the mod means that the battery drains relatively quickly. With only 16 watts of power output, the battery life may not be sufficient for heavy vapers. However, for casual MTL vapers, the battery life should still provide a decent stretch of use before requiring a recharge.
Pros and Cons
To summarize the strengths and weaknesses of the Innokin Zlide Tube Kit, here are the pros and cons:
Pros
Simple and unadorned exterior design
Fast ramp-up time for quick and satisfying hits
Outstanding performance from the companion Zlide tank and Z-Coil range
Durable construction with IP67 rating
Cons
Relatively weak battery life
No adjustable settings for more advanced vapers
May be too simple for those seeking more customization options
Comparison Between Innokin Zlide vs. Coolfire Z60
| | | |
| --- | --- | --- |
| Feature | Innokin Zlide | Innokin Coolfire Z60 |
| Dimensions | 24mm diameter x 54mm height | 35.73mm x 27.02mm x 119.45mm |
| Weight | 52g | 198g |
| Battery | 18650 (not included) | 2500mAh internal battery |
| Wattage range | 10-16W | 6-60W |
| Voltage range | 3.4-4.2V | 3.4-7.5V |
| Coil compatibility | Zlide coils | Zlide coils, Zenith coils |
| Tank capacity | 3mL | 3mL (2mL TPD compliant) |
| Airflow control | Adjustable bottom airflow | Adjustable top airflow |
| Display | None | 0.69" OLED display |
| Colors | Black, Gunmetal, Silver, Purple, Blue | Black, Silver, Purple, Red, Blue, Green |
As you can see, the Innokin Coolfire Z60 is a larger and more powerful device than the Innokin Zlide. It also has a built-in battery and a color display. However, the Innokin Zlide is more compact and lightweight, and it uses the same coils as the popular Innokin Zenith tank.
Ultimately, the best device for you will depend on your individual needs and preferences. If you are looking for a small, portable device with great flavor, the Innokin Zlide is a great option. If you are looking for a more powerful device with a longer battery life, the Innokin Coolfire Z60 is a better choice.
Here are some additional things to consider when choosing between the two devices:
Battery life: The Innokin Coolfire Z60 has a built-in 2500mAh battery, while the Innokin Zlide requires an 18650 battery (not included). If you are looking for a device with long battery life, the Innokin Coolfire Z60 is the better choice.
Wattage range: The Innokin Coolfire Z60 has a wider wattage range than the Innokin Zlide, so it is a better choice if you want to vape at higher wattages.
Display: The Innokin Coolfire Z60 has a small color display, while the Innokin Zlide does not have a display. If you want to be able to see your vape's settings, the Innokin Coolfire Z60 is the better choice.
Price: The Innokin Zlide is typically more affordable than the Innokin Coolfire Z60.
Factors to Consider Before Buying Innokin Zlide
Here are some factors to consider before buying an Innokin Zlide:
Size and portability: The Innokin Zlide is a small and lightweight device, making it perfect for on-the-go vaping. It measures just 24mm in diameter and 54mm in height, and it weighs only 52g.
Flavor: The Innokin Zlide is known for its excellent flavor production. The tank uses the same coils as the popular Innokin Zenith tank, which are known for their ability to produce rich and flavorful vapor.
Airflow: The Innokin Zlide has adjustable airflow, so you can customize your vaping experience. The airflow control is located at the base of the tank, and it allows you to fine-tune the amount of airflow to your liking.
Durability: The Innokin Zlide is made from high-quality materials, making it durable and long-lasting. The tank is made from stainless steel, and the battery is made from aluminum alloy.
Price: The Innokin Zlide is a relatively affordable device. It typically costs around $30, which is a good price for a device of its quality.
Overall, the Innokin Zlide is a great choice for vapers who are looking for a small, portable, and flavorful device. It is also a durable and affordable option.
Best Wholesale Vape Supplier – UPENDS
UPENDS is a leading wholesale supplier of vaping products. They offer a wide range of products, including pod systems, disposable vapes, and e-cigarettes. UPENDS products are known for their high quality, innovative designs, and affordable prices. They also offer competitive wholesale prices and fast shipping.
One of UPENDS' most popular products is the Uppen. The Uppen is a pod system that is easy to use and provides a satisfying vaping experience. It features a built-in 370mAh battery, a 2mL pod capacity, and a draw-activated firing mechanism. The Uppen is also available in a variety of flavors, including tobacco, menthol, and fruity flavors.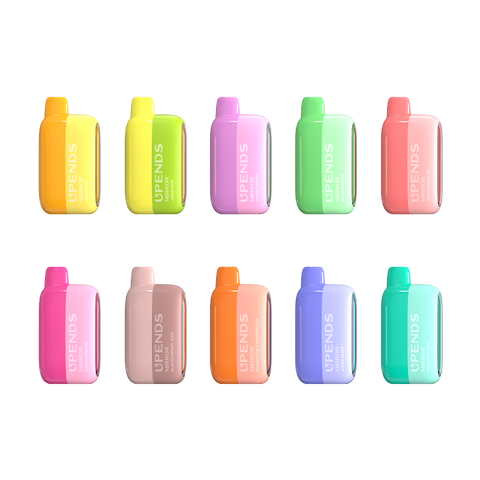 UPENDS is a reliable and trustworthy wholesale supplier. They have a proven track record of providing high-quality products and excellent customer service. If you are looking for a wholesale supplier of vaping products, UPENDS is a great option.
Conclusion
Innokin has created a winner with the Zlide Tube Kit. By combining the Adept Mod with the Zlide tank, they have delivered a beginner-friendly MTL setup that doesn't compromise on performance. The kit's simplicity, paired with the outstanding flavor and longevity of the Z-Coils, makes it a top choice for MTL vapers.
While the battery life could be improved, the Zlide Tube Kit offers a hassle-free and satisfying vaping experience. Whether you're a beginner looking to transition from smoking or an experienced vaper seeking a reliable MTL setup, the Innokin Zlide Tube Kit is definitely worth considering.