What is Innokin IO?
The Innokin I.O is famously referred to as a mighty mini vape kit. It is quite tiny in size offering great portability. This is because it carries a small battery of 310mAh capacity. It is an ideal vape pod kid designed to suit salt Nic e-liquids. It also can use the usual nicotine vape juices as well.
The pod is button less, hence a suitable and easy to use pod system on the market. You simply inhale to activate the device.
The tiny design of the Innokin I.O brings about a lot of simplicity in the vaping industry. It perfectly fits in your hand's palm.
Many vapors have tried most of the Innokin quality products. And you can agree with me that the Innokin I.O is the tiniest pod Innokin has ever designed.
The company has never disappointed in manufacturing high-end vape devices. But, what does the I.O has to offer for vapor enthusiasts? Of course, since it is very tiny, the manufacturer has sacrificed some of the useful features. This is in order to suit a certain class of vapors and this is where Innokin strives.
Let's have a look at this mighty mini vape kit.
Content of Innokin I.O vape
1 x Innokin I.O Pod battery
1 x Innokin I.O Cartridge
1 x Micro USB Charging cable
2 x filling bottle nozzle adaptors
1x user guide
Innokin I.O features
Internal 310mAh rechargeable battery
Stainless steel body design
Coil resistance: Kanthal 1.4 ohm, Ceramic 1.4 ohm
Features puff-activated mechanism
Tank capacity of 0.8ml
Micro USB recharge cable
Comes in stainless steel, rainbow, Black, Gun Metal and Blue
Measures 87.45mm by 13.90mm by 8mm
The IO is a portable all-in-one pod starter kit with a tank capacity of 0.8ml. The pod system has an internal rechargeable battery. It is an ideal pod system that suits beginners, extremely light in weight and doesn't look cheap.
Designed with stainless steel body, it gives the device a metallic structure. It has a sleek and a mirror-like finish. Since it is solid, the device can withstand rough surfaces as well as some drops when travelling.
The size and weight of the Innokin IO adds more convenience when handling and carrying. It is made with an ergonomic design and it can comfortably fit between your fingers. When in your mouth, it feels like a cigarette.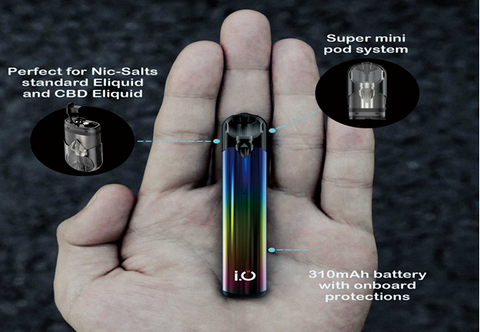 As mentioned, the battery capacity is 310mAh only because of the small size of the device. It has the I.O. logo engraved on the front part while the Innokin on the back side of the device.
The LED indicator appears on the front of the mod and a small dimple fixes the pod. The pod features a hole on either sides for airflow. It has a good overall build quality. You won't realize any form of waggling or wobbling. Because the pod is very small in size, it is important to always remain watchful to avoid accidental loss or damage.
Pods and Coils of Innokin I.O.
The Innokin I.O. kit comes with two distinct refillable pods. This gives vapors freedom to use the freebase vape juice, nic salt or the CBD. Although pre-installed, the coil is non-replaceable. The rubber plug color at the device's base brings the difference between the two.
The pods look lightly dark tinted and allows you to view the level of the juice in a well-lit place. The pods, attached tightly to the battery carries 0.8ml e-liquid. It has a very tight filling plug with a very tiny filling port.
The kit comprises of a small tip adapter and a funnel so that you can conveniently feed the pod with favorite juice. This can greatly minimize chances of spilling the juice all over. However, the pod fills hard to fill the e-liquid evenly. You cannot shake it so that you fill both sides of the pod. They did not provide a way for the air to escape from the pod during the feeding process. This can sometimes be messy regardless of the nozzle adaptors in place.
The 1.4 ohm ceramic and 1.4 ohm Kanthal pods operate on between 5.5W and 8.5W power rating. Once the coils expire, you need to discard the pods away. Once you realize a reduction in cloud and flavor, you should replace the pod immediately. A pod can provide you with approximately 200 puffs when used moderately.
Performance of Innokin I.O. Pod Kit
With 1.4 ohm Kanthal Wire pod (Black plug), you can experience a powerful throat hit and rich flavor. It produces a very tight airflow although the e-liquid sometimes feels hard to flow over the pod even in a lying position. This means, you can easily get a dry hit.
For the 1.4 ohm Ceramic pod (green plug), you can experience a smoother and richly muted flavor. This is the opposite of the Kanthal pod. Thus, you receive a wonderful throat hit and an amazing flavor. Nonetheless, it doesn't distribute the e-liquid evenly throughout the entire pod system. This means, a dry hit which is not quite good.
The 0.8ml refillable pod can utilize a freebase e-liquid, nic salt or a CBD. This device follows the draw-activated mechanism making it pretty forward pod to use. The dual disposable pods function perfectly with enormous flavor as well as powerful throat hit.
The Innokin I.O. pod kit suits ex-smokers shifting from traditional smoking to vaping. It also suit vapers looking for ultra-portable, simple mouth-to-lung pods system to travel with. The refillable pod offers you a variety of e-liquid choice.
With no buttons on the pod system, you just inhale through the mouthpiece and immediately the device fires.
Battery Life and Charging of Innokin I.O. Pod System
The Innokin I.O. pod encases a tiny battery with a capacity of 310mAh. Because of the tiny nature of the device, it works really well and can last for several hours before recharging.
To fully recharge the battery, you need at least 1 hour. The USB port allows you to fit a micro USB charger to charge the battery. It only allows a five-volt wall charger. The device has a LED light located on the front which displays the status of the battery.
A single LED can provide different information. It flashes 10 times to indicate a low battery power. While charging, the LED light remains on and goes off when charged fully.
Pros and Cons of Innokin I.O.
Pros
Slim with a stylish design
Features a sturdy stainless steel design
Lightweight and ultra-portable
Feels small like a cigarette in your mouth
Feels very comfortable in the palm of your hand
Offers an amazing flavor as well as throat hit
Comes along with two different pods
Easy auto-draw vaping mechanism
Extremely user-friendly pod
Cons
Has a single fill port hence, uneven filling
Non-replaceable coil, hence not eco-friendly
You can easily experience airlocks in the device which can cause dry hits
Innokin I.O. Vs OK Vape Pod Kit
OK Vape Pod Kit
The OK vape pod kit is all about simplicity and amazing flavor. It is a draw-activated pod just like the Innokin I.O. and is designed specifically for beginners. Like Innokin I.O, it is button less therefore you don't worry about menu. Unlike the I.O, it comes in three different flavors of 18mg. Each pod can provide approximately 350 puffs, 150 better than the I.O. This can take you through 1.5 days quality vaping experience.
The 500mAh battery capacity is better than the 310mAh of the I.O.
FAQ About Innokin I.O. Pod Kit
What differences lies between Innokin I.O Ceramic and KAL?
The KAL 1.4 ohm is regarded as the normal pod. The Ceramic pod can potentially produce greater flavor on I.O mouth-to-lung device. It however increases the consumption of e-liquids and makes it hard for vapor to make a good choice between them. The other pod lasts longer and because of the lack of cotton implementation, it prevents possible dry hits when you use standard pods.
Which best liquid is perfect with the Innokin I.O pod?
Since the Innokin I.O pod kit has 1.4 ohm coil, we recommend using the high PG e-liquid. You can as well use a balanced ratio of 50/50 VG/PG. Greater PG e-liquids works perfectly with mouth-to-lung pods for a stronger throat hit.
Why do we consider Innokin I.O an MTL?
An MTL means kit means a device which operates almost like a cigarette. Thus, the Innokin I.O has a tiny drip tip and a limited airflow that stimulates the action of a traditional cigarette.
Alternative Vape: UPENDS
UpOX
https://www.upends.com/products/upox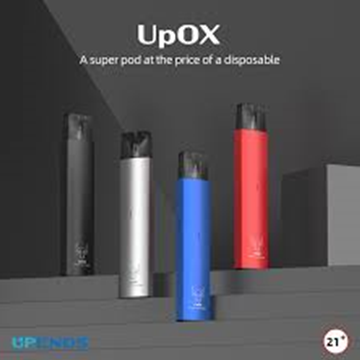 UpOX is a super pod you can get at the value of a disposable. Its performance outshines several pod systems on the market now with an astonishing price tag. It has a beautiful minimalist structure, user-friendly and very sturdy. UpOX pod is suitable for ex-smokers finding way into the world of vaping.
Conclusion
Based on his review, the Innokin I.O kit can guarantee a quality vaping experience for beginners. Its lightweight and ultra-portability allows easy handling and carrying along wherever you go.