Ijoy is one of the major e-cigarettes/electronic vape brands available in over five continents, including countries ranging from the USA, Italy, Poland, Denmark, France, Indonesia, Japan, Paraguay, etc. The company specializes in starter kits, accessories, and advanced vaporizers. This article will cover the three most popular models under Ijoy, to help you choose the right vape pen along with answering some common questions. Let's get started!
Top 2 Most Popular Ijoy Vape Model Reviews
Diamond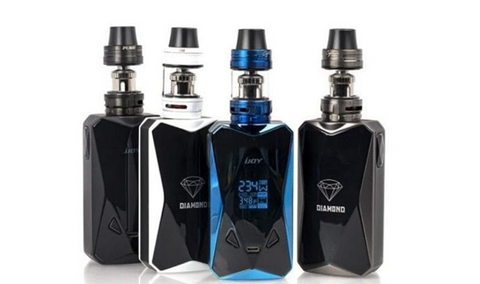 Features:
Max Wattage: 1W To 234W
High wattage BOX MOD
Screen blends into panel
Inspiration for the appearance of this vape is the multi-faceted diamond cutting technology
NI/TI/SS temperature control with TCR function
Unique custom user mode manages Resistance Range: 0.05~3.0 ohm
USB port-charging supported with Firmware Upgradeable
Tank Details- Diameter 25 mm and Capacity 4.2 ml
Wide bore 810 drip tip and top sliding refill design
Fill part gasket replaceable
Cloud vapor and good flavor
Design:
The IJoy Diamond measures 35mm (1.3") wide and stands just under 100mm (3.93") tall without the corresponding tank. The kit has an integrated OLED on the front that blends in with the rest of the mod's zinc alloy construction. On the left side of the Diamond is a single firing button with a smooth, stainless steel finish.
Up top, there's a gold-plated spring-loaded 510 connection that makes connecting the Captain or any other atomizer easy. The device needs two 20700 batteries, but the package also contains a 18650 battery adapter that allows users to use those cells.
Users mount their cells in the back section, which cut in the form of a diamond and kept in place by a tight quad-magnetic link. The OLED front portion of the unit, with two adjustment buttons, makes controlling easy. The USB port is at the front of the unit, can be used for installing firmware updates for Diamond's IWEPAL chipset. The chipset supports a variety of vaping outputs, including standard variable wattage and temperature control modes for stainless steel, nickel, and titanium, as well as preheat modes enabling users to choose their heat-up time in half-second increments.
The IJoy Diamond pd270 features a regular dual-cell setup that is popular among dual-cell mods. Its screen is vertically oriented, making it simple to read vital vaping information. The large display shows the battery life of both cells, voltage,  resistance, amperage, preheat mode, puff counter, and timer.
Performance
Although it has an IWEPAL chipset, it still allows making precise changes, especially in the soft, regular, hard preheat modes Within a three-second range, the User mode allows vapers to choose how long they want the preheat mode to last. The other vaping outputs don't have any additional settings and work similarly to those on other IJoy units.
The device is 96mm tall and dual-20700 configuration. It is heavier than the other devices. It has a solid build and is not budget-friendly. The back battery panel is easily removable thanks to a small tab in the corner. The screen's layout is also striking, as it only covers a diamond-shaped portion of the screen, leaving the rest blank. This gives the gadget a clean, unobtrusive appearance that is neither intrusive nor gimmicky.
The big 510 link atop the frame allows users to connect a variety of different-sized atomizers. Since the unit has a low resistance range of 0.06ohms to 3.0ohms, it works perfectly fine even with rebuildable atomizers, allowing users to set wattage mode and coils temperature control.
Usage:
The Diamond's operation is quick and straightforward. Since there are fewer features to change on the vaping outputs, users can set the preferred mode/setting to start vaping instantly. The monochrome show often relaxes users' minds because they don't have to think about the display's color or brightness, even though it may be dark at times.
The main monitor is activated after five side-firing buttons click. This main menu contains a lot of detail, but the layout is simple and easy to read. Although some might have to squint at times to see the readings display. When in TC mode, the temperature control ranges between 200F-600F, so it can generate a lot of heat.
Pros
Very fast ramp-up time
Accurately rated
Well-built and designed
Unique, eye-catching form factor
Very large, centered 510-connection
Cons
Big, bulky, and heavy
Dark screen
RDTA Box

Features:
IMC Interchangeable building deck
Diameter 15mm Wide Filling Hole
More than 10 decks to choose from
Built-in can be washed tank with LED light
Delrin and Stainless Steel chuff cap
Tank Capacity:12.8 ML
NI/TI/SS temperature control
96 inch OLED Screen
Product size: 28*55*135mm
Output Wattage: 5-200W
Output Voltage: 1-8V
Output Current: 1-45A
Unique Custom User Mode
Resistance Range: 0.05~3.0 ohm
Energy conversion rate: 95%
Firmware Upgradeable
Battery Type: Dual 18650(not included)
Design:
Since the RDTA Box has an Iwepal chip, the menu is intuitive and simple. The interface is simple and intuitive; all of the required features are accessible from the main home screen, and scrolling through the options is simple. To get to the menu, click the fire button three times quickly. You'll see a variety of choices appear on the screen, which you can be navigated using the 2-metallic buttons underneath the window. Three temperature control options are available from top to bottom, as well as Wattage/Power Mode, Pre-heat mode, and Rotate Screen mode
To choose one of the different vaping modes, simply scroll through them and click the fire button once you've found the one you want. Then, using the two 'left' and 'right' buttons on the home screen, you can change the wattage and temperature.
Performance:
This is a simple RDTA to use. In terms of the mod, the menu is easy to use and shouldn't trigger any issues. It has a power output of up to 200W and maximum temperature control. The standard stainless steel, titanium, and nickel TC modes are available, with a maximum temperature of 600F for each. The resistance must be less than 0.05 ohm. It is not pocket-friendly. On the plus side, if you're not using it at high wattages, the battery life is excellent, and the large tank means you won't have the risk of running out.
Pros:
Excellent Flavor & Vapor Production
The interchangeable build deck system
Includes pre-made coil head
Includes Velocity Styled Build Deck
Unique All In One Design
Ease of building and wicking
E-Liquid Capacity
Ease of filling
Tons of available airflow
Sliding battery cover
Cons:
Large size
You cannot use other atomizers
No 510 drip tip adapter
Can go through e-liquid quickly
No micro USB Charging
Frequently Asked Questions
How do I know when my Ijoy vape pen is charged?
To charge the Ijoy vape pen, it has to be connected to a type c-cable or to a computer. While the gadget is charging, the green LED indicator is on and when it is fully charged the red LED indicator gets turned off and the device goes into hibernation
Do the Ijoy Vape pen come with a Puff counter?
Yes, it does come with a puff counter so you can keep track and also know when to place your next order. 
How do you turn the power on/off of your Ijoy Vape pen
To switch the Ijoy vape pen on and off, press the fire button 5 times quickly. At standby mode, the OLED displays the Avenger logo and program version number after being turned on.
ADD UPENDS AD
At UPENDS you can find a wide range of products like pod mod, disposables, and pod systems accessories. Also, you get a variety of models such as The Uppen Plus, Uppor, and UpOX to enhance your complete vaping experience.
UPENDS make sure the product are quality approved and affordable. If you are vaping enthusiast and looking for an alternative to a traditional cigarette, you have come to the right place. UPENDS products are minimalist design, easy to use, quality checked, and are of great value.
Conclusion
Overall, iJoy is a renowned brand in the market and has a range of products for beginners to people who have been vaping for quite some time. Their product is sleek, durable, and designed with utmost care keeping in mind the specifications. However, it is wise to read the reviews of the real consumers to understand the pros/cons of the product before you invest in a vape pen. They have used high-end chipset and technology design focusing on the innovation.