Are you on the hunt for a convenient and flavorful nicotine vaping experience? Look no further than the Hyppe Disposable Vape, a popular choice among nicotine vapers of all levels. In this comprehensive review, we will dive into the various types and features of the Hyppe Disposable Vape, helping you to make an informed decision on which of the products are right for you.
From its unique heating system to its pre-filled pods and ergonomic design, the Hyppe Disposable Vape is a must-try for anyone seeking a high-quality nicotine vaping experience. So, let's take a closer look at what makes the Hyppe Disposable Vape stand out from the rest.
What is a Hyppe Disposable Vape?
Hyppe Disposable Vape is a brand of disposable electronic cigarettes or e-cigarettes that contains nicotine. This brand unlike some other brands produces vapes with nicotine as opposed to the ones with THC. This is a huge advantage, especially in areas where THC is widely unaccepted and nicotine is. You are sure to enjoy these products as it comes in varying nicotine strengths to suit your needs.
Another thing that makes this brand stand out is the long-lasting impressions its flavors leave on your taste buds. Hyppe Disposable Vapes come in a variety of flavors and nicotine strengths, catering to the preferences of different users.  These devices are designed for convenience and simplicity, as they are pre-filled with e-liquid and do not require any refilling or recharging. The devices are compact and portable, making them a popular choice for on-the-go vaping.
General Features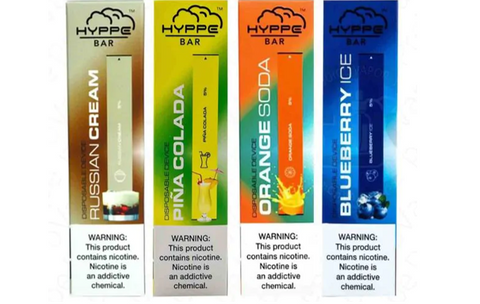 Hyppe Disposable Vapes are designed to be compact and lightweight, making them easy to carry around in your pocket or bag. It also comes pre-filled with e-liquid, which means that you don't need to fill the tank yourself or purchase e-liquid separately.
The Hyppe Disposable Vape boasts a unique heating system that sets it apart from other disposable vape devices on the market. As opposed to the traditional coil-based heating systems, the Hyppe Disposable Vape utilizes a ceramic-based heating element. This ceramic-based heating system allows for smoother and more consistent vapor production, delivering a pure and satisfying taste with every inhale.
The ceramic-based heating element also has the advantage of being longer-lasting and more durable than traditional coils, making the Hyppe Disposable Vape a cost-effective and practical option for those looking for a high-quality vaping experience. This unique heating system ensures that there is no burnt taste or harsh throat hit, even with extended use. This makes it an excellent choice for vapers who value both flavor and smoothness in their vaping experience.
The Hyppe Disposable Vape pens can last up to over 2200 puffs. This is way more than what you would get from smoking 30 cigarettes. For a disposable vape pen, this is an indicator of its strong battery.
No charging required
Just as its name implies, "disposable", it is for one-time use only. Hyppe Disposable Vapes do not require any charging, as they come with a built-in battery that is designed to last for the entire lifespan of the device. These devices are to be disposed of once the prefilled has been used up.
Hyppe Disposable Vapes are available in a range of different flavors, catering to the preferences of different users. These flavors leave long-lasting impressions on your taste buds, making your vaping experience enjoyable. It does not leave irritations on your throat or harsh sensations on your tongue.
Different nicotine strengths
Whether you are a beginner with nicotine or an expert, this product comes in a wide range of nicotine concentrations to suit your needs. Hyppe Disposable Vapes come in different nicotine strengths, ranging from 0mg to 50mg, to cater to the needs of different users.
Relevant YouTube videos Hyppe Disposable Vape
Reviews: Is Hyppe Disposable Vape Good?
Hyppe Maxx Disposable
The Hyppe Maxx Disposable vape pens are an upgrade from the Hyppe Q Disposable vape pens. This innovation has a sleek, portable design and comes pre-filled with enticing e-juice flavors that will satisfy your demands. You may tailor your vaping experience to your tastes by selecting from various nicotine concentrations.
The best part is that you don't have to bother about charging it or refilling it; all you have to do is use it once and throw it away. It comes with an additional feature of the bottom airflow. This bottom airflow has three holes located at the base of the device.
For tighter draws, the base can be covered with a finger and vice versa. The Hyppe Maxx Disposable is a fantastic option for anyone looking for a convenient and pleasurable vaping experience, regardless of whether you're an experienced vaper or just getting started.
Features
600 Puffs – "Outlasts 20 Cigarettes"
Range Of Flavours
500mAh Built-In Battery
20mg Nicotine Salt
Inhale Activated
2ml E-Liquid
Pros
Convenience: Hyppe Maxx Disposable Vape is a pre-filled and pre-charged device that is ready to use straight out of the box, with no need for refilling or recharging.
Portable and Easy to Use: Its compact and lightweight design makes it easy to carry around and use on the go.
Bottom Airflow: This feature allows you to control your draws. For a tighter draw, you can place a finger at the bottom and vice versa.
Wide range of flavors: Hyppe Maxx Disposable Vape offers a variety of e-juice flavors to suit different tastes. Some of the flavors include; pink lemonade, lush ice, mango ice, peach ice, and blueberry ice.
Nicotine options: The product comes in different nicotine strengths, catering to the preferences of users who want to vary their nicotine intake.
Cons
Limited battery life: As with any disposable vape, the battery life is limited, and once the battery dies, the device needs to be disposed of.
Cost: Disposable vapes are generally more expensive than refillable ones, and the cost of replacing them can add up over time. However, Hyppe Maxx Disposable vape pens are designed to be used on the go and require no setup before use
Hyppe Q Disposable
The Hyppe Q Disposable Vape offers a clear appearance and an interesting grip, making it a stylish and convenient option for on-the-go use. With its distinctive flavors, this device delivers a purer taste experience for your enjoyment. The ergonomic shape of the mouthpiece provides a satisfying inhale and an improved throat impact.
This pre-filled vape device comes with a 2ml pod containing e-liquid infused with 20mg of nicotine salt, eliminating the need for coil changes. Although the battery is not as strong as the Hyppe Maxx Disposable, it can still provide up to 600 puffs, ensuring a long-lasting vaping experience.
Thanks to its unique heating system, this device produces a smooth and pure taste that enhances your vaping experience. Available in 12 different flavors, the Hyppe Q Disposable Vape is a versatile and flavorful option for any vape enthusiast.
Features
12 Flavours to choose from
20mg/2%
Nic Salt E-Liquid
600 Puffs
50% VG 50% PG
380mAh battery
Draw activated
Equivalent to 30 cigarettes
Pros
Beginner-friendly
Easy to use
Mouth to Lung vaping
Cons
The battery is not as strong as the Hyppe Maxx Disposable pens.
Possibility of addiction due to the nature of nicotine. Hence, you should ensure to use as directed and be careful not to get addicted to nicotine.
Frequently Asked Questions (FAQs) for Hyppe Disposable Vape
How long does a Hyppe Disposable Vape last?
A Hyppe Disposable Vape can last anywhere from a few days to a week or more, depending on how often you use it.
How do I know when a Hyppe Disposable Vape is empty?
When a Hyppe Disposable Vape is empty, you will notice a decrease in vapor production and flavor. At this point, you should dispose of the device.
How much nicotine is in a Hyppe Disposable Vape?
Hyppe Disposable Vapes come in different nicotine strengths, ranging from 0mg to 50mg, depending on the flavor.
What flavors are available for Hyppe Disposable Vape?
Hyppe Disposable Vape comes in a range of flavors, including fruit, menthol, dessert, and more. Some popular flavors include strawberry banana, peach ice, and blue razz lemonade.
Are Hyppe Disposable Vapes safe to use?
While Hyppe Disposable Vapes are generally considered safe when used as directed, they do contain nicotine, which is an addictive substance. It's important to use vaping products responsibly and by the manufacturer's instructions.
Best vape wholesale supplier-UPENDS
How would you like to get top-quality vaping products at great prices? UPENDS is an amazing e-cigarette disposable vape brand retailer that specializes in stocking only products sourced from expert-vetted factories in China. Before purchase, these are properly monitored by a team specializing in research and development to ensure all products meet high-level standards of excellence. You can always count on a properly stocked catalog with guaranteed product quality to meet your needs.
At UPENDS, you can shop for a wide variety of disposable e-cigarette products that stand out in quality, taste, design and overall look. So, be sure to shop at UPENDS for a one-of-a-kind experience.
UPENDS is looking for authorized disposable e-cigarette agents, distributors, wholesalers worldwide, if you are interested, please contact us now!