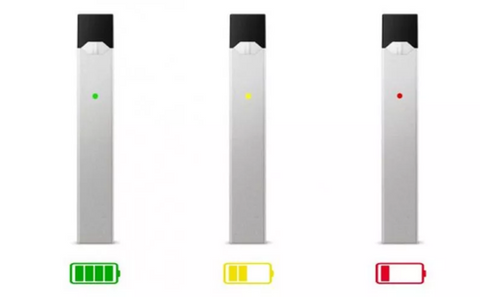 UPENDS Guide on How to Charge a JUUL without a Charger
A JUUL, like any other vaporizer, is powered by a rechargeable battery so that when the battery runs low, you don't need to throw it away but recharge it and continue enjoying the services of your JUUL.
Without a battery, your JUUL will not be powered, which means that it will not hit. As a regular user of this device, you may be worried when this happens, and you may hurry up to recharge the battery. It may be disheartening when you cannot locate your charger or when you notice that your charger is damaged when you need it most.
You may decide to make an order of the new JUUL conventional charger, which may delay being delivered, and you want to enjoy vaping. You don't need to worry, to sort this emergency; you can make your own charger that you can use to charge your JUUL. However, this is advisable that you use it on an emergency basis and not make it a permanent way to recharge your JUUL's battery.
The JUUL USB Charger
Why you purchase the JUUL kit, it comes with a USB charger that is compatible with many charging stations and electric sockets. This charger is also compatible with the USB ports on your laptop or your computer. 
When you carefully examine your JUUL, you will notice that it has four magnetized slots. The slots serve to hold your JUUL firmly on the charger till you wish to remove it after a full charge or when you want to use it. This is when you are using the original JUUL charger, but what if you lose your charger? Does it mean you stop vaping/Juuling? No, here is what you need to do.
Charging JUUL without its Original Charger
This is something that you can easily do at home to help you continue vaping if you cannot access your charger. You can make a temporary JUUL charger at home. 
Here you need a cord with a USB plug and a pair of scissors. Then follow the following stepwise process;
Cut off the end of the USB cable that usually plugs into your phone using a pair of scissors. Make sure that the length attached to the USB end has a longer length than the chopped ones. You also need to make sure that before you cut the cable, it is unplugged from the power source.
Chop off the plastic insulator to expose some two inches of the four wires. You can differentiate the wires using the colors. They come in Red, Black, Green and White color. Some cables may have a grey wire instead of the Black one in some chords.
Separate the wires by untangling them. Fold the Green and White wires against the insulated part of the cord and hold them firm using tape. Make sure the folded wires are covered with the tape properly to insulate them.
Using a pair of scissors, strip off the plastic casing on the Red and Black/Grey wires. Make sure you don't strip the insulator of the wires more than ¼ from the cut end.
Twist the exposed metal inside the stripped wires.
Repeat step 4 and step 5 for the Green and White wires.
Lay your JUUL flat on a surface with its LED facing the upper side; this is to make sure you monitor the LED to see if your homemade charger will work.
Guide the Red and White wires to the bottom of your JUUL and insert them to the left and right-most ports. Make sure you push the wires as far as you can.
Gently plug the USB end of the cord into the USB port on the USB wall charger. Make sure you don't disturb the wires inserted into your JUUL. You also need to take care that you don't use a laptop, computer, or any other electronic gadget as there may be a short-circuiting that may damage your device.
Make sure the wires are held in place, then plug the charger into the socket and switching on. If the LED on JUUL does not light up, adjust the wires until it lights up; then, once the LED light starts blinking, use a tape to hold the wires firmly. Don't leave the JUUL unattended while it is charging. 
This way, you will have your JUUL charged and continue enjoying your vape as you await the ordered charger.
Portable JUUL Charger Near me
The JUUL USB charger is one of the best parts of your JUUL that you cannot afford to miss. It is highly portable and easy to use. You only need to plug it into the USB port, such as a laptop or a computer, and instantly start charging your JUUL.
If your charger spoils, you can always like to locate the nearest shop with you where you can acquire your JUUL's charger from. You may wish to visit the shop physically or order online. Some of the recommended JUUL charger shops include;
Amazon
Amazon is one of the best leading online shopping platforms with a wide collection of various equipment, one of them being the JUUL USB charger. Many vapers prefer shopping with Amazon as it has been in this business for decades now and has gathered a lot of experience in this field, thus trustable.
With Amazon, before you make an order, you will get a full product description that will guide you to making the right choice. Apart from the JUUL charger, Amazon has stocked a wide variety of products that you can shop at the click of a button. Their prices are also reasonable and competitive.
Walmart
Walmart is also among the leading online shopping platforms where you can get the best quality JUUL charger. 
They have stocked a good number of portable USB JUUL chargers and Magnetic USB cables that offer fast charging.
Walmart prices are competitive, affordable and always discounted. You will love Walmart as they always do deliveries on the ordered products; thus, you can receive your USB JUUL charger at the comfort of your home or preferred destination.
Buy a New one: How Much is a JUUL Charger?
The JUUL comes with its original charger once you buy the JUUL kit. But in the process of using your charger, it may develop some issues like breaking down and malfunctioning. 
You may also lose your charger or misplace it. This may compel you to try to get a different one, and it is not that expensive. Depending on the online shop or any other shop, it ranges from $5.95 to $7.00. Don't miss up enjoying your vape because of a charger.
JUUL Charger Replacement
The JUUL kit comes with a charger and another replacement charger. Before you transact and pay for your JUUL, make sure it comes with a replacement charger in case the first one fails. JUUL replacement charger is important to make sure you continuously enjoy vaping.
Wholesale Vape Equipment Source: UPENDS.com
UPENDS.com offers you the best and great value vaping products. This is the most growing online store for all the vaping equipment that will facilitate your vaping. 
All UPENDS vape products are built with the latest vaping technology employing sleek and slim design to allow you to carry it along anywhere, anytime. When you shop with UPENDS, you are assured of wholesale price; thus, you don't need to strain your budget.
To make sure they serve you at the comfort of your home, UPENDS is recruiting agents and distributors globally.
Conclusion
Losing the JUUL charger or misplacing it is a common scenario, more so if you like traveling with your JUUL. This method of charging your JUUL without its original charger is the best when you unknowingly lose your charger, and you need to continue vaping. However, this method is recommended to be used in emergency cases as you locate or replace the charger. Always take all the precautions into consideration when using this method to make sure you are safe.