What is a High Supply Vape Pen?
High Supply Vape Pens are cylindrical, pocket-sized electronic vaporizers for cannabis and dry herbs. Although there are some that are larger than average pens, these pens can be smaller than some portable vaporizers. Most of them are powered by rechargeable batteries and have built-in heaters that generally use the conduction method to vaporize cannabis.
These types of vaporizers offer several advantages in terms of portability, discretion, and price. They are usually the cheapest type of vaporizer you can find on the market, as well as the most discreet devices that can even be in your pocket. Some models do not even have an integrated battery and have to be heated with a burner. This is a plus for many users, as you do not have to replace the battery in the event of a malfunction
These vape pens are made by High Supply. High Supply is mainly into the distribution of high-quality weed. These weeds are grown by CRESCO LABS, a company that forms a group of medical marijuana brands. High Supply doesn't have an array of vape pens to pick from. However, their vape pen line includes the Cresco Hybrid High Supply Cartridge, the Cresco High Supply Cannabis Vape Pen, and the HIGH SUPPLY Sativa Vape Pen.
Features of the High Supply Vape Pens
Automatic shutdown function for session vaping
Heating chambers connected to the battery
Conical and cylindrical batteries
Child-resistant packaging
High THC percentage
Disposable design
High Supply Vape Pen Reviews: Is High Supply Vape Pen good?
High Supply Vape Pens come from Cresco. They're affiliated with the medical marijuana weed and accessory-producing brand. So, their vape pens are of high quality, very reliable, and are produced under strict regulations. These products are legal and made in the USA and made under strict standards.
High Supply Main Vape Models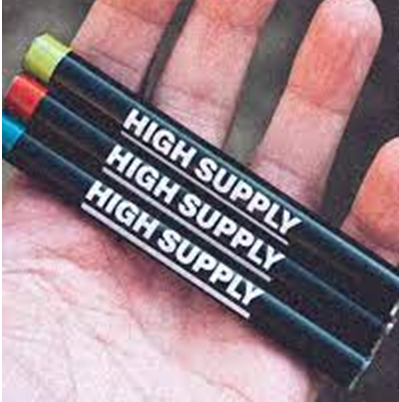 Some of the best High Supply Vape Pens are reviewed as follows.
1. High Supply 500mg Cannabis Vape Pen
Available with a 500 milligrams or 1/2 gram CBD content. It has child-resistant packaging so it's a bit difficult to open. It has a reusable tube that you can roll pre-rolls in and keep in your purse. To get it off, you just have to twist the top off. This is a 500-milligram disposable vape and it's rare to find ones that are 500 milligrams disposable style. It sells for a bit over $50 which, to many, is a steal.
You just draw from one end and then the other end will light up. This one is a hybrid strain. It's a blend that tastes and smells almost like lime. It has a very citrus note but it's very limey and pleasant.
The THC percentage on this is 74. 74% is very strong so this will do the trick. It's potent and clean medicine. You just need a few hits and you will feel calmer.
Pros
High THC percentage
500mg Cannabis
Reusable tube
Hybrid CBD vape cartridge
Cons
https://youtu.be/hHp-8ebbS9s
2. Cresco 250mg Hybrid High Supply Cartridge
This is a disposable Phenol High Supply vape pen by Cresco. This is a quarter of a gram (that is, 250 milligrams) and it sells for $35 to 40 after-tax. This is a vape that gets you very high with just one hit at a time. It is like a one-hit-wonder. It's a very potent good medicine. The packaging says it's like 75.8 percent THC. It packs a good punch if that is an accurate measuring.
It is a Phenol 51 specific strain vape bred by Cresco Labs and has a skunky cannabis smell. It smells like a flower and has a nice taste to it. It smells like citrus and cannabis. Overall, it doesn't taste artificial at all but the high is very good. It is a little cheaper than the regular liquid so if you're looking to try the Cresco experience but don't want to spend much, this might be a good option for you.
Pros
5 percent THC
Cheap in price
Nice citrus-cannabis smell
Cons
Just 250 grams of cannabis
FAQ about High Supply Vape Pens
1.     How to choose the best vape?
To decide which is the best vape pen for you, you need to look at the features that the devices have to offer you. Find out what is more important to you: do you prefer a larger cartridge? Or are better vapor production and better taste more important? Here are the top features you should watch out while choosing your device:
Vapor Production and Quality: The quality of the heating chamber is critical to the production and quality of the vapor: some produce a denser vapor while others focus on extracting more flavor from the cannabis. You can control vapor production and quality by vaping the herbs at different temperatures.
Chamber Size: The heating chambers found in herbal pen vaporizers come in all possible sizes. Identifying the perfect size of a chamber is important to you as it not only determines the amount of herbs in a chamber but also how the cannabis will vaporize. A more densely filled chamber needs much more heat to vaporize.
Wattage Compatibility: The heating chamber of each vape pen has specific compatibility and specific temperatures it can achieve. So make sure you understand the power limits of your heating chambers and always make sure you don't exceed their maximum power limit. A 510 port gives you a great deal of adaptability when it comes to the hardware that you can put on your device. Don't forget, however, that while your battery/MOD may be able to reach 80W, your heating chamber could only withstand up to 40W.
2.     How do you charge a High Supply vape?
When you start the vape pen, it takes a certain time before adopting good recharging habits; just like with your phone, you learn to recognize the signs of a battery that needs to be recharged and to know how long it is possible to vape in a day.
To charge your battery, you must first unscrew the battery from the pen, then screw it onto the charger before connecting the charger directly to a computer USB port or a wall outlet via an adapter. Charging time varies by model, but it is estimated that for a full charge it takes 3-4 hours. Remember that the first charge after purchasing your battery usually lasts longer, around 8 hours. The chargers are equipped with small luminous diodes which indicate the state of charge of your battery: the light is red, which indicates that the battery is still charging, if it turns green, the battery is fully charged.
Tubular batteries can have different charging characteristics depending on their autonomy and the vaping habits of their owners. A 650 mAh battery can easily last a whole day with a person who vapes little and will need to be recharged two or three times with someone who vapes intensely for several hours. It is therefore important to choose a battery with an autonomy adapted to your way of vaping and your vape pen, so as not to prematurely wear out your equipment by too many recharges.
Most tubular vape pens let you know when the battery is about to be discharged, thanks to a light diode that changes color, usually located on the switch button. You can also determine yourself if your battery needs recharging, for example when the vapor is less abundant; many old batteries have a power proportional to the state of charge, as the battery discharges, the power out of the battery decreases, and the vape loses intensity.
Recharging modern vape pens
Vape pens have evolved a lot, and recharging methods are more and more sophisticated and practical: recharging is always faster, even with significant autonomy, and it is now possible to vape while charging your machine.
The vast majority of modern vape pens are recharged via a USB cable that plugs directly into the underside or the side of the battery via a mini USB connector. We, therefore, forget the dirty threads and the obligation to unscrew the pen to be able to recharge your vape pen.
To recharge your latest generation battery, all you need to do is connect your cable to the battery, then to a USB port or a wall outlet using an adapter and wait!
3.     How much is a High Supply vape?
While general vape pens are sold for $25 to $100, you can get disposable vape pens from High Supply for around $40 to $60. High-quality vape pens    can reach up to $100 however. Also, the price you pay depends on the state and the tax charged.
Final Thoughts
High Supply, affiliated with Cresco Labs, a medical marijuana group of brands, is one of the best suppliers of high-quality vapes that smell and taste nice. When choosing a herbal pen vaporizer, it is extremely important to find the best vape pen for your needs based on personal experience with various devices. Of course, over time you will try several devices; find the vape you like and just stick with it.