Disposable vape pens have become increasingly popular, with a saturated market offering various types and brands. This can make it overwhelming to decide which one to choose. In this article, we're going to take a closer look at Heavy Hitter Disposable, a brand that we think you'll love.
We'll cover everything you need to know about this brand and why we believe it's the perfect option for your vaping experience. So sit back, relax, and let's dive into the world of the Heavy Hitter Disposable!
What is a Heavy hitter disposable?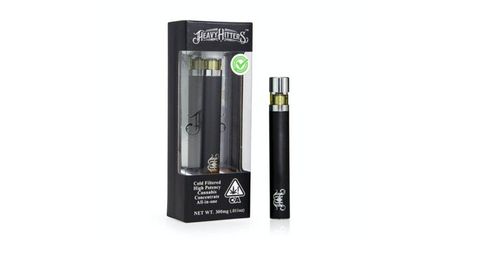 The heavy hitter is a family brand that originated in Los Angeles. The heavy hitter brand is known for its premium products and careful operation process.  The Heavy Hitter Disposable is a type of disposable vape pen that is marketed as delivering a high concentration of THC.
It comes in various flavors, including Blue Dream, Girl Scout Cookies (GSC), and Pineapple Express, among others. One of the main advantages of the Heavy Hitter Disposable is its ease of use. It requires no charging or refilling, making it a convenient option for people who are always on the go. It's also small and discreet, making it easy to carry around in a pocket or bag.
However, the vape pens come with a charging port at the bottom giving you the option to recharge if you exhaust the battery before exhausting the oil. In terms of performance, the Heavy Hitter Disposable delivers on its promise of a strong hit of THC just as its name implies. It produces large clouds of vapor and has a smooth, satisfying taste. However, because of its high THC concentration, it may not be suitable if you are a novice or if you have low tolerance levels.
General Features
The Heavy Hitter Disposable's high THC content is one feature that sets it distinct from other vape pens. The psychoactive substance in marijuana known as THC is what gives users a potent and euphoric high. Hence, the Heavy Hitter Disposable might be your best option if you're seeking a vape pen that hits hard.
The Heavy Hitter Disposable's high THC content allows it to give a strong and gratifying high that will leave you feeling content and at ease. Also, as it's a disposable vape pen, you can benefit from a high THC concentration without worrying about the inconvenience of charging or refilling your device.
But remember, as with any THC product, it's essential to use the Heavy Hitter Disposable responsibly and in moderation. Everyone's tolerance is different, so start slow and see how it affects you before taking more. And, of course, always make sure to use it in a safe and legal environment. With the Heavy Hitter Disposable, you can enjoy a high THC concentration and a great vaping experience in a convenient and hassle-free way.
The taste of the Heavy Hitter Disposable is one of the features that makes it so delicious and smooth. You're guaranteed to find a flavor that pleases your palate with flavors ranging from Blue Dream, and Girl Scout Cookies, to Pineapple Express, among others.
You'll enjoy the smooth and rich taste of the Heavy Hitter Disposable as you take a puff. The harsh hits and nasty aftertastes that occasionally occur with other THC products won't be an issue with this product. Instead, you'll have a pleasant and seamless vaping experience that will undoubtedly make you feel content and at ease.
So, if you're looking for a vape pen that not only delivers a potent hit but also tastes great, the Heavy Hitter Disposable is an excellent choice. With its smooth taste and convenient disposable design, it's perfect for anyone who wants to enjoy a relaxing vaping experience without any hassle or fuss.
The portability and convenience of the Heavy Hitter Disposable are two of its main features. This vape pen is made to be carried everywhere you go, making it the ideal choice for anyone who enjoys vaping while on the road or leads an active lifestyle.
You won't need to bother about refilling or charging your device because of its disposable construction. Instead, you can just relax and take advantage of a high-quality vape pen. You can also bring it along with you on all your activities, whether you're climbing in the mountains, relaxing at the beach, or just running errands around town, because it is so portable.
The Heavy Hitter Disposable is also incredibly easy to use, so you won't have to spend hours learning how to operate it. Just take it out of the packaging, and you're ready to go! And because it's so discreet, you can enjoy your vape pen without drawing unwanted attention.
Relevant YouTube videos
Reviews: Is Heavy hitter disposable good?
Heavy Hitters Disposable - GSC 300mg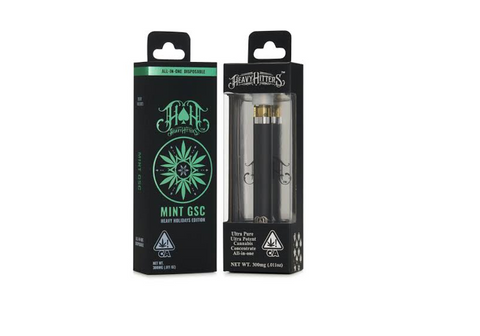 If you love vape pens with high THC content and zero irritation, then this product is for you. The Heavy Hitter GSC 300mg Vape Disposable Pen is a convenient and easy-to-use vaping option for those who are looking for a high-quality and potent experience.
This vape pen is filled with 300mg of GSC (Girl Scout Cookies) cannabis oil, which is known for its sweet and earthy flavor profile and relaxing effects. You do not have to bother about itching throat sensations or a dry mouth with this product.
Features
Contains 300mg of GSC (Girl Scout Cookies) cannabis oil
The sweet and earthy flavor profile
Designed for portability and convenience
High THC concentration for a potent hit
Balanced effects for relaxation without excessive drowsiness
Pros
The convenient and portable design makes it easy to use on the go
The single-use design eliminates the need for charging or refilling
No maintenance or cleaning required
Cons
Single-use design means that it cannot be refilled or reused
May not be available in all areas or dispensaries, depending on local regulations and availability
Heavy Hitters Disposable-Skywalker OG
Skywalker OG may be a strain for you if you're looking for something to help you unwind and rest after a stressful day. This hybrid predominance from India is well renowned for its strong calming effects, making it a wonderful choice for people who struggle with stress, anxiety, or sleeplessness. Skywalker OG is also a pleasant strain to smoke or vape, with a sweet, earthy scent and flavor. So take a seat, puff away, and let Skywalker OG's calming powers take over.
Features
Effects: As an Indica-dominant hybrid, Skywalker OG is known for its relaxing and sedative effects. It can provide a feeling of deep relaxation and euphoria, making it a popular strain for those who are looking to unwind and de-stress.
THC Content: Skywalker OG typically has a high THC content, ranging from 20-25%. This makes it a potent strain that can provide a strong and long-lasting high.
Medical Benefits: Due to its relaxing effects, Skywalker OG can be a great option for those who are dealing with stress, anxiety, or insomnia. It may also be helpful for those who are experiencing chronic pain or muscle spasms.
Pros
Relaxing and sedative effects, making it a great option for those dealing with stress, anxiety, or insomnia
Sweet, earthy aroma and flavor that many people find enjoyable
Helpful if you are experiencing chronic pain or muscle spasms
Cons
High THC content can be overwhelming for some users
Sedative effects may not be desirable for those looking for an energetic or uplifting high
FAQs about Heavy Hitter disposable
What sets Heavy Hitter apart from other brands?
One thing that makes Heavy Hitter unique is their extensive range of strains, all of which are high in potency. Additionally, their products include options for 1g cartridges and Live Resin cartridges.
Are Heavy Hitter cartridges a good choice?
Although the cartridges are not refillable, this doesn't mean that their quality and potency are lacking. Heavy Hitter cartridges are known for their high standards and deliver a satisfying vaping experience with every puff.
How long can you expect a Heavy Hitter cartridge to last?
For heavy users, a cartridge can last up to 3 days. However, if you're not a heavy user, you can expect the cartridge to last even longer than that.
Best vape wholesale supplier-UPENDS
How would you like to get top-quality vaping products at great prices? UPENDS is an amazing e-cigarette disposable vape brand retailer that specializes in stocking only products sourced from expert-vetted factories in China. Before purchase, these are properly monitored by a team specializing in research and development to ensure all products meet high-level standards of excellence. You can always count on a properly stocked catalog with guaranteed product quality to meet your needs.
At UPENDS, you can shop for a wide variety of disposable e-cigarette products that stand out in quality, taste, design and overall look. So, be sure to shop at UPENDS for a one-of-a-kind experience.
UPENDS is looking for authorized disposable e-cigarette agents, distributors, wholesalers worldwide, if you are interested, please contact us now!