With vaping becoming increasingly popular and vape manufacturers coming up with thousands of strains, it can be difficult to pick the most suitable one. To help you out a bit, we've discussed one of the most sought-after and rarest flavors - Guava Guava Cake Disposable. Let's check out how it hits differently…
Guava Guava Cake Strain: An Introduction
One of the most incredible strains available on the market: the Guava Guava Cake. It is making waves across the globe being a highly potent Guava Cake strain. It offers tropical fruit flavors along with great calming effects. It is one of the rarest strains created as it is a back cross of the Gold Leaf strain. Guava is a Gelato phenotype that is known for its fruity flavor and, therefore, great for anyone with a sweet tooth.
Apart from offering bright and giggly mental effects, the strain also provides physical relief. So, this could be a perfect choice for those seeking a flavorful yet hard-hitting vaping experience. Also, it is one of the newest flavors out there that tastes and smells great along with providing some outstanding effects. Moreover, it also has medical uses that we will discuss in brief.
Talking about its background, Guava Cake was made via a painstaking process of pheno-hunting and backcrossing. Simply put, it was made by taking a cut of Gold Leaf and crossing it with itself. The crossing process promoted more balanced effects and made it stronger. This 70/30 Sativa-dominant Hybrid flavor gives relaxing and uplifting effects while leaving users with giggles.
What is Guava Guava Cake Disposable?
Guava Guava Cake Disposable by She Hits Different is one of the most popular disposable vapes available on the market. It is a disposable vape device that is designed to have a short lifespan. It comes pre-filled with e-liquid and pre-charged to be used straight out of the box. It means that when e-liquid or the battery depletes, it has to be discarded carefully.
As far as the flavor is concerned, Guava Guava Cake Disposable has a sweet tropical fruit flavor with a hint of earthy tones. Each puff provides a flavorful experience of a tropical berry taste along with a slight herbal aroma. It contains a whopping 28% to 30% THC on average which is quite powerful and ideal for experienced vapers.
Guava Guava Cake Disposable Specifications and Features
Type: Disposable Vape Pen
Quantity: 1 Gram Disposable
Plant Type: Sativa
THC Level: Potent 28% to 30% Average THC Level
CBD: 0.77%
Effects: Tranquillizing and Euphoric
Quality Check: Lab-Tested
Additives or Filler: No PG, No VG, No Vitamin E Acetate)
Pack Type: 5 Bars Mini Box
Taste: Sweet Taste and Herbal Aroma
Organic Terpenes
Ultra-Compact and Sleek
Guava Guava Cake Disposable Review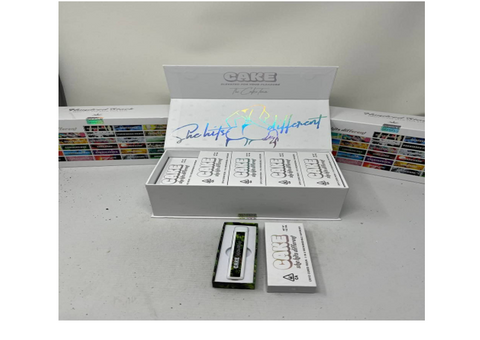 The Guava Guava Disposable features a spade-shaped, dark forest green color box. If we had to describe the flavor in one word, it would be mysterious. The confusion goes deeper as it is a rare strain that was created as a back cross of the Gold Leaf strain. The plants grow much like their predecessor, the Wedding Cake. Therefore, these plants also have dark green to purple water leaves with lots of trichomes.
Coming to the quality and performance of the Guava Guava Cake Disposable vape pen, it is compact enough to be carried easily and sleek enough to fit in a palm. It is designed to provide vapers with a convenient and mess-free alternative to consuming CBD while on the go. It is an easy-to-pocket device just like a USB per drive that is roughly 4 inches long. The disposable vape device is perfect for anyone seeking a discreet vaping solution.
As far as the performance of the Guava Guava Cake Disposable vape pen is concerned, it boasts high-end iKrusher hardware. It means the device can produce ample amounts of vapor and provide an extremely smooth and satisfying vaping experience. Moreover, the high starts with a low build of effects and it will slowly lift senses.
As it has an extremely high potency, it should be reserved for seasoned or experienced vapers. People who have just started vaping or are new to CBD products may experience paranoia, anxiety, or other side effects while enjoying it. It can be a great pick for those looking for any sativa strain that provides both physical energy and mental calmness.
The overall performance and long-lasting effects make Guava Guava Cake Disposable one of the best vape carts on the market right now. Furthermore, these disposables are free from unnatural additives and also have good oils. There are no harsh solvents used during the extraction process, making these products an ideal choice for anyone looking for premium quality vape products.
Guava Guava Cake Disposable Flavor and Effects
Flavors play an imperative role when selecting a vape product as there are countless of them available on the market. Guava Guava cake is one of the rarest flavors and provides a sweet tropical fruit taste with a light herbal aroma. Although its origin is debatable, it is clear that the flavor is strong enough to give a high and its genes are of an exceptionally high quality. Many breeders have tried to create it which results in the creation of a variety of versions.
The Guava Guava Cake strain is powerful in its flavor, aroma, and effects. It may induce an intense high, so it is better to start with moderation. Initially, it will give an energetic and creative effect but after some time users may find themselves feeling aroused and experience more sensory perception. Later, it may bring a wave of peace and relaxation and that's why consuming too much may lead to total sedation.
Effects…
As Guava Guava Cake Disposable is known to provide both euphoric and tranquilizing effects, it provides both the body and mind with energy and happiness. The strain instills the body with creative energy and relaxes for a sound sleep. Therefore, it is often liked by people suffering from conditions like depression, chronic stress, insomnia, nausea, chronic fatigue, or appetite loss.
However, any product that contains nicotine or other chemicals like THC is dangerous to health. These products are addictive and should only be used in moderation and after seeking help from a licensed healthcare provider. There may be side effects related to its consumption such as tingling, hunger, anxiety, dizziness, etc.
FAQs About Guava Guava Cake Disposable
Is Guava Guava Cake Disposable worth the hype?
Yes, you can give Guava Guava Cake Disposable a try as it is one of the rarest strains available on the market and also free from unnatural chemical additives.
Is Guava Cake a Sativa or Indica strain?
Well, some say that Guava Cake is a more Indica-dominant hybrid but the Guava Guava Cake Disposable by She Hits Different is stated as a Sativa strain that gives calming and relaxing effects.
Is Guava Guava Cake a good strain?
As Guava Guava Cake features THC levels around 28% to 30%, it makes it a highly potent strain. If you're looking for effects like increased energy, relaxation, and calmness, it could be a great pick.
Are cake disposables healthy?
No vaping product is completely healthy as they contain harmful chemicals and additives. Also, nicotine present in them can be addictive and associated with health concerns and safety risks.
How long should my disposable vape pen last?
Although it will depend on the type of disposable vape pen you're using, most of them are designed to provide approximately 300 to 600 puffs.
UPENDS: Your One-Stop Shop for Wholesale Vape Products
UPENDS is a licensed manufacturer and distributor of vape products. We believe strongly that every vape user should have access to high-quality vaping products for use medicinally or recreationally. To make this happen, we design and manufacture some of the most innovative and premium-quality vape products. Our top priority is producing only the best quality and lab-tested products so that our customers get the best value for their money.
At UPENDS, we believe in customer satisfaction and, therefore, create customer-oriented products. Some of our best examples of creativity and high performance include UPENDS Mirror, UpBar GT, and UpBar NANO. These products are made from the best materials and ingredients to ensure superior quality and unmatched performance.
Furthermore, we are passionate about customer service because we understand that you paid for your product and have all the rights to get them on time.
If you want to work with us and grow your business, feel free to contact us as we are looking for authorized vape distributors and agents at different locations. Let's reach the global audience and grow together…