SMOANT is all about pushing the boundaries with innovative vape technologies, especially for sub-ohm users and those using Advanced Personal Vaporisers (AVPs). Their latest offering, the Pasito pod, takes pod vaping to the next level by offering a unique RBA coil option.
What's great about these vapes is that they're versatile and can be used for both mouth-to-lung (MTL) vaping and restricted direct-to-lung (RDL) vapors simply by changing the coils. This gives you more options for juices, depending on which coil you choose. For those who prefer higher nicotine strength and want to conserve battery life, the 1.4ohm coils are a perfect match.
What is Smoant Vape?
Smoant Vape is a well-known vaping company that has established itself as a leader in the industry for designing and manufacturing high-quality vaping devices. They offer a wide range of devices to cater to the needs of different users, including box mods, pod systems, and atomizers.
Their devices are built with innovative technologies and high-quality materials, ensuring durability and longevity. Smoant Vape's commitment to providing its customers with exceptional vaping experiences has made them a popular choice among users worldwide. Whether you're new to vaping or a seasoned veteran, Smoant Vape has a device to suit your needs.
Smoant Vape Products
Pasito Mini
The design of the Smoant Pasito Mini is similar to its predecessor, the Pasito. The Pasito Mini Cartridge has a side-refilling feature that can be operated with one hand, and it doesn't need to be removed to be filled. The P-Series Coils come in three different resistances, 0.6, 0.8, and 1.0ohm, allowing for customizable flavor preferences.
The mod features a drag slider and a large, visible window for adjusting airflow and checking the remaining e-liquid. The built-in 1100mah battery supports a 3-level voltage output: 3.45, 3.55, and 3.65V.
Features
1100mAh
5 ML
Resistance: 0.6Ω
Mesh Coil
3-level output
One-step Operation
Pros
The Smoant Pasito Mini Pod Kit is a small and portable device that can easily fit in your pocket or purse, making it great for on-the-go vaping.
The kit features a sleek and modern design with a colorful resin finish that adds to its aesthetic appeal.
Cons
The Smoant Pasito Mini Pod Kit has a small battery capacity of 650mAh, which may not last long for heavy users.
The airflow of the Smoant Pasito Mini Pod Kit is fixed, so users cannot adjust the draw resistance to their liking.
Knight 40
The Knight 40 is a pod vaping device that comes with a variety of coils to choose from, including sub ohm DL coils and higher-resistance MTL coils. Additionally, it has adjustable airflow, which can be set to suit your preferred vaping style.
The device allows for adjustable wattage, with a maximum of 40W, and comes with a built-in 1500mAh battery that can be charged using Type-C charging.
Features
1500mAh
5ml
See-through design
7 dedicated coil
Button activated
S- Coil
Airflow control system
Pros
The design is both attractive and lightweight.
All of the buttons have a solid feel and are enjoyable to use.
The build quality is exceptional.
It includes two coils: one for mouth-to-lung vaping and one for direct-lung vaping
There are seven coils available, including an RBA coil.
Cons
The lightweight feel may give the impression of a lower-quality build.
Charging times are on the longer side.
The display appears outdated.
Veer
The Smoant VEER Pod Kit is a sleek and uncomplicated device that includes several notable features. Its 2.3ml cartridge can be filled from the side to prevent e-liquid from spilling and creating a mess. By inserting the pod in different directions, users can enjoy two different airflow options and experiences.
The kit includes a 0.6 Ω Mesh/1.2 Ω Ni80 Baby series coil, which can be used with the Charon Baby & Battlestar Baby. The device has a 750mAh built-in battery, which can output a maximum power of 1-15W, and features three levels of power indicator lights.
Features
Light design
3 ml
750 mAh
Side fill cartridge
Baby series Coil
Two different airflow
Pros
The side-fill cartridge design helps prevent e-liquid from leaking and reduces mess.
The device is compatible with two different types of coils, providing users with flexibility in their vaping experience.
The ability to install the pod in different directions allows for two different airflow options.
Cons
The 750mAh battery may not last as long as some other devices on the market, particularly for heavy users.
The device has a maximum output of 15W, which may not be sufficient for users who prefer more powerful hits.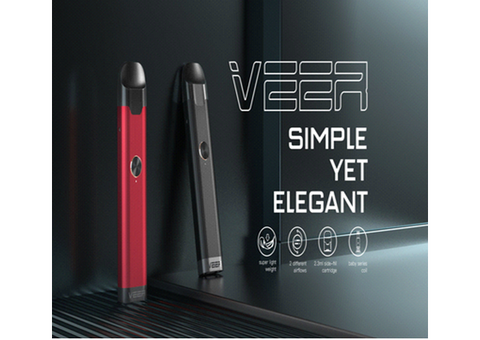 Antbar Lafu
The Antbar Lafu is a vaping device that boasts a variety of features designed to enhance the user's experience. With a battery capacity of 500mAh, this device provides a long-lasting vaping experience without needing to recharge frequently. Additionally, the device has an e-liquid capacity of 3.5ml, allowing for a significant amount of vaping before needing to refill.
The quick oil-absorbing cotton ensures a smooth and consistent vaping experience, while the replaceable 2% NIC salt allows for customizable nicotine intake. The device has a light and sleek design, making it easy to carry around, and the Type-C charger ensures that it charges quickly and efficiently. With a resistance of 1.8ohm, this device produces smooth and flavorful vapor, making it an excellent choice for anyone looking for a quality vaping experience.
Features
500mAh
E-liquid capacity: 3.5ml
Quick oil-absorbing cotton
Replaceable 2% NIC salt
Light design
Type- C charger
8ohm
Pros
This device since it is reusable but still user-friendly. The simplicity of this device is due to the pre-filled pods that are disposed of when the liquid reservoir runs out.
An additional advantage of this type of pod is that you don't have to deal with the hassle of replacing coils or refilling them.
Cons
Some users may find the 1.8ohm resistance to be too low for their preferences, or that the 3.5ml e-liquid capacity is not sufficient for their vaping needs.
Some users may prefer a device with a larger battery capacity for longer vaping sessions without needing to recharge.
Knight 80
the Smoant Knight 80, which boasts a refillable capacity of 4mL, a single high amp 18650 battery, and the ability to use coils from the Pasito Coil Series or Knight. Constructed from sturdy zinc alloy, the Smoant Knight features a single high amp 18650 battery and can deliver up to 80W of power.
The intelligent ANT and Buckboost Chipset allow the device to accurately identify the installed coil for optimal wattage output, resulting in the best flavor and vapor production. Refilling the 4mL pod is done through the side, behind a silicone stopper to prevent any leaks or spills.
Features
186500mAh
4mL
See-through design
6 coil
Ant-chip airflow control
Leakproof
Type C
Pros
The Smoant Knight 80 Pod Mod Kit features a refillable capacity of 4mL, which means users won't need to frequently refill it.
The device can utilize coils from the Knight or Pasito Coil Series, providing users with a wide range of options to customize their vaping experience.
Cons
The Smoant Knight 80 Pod Mod Kit requires a single high 18650 battery amp, which may not be included and must be purchased separately.
Some users may find the 4mL refillable capacity to be insufficient for their vaping needs.
The device's construction from sturdy zinc alloy may make it heavier than other devices made from lighter materials.
FAQs About Smoant Vape
Are Smoant Vape Devices Easy To Use For Beginners?
Yes, Smoant Vape devices are designed to be user-friendly and intuitive, making them great for beginners. They offer simple controls, easy-to-read displays, and clear instructions.
What Types Of Vaping Devices Does Smoant Vape Offer?
Smoant Vape offers a variety of vaping devices, including box mods, pod systems, and atomizers. Their devices are designed for sub-ohm vaping, direct-to-lung vaping, and mouth-to-lung vaping, offering something for every user.

Best Vape Wholesale Supplier-UPENDS
Vape UPENDS is all about taking vaping to the next level, and we're driven by an insatiable passion for creating an immersive sensory experience that's second to none. Our team of experts is on a relentless quest to design vaping products that are not only stylish but also offer unparalleled functionality.
We use cutting-edge technology and a meticulous eye for detail to create devices that are both visually stunning and perform flawlessly. As a Vape UPENDS partner, you'll have access to our exclusive range of products that will leave your customers in awe and wanting more. Come join us on this exhilarating journey and discover for yourself why Vape UPENDS is the ultimate vaping destination for all those who seek the very best.