Cannabidiol, or CBD, has been a buzzword in the health and wellness industry for a few years now. As more research emerges about its potential benefits, more people are turning to CBD to help with a variety of issues 
One of the most popular ways to consume CBD is through vaping, and with the rise of disposable vape pens, it's easier than ever to give it a try. In this article, we'll take a look at the best CBD disposable vape pens on the market and what makes them stand out.
Whether you're new to CBD or a seasoned user, we'll help you get hooked on the best CBD disposable vape pen for your needs.
What Is A CBD Disposable Vape
A CBD disposable vape is a pre-filled vape pen that contains CBD e-liquid and is designed for one-time use. These disposable vape pens are typically made up of a battery, a heating element, and a pre-filled cartridge containing CBD e-liquid.
Once the CBD e-liquid is used up, the entire disposable vape pen is thrown away. CBD disposable vapes are a convenient and portable way to consume CBD, as they require no maintenance or preparation and can be used on the go.
Best CBD Disposable Vape
Here is a list of the best CBD disposable vape pen:
CBDfx Vape Pen
CBDfx is another well-known brand in the CBD industry, and their disposable vape pen is a convenient and easy-to-use option. It comes pre-filled with 500mg of CBD and is available in several delicious flavors. The pen is disposable and requires no charging or maintenance, making it a great option for on-the-go use.
CBDfx offers a selection of disposable CBD vape pens that come in five tasty flavors: Blue Raspberry, Strawberry Lemonade, Fresh Mint, and Tropic Breeze. The brand uses natural flavors to enhance the taste of its vape oil, resulting in a satisfying and enjoyable vaping experience.
The oil used in these pens is derived from broad-spectrum CBD, which is obtained using supercritical CO2 extraction techniques and has undetectable levels of THC.
The advantage of using broad-spectrum CBD is that it retains numerous beneficial compounds found in full-spectrum CBD, but with no possibility of causing psychoactive effects.
Features
500 mg CBD
800 puffs
Draw activated
Broad-spectrum CBD extracted through the CO2 method
A wide range of flavors is available
A CBD vape kit is also available
Pros
CBDfx offers a range of CBD vape pens that are infused with other powerful cannabinoid extracts, including delta-9 THC and CBN.
The pens are user-friendly, requiring no adjustments or buttons to operate
Cons
Shipping is not free for all orders, by default
Savage CBD Disposable Vape Pen
Savage CBD is a newer brand in the CBD industry, but they are quickly gaining popularity for its high-quality products.
Their disposable vape pen is no exception, with a range of delicious flavors to choose from. The pen is pre-filled with 250 mg of CBD and requires no charging or maintenance.
The CBD vape pen combines two different types to create a balanced effect, providing both energy and relaxation. If you're looking for a boost of energy and a feeling of uplifting, the Sativa pen is a great choice. On the other hand, if you want to unwind and relax after a long day, the Indica pen is the perfect option.
Features
250 mg of CBD
5mL cartridge
400 puffs
510 thread battery
Pros
Every disposable CBD vape pen is loaded with a vape juice that contains a mix of cannabinoids, terpenes, and flavonoids, forming a full-spectrum CBD product.
CBD disposable vape pens are a convenient and easy-to-use option for those looking to experience the benefits of CBD.
Cons
The quality of disposable CBD vape pens can vary widely, and some products may not be reliable or consistent in terms of the amount and quality of CBD.
There are concerns about the potential health risks associated with vaping, including lung damage and respiratory issues, especially with long-term use or high-frequency usage.
Koi CBD
Despite having a slightly higher price compared to other CBD vape pens on the market, Koi's rechargeable two-gram CBD vape pen offers great value for its price.
It's loaded with a strong Hawaiian Driver hybrid blend of CBD, providing several hundred puffs per tank, and its charging capability ensures you can use the pen to the last drop of oil. The pen is stylish, user-friendly, and features pre-heat and air-activated functionality.
Additionally, the clear tank allows you to monitor the CBD vape juice level and avoid running out. The CBD oil utilized in the vape juice is CO2 extracted, ensuring a potent and high-quality product.
Features
The tank has a large capacity of two grams.
The pen features pre-heat and air-activated functionality.
The pen uses a balanced hybrid strain of CBD.
It is free from artificial fillers, making it a natural product.
The pen is rechargeable, offering convenience and saving on costs.
Pros
The Koi Hawaiian Driver is an ideal selection for individuals looking for an all-day vape pen due to its light, refreshing, and consistently smooth vaping experience.
Individuals who desire the potential health advantages of CBD, along with other cannabinoid derivatives, can obtain a Koi CBD vape pen supplemented with CBN to promote evening relaxation or CBG to promote concentration and focus.
Cons
The product is relatively more expensive than the other items mentioned in this list
Diamond CBD
Diamond CBD is a company that produces and sells various CBD products, including CBD oils, edibles, topicals, vapes, and more. Their products are derived from industrial hemp plants and are marketed as high-quality, natural alternatives for wellness and health.
Diamond CBD uses CO2 extraction to extract CBD from hemp plants, which is considered to be a safe and effective method that preserves the purity and potency of the plant's natural compounds.
There is a vast range of options available when it comes to strain and flavor varieties for CBD vape pens, including popular choices like Zkittles, Green Crack, and Blue Dream. The variety is constantly expanding, so there's always something new to explore.
CBD vape pens are compact and easy to carry, making them convenient for use while on the go. On average, each CBD vape pen can provide approximately 240 puffs, depending on your inhalation technique.
Features
800mg CBD juice
240 puffs
Pros
CBD vape pens are compact and have a streamlined design, which makes them simple to transport with you to any location.
Fresh strains and flavors of CBD vape pens are frequently introduced to the market, which means there is always something novel and untested for users to experiment with.
Cons
The number of puffs provided by this CBD vape pen is lower than other CBD vape pens mentioned in this list.
Extract Labs
Extract Labs CBD vape is one of the best formulated with high-quality, full-spectrum CBD oil. The oil is extracted using CO2 technology, which ensures that the oil is pure, potent, and free from harmful contaminants.
Extract Labs also tests all of its products in-house and by a third-party laboratory, ensuring the quality and purity of its products. Their products are designed for easy and convenient use, providing a smooth and flavorful vaping experience.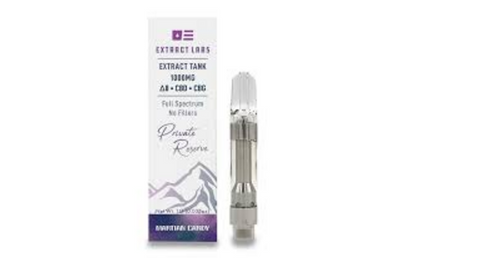 Features
The company offers various styles of CBD vape pens.
The pens have high concentrations of potent CBD.
The formulas used in these pens contain multiple cannabinoids.
The pens are free from any fillers.
The products are non-GMO.
Pros
Extract Labs CBD vape pens have a wide range of flavors, which include Banana Foster, Blue Dream, Granddaddy Purp, and many others.
Extract Labs CBD vape pens are formulated with high-quality, full-spectrum CBD oil.
Cons
The battery and cartridges are not included and need to be purchased separately.
FAQ About The Best CBD Disposable Vape
What Is CBD?
CBD (cannabidiol) is a non-psychoactive compound found in the cannabis plant. It is known for its potential therapeutic benefits, such as reducing anxiety and pain.
What Is A CBD Disposable Vape?
A CBD disposable vape is a small, pre-filled device that contains CBD oil and a heating element. It is designed to be used once and then discarded.

Best Vape Wholesale -UPENDS
At Vape UPENDS, we love making vaping an unforgettable experience that engages all your senses. Our expert team is dedicated to designing vaping products that are unique, and stylish, and take your vaping experience to new heights. We use the latest technology and pay close attention to detail to create devices that not only work perfectly but are also visually stunning.
As a valued partner of Vape UPENDS, you'll have access to our exclusive product line that will leave your customers mesmerized and wanting more. Come join us on this exciting journey and discover why Vape UPENDS is the go-to spot for discerning vapers everywhere.