There are many ways that you can live your life to the fullest. Vaping has become one of the greatest things that bring fun and gratification. There exist a seamless number of vape products that are designed to offer the satisfaction you need. This article presents you with the most celebrated vape device that brings the real desired vaping vibes.
What is GeekVape S100?
The GeekVape s100 is among the modern kits for long-term prevalent producers GeekVape. If you are a vaper, you already know who GeekVape is because the company has manufactured related products for a long time. The company is solid and reliable, with few limitations that can be neglected. The IP68-rated GeekVape s100 box mod fires up to 100W and is sold in a kit with the GeekVape Z2021 sub-ohm tank.
 The S100 is easily recognized since it is exactly the same as the recently reviewed M100, except that the GeekVape s100 uses a single 18650 battery that is not fixed inside the product. However, the GeekVape M100 is fixed with an internal battery. Also, the device's aesthetics align with the dominant Aegis line from which it originates. The new S100 mod is paired with the GeekVape Z tank.
GeekVape s100 Review; Is it Worth It?
Specifications
Type C USB Port
Over-charging and discharging protection
10S Cutoff Protection
Anti-Dry Protection – TC Mode Only
Zinc-Alloy Chassis Construction
IP68 Rating – Water, Dust, and Shock Proofing
Wattage Output Range: 5-100W
08″ OLED Display Screen
Two Adjustment Buttons
Threaded 510 Connection
Short-Circuit Protection
10S Cutoff Protection
Pros
It has a great ergonomic and aesthetic design
It features an excellent vape and flavor
It possesses an IP68 dust-proof, shock, and waterproof
It comes with a well-built and quality in mind
It has a maximum wattage output and e-liquid capacity
It has an easy-to-use menu
It features a large clear, and bright color screen
Cons
The tank coil requires a tool to remove them
The attached tank is generally meh
Build Quality and Design
If you are a vaper, you already expect what the GeekVape S100 would look like because it resembles the rest of the newer Aegis line. The equipment is developed from zinc alloy with a metallic edge and leather sewed heel at the back to give you an comfortable and ergonomic grip. The device has a great build quality, with all panels executively aligned and threading machined to perfection.
Compared to the rest of the vape products, the S100 takes things a bit further because it now comes with an IP68 rating that offers more waterproof, dust, and shockproof features. Apart from the IP68 rating, the GeekVape S100 has a 510-connection point safeguarded by a steel plate. This feature is attractive because it will allow you, as the vaper, to pop any tank you like. The device's top size is fairly large, enabling you to fit up to approximately 26 mm tank on top with fewer complexities.
Just below it, the is a stopper made of rubber that will help you unplug it to reveal a hidden Type-C charging port. The device charges at 2A, and 5V charge rates, and this helps you to charge your device quickly. The front face of this device has been cleaned a little, and repositioning the USB port to the top has made the front panel appear more open and have a modern feel. The device's screen is made larger, and its buttons flatter.
The remaining part of the GeekVape S100 resembles the bodies of the previous Aegis devices with your typical leather heel and steel cage trim. When you look at the sides of this device, it features a new switch known as "A-lock" that locks the S100 device down without clicking the fire button five times or without using a button combination to lock it down. This will make it easier for you to deactivate the device before throwing it into your pocket after vaping. If you look beneath this device, you will see a common battery cap that unscrews smoothly to expose a roomy 18650 battery bay.
Battery and Charging
If you are a vaper, you are familiar with vaping products with charging ports on the front. However, the GeekVape S100 has its charging port at the top behind its rubber plug. This charging port has the capacity to enable you to charge your device at a charging rate of 5V/2A. This will benefit you because this feature will ensure that your device is quickly charged to continue enjoying a long-lasting vaping experience. The Geekvape's battery bay can effortlessly suit all 18650 batteries and features a fantastic smooth thread on the battered cap, which helps you remove or infuse your battery without trashing your fingers.
Usage and Features
If you have vaped for a while, you will easily notice that the S100, M100, and L200 possess similar controls. Their UI layout is a little simple, and it will help you utilize the device without experiencing complexities. Even when you choose the more advanced options, such as temperature control features, it will still e easy to utilize the device. Furthermore, the GeekVape s100 has safety features that ensure you can enjoy vaping without experiencing any complexities. The similar control system of the s100 makes it easy for you to enjoy a long-lasting vaping experience. While using the GeekVape S100, you can utilize the following commands efficiently.
Slide the side switch to lock/unlock the device!
x5 clicks of the fire button to turn on/off
Up/Down to cycle through the modes, then fire to select
Fire + Up = Turn the brightness of the display up
Fire + Up + Down = Stealth mode
x3 clicks of the fire button to get into mode settings
Fire +Down=turn brightness display down
The Z Nano 2 Tank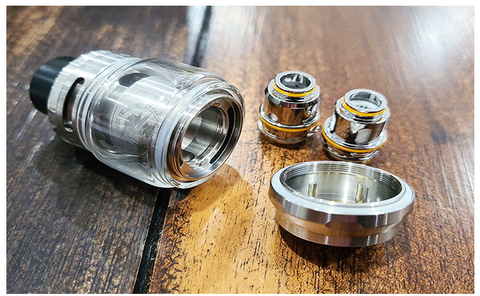 If you are a vaper, you have seen a Z tank before from other vaping products, such as the GeekVape m100 or the L200. So, let us look at the design of the Z tank of the GeekVape s100 device. The tank is in the S100 kit "GeekVape Z 2021 sub ohm tank" This tank utilizes the same Z coils as the Z tank. Furthermore, this tank functions similarly to previous vaping products, but it features few updates on its design.
The tank features a top airflow to reduce the probability of leaking. It also comes with a 5 mL capacity and a quarter twist top cap that, when removed, reveals the filling port. While examining this tank, you can tell that its drip tip is a typical Delrin 810 and that its coils are plug-and-play.
You may easily remove the broken coil and replace it with a new one by unscrewing the base of the pod tank. It is quite impossible to replace the coil when the tank is filled. It is, therefore, advised that you unscrew the base when the tank is half full or when the tank is empty.
The coil is difficult to handle even though it sticks out quite a bit, so you can use the provided tool or a flathead screwdriver to remove it. You will find the quarter twist an excellent feature of the GeekVape S100, and you will be required to wind it up, taking the airflow control ring with it because the top cap is thin. The following are different coil options you will likely find in the tank.
A 45-57-watt Geekvape Z0.25 twin coil
A 50–60-watt Geekvape Z0.4 coil rating
A Geekvape Z0.15 coil rated 80-90 watts
A Dual coil Geekvape Z0.25 rated at 45–57 watts
You may find any of the two coils in your device. For instance, you may find the Z0.2 and Z0.25 coils fixed in the tank. These coils work perfectly with good wattage and produce great flavors. The coils are in line with the current standards, and most of these coils range from fair to best. Nevertheless, you should be aware that these coils have a life span that differs significantly based on how you use and maintain the device. You should continuously clean and replace these coils to ensure maximum performance.
FAQs About GeekVape S100 Questions
a). Is this product suitable for beginners?
Some features of the GeekVape S100 would determine if this device is suitable for beginners. While the device is user-friendly, beginners might experience a few challenges, such as a need for vaping knowledge and battery safety, among other features. Therefore, beginners should start with simpler vaping devices to gain appropriate knowledge and battery safety before commencing on GeekVape S100.
b). How do I charge the Geekvape s100 device?
The Geekvape s100 has a USB port that you need to connect to the power source using a USB micro USB cable. Nevertheless, it would be best to use an external charger to charge the device's battery separately, as this will enhance battery safety and life.
Wholesale Vape Equipment Supplier; UPENDS
Stand at the best chance to completely improve your vaping lifestyle by visiting UPENDS.com. UPENDS is a noble vape supplier that is known for its high level of technology and the awesome product it features. Most vape users trust UPENDS for its product quality delivery and the input they bring to every vaper's life.