Vaping brings a sense of modernity to every vape user's lifestyle as it has been made to bring trends in technology to your doorstep. Owning a vape device that comfortably lets you carry it to any place of your liking. Vape products have proved that you can enjoy your nicotine and mouthwatering flavors at any place with pride and fun. It is true to say that every vape user needs a vape device that perfectly suits their inner desires.
This blog brings you to the light of the Geekvape AP2 vape kit that gained massive public approval. It is worth reading through this exciting article for you to make the best decision the moment you visit one of the vape shops.
What is Geekvape AP2 Vape Kit?
The Geekvape AP2 Vape Kit is an impressive and latest addition to the most adored Aegis vape product line that delivers a high expectation of solid workmanship and quality. This is the perfect vape device that is engineered to offer both restricted direct-to-lung and mouth-to-lung vaping experiences. You can easily spot the Geekvape AP2 Vape Kit once you are in a vape shop, as it achieves an attractive and stylish physical automotive design.
The Geekvape AP2 Vape Kit brings a real grasp of what a perfect vape pod kit should feature. The vape pod kit comes with a powerful battery that ensures that the delicious vape flavors that are available are accurately and effectively enjoyed by Geekvape AP2 Vape Kit's service.
Geekvape AP2 Vape Kit Review
Key Specs
USB-C charging
900mAh battery
5ml tank capacity
86g pod weight
35 by 90 by 18 mm Pod dimensions
LED indicator display
4 to 3.0ohm resistance coils
Adjustable airflow
Safe lock function
3 output modes.
Pros
It comes with two vaping styles
It has no seepage
It delivers quality flavor
It features two styles in one
It has impressive ergonomics
It features the auto-draw technology
It has an auto-turn-off feature
Cons
It has limited airflow options
There is no noticeable difference between power levels
Design and Build Quality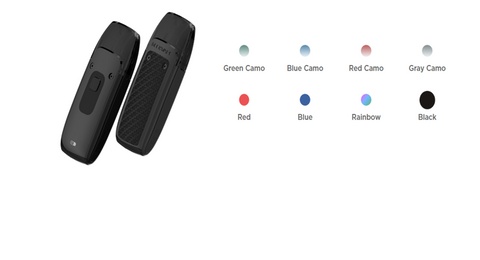 The Geekvape AP2 Vape Kit is manufactured in 8 colors that a vape user can freely choose from. Among the most appealing colors is the grey camo that goes perfectly well with the impressive physical body build. The Geekvape AP2 Vape Kit is made of rubber, faux leather and alloy as it comes with fingerprint proof. The rubber on every side of the device is meant to give you the solid grip and protection that is required. At first glance at the Geekvape AP2 Vape Kit, you will think it is a car key as it mimics a car shape.
This immensely wonderful vape device is made to feature a 4.5ml large capacity. The Geekvape AP2 Vape Kit is dark-tinted, and this gives you a grand chance to mark the liquid levels still remaining in the device. Thanks to the flat yet thick mouthpiece that makes this vape pod kit is ideal for sub-ohm vaping. A small bump has been designed on this vape device to increase the tightness you need on the Geekvape AP2 Vape Kit.
It is pretty much easy and fun when refilling your favorite e-liquid, as the Geekvape AP2 Vape Kit comes with a filling hole. The hole is simply located at the side of the Geekvape AP2, where you will have to open the silicone pad that encloses it. You are assured of no leakage from the Geekvape AP2 Vape Kit at all. The Geekvape AP2 Vape Kit as well engages replaceable coils that are absolutely simple to replace anytime there is the urge to.
Battery and Charging
You are lucky to learn how powerful the Geekvape AP2 Vape Kit is. This marvelous vape pod system comes with a 900mAh internal battery that is much stronger than its Aegis counterparts. With this huge battery capacity, you will enjoy the unmatchable vaping experience from this vape device for approximately four days. Recharging the Geekvape AP2 Vape Kit is absolutely effortless, as all you need to do is to plug in the USB-C charger to the device and connect it to the power source. You will have to wait for one and a half hours for the device to completely recharge.
Pod and Coils
The Geekvape AP2 Vape Kit allows you to see the inner part, but for clear observations, you will have to remove the pod. The top of the pod is held by strong magnets. You will be surprised by the two different coils that this vape device features. There is a 0.8ohm and a 0.6ohm that usually come already preinstalled on the Geekvape AP2 Vape Kit. The wattage settings are automatically controlled by the installation of the coils, and you do not have to worry much about the device's vaping settings. You can as well install another 1.2ohm coil, but this one is not included in the vape device's package. This coil is much tighter than the 0.8ohm one.
Performance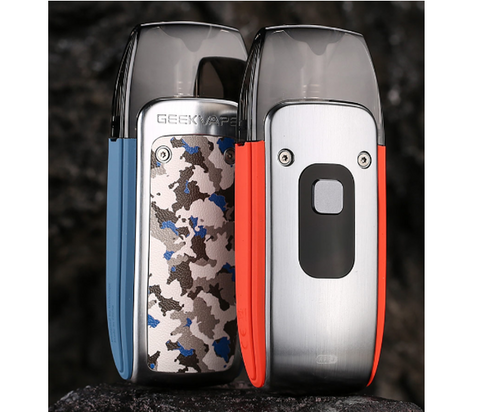 If you have interacted with Geekvape's boost coils in the past, then the excellent performance from the Geekvape AP2 Vape Kit will not happen as a surprise to you. The two coils installed in this impressive vape device deliver exceptional service, and good enough, they last longer than you can expect. What most vapers attest to from the coil's performance is the high-quality flavor production.
You will adore the satisfaction you are meant to get from the device's capability to offer mouth-to-lung vaping. Due to the innovative adjustable airflow setting, you can as well enjoy RDL vaping. The Geekvape AP2 Vape Kit gives its users a flawless auto-draw option that makes you do not need a fire button, and this qualifies to be the perfect choice for a beginner. Talk about the long battery life, as this works perfectly with the 4ml e-liquid capacity for prolonged flavorful moments. From the feel when holding the Geekvape AP2 Vape Kit, you will love to use it for the rest of your vaping journey.
How to use the Geekvape AP2 Vape Kit
It is a great privilege to own and use an easy-to-get-along-and-use vape device as you will be in the best chance to get gratification almost immediately. You can simply switch the Geekvape AP2 Vape Kit to safety lock mode by pressing the available button five times. After doing so, the button will be locked up later after the device's logo flashes in a white-blue sequence.
You do not have to worry much, as you can still enjoy your vaping routine after the button is locked up. With the Geekvape AP2 Vape Kit, you enjoy three different output levels featured by pressing the button on the device thrice. Once you press the button thrice, the logo will flash to alert you about the status of the battery and the output level you are using.
Frequently Asked Questions about Geekvape AP2 Vape Kit
In the event of the Geekvape AP2 Vape Kit use, vape users have come up with concerns that they feel should be clarified or solved. You can be a prospective vape equipment buyer who is stranded in making the appropriate selection when it comes to choosing the right vape pod. Here are some of the most inquired aspects you will love to read through.
Is the Geekvape AP2 Vape Kit worth it?
Definitely yes! The Geekvape AP2 Vape Kit is an essential device that every vape user will desire to own. The vape pod device is engineered with the latest technological features that make it the most suitable vape equipment for your brighter days in vaping. The vape device features a long-lasting battery, as it comes with a 4ml e-liquid capacity that lets you vape for a long time before the urge for refilling arises. The Geekvape AP2 Vape Kit employs innovative adjustable airflow settings that allow you to switch between MTL and DTL vaping modes.
How much does the Geekvape AP2 Vape Kit?
The retail price of the Geekvape AP2 Vape Kit varies from shop to shop, which is a good idea if you first check the retail price in most shops for you to find the most favorable cost. However, the Geekvape AP2 Vape Kit is averagely sold at $29.99. this is a reasonable price that will not need you to go deeper into your pocket. If you buy the pod alone without the coils, you will get the Geekvape AP2 Vape Kit for $4.99 only.
Wholesale Vape Equipment Supplier; UPENDS
With all said and done, the best vape brand that is ranked to be the largest in China is the UPENDS company. You will instantly fall in love with every vape product that comes from this wonderful vape product retailer. If you are a passionate vape user and you are looking forward to upgrading your vaping lifestyle, then UPENDS gladly comes to your rescue. You will enjoy the premium quality flavor and vape equipment accessories that are full of advanced features and yet at a very affordable cost. Make plans to visit UPENDS.com for the best!