Life gets more interesting if you embrace the daily technological dynamics. Every aspect of life is meant to be fun and worth your time. People have shifted from the old way of tobacco consumption and have dearly embraced modern vaping technology. Seamless companies that deal with vape products have, over the years, emerged and have created stiff competition that has worked to the advantage of vape users.
One way of making the most of your free time is to engage with the GeekVape vape pod brand that enlightens the rest of your day. This article ensures that you do not go looking for any other vape pod and simply presents you with the GeekVape Aegis Nano pod brand for an exciting vaping journey.
What is GeekVape Aegis Nano Pod Vape?
The GeekVape Aegis Nano Pod vape is a solid performer that lets its users enjoy the savory tastes of the top flavors and dense flavors. This outstanding vape product from GeekVape has been adored and celebrated by most vape users for its excellent performance as it gives ease of use, making it the ideal vape device for beginners. The GeekVape Aegis Nano Pod vape is the right choice if you are searching for a wonderful and smooth vaping experience, as it gives the portability you deserve. You can move with the GeekVape Aegis Nano Pod vape to any place of your liking, as it can perfectly fit in your pocket. Here are the top features of this amazing vape device;
Key Specs
Adjustable airflow
USB Type C
800mAh internal battery
2ml e-liquid capacity
Refillable fixed coils
Auto power adjustment
69in OLED Black/white screen display
Tri-Proof-Tech- (splash and water resistant, shock and dust resistant)
Top fill port
2-3ohm resistance range
5-30W (0.1-6V) -output
6 color options
Overheat protection
Low battery protection
Short-circuit protection
200-600F – Temperature range
Zinc-Alloy Chassis- Construction
5 by 24 by 22.5 Dimensions
Pros
The device gives you the ease of use
It delivers excellent flavors and dense clouds
It offers a great airflow adjustment
It has a physical appeal as it comes in various attractive colors
It is highly portable
Cons
It takes a long charging time
Its mouthpiece is not properly designed for mouth-to-lung vaping
Design and Build Quality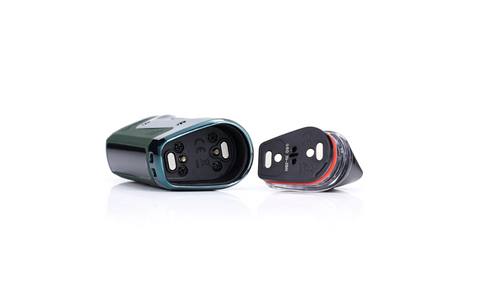 GeekVape mods are known to feature perfect physical construction and design, and the GeekVape Aegis Nano Pod vape is one of GeekVape brands' pride. The GeekVape Aegis Nano Pod vape comes with a portable and ergonomic design that qualifies the device to be the best for the outdoors and other odd environments. The ergonomic design of the GeekVape Aegis Nano Pod vape allows the vape device to handle tough conditions better than most vape pods. From the physical look, the GeekVape Aegis Nano Pod vape gives you a shiny screwed frame structure. The vape device exists in the following irresistible 6 colors; Camo Green, Yellow, Red, Camo Blue, Camo Silver, and Light Blue.
The GeekVape Aegis Nano Pod vape achieves the dimensions of 86 by 33 by 24 inches which makes it small and, therefore, highly portable. The main body of the GeekVape Aegis Nano Pod vape is made of high-grade Zinc alloy that accommodates leather inserts and trouble plastic, and this makes it a stylish device. At the top side of this unique pod, two magnets are positioned and are made to get in contact. This helps to take care of the connection that should exist between the main body of this wonderful vape device and allow you to easily control your airflow.
On one side of the GeekVape Aegis Nano Pod vape, a fire button is positioned so that it also acts as a control button. The button is ergonomically designed to make you want to operate the device daily. On the front side of the GeekVape Aegis Nano Pod vape, a 0.9-inch black and white OLED screen is installed to let you see the device's settings and battery levels. This adorable vape device allows you to recharge it as it comes with a USB-C charging port.
The Pod Tank and Coil
What makes most people adore the GeekVape Aegis Nano Pod vape is the large e-liquid capacity of 2ml that is worth appreciating from such a small vape device. This vape device comes with two excellent-performing pods that are self-contained. This means you are required to replace the whole pod instead of replacing the coil only. The pod tank lets you see the liquid level so that you will know when to refill the vape pod if you want a continuous vaping session. One of the pods has got a 0.6ohm coil that is pre-installed, as it consumes between 20 to 50 watts. The other pod tank features a 1.2-ohm coil that helps you get tighter draws, and its recommended wattage rating is between 11 to 14 watts.
Battery and Charging
The GeekVape Aegis Nano Pod vape features a powerful 800mAh built-in battery that delivers instant heating and makes you vape for a long time without any interruption. However much this battery can last, it needs to be recharged if the battery is low. The vape device comes with a charging port that is positioned at the bottom of the device and covered by a rubber pad for you to successfully charge your vape device. Thanks to the overall vape device design that prevents dust from accessing the port.
Airflow and Filings
On the back of the GeekVape Aegis Nano Pod vape, there is a simple-to-use slider that plays a key role in making airflow adjustments. When you adjust the slider, the channel opens up slightly to allow air to get up the coil inside the pod. This amazing vape pod has a silicon plug that ensures that you experience no leak from the filing region. The pods are clear to allow you to access the fill port with greater ease.
How to use the GeekVape Aegis Nano Pod vape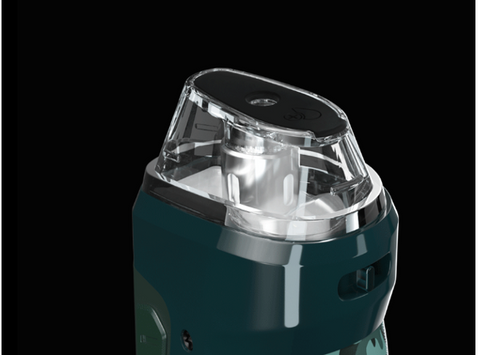 Using the GeekVape Aegis Nano Pod vape is jus8t but a piece of cake as it requires simple operations for you to get started and keep going for as long as you can. Here are the simple operations you need to undertake;
Double click-this operation is meant to lock or unlock the device-the device will not fire if it is locked.
Triple click- this will adjust the power, and the watts flash will be displayed.
Five clicks- this will turn the device on and off.
Holding the fire button down whilst off- will allow you to know the software version of the vape device.
Four clicks to clear the puff counter whenever you need to start a fresh vaping session
With those absolutely simple and easy operations, you can comfortably navigate through the few settings of the GeekVape Aegis Nano Pod vape for an amazing vaping experience.
Frequently Asked Questions about GeekVape Aegis Nano Pod vape.
There is a certain concern that needs to be addressed as they have gained a lot of interest and discussion among passionate vape users. Here are the perfectly addressed answers to what you may as well need to know;
How do I stop my coil from burning?
Your coil can experience a slight burn, and this will definitely produce a burnt taste and as well produce harmful chemicals. What you are required to do is you should prime our coils. After priming your coils properly, you should avoid chain vaping to end overheating of your coils. If your device is operating at high wattage, you should reduce the power settings. You should ensure that the vape tank is ever topped up with the e-liquid. You are also advised to use an e-liquid with a high PG content. The other important thing you should do is to use an e-liquid that features less sweetener.
How do I fix a leaking GeekVape Aegis Nano Pod vape?
If your GeekVape Aegis Nano Pod vape is leaking;
Close the airflow openings when you refill the tank. Ensure that you do not saturate the coil directly with the e-liquid dropping in the inner coil. You have to wait for 10 minutes.
Do not leave too much juice in the tank, as it may cause leakage after some hours.
Ensure that all the O-rings are in a good condition
Check whether the coil is tightly screwed and leaking continues. You will have to change the entire coil.
You can easily fix your GeekVape Aegis Nano pod vape without the need for an expert.
Wholesale Vape Equipment and Supplier; UPENDS
UPENDS comes at the right time when you need the ideal vape products to bring the ultimate fun and luxury into your vaping lifestyle. The UPENDS company aims to ensure that every smoker can achieve a quality vaping experience at a very pocket-friendly cost. You will love the delicious flavors that UPENDS brings you. UPENDS ensures that you can easily access alternative cigarettes as the vape devices feature small sizes, reliable quality, and ultimate convenience. Visit the largest vape product supplier in China and make your vaping days memorable.