Happiness starts with you. With the right environment created, you are most likely to have fun and get things in order. Every aspect of life has been improvised and given a sufficient technological approach that makes life easier and worth keeping you going. Vaping has emerged to be among the things that people engage in to bring fun and satisfaction to their daily hassles. With vape devices, you elevate your mood and relief yourself from the low moments in life or even catch up with your peers.
In the current competitive vaping market, the GeekVape brand wisely presents you with the latest vape kit model. The GeekVape Aegis Hero 2 vape kit it is!
What is GeekVape Aegis Hero 2 Vape Kit?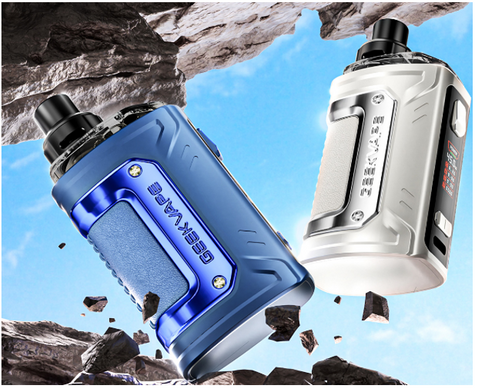 Welcome to one of the highly advanced pod kits from the GeekVape brand. The GeekVape Aegis Hero 2 vape kit comes with a 1400mAh built-in battery that delivers an output that goes up to 45 watts. This vape device is installed with an intelligent chipset that is meant to offer different vaping outputs that include bypass mode and wattage. The GeekVape Aegis Hero 2 vape kit is refillable and features a 4ml e-liquid capacity making it worth employing in your vaping routine. This impressive vape device uses a removable coil system that engages two coil types that are pre-installed.
GeekVape Aegis Hero 2 vape kit Review
Key Specs
9 colors
Magnetic connection
Large air inlets
96-inch TFT
Max 45 Watts power output
1400mAh internal battery
4ml leakproof pod
Top airflow system
1mm by 28.6mm by 91.05mm dimensions
Upgraded metallic shell
Shock and scratches resistance
Pros
It is made of high-quality materials
It is ideal for RDL and DL vaping
It is leakproof
It is compact and stylish
It features excellent vapor production
It is easy and simple to use
It comes with amazing airflow controls
It is highly portable
Cons
The device's coils are hard to remove
It is expensive
It is difficult to fill the pod
Design and Build Quality
The GeekVape Aegis Hero 2 vape kit features an outsized built-in battery, a factor that attributes to the larger size. This vape pod allows you to enjoy a comfortable feel when you hold it since it achieves a wrapped grip design on the back. This make is seen across all GeekVape pod devices. The GeekVape Aegis Hero 2 vape kit features the 1P67-rated exterior that makes it shockproof, waterproof, and dustproof.
For you to get the ultimate ease at using this device, a sizable 0.96-inch TFT screen is installed on the opposite side of the leather grip. The TFT screen allows you to control the vape device as you can see and navigate the settings on the device. The screen is offered an additional screen protector film that you can easily remove if you need to. On the control panel, you will find two up and down buttons that are positioned underneath the display. There is an oversized firing button-up top.
The GeekVape Aegis Hero 2 vape kit ensures that you get the peace of mind you deserve, as it features a robust silicon coating that is mixed with smooth leather pieces. These materials qualify the GeekVape Aegis Hero 2 vape kit to be a lightweight device and hence appropriate for on-the-go use. The vape device uses a classic cartridge that is visible to allow you to check on the e-juice level and refill if it's almost depleted. 
Battery and Charging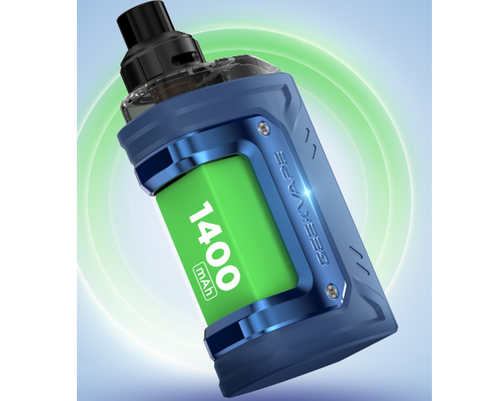 It is such a wonderful feeling to learn that you can fully rely on your favorite vape pod. The GeekVape Aegis Hero 2 vape kit is designed to come with a 1400mAh internal battery that is capable of delivering up to 45 watts. The powerful battery allows the user to conveniently switch the vape device to bypass mode and enable it to use the direct voltage. How long the GeekVape Aegis Hero 2 vape kit battery is expected to last depends on certain essential factors. The coil you use, the wattage, and the e-liquid involved in vaping are some of the battery life determinants. Your vaping frequency is as well be considered when it comes to the device's battery life.
The vape device is set to run for two to three days if you keep the wattage level at 20 watts. This long duration will as well be achieved if use the mouth-to-lung coil that features a resistance of 0.6ohms, along with a moderate vaping routine. If you take the option of using the 0.4ohm coil, the device will need higher power levels that will shorten the battery life to one day. Thanks to the Buck-Boost technology, which is designed to stabilize the power output even when the battery level is low for consistency in vapor production.
For you to conveniently recharge the battery, you will have to use the USB-C charger to plug in the device to a power source. You can also recharge the GeekVape Aegis Hero 2 vape kit from your PC through 2A charging.
Pod Tank and Coils
The GeekVape Aegis Hero 2 vape kit is a refillable device that offers a 4ml e-juice capacity for you to enjoy your desired vape e-liquid. The two refillable pods in this unique vape device are made to engage leakproof technology. The pods have a top-filling port that is essential when you need to refill the device without necessarily having to dismantle the whole vape device.
There is an adjustable airflow control ring for you to customize your vaping experience from tighter to looser inhaling and vice versa. Thanks to the two coil types that this wonderful vape device presents. The coils feature different resistances. The 0.6ohm coil needs between 15 to 25 watts, and it gives optimum performance when used with a 50/50 PG/VG content e-liquid. The 0.4ohm coil is known to produce more vapor, and it requires between 25W to 35 W. The 0.4-ohm coil gives the best performance when used with 70% or more VG e-liquids. You will admire the bigger clouds and smoother flavors that come in stronger hits.
How to use the GeekVape Aegis Hero 2 vape kit
Operating the GeekVape Aegis Hero 2 vape kit is easy and fun, especially if you are used to interacting with the GeekVape brand vape devices. This unique vape pod is adored for its considerate features as it comes with screen options. You only have to interact with the bypass modes and wattage. You are provided with limited control options hence making the GeekVape Aegis Hero 2 vape kit a user-friendly device.
If you click the buttons on this mode five times, you will fire it and get it ready for your exciting vaping session. You are only provided with a rocker-style control that is positioned underneath the TFT display that helps you lock and unlock the vape ped kit. You can as well use the firing button to navigate the menu system and toggle between the bypass mode and wattage.
FAQs about GeekVape Aegis Hero 2 Vape Kits
How do I know my Aegis Hero 2 is fully charged?
For you to charge your vape pod kit, you plug it into your personal computer's USB port, as the GeekVape Aegis Hero 2 comes with a charging cable. The vape device has a TFT screen that helps in displaying that shows you that the device is charging. The screen is located under the fire button.
How long do Aegis Hero 2 coils last?
If you vape constantly, you will get continuous vaping with the 0.6-ohm coil at 25W for up to six hours. As you know that how often you vape is what determines how long the GeekVape Aegis Hero 2 coil lasts.
Is the GeekVape Aegis Hero 2 vape worth it?
Whoever gets the opportunity to use the GeekVape Aegis Hero 2 will attest to the top-class experience that it delivers. The vape device ensures that you consume the highest vape quality and as well be in the best position to customize the intensity of vapor produced. The vape device provides you with a comfortable grip as it is made of leather. Thanks to the powerful vape battery that ensures that the vape e-liquid receives instant heating to let start the vapor immediately after you access the device.
Wholesale Vape Equipment Supplier; UPENDS
The UPENDS brand is a wake-up call to all those vape users who seek to take their vaping lifestyle to the next level. UPENDS is a world-class vape product retailer that has received a lot of praise from its customers as it conveniently avails its wonderful products. With UPENDS, you can receive advanced and updated features in every product that you order. Thanks to the daily intensive research and innovation that the UPENDS company undertakes to ensure you receive the best of the best. The UPENDS team prioritizes their customer's needs as they ensure every vape need is met. It is wise to visit UPENDS.com to get full access to the latest vape products in the market.