As a vaper, you will need a number of vaping devices to define your vaping experience. As you embark on choosing the right device, you will realize that there are a number of vaping devices in the market sold by different vendors. This makes it hard for you to choose the right supplier and the right vape equipment.
In this article, we are introducing you as a vaper to one of the best vape equipment developers and the main vaping products that you can get from them.
Who is Funky Republic Vape?
Funky Republic Vape is a vape equipment developer who has developed two major products in the market. This vape developer works in line with the latest vaping technology and advanced skills from its employees to make sure you enjoy using quality vape equipment.
Funky Republic Vape Equipment Review
Here are the main vape equipment that you can obtain from the Funky Republic Vape shop online:
Funky Republic Ti7000 Disposable Vape
Key Features
600mAh Capacity Rechargeable Battery
USB Type-C Charging Port
Battery Life Indicator
17ml E-Liquid Capacity
E-Liquid Life Indicator
7000 Puff Count
Anti-Leak Technology
Variable E-Liquid Flavors
100 x 38 x 24mm Dimensional Size
Power Screen Display
Quag Tech Mesh Coil
The Funky Republic Ti7000 Disposable Vape is equipped with a range of notable features designed to enhance your vaping experience. With a rechargeable battery boasting a substantial 600mAh capacity, you can enjoy extended usage without constant recharging. The inclusion of a USB Type-C charging port ensures efficient and rapid charging whenever needed, catering to your convenience.
Keeping you informed, the device features a battery life indicator that provides a clear visual representation of the remaining battery power. This feature empowers you to manage your vaping sessions effectively and avoid unexpected disruptions. Moreover, the sizable 17ml e-liquid capacity significantly reduces the frequency of refills, allowing you to indulge in your favorite flavors for longer periods.
The Funky Republic Ti7000 also introduces an innovative e-liquid life indicator, keeping you informed about your e-liquid levels. This insight helps you plan ahead and ensures you're never caught off guard by an empty tank. Impressively, the device boasts a remarkable puff count of approximately 7000, providing longevity that minimizes the need for frequent replacements.
One of the standout features is the incorporation of anti-leak technology, which safeguards against messy leaks and wastage. This attention to detail underscores the commitment to a hassle-free and enjoyable vaping experience. Furthermore, the device offers the freedom to choose from a variety of e-liquid flavors, enabling you to customize your vaping journey according to your preferences.
With dimensions measuring 100mm in height, 38mm in width, and 24mm in depth, the Funky Republic Ti7000 strikes a balance between portability and functionality. The addition of a power screen display adds a layer of convenience, allowing you to access essential information at a glance.
The device's Quag Tech Mesh Coil, a testament to its advanced engineering, is responsible for efficient heating and vaporization of the e-liquid, ensuring a satisfying and consistent vape. While these features present an exciting package, it's essential to consider real-world performance and user feedback to gauge the overall quality and satisfaction this vape can provide.
Funky Republic Ti7000 Disposable Vape is available in different flavors, including: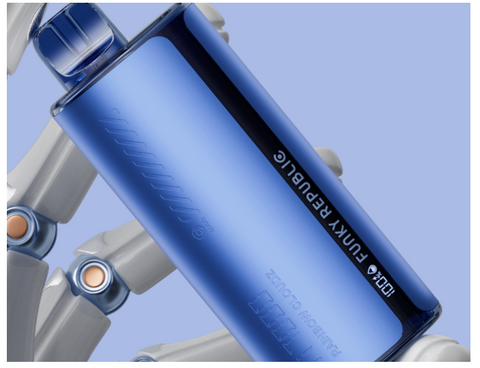 Blue Razz Ice
California Cherry
Cantaloupe Apple
Mango Kiss
Mixed Fruit
OSK Ice
Passion Fruit Kiwi Lime
Peach Mango Watermelon
Peach Pie
Pineapple Coconut Ice
Pink Bomb
Pomelo Pearl Grape
Rainbow Cloudz
Strawberry Banana
Super Berry
Tropical Island
Tropical Rainbow Blast
Watermelon Ice
Ice Mint
Blueberry Duo Ice
Melon Berry Bomb Ice
Strawberry Duo Ice
Watermelon Nana Duo Ice
Funky Republic Fi3000 Disposable Vape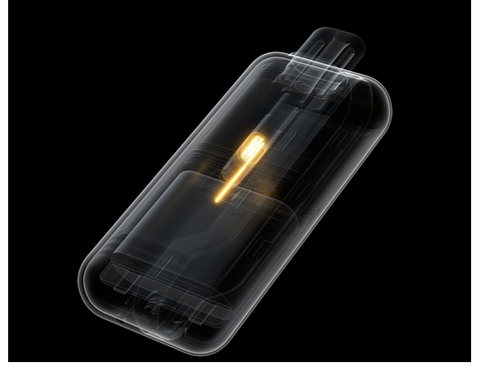 Key Features
5ml E-liquid Capacity
3000 Puff Count
800mAh Capacity Pre-charged Battery
50mg Nicotine Strength E-liquid
Draw-Activated System
Quaq Mesh Coil Heating Element
91 x 36 x 16 Dimensional Size
The Funky Republic Fi3000 Disposable Vape presents a comprehensive vaping solution with careful consideration of several key aspects. Its design includes a sizeable 5ml e-liquid capacity that ensures an extended and satisfying vaping experience. This ample reservoir significantly reduces the need for frequent refills, making it an ideal choice for those who prefer uninterrupted sessions.
Complementing its impressive e-liquid capacity is the device's remarkable 3000 puff count. This feature underscores its durability and long-lasting nature, allowing users to indulge in their vaping pleasures for an extended period before requiring a replacement. This, combined with the draw-activated system, seamlessly integrates the device into the user's routine, as the simple act of inhalation initiates the vaporization process without the need for any manual intervention.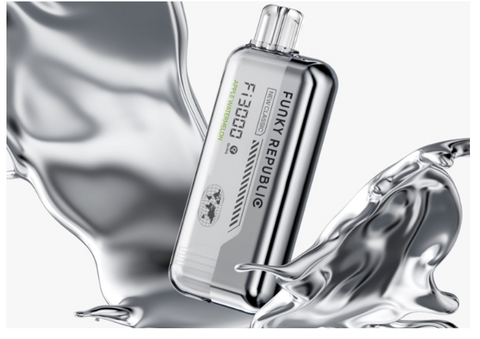 The integration of an 800mAh pre-charged battery contributes to the device's overall reliability. The substantial battery capacity ensures extended usage, reducing the inconvenience of frequent recharges. This aspect is particularly advantageous for users who seek a hassle-free vaping experience that can keep up with their on-the-go lifestyles.
Catering to varying nicotine preferences, the Funky Republic Fi3000 Disposable Vape offers a 50mg nicotine-strength e-liquid option. This choice provides users with a robust nicotine hit, which can be particularly appealing to those transitioning from traditional tobacco products. However, it's important for users to exercise caution and be mindful of their nicotine intake for a responsible and safe vaping experience.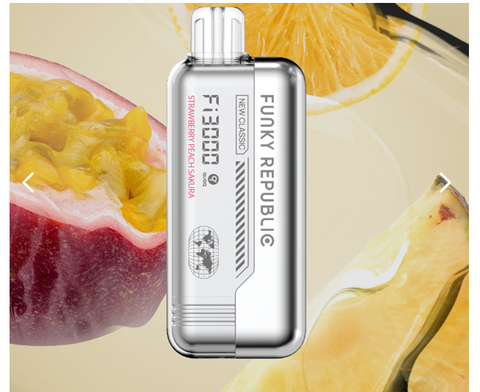 The inclusion of the Quaq mesh coil heating element highlights the device's commitment to optimal vapor production. This advanced technology ensures even and consistent heating, giving a smoother and more flavorful vapor. Users can enjoy the nuanced flavors of their chosen e-liquids, enhancing the overall vaping experience.
Moreover, the device's compact dimensions of 91mm in height, 36mm in width, and 16mm in depth make it highly movable and convenient to carry. This aspect aligns with the needs of users who value a device that easily fits into pockets or bags, allowing discreet and hassle-free vaping while on the move.
In essence, the Funky Republic Fi3000 Disposable Vape merges various features to create a well-rounded vaping solution. Its thoughtful design, spanning e-liquid capacity, battery life, nicotine strength, and heating technology, caters to a diverse range of user preferences. It offers a harmonious blend of convenience, durability, and performance, making it an appealing option for vapers seeking a comprehensive and satisfying vaping experience.
FAQs About Funky Republic Vape Equipment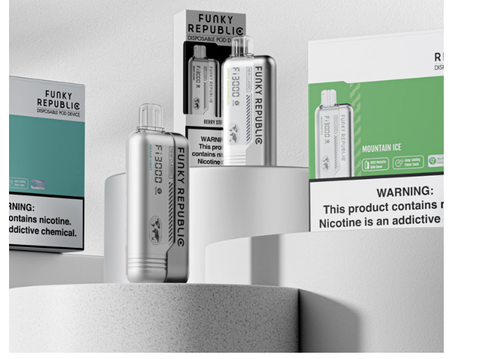 What is Funky Republic Vape equipment?
Funky Republic Vape equipment refers to a line of vaping devices and accessories offered by the Funky Republic brand. These products are designed to provide users with a convenient and enjoyable vaping experience, often incorporating features such as various e-liquid capacities, battery strengths, and heating technologies.
How Long Does A Funky Republic Disposable Vape Last?
The duration that a Funky Republic disposable vape lasts depends on factors such as the specific model, puff count, and individual vaping habits. The advertised puff count provides an estimate of how many puffs you can take before the device is depleted.
Are Funky Republic Vape Products Suitable for Beginners?
Yes, Funky Republic Vape products, particularly their disposable vapes with draw-activated systems, can be suitable for beginners. The draw-activated system eliminates the need for complex settings or buttons, making them user-friendly and intuitive.
How Should I Dispose of A Used Funky Republic Disposable Vape?
Proper disposal of used Funky Republic disposable vapes is important for environmental considerations. You should follow local regulations for electronic waste disposal. Many areas have designated e-waste disposal centers or programs that can handle the proper disposal of these devices.
Can I refill a Funky Republic disposable vape with my own e-liquid?
Generally, Funky Republic disposable vapes are designed for single use and are not intended to be refilled with e-liquid. Attempting to refill them may lead to leakage, malfunction, or potential safety hazards.
Are Funky Republic Vape products safe to use?
Funky Republic Vape products should be used responsibly and in accordance with safety guidelines. It's important to follow the manufacturer's instructions and consider factors such as nicotine content and proper disposal. If you have any health concerns or are new to vaping, it's advisable to consult with a healthcare professional before using these products.
Alternative Wholesale Vape Equipment Supplier: UPENDS
Looking for an alternative source for wholesale vape equipment? Look no further than UPENDS. This supplier boasts a diverse array of vaping products, catering to your wholesale needs with a comprehensive selection that covers all your requirements. UPENDS is a reliable and innovative choice, offering a variety of vape equipment solutions tailored to meet the demands of your business.
One standout product from UPENDS is the UpBar Nano, a remarkable device with a 2ml E-liquid Capacity, ensuring a generous supply of your favorite e-liquids. Its 410mAh Capacity Battery ensures prolonged usage periods, providing a dependable power source for uninterrupted vaping sessions. With a 1.3-ohm Resistance coil, flavor delivery, and vapor production are enhanced, contributing to an overall satisfying experience.
What truly distinguishes the UpBar Nano is its groundbreaking FRESOR Integrated technology. This innovation optimizes flavor production and guarantees consistent performance, elevating the enjoyment of your chosen e-liquids. This advanced feature enriches every puff with flavorful and robust vapor. Additionally, the UpBar Nano offers the flexibility of variable flavors, allowing you to explore a diverse array of taste profiles tailored to your preferences.
With its striking features and cutting-edge technology, the UpBar Nano exemplifies UPENDS' unwavering commitment to providing top-tier vape equipment that delivers an exceptional vaping experience.