What is a twister vape pen
The twister vape pen is a dual device holding a vape pen and a sub-ohm-tank to give a maximum power of 80W. The mod is fitted with an inbuilt 2000mAh battery and is 510 threading enabled.
At the bottom of the cell, you will find a knob that rotates, allowing you to select how much power delivery you want, with the minimum being 5W and a maximum of 80W.
You get one activation button on the mod and a USB charging slot at the back of the pod shaft.
Features of a Twister 30 W kit
Innovative coil technology that allows for direct vaping into lung and mouth to lung vaping
The Twister is compatible with freebase and nicotine e-salts
The top cap is child-resistant and does not leak
Twist technique to adjust wattage
Inbuilt and protected battery with a complete LED warning display
You get a LED ring on the button that displays the working modes of the vape. The exterior features a perfectly curved zinc alloy, and the whole exterior is douched in six graffiti-inspired colors.
The Twister could have gotten its name from it being a twist without adjustable settings instead of a direct current device. The variable wattage dial at the bottom can set power outputs at ranges of 5W to 80W.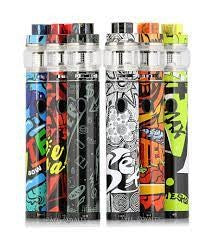 The Twister features a spring-built 510 thread connection at the top, making it easily compatible with any 510 threaded vape tanks.
Despite the lack of LCD and other settings buttons, the pen comes fitted with plenty of safety features such as low-power protection and short circuit protection. You will also get a USB charging port to power up the 2500mAh battery.
Freemax Fireluke 2 mesh
Specifications
Height 58mm width 22mm
2ml liquid capacity
Steel/Resin/ Tea fiber cotton material
Wattage at 8-30W
510 threading
When you buy a freemax twister kit, you get a sub-ohm tank in the package. The sub-ohm is of 5ml capacity and fitted with two different coil types.
Both the X1 and X2 could possess a blend of wood pulp, porous flax, and cotton known to last the coil for about 2-3 weeks. This wicking material is commonly used among the freemax vape pens
The fireluke is the latest coil to be included in the tank lineup. It is made of glass and stainless steel with tweakable bottom airflow. Additionally, it has a gold-plated 510 connection that is fixed to the mods gold-plated 510 connectors.
How to refill the fireluke 22 tank
Locate the red marking under the cap of the Fireluke 22 tank
Lift the spring fitted cap and push it to the position of the red mark
The refill opening will be revealed, and now you can gently put in a few drops of e-liquid without spilling
Push back the cap to its lock position till it clicks into position
Performance of a twister vape pen
We all know that the Freemax Twister is one of the best variable wattage vape pens available in the market, and with this mod, you have a wide range of options to customize your vape.
You also need to know that the device comes with two coil types, the X1 single mesh coil, and the Dual coil X2. Their vaping wattage is at 40-80W, which is perfect for this kind of device.
After taking your Freemax Twister from the package, make sure you charge it for like an hour and be sure it will fill up in no time because it uses the A 1 charging feature.
Watch to learn how Freemax Twister works
You can check your battery levels on the LED screen and read them as follows, and green indicates a charge between 6o-100%, yellow is for 30-60%, and red is for charge below 30%.
For a first trial, go with the x1 coil and set the wattage at 20w, and your coils will fire up quickly. You get some steady clouds, and with a halfway open airflow, you do not get any resistance. You will be surprised by how the flavor from the x1 coil blend in the wicks.
Pros
The tanks are leak-proof, which's a plus for those who understand how frustrating leakages are
You can easily swap the coils even if some juice is still left in the tank
A fast response fire button and activation
With the 1.5 ohm coil, you get a good battery life worth the price
The mod has a variable wattage feature which means it automatically adjusts itself to various conditions as you vape
The tank is fitted with some of the best performance coils that you can ever find on the market
The high-quality graffiti paint job makes it stand out among other similar brands
The smooth airflow feature produces good flavor and good vapor production
Cons
Sometimes the twister dials can stiffen and starts to get awkward
The batteries have a steel finish that gets scratched easily
It takes a long to charge, and you can wait for you to 3 hours
The tank is made of glass that might easily break if it drops
It is not welcoming to people who prefer solid colors because they are only available in graffiti-covered paints
FAQs about the freemax twister vape pen
How do you know your Freemax Twister is charged?
There are three indicator lights on the shaft of the mod that show you how much charge you have left on your device. Be sure to go by the color scheme to identify what each color means on the vape.
Freemax twister not working
It is frustrating when you want to use your vape pen and turning it on, and it does not react. The first issue could be with your battery, but after you confirm that your batteries are okay and still not working, you can do the following.
Try turning off your device, then turn it on again, let it cool for sometimes then proceed to press on the activation button to see if it works
It is an electronic gadget, the batteries may have died out, and you will need to buy new ones
Check whether your battery door is closed correctly and lock it well
You might have inserted batteries that do not match. Be sure to check appropriately whether all terminals are facing the right direction.
Check if there might be any residue blocking your device from passing current, you need to check on that then clean appropriately.
Vape Alternative: UPENDS
UpOX: A super-value mini-open pod system
The UPENDS UpOX has once again introduced its excellent Etchip 2.0 Flavor Master coil. The UpOX device is designed to fit into many e-liquid cartridges available.
The small design of the device makes it easily portable and perfectly fitting in your palm. The battery capacity is attractive, and you are assured of getting a fantastic satisfactory experience every time you vape.
The UpOX is an easy to refill pod with a widened side hole compatible with droppers that come with the mainstream e-liquids. You get a smooth refill without having spillages and drops on your hands.
The see-through pods allow you to check your e-liquid levels at all times. This alerts you on the appropriate time to refill to avoid getting dry hits.
Conclusion
The Freemax Twister is a device that has maintained an innovative approach when building its devices. The freemax Twister has proven to be among the most innovative devices among its competitors.
It brings together a perfect fit of tube-mod stability and power output. When combined, the Freemax Twister and its fireluke mesh tank are advantageous because of patenting the wick material used to build the coil.
It would be fantastic if you remembered that the Freemax Twister is a variable wattage device, but the output power does not mean anything if the coils you have in your device do not have a great vapor production.
From the images and videos you have seen around, we can say that Freemax twister's graffiti-covered cartridge is a plus to its brand. It is unique and easy to discern among other brands if presented with options.