With the rise of vaping, numerous e-cigarette brands have emerged offering a wide range of vape products. Among these popular brands, Freman has gained immense popularity by providing simple yet stylish products.
In this article, we will discuss everything about Freemax Onnix 2 Vape Pod. Continue reading to see if it's worth the value…
What is Freemax Onnix 2?
The Freemax Onnix 2 kit has been designed to provide a simple yet functional design to the vapers. It is made for those who want to vape in style without getting into complicated functions. The pod kit is a compact and stylish device that is powered by a 900mAh integrated battery in its sleek body.
It is loaded with some amazing features like draw or button activation, fast charging via Type-C and smart detection for automatic coil resistance recognition. It can be fully charged in 60 minutes and utilizes OX DVC Coils featuring Freemax's FM SaltCoilTech 3.0 for MTL vaping.
Freemax Onnix 2 Features and Functions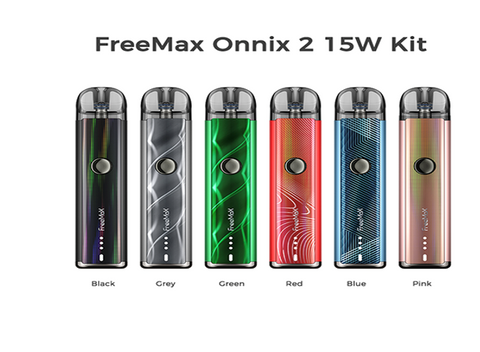 Freemax Onnix 2 has been kept simple and packs the following features and functions…
Features…
Auto-Wattage Selection
MTL Pod Kit
Inhale or Button Activation
15W Max Output
Wide Range of Coils
Integrated Battery
Type-C & 1.5A Fast Charging
Compact and Stylish
Smart Battery with Automatic Resistance Recognition
Refillable and Replaceable Coil
3 White LEDs and 1 Blue LED Display
Anti-Fingerprint and Scratch-Proof Exterior
Specifications…
Dimensions: 109 x 24.4 x 15.3 mm
Weight: 47.6g
Material: PCTG & PET (BPA-free plastic), aluminum alloy
Battery Power: 900mAh built-in battery
Output Wattage: 7-15W
Output Voltage: 3.6 - 4.2V
E-Juice Capacity: 2mL
Coil Resistance: OX DVC Coil 0.8 ohm pre-installed/OX DVC Coil 1.0 ohm
Pod Coil Type: Mesh Coil
Freemax Onnix 2 Review: Is It Worth the Hype?
Freemax Onnix 2 is a 15W vape device specifically designed as an MTL pod. Although it is specified as a 7W - 15W pod, the wattage relies on the automatic coil recognition to set the wattage and is pretty fixed. It does not have variable airflow as it is an MTL pod device. However, two small air holes are visible, one on each side of the battery body. These air holes facilitate the MTL draw.
One of the best things about Freemax Onnix 2 is that it is both draw-activated and fire-button-activated. It simply means you can either inhale through the mouthpiece to activate your vape pod or activate it by clicking the fire button 3 times in quick succession. The internal battery capacity is 900mAh which is surprisingly reduced from 1100mAh in the Onnix 20W Pod kit.
Design and Appearance
Though the pod's design has changed compared to Freemax's previous releases, the company continues with the duckbill shape. Also, the pod is re-fillable via the side-filling port and also accepts a wide range of OX DVC coils. The pod's capacity is limited to 2mL because of the pod's shape and size.
The black semi-opaque device has an e-liquid capacity of 2mL and no other sizes are available. The tint is so minimal that you can see the e-liquid through it. You can always check on how much e-juice is left in the pod. Also, it has a slightly different shape, the tow pods are not interchangeable but the coils can be changed.
The fill port hole on the device is not the usual oval shape but more like a droplet shape. However, it is big enough that you can use needle tips and short stubby tips. The mouthpiece is designed as a Duckbill shape for better performance and it has a circular 6mm hole in the top. The design makes it perfect for MTL vaping.
Features and Functionality
The Freemax Onnix 2 15W Pod Kit works both ways - by activating it through inhaling and using a sequence of clicks of the firing button. Pressing the fire button 5 times turns the pod on or off while pressing it 3 times will switch between draw activation or fire button control. If you choose the auto draw activation, the fire button will be locked, allowing you to carry the device safely.
The LEDs will display a different sequence highlighting different functions and safety parameters. For optimum performance, Freemax suggests using either Freebase e-liquid between 3-9g or Nic Salt e-liquid between 20-35mg with OX DVC 0.8ohm coil. On the other hand, it recommends using either Freebase e-juice between 6-12mg or Nic Salt e-juice between 30-50mg with a 1.0ohm coil.
As far as the performance of Freemax Onnix 2 is concerned, both coils are equally impressive. They give great flavor and vapor production. Irrespective of all the changes from previous versions, the Freemax Onnix 2 is an impressive vape pod and ideal for both beginners and experienced users.
Battery Performance
Coming to its battery part, it comes with an internal 900mAh battery that lasts for approximately 12 hours of vaping. However, this is subjective and will depend on the person using it like vaping frequency, vaping style, and the coil you're using. The pod has 3 small white LEDs towards the bottom of the front panel. It also indicates the remaining battery level.
Here's what the lights indicate…
Three white lights mean 71% 0 100% battery
Two white lights mean 36% - 70% battery
One white light means 0% - 35% battery
Note: these are just estimated figures, don't take them as being too accurate.
One feature that is worth mentioning is the option of 'Pass-Through'. It means you can still vape the pod while it is being charged.
Freemax Onnix 2 Pros/Cons
Here are some advantages and disadvantages of using the Freemax Onnix 2 Pod Kit…
Pros…
Stylish Aesthetics
Simple Functionality
Not Many Settings Required
Both Draw and Button Activation
Good Build Quality
Re-Fillable and Replaceable Coils
Good Flavor from Both Coils
Quick Charging Cycle
Pass-Through Option
No Leaks from Pod
Smart Coil Detection
Compact and Lightweight
Affordable
Cons…
No Dedicated Menu Button
No Screen Display
LED battery status is not accurate
No Variable Wattage Control
No Airflow Control
Although the device doesn't have all the usual stuff like airflow control and wattage control, this is what makes this a simple device. All you have to do is just pick it up and start enjoying it without worrying about anything else. This certainly is a pleasure.
What's In the Box?

 
The box contains…
1 x Freemax Onnix 2 Pod Kit 2mL
1 x Freemax Onnix 2 Battery
1 x OX DVC - 0.8 ohm Coil (pre-installed)
1 x OX DVC - 1.0 ohm Coil
Type-C USB Cable
User Manual
Warning Card
Warranty Card
FAQs About Freemax Onnix 2
How do I change the Coil in the Freemax Onnix 2 Pod?
It is easy to change the coil as you just have to remove the pod from the body/battery and simply pull the old coil out from the pod's bottom and replace it with a new one.
Is filling e-liquid easy in Freemax Onnix 2 pod?
Topping the device with e-liquid has been made simple as it comes with a side-filling port. Once you remove the pod from the device, unplug the silicone stopper to fill it with an e-liquid.
How do I activate my Freemax Onnix 2 vape pod?
The Onnix 2 is both the Draw activated and Fire button activated which means you can choose either way as per your convenience.
How does Freemax Onnix 2 pod look?
The Onnix 2 has a reflective body that is achieved by UV transfer technology. It looks stylish with simple functionality. Everything about this device is relatively simple compared to other pod kits.
How many watts is the Freemax Onnix 2?
The Freemax Onnix 2 is a 15W pod vape system with a 7-15W output range, an integrated 900mAh battery, and a 2mL e-liquid capacity.
UPENDS: Best Wholesale Vape Brand
Looking for premium-quality vape products? Look nowhere as UPENDS is one of the most trusted wholesaler-distributors of Disposable Vapes, Pod Systems, Pod Mods, and Accessories. Whatever you want, you can find them all under one roof. The company has established itself in the vaping market by providing the best quality products and impeccable customer service.
UPENDS brand is known for its highly innovative and well-researched vaping products. The collection features the most trending designs, excellent flavors, and the best quality at an affordable price. If you are considering both quality and price, we have the nicest selection of products, all available under a reasonable price range.
Furthermore, UPENDS believes in contributing to the environment and looks for sustainable ways to manufacture, pack, and sell vaping products. We believe in providing a top-notch vaping experience without harming the surroundings we work in and the communities we work with.
If you want to be a part of our journey, we are currently looking for certified vape distributors and agents at different locations. Contact us to discuss further and how you can grow your business working with us…