First of all, when you first get your Exxus Vape Pen, like other electric devices, you'll need to charge it. For this purpose, you'll use the charger attached in the package or, better still, use a USB for faster charging. Ordinarily, it should take 2-3 hours to charge fully. 
You keep it charging longer than this as that may result in damage. While charging, you can go through the instructions attached to the package to understand better how to use the device.
Exxus Vape Pen Review
A vape pen is a long, thin stylized vaporizer that resembles a fancy pen. Vape pens are user-friendly devices that provide an exquisite experience while at the same time allowing for mobility. The pen comes in a variety of colors, shapes, and models. As such, below is a review of the best exxus vape pens currently in the market.
1. Exxus Snap VV Cartridge Vaporizer
Exxus Snap VV Variable Voltage Cartridge Vaporizer gives you enhanced functionality in a compact package. It's both sleek and powerful. With the simple press of a button, you can select one of four voltage settings to define your perfect vape. Just like the original Snap, this device offers convenience in its magnetic connector.
The vaporizer is a 3" tall by 1" wide, sleek device. Besides, it comes with magnetic-thread adapters for connection. All you need to do is slip the atomizer into the chamber on the chassis, and it snaps into place.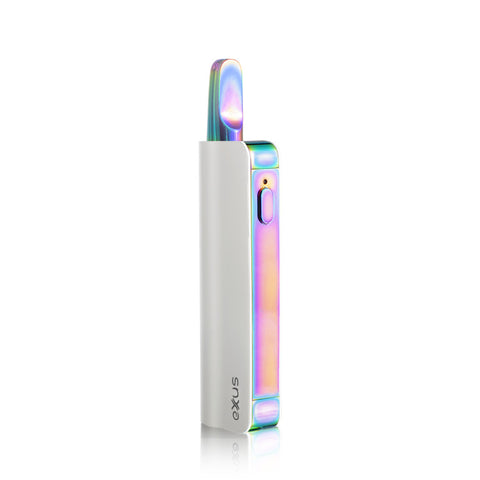 Other key features of this mod include the ability to accommodate larger cartomizers and charging with Micro USB. The built-in battery is powerful enough to sustain several vaping sessions before needing a recharge.
Moreover, it comes with a recessed atomizer which offers some additional advantages.  For instance, it helps to protect the atomizer from damage, for starters. It also assists in keeping the overall profile of the vaporizer small. 
You can drop this right inside a pocket or handbag as it is very compact.  The other key features of the device include the mod's ability to accommodate large cartomizers and charging with a Micro USB cable. Besides, the power supply in this device lives up to the reputation of Exxus Vape batteries. It will power multiple vaping sessions before needing a recharge.
Pros
Ease of use

Best for daily use

Reliable as it retains power

Convenient vaping
Cons
2. Exxus Push Cartridge Vaporizer by Exxus Vape
At 80mm by 40mm by 22mm, this impressive, ultra-compact device is sure to please, delivering an unforgettable experience. The device features an adjustable push-out cartridge system for convenience, preheat mode to warm up your essential oils, and four voltage settings for precise heating. 
Other features include Micro USB charging for quick power-ups, a high rate lithium-ion battery for great power, and a magnetic connector to lock your cartridge into place securely. All these work towards ensuring the Exxus Push has everything you need for unforgettable sessions.
The device also comes with a 500mAh battery capacity, an output wattage of 15W, and four voltage outputs of 2.8V, 3.2V, 3.7V, and 4.2V. To use the device, press the power button down five times rapidly. Note that this has to be done fast, or the device will not register the action. 
The Exxus Push has a preheat function that allows the user to press the power button two times for a 17-second button-less session. To adjust the voltage output, press the power button three times rapidly.
Pros
Simple to operate

Excellent quality

Serves for longer periods

It is user friendly
Cons
May not serve for too long
3. Exxus Twistr Cartridge Vaporizer by Exxus Vape
A simple yet innovative device this one is. It is a vape pen with a twist, employing adjustable voltage settings at its base for a customizable experience. The pen is the perfect companion to your favorite goodies, allowing you to enjoy the unbelievable flavors and great clouds.
With the Exxus Twistr, you get loads of flavor. Loading the cartridge is equally a straightforward process. To start the device, you need to remove the mouthpiece from the cartridge then load your cartridge with the oil of your choice. 
It is advisable to fill the cartridge halfway so that t doesn't overflow. This helps prevent leakages or clogging. To attach the cartridge, you twist it on until secure, then put the mouthpiece back on.
Moreover, the Exxus Twistr is a standout device that employs one-of-a-kind features for an overall elevated experience. Using advanced technology, this device allows the user to control their voltage with a simple twist. At the vape pen base, there is an adjustable dial that twists between four different voltage settings. 
You can pick from 2.0V up to 4.2V and enjoy puff after puff with a durable, ergonomically constructed portable device. Also, the Exxus Twistr incorporates preheat mode for hands-free operation and 15-second intervals for quick sessions. Two clicks of the power button activate the preheat, and one stops it when you are done.
Pros
Preheats quickly

Ease of use

Excellent in quality
Cons
4. Exxus MiNovo Cartridge Vaporizer by Exxus Vape
The Exxus Minovo is an auto draw device making it active as soon as you inhale. To adjust the temperature or voltage, click on the power button one time. The Exxus Minovo also lets you cycle through temperatures until you reach the one perfect for you. Bright, colorful LED lights light up depending on the voltage setting. 
The blue light indicates 3.4V, the green light indicates 3.6V, the orange light indicates 3.8V, and the red is 4.0V. Two clicks will start the preheat cycle, and one-click stops it.
This standout piece delivers potent flavors in a small frame. The device features various advancements like bright, colorful LED light indicators, preheat mode, protective magnetic adapters, customized variable voltage, and a powerful 470mAh battery. 
The Exxus Minovo is a 510 threaded device making it compatible with numerous cartridges. When selecting the cartridge touse, start by removing the mouthpiece so you can load it with your desired oil using a dropper drip the oil in the cartridge until it is about halfway full. 
Pros
Convenient for daily use

It is user friendly

Serves for a longer period
Cons
Needs care when refilling as it gets exposed to damage
5. Exxus GO Concentrate Vaporizer
This device is suitable for concentrate lovers interested in hours of nonstop vaporization enjoyment, huge hits, and lengthy battery life. Its available features include a super quick warmup (just five seconds), an automatic heating system, a magnetic base, a portable rig, and a rapid auto run time of merely 15 seconds.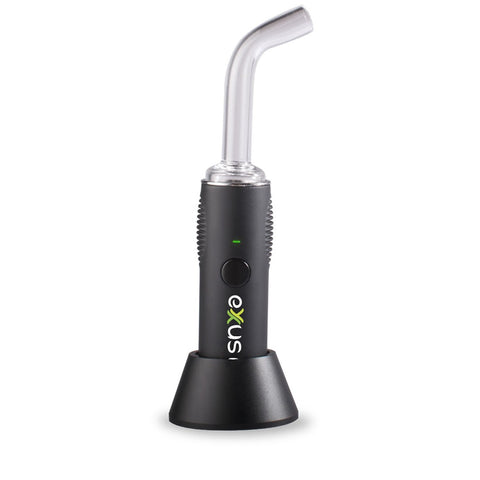 Other elements of this unit include 1100mAh Lithium-Ion battery power, a replaceable Triple Quartz XL Atomizer, and a quartz glass mouthpiece.
It comes with a single 1100mAh lithium-ion battery that's rechargeable. This battery has a warranty that lasts for an entire year. Other things you'll receive with your purchase are a filling tool, a USB charging cable, and a clear and in-depth user manual.
Pros
It is user friendly

Excellent compatibility

Powerful battery
Cons
6. Exxus Plus VV Cartridge Vaporizer by Exxus Vape
It has a simple design, quality, and thoughtfully crafted user-friendly features. Because this is a variable voltage, pen-style battery, the Exxus Plus' voltage can be adapted to a range of anywhere between 2.6V and 4.0V. 
The 510 threading of the attachment port is a near-universal count among the vaping industry. This makes the Exxus Plus an easy addition to an expansive variety of devices. Each feature works to provide users with unmatched vaping.
Because the Exxus Plus VV is, at its core, a user-friendly device, it has a single button system to fulfill all of its features. Two compresses of the button start the heating and priming process. 
This takes a total of ten seconds. It is also a variable voltage unit. 
Therefore, with three clicks of the button, you can change the voltage. There is a side positioned light that indicates what voltage the piece is currently at. A blue light means 2.6V, a green indicates 3.2V, and red means 4.0V output. A single press of the button is how the battery is shut down.
Pros
Excellent adaptability

Easy to use

Convenient for daily use
Cons
May slightly confuse you during operations
FAQs
Exxus vape pen charging?
The device comes with a charger attached to the packaging. You can often use the USB port on your computer or a USB wall adapter for rapid charging. Some models come with a vape charger that plugs right into wall outlets. In total, it should take about two to three hours to charge your device fully. Do not trust longer than this, or you can damage your vape pen.
Exxus pen not working?
If the pen is not working, in most cases, it is a user error. It would help if you followed the user guide attached to the package to avoid mistakes. However, should the device fail to work even after following the correct procedure, you should contact the office for help or replacement in case of a faulty device.
How to use an Exxus vape pen? How to turn on the pen?
Different models have different modes of operation. This is why it is always important not just to read the instructions but also to keep them for future reference. For instance, those requiring you to push the power button in 5 rapid actions for the power-on to be registered. From there, you will inhale to enjoy.
Who is the best supplier of Exxus vape pens?
One of the best suppliers of Exxus vape pen products is UPENDS. The quality of the products they bring along is excellent.
Conclusion
The Exxus Vape pens prove to be the best because of their outstanding quality. Using the products in our guide, you will enjoy the greatest outcomes.