Since the early 2000s, disposable vape pens have become increasingly popular among smokers.
It revolutionized the smoking experience and has long since become a profitable venture.
This new technology boasts convenience, affordability, and potency—the perfect solution to users' problems while smoking.
If you're looking for a portable and powerful device that does the job like a traditional cigarette, a disposable vape pen might be a great alternative for you.
What is a disposable vape pen?
A disposable vape pen is a single-unit vaping electronic cigarette.
It is made up of an in-built battery, a mouthpiece, and a pre-loaded vape tank filled with vape juice (containing nicotine).
Depending on the manufacturer, these disposable vape pens can be rechargeable or non-rechargeable.
Vape pens are battery-powered devices that come already charged; all you need to do is start vaping.
They work by heating the vape tank to produce vapor.
They are pocket-sized and cylindrical; hence, the name "pen."
Disposable vapes are disposable, affordable, and require no maintenance.
However, they cannot be replaced or refilled when empty. At this point, they should be disposed of properly.
What makes disposable vape pens the most sought-after market choice is their straightforward design, ease of use, and, above all, their plethora of highly potent flavors and nicotine strengths.
While vape pens are potentially harmful, they pose fewer health risks than traditional smoking.
Now that we have discussed what disposable vape pens are, you may be wondering what the benefits of buying disposable vape pens wholesale are.
In this article, we will explore what to look out for while purchasing disposable vapes and the benefits of buying vape pens wholesale. We will also share some top vape brands you should consider if you want to buy disposable vape pens wholesale.
Specs to Consider While Purchasing A Disposable Vape Pen
There are several factors to look out for while purchasing disposable vape pens.
We would, however, like to highlight some vital specifications to help you review some products before purchasing them:
Nicotine Strength: Depending on your niche or preference, you would need to consider the nicotine level of the disposables. For beginners or smokers trying to quit, vapes with a low nicotine strength are preferable. The opposite is the case for advanced vapers.
Quality of Vape and Quality of Brand: It is important to purchase from reputable brands that use high-end parts for their products and subject them to quality assurance testing.
Also, the quality of the vapor matters.
You should consider purchasing disposable vapes that offer quality performance, flavor, and an overall pleasurable vaping experience.
By choosing a high-quality disposable vape from a reputable brand, you can ensure a satisfying and enjoyable vaping experience.
Flavour Options: Disposable vapes now come in different flavours for smokers' needs and tastes. You may want to consider purchasing various flavors that may appeal to your customers.
Battery Life:No one wants a vape device that isn't long-lasting.You should consider buying vape pens with strong battery power for an uninterrupted vaping experience.
Amount of Vape Liquid:Another important specification to consider is the amount of vape liquid. Vapes with a larger tank capacity mean more performance and more potent hits until the very last puff.
Benefits of Purchasing Disposable Vape Pens Wholesale
There are a lot of benefits to buying disposable vape pens wholesale. Some of which are:
Cost efficient: Buying disposable vape pen wholesale will save you a lot of bucks over time. When you buy disposable vapes in large quantities, you get to receive discounted prices and deals at a lower cost per unit.
Highly profitable: This is a huge benefit because your profit would marginally increase when you buy vapes in bulk.
You can also offer competitive prices for your customer.
Better Inventory control: By buying disposable vapes in bulk, you can avoid always running out of products and potentially losing sales.
Access to a range of products:Buying in bulk opens you to a wide range of brands and products you probably didn't know about.
You can choose from a variety of nicotine strengths, flavours and designs to fit your customers' preferences and tastes.
Access to trendy products: You can also stay up-to-date with new trends and disposable vape pens innovations and offer fresh and exciting products to your customers.
Top Disposable Vape Pen Wholesale Brands
GEEK BAR
Geek Bar is one of the biggest names in disposable vaping. This disposable brand will certainly not leave you feeling disappointed.
It comes in seven powerful collections of deliciously stimulating flavour options - namely Geek Bar X, Geek Bar S, Geek Bar J, Geek Bar E, Geek Bar B, Geek Bar C and Geek Bar Meloso.
The Geek Bar Disposables promise you a most pleasurable vaping experience.
Users always boast of its enjoyable taste, durability and cloud production; not to mention its aesthetically pleasing colour range.
You can't go wrong with a Geek Bar in hand.
Geek Bar also offers disposable vape pen wholesale, with distributors in up to 16 countries.
ELFBAR
Another top and well-known name in the disposable vape market is ELFBAR.
ELFBAR provides enjoyment, reliability and experience all in one portable device. Their rechargeable, disposable vape pens come in various sizes, shapes and colours.
They may not have as many flavours as Geek Bar; but what they lack in flavour, they make up for in potency and battery strength.
ELFBAR also offers a disposable vape pen wholesale upon request. You can always go through their website to familiarize yourself with their products.
ZOVOO
Zoovoo Dsposables is another disposable vape beast brand option you should not sleep on.
From the small but mighty DragBar series to the flavourful and colourful VinciBar and CubeBar series, Zovoo disposable vape pens offer a premium vaping experience that is unmatched in both taste and longevity.
Zovoo also offers a partnership program for distributors, retailers, online  and people looking to sell Zovoo products
ELUX
This China-based brand has been in the vaping game since 2021.
Though relatively new, they've been making amazing innovations and additions to their disposable vape pens, some of which are very popular in the market, like the Elux Legend Mini and the Elux Slim.
Elux promises a luxurious vaping experience and their disposable vape collections offer just that; luxury and simplicity.
Elux has over 17 disposable vape pen series, sporting devices with 500MAH upwards, and a wide range of flavour categories.
They also have a partnership program with juicy offers on their website.
You can be certain that, just like their consistent puff count, Elux Disposables is here to stay.
UPENDS
When it comes to fun vaping, UPENDS is your go-to device
UPENDS offers a vast collection of disposable vapes with unique modifications and designs.
Their 2ml disposable vape devices, UpBar GT, UpBar RS, UpBar Air, and UpBar have a pure and flavourful, consistent and long-lasting taste that would leave an impression on their users.
Their 4.5ml device, UpBar TT, has a mouthpiece filter design to prevent spitting. It also has a striking, graphical appearance with a metallic lustre.
Their 7ml disposable vape device, UpBar PNT, offers more energy and an even more exclusive taste. UpBar PNT can release powerful energy like a monster.
Their 7.5ml vape, UpBar Box, has a three-stage colour matching with two layers of coil protection that doubles the enjoyment of sight, touch and double protection.
Their 12ml disposable vape device, UpBar Box Plus, is a more powerful upgrade to the UpBar Box.
With more capacity and up to 5000 puffs, the UpBar Box Plus is a must-buy.
Finally, their 13ml disposable, UpBar Mod, has a mod shape that promises a bigger smoke and more enjoyment.
With up to 10 exclusive flavours, a 360 degrees LED light show and 3D UV printing, this mod-shaped disposable vape makes vaping so much fun.
UPENDS offers a disposable vape wholesale scheme.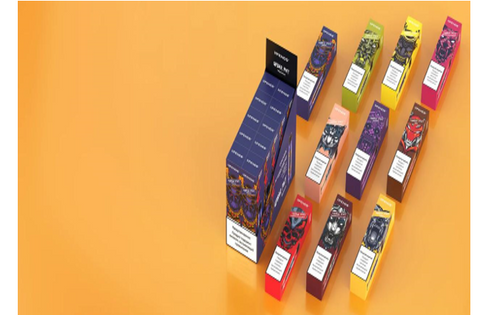 Other top vape brands that offer disposable vape pen wholesale includes: Beco Puff Bar, Lost Mary Disposables, Esco Bars Disposables, VaporLax's Draco Disposables, And Lost Vape Orion Bar Disposables, amongst others.
While many disposable vape brands offer wholesale plans, there are also a variety of secure websites available for purchasing disposable vape pens in bulk.
With options like VaporBeast, ElementVape, VaporBeast, and MyCigara.com, you can easily find a wide selection of disposable vape pens at competitive wholesale prices.
Conclusion
Disposable vape pens are the holy grail of vaping products. These easy-to-use devices have become so popular, brands are outdoing themselves in trying to make compact devices with beastly performance.
Disposable vapes offer your customers a convenient and hassle-free experience while offering your business a profitable venture.
With the right products from these brands, you would always end up restocking faster than you'd expect.
Also, buying in bulk saves you from spending more and in the long run, sustains your business.
Keep in mind that there are new devices being made every day and new disposable vape brands coming up.
Running a sustainable business means keeping abreast with new trends and devices to cater for your customer's ever-growing needs.