Vaping has attracted many people who used to smoke and are looking for a safer option to enjoy nicotine. This way, there are many vaping devices in the market that you need to choose from. Many new vapers complain about confusion in choosing vaping equipment that specifically suits their vaping needs.
This is the reason why we bring reviews of different vaping equipment. In this article, we are introducing you to a unique vaping equipment; Elf Box, developed and sold by Elf Bar.
Here is more:
What is Elf Box Rechargeable Disposable Vape Pen?
Elf Box Rechargeable Disposable Vape Pen is a unique disposable vape pen that many refer to as a semi-disposable vape pen. This is so because, unlike other disposable vape pens that are not rechargeable, Elf Box Rechargeable Disposable Vape Pen is powered by a rechargeable battery. This vape pen is built by Elf Bar and is characterized by 5000 puffs, 12ml e-liquid capacity, variable nicotine strengths, and 650mAh capacity battery, among other features that allows you to enjoy a unique vaping experience.
There is more about Elf Box Rechargeable Disposable Vape Pen that you need to know. Let's read together to the end of this review.
Elf Box Rechargeable Disposable Vape Pen Review; Is it Worth It?
Key Features
12ml E-Liquid Capacity
5000 Puff Count
Variable Nicotine Strengths: 0%, 2%, 3% and 5%
650mAh Capacity Integrated Battery
Type-C Charging Port
Variable E-Liquid Flavors
2-Ohm Mesh Coil
4g Weight
Adjustable Airflow
Draw Activated Firing Mechanism
Battery Life and Charging
The Elf Box Rechargeable Disposable Vape Pen is designed with a built-in battery, meaning you don't need to concern yourself about buying and replacing batteries separately. The device comes with a 650mAh battery capacity, which provides a sufficient amount of power to support your vaping sessions.
The rechargeable feature allows you to extend the life of the vape pen. When the battery depletes, you can easily recharge it using the included Type C port located on the underside of the device. The Type C port is known for its fast charging capabilities and convenient reversible design, making it simple to plug in without worrying about the orientation of the connector.
The Elf Box Rechargeable Disposable Vape Pen presents an excellent balance between convenience and sustainability. Its built-in 650mAh battery, along with the rechargeable Type C port, allows you to enjoy vaping without the hassle of replacing batteries frequently. This feature-rich vape pen provides a user-friendly experience, making it a popular choice among vapers looking for a reliable and eco-friendly option.
E-Liquid Capacity and E-Liquid Flavors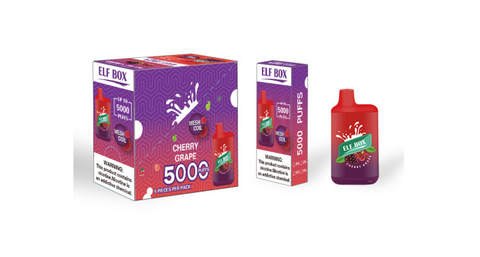 The Elf Box Rechargeable Disposable Vape Pen is a pre-filled vaping device that comes with an impressive e-liquid capacity of 12ml. This means that the vape pen is already filled with 12ml of e-liquid when you purchase it, eliminating the need for you to fill it yourself.
With such a large e-liquid capacity, the Elf Box Vape Pen is designed to provide around 5000 puffs. This number of puffs is an estimate of how many times you can take a draw from the device before the e-liquid runs out.
Some of the available flavors include:
Blue Razz Ice - Blue Razz Ice features the delightful taste of blue raspberry combined with a cooling menthol twist. The sweet and tangy blue raspberry flavor is complemented by the icy menthol, creating a deliciously balanced and refreshing vape that will satisfy your fruity cravings.
Peach Mango - Peach Mango brings together the succulent sweetness of ripe peaches and the tropical goodness of juicy mangoes. This flavor combination offers a delightful blend of two popular fruits, resulting in a smooth and fruity vaping experience.
Triple Berry Ice - Triple Berry Ice is a delightful fusion of three juicy berry flavors - strawberries, blueberries, and raspberries - all enhanced with a refreshing menthol finish. The combination of the mixed berries and the cooling effect of menthol offers a fruity and chilling vape experience.
Strawberry Mango - Strawberry Mango is a tropical delight that cartels the sweetness of ripe strawberries with the exotic essence of juicy mangoes. The fusion of these two popular fruits results in a smooth and irresistible vaping experience.
Cranberry Grape - Cranberry Grape offers a delightful mix of sweet grapes with the slightly tart and refreshing taste of cranberries. This flavor combination provides a unique and flavorful vape that's perfect for those seeking a twist on traditional fruit flavors.
Lush Ice - Lush Ice is a refreshing and popular e-liquid flavor that combines the sweetness of watermelon with a cool and icy menthol sensation. The blend of juicy watermelon and chilling menthol creates a well-balanced and invigorating vaping experience, perfect for those who enjoy fruity and cooling flavors.
Cherry Grape - Cherry Grape is a classic combination of sweet cherries and luscious grapes. This flavor blend provides a harmonious balance between the rich sweetness of cherries and the slightly tart and juicy taste of grapes, delivering a smooth and satisfying vape.
Kiwi Fruit - Kiwi Fruit delivers the distinctive taste of fresh and tangy kiwis. Known for their bright green color and unique flavor profile, kiwis offer a delightful balance of sweetness and tartness, making this flavor a delightful option for fruit lovers.
Sour Apple - Sour Apple provides the zesty and tart flavor of green apples. If you enjoy sour and tangy fruit flavors, this e-liquid offers a punchy and mouthwatering taste that will excite your taste buds.
Others include Kiwi Guava Passion Fruit, Sweet Menthol, Watermelon Bubblegum, Mint Lemon, Tropical Rainbow Blast, Red Mojito, Energy Drink, and many more.
Cost of Purchase
Elf Box Rechargeable Disposable Vape Pen is available in the leading vape shops near you. This vape pen is also available in different online vape shops that you can visit in the comfort of your home. The average cost of an Elf Box Rechargeable Disposable Vape Pen is $4.50. This price may vary from one vape shop to the other.
Ease of Use
The Elf Box Rechargeable Disposable Vape Pen is incredibly user-friendly, and its ease of use is attributed to two key features. Firstly, the vape pen comes pre-filled with e-liquid, eliminating the need for users to go through the process of filling the tank or cartridge themselves. This convenience makes it an excellent choice for both newcomers to vaping and experienced users looking for a hassle-free option.
Secondly, the Elf Box Vape Pen utilizes a draw-activated mechanism, making it even more straightforward to operate. Unlike traditional vape pens that require pressing buttons to initiate vapor production, the Elf Box Pen is activated simply by inhaling on the mouthpiece. As soon as you take a draw, the device senses the airflow and automatically triggers the heating element, producing smooth and flavorful vapor without any additional effort.
General Performance
The performance of Elf Box Rechargeable Disposable Vape Pen is a great one. Its battery delivers the best vaping experience all day long after a full recharge. Elf Box Rechargeable Disposable Vape Pen also gives you great performance when it comes to activation. It is draw-activated, and its draw-activation system is highly responsive and activates in a single puff.
The performance of the Elf Box Rechargeable Disposable Vape Pen is also great when you are recharging the battery. It comes with a type-c charging port and supports fast charging. This means that you need a few minutes to allow you to continue enjoying your vape.
You will also love the performance of Elf Box Rechargeable Disposable Vape Pen when it comes to flavor and cloud production. It comes with a 1.2-ohm mesh coil that guarantees you great flavor and cloud production.
Pros and Cons
Pros
Elf Box Rechargeable Disposable Vape Pen is available in variable flavors
It gives you more puffs
It is available in variable e-liquid flavors
It is available in different nicotine strengths
Cons
Its 650mAh Capacity battery requires regular recharging
It is not small enough to travel with in your pocket
FAQs About Elf Box Rechargeable Disposable Vape Pen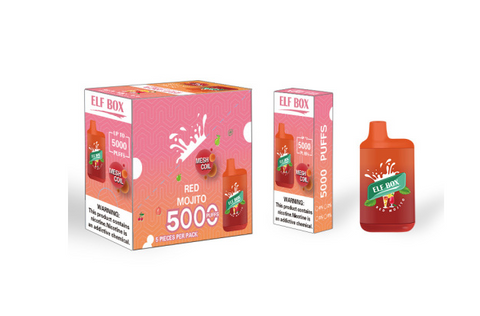 How do I recharge the Elf Box Rechargeable Disposable Vape Pen?
To recharge the Elf Box Vape Pen, locate the Type C charging port on the underside of the device. Insert the provided Type C cable into the port and connect the other end to a power source, such as a USB adapter or a computer. The battery will start charging, and you can continue using the vape pen once it's fully charged.
How many puffs can I expect from the Elf Box Vape Pen?
The Elf Box Vape Pen is advertised to provide around 5000 puffs, but actual usage may vary based on individual vaping habits.
Can I refill the Elf Box Vape Pen with my e-liquid?
No, the Elf Box Vape Pen is designed to be a disposable device, and its pre-filled cartridge cannot be refilled. Once the e-liquid is depleted, you dispose of the entire device.
Wholesale vape Equipment Supplier: UPENDS
UPENDS is a wholesale vape equipment supplier that offers a selection of vaping products and accessories to retailers and businesses. They provide high-quality and innovative vape devices, including vape pens, pod systems, and disposable vapes. As a reputable supplier, UPENDS focuses on delivering reliable and safe vaping solutions to meet the demands of the market. The UPENDS products are designed with cutting-edge technology and adhere to strict quality standards, ensuring a satisfying and enjoyable vaping experience for users. With a pledge to customer satisfaction and competitive pricing, UPENDS aims to be a trusted partner for retailers looking to stock top-notch vaping products in their stores.