Introducing the STIG, an innovative disposable pod device that represents the future of vaping. This all-in-one device is designed to be user-friendly straight out of the box and can be used discreetly by vapers of all types. You don't have to worry about pressing buttons, priming, charging, or refilling as the STIG is ready to use whenever you are.
With its use of SaltNic e-liquid, the STIG takes vaping to a new level. This highly concentrated salt-based nicotine provides better absorption and delivers faster satisfaction for a longer period of time. SaltNic e-liquid is smooth, tasty, and provides satisfying throat hits.
If you're looking for a hassle-free vaping experience that can help you switch from traditional cigarettes, the STIG is the perfect device for you. Each STIG pack contains enough juice and power to last as long as a single pack of cigarettes, which equates to around 60 cigarettes per pack.
The STIG pod dwvice is not only easy to use and offers incredible flavor, but it also provides unbeatable value. Its compact size makes it easy to carry around, allowing you to enjoy your active lifestyle and discover inspiration throughout the day.
What Is A Stig Disposable Vape?
The STIG Disposable vape is an all-in-one, disposable pod device that is designed for hassle-free vaping. It is a small and compact device that comes pre-filled with e-liquid, eliminating the need for refilling or recharging.
The STIG is easy to use and can be utilized discreetly by users of all types. It contains NicSalt e-liquid, a highly concentrated salt-based nicotine that delivers faster enjoyment for a longer amount of time and greater absorption. The STIG is a great option for those who are looking for an effortless vaping experience to help them switch from traditional cigarettes.
Why Choose The STIG Disposable Vape
Instant Flavor On-The-Go
The STIG Disposable vape offers an effortless vaping experience, with astounding flavor that's instantly available with just one draw. There are no buttons or complicated settings to worry about, making it extremely easy to use straight out of the box.
No Maintenance Needed
Unlike traditional vape devices, the STIG Disposable vape doesn't require any maintenance. It comes fully charged with enough SaltNic e-liquid to last as long as a single pack of cigarettes, providing a hassle-free vaping experience without the need for refilling, recharging, or any other maintenance.
Almost Weightless
The STIG Disposable vape is designed to be pocket-sized and almost weightless, making it the perfect device for people with an active lifestyle. With no smoke or ash, it's a clean and convenient way to enjoy nicotine without the hassle of traditional cigarettes.
Features
270 puffs
2 ML E-liquid
0% Nic salt
300 puffs
280mAh Battery capacity
8 Delicious Flavors
Pros
STIG vapes are user-friendly and easy to use, making them an excellent option for beginners.
They come pre-filled and disposable, eliminating the need for refilling or charging, which is convenient for on-the-go vaping.
Cons
The battery life of STIG vapes is limited, which can be inconvenient if one needs to use it for an extended period.
STIG Pod Ultra Portable Disposable Pod
Here are some of the most popular flavors available:
Mango Bomb
For those who love tropical flavors with a cool finish, Mango Bomb is a perfect choice. It has a sweet, juicy, and tangy citrus mango flavor with a hint of menthol that delivers a refreshing finish. The mango flavor is authentic and well-balanced, with a slight sourness that enhances the overall taste. It's a great option for users who enjoy fruity and tropical scents, with an added coolness that invigorates the vaping experience.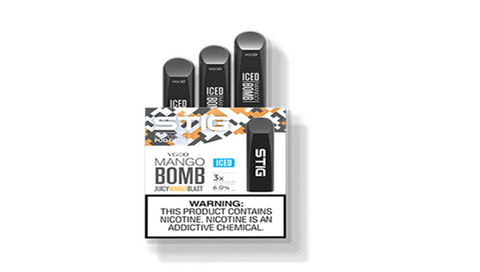 Mighty Mint
Mighty Mint offers a clean and refreshing vaping experience with revitalizing cool sensations of spearmint menthol, imparting invigorating satisfaction. The mint flavor is powerful, giving a pleasant throat hit, while the mint's coolness provides a refreshing finish. If you enjoy minty flavors, Mighty Mint is a great choice for a clean and energizing vaping experience.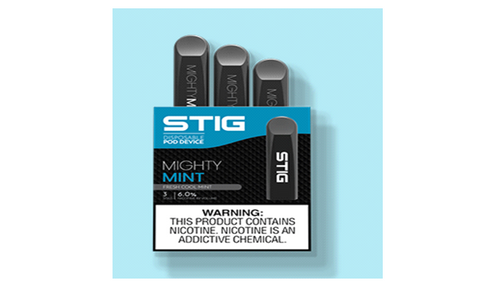 VGOD LushIce
Experience a refreshing and fruity flavor with a cool finish by trying VGOD LushIce. This flavor combines fresh watermelon with mixed melon undertones and a cool menthol finish. The watermelon taste is authentic and prominent, while the menthol provides a refreshing touch.
Cubano
Cubano is a perfect choice for ex-smokers who miss the taste of traditional tobacco cigarettes. It offers a full-flavored Cuban cigar taste combined with a drizzle of creamy vanilla custard undertones that adds a soft and smooth touch to the overall flavor profile, creating a delicious and satisfying vaping experience.
Crisp Apple
Crisp Apple offers a juicy and refreshing flavor that resembles the taste of biting into a fresh and sweet apple. The taste is crisp and clean, with an ideal combination of sweetness and tartness. The apple flavor is genuine and not too intense or synthetic, providing a pleasant vaping experience.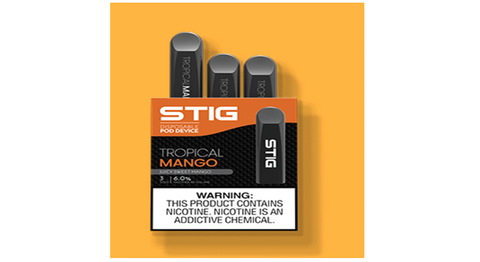 Tropical Mango
Tropical Mango is an ideal choice if you're searching for a more intricate mango taste. This STIG Pod flavor features a rich and succulent mango flavor that is both dense and luxuriously silky. The sweetness of the mango is mouth-watering and juicy, providing a delightful vaping experience. Along with other tropical fruit flavors, the mango taste is well-balanced, resulting in a more sophisticated and refined flavor profile.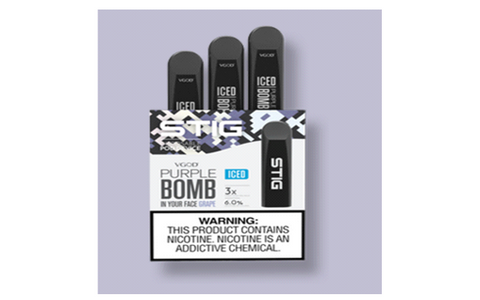 Iced Purple Bomb
Iced Purple Bomb is a flavor that brings together the taste of sweet and delicious Concord grape juice with a hint of grape candy, culminating in a frosty finish that delivers a refreshing chill. This STIG Pod flavor is perfect for users who enjoy the sweet taste of grapes but want a cool and icy finish to their vaping experience. With Iced Purple Bomb, you can enjoy the fruity sweetness of grapes with a refreshing twist.
Dry Tobacco
STIG's Dry Tobacco flavor is designed to mimic the taste of traditional tobacco cigarettes, making it a smooth transition for smokers who are looking to switch to vaping. The flavor profile is intended to provide an effortless vaping experience with a taste similar to traditional tobacco cigarettes.
FAQs About The STIG Disposable Vape
Are Stig Disposable Good?
If you're looking for an effortless vaping experience to help you quit smoking, STIG is the perfect device for you. Each STIG is equipped with enough juice and power to last through a single pack of cigarettes.
How Many Cigarettes Would Make A Stig?
One STIG pod usually has approximately 1.2ml of e-liquid, which is similar to the amount of nicotine found in 20-30 cigarettes. By switching from smoking to vaping with STIGs, you can potentially save a considerable amount of money, as a $20 pack of three disposable vapes can last you up to a month.
What Gives My Stig A Burnt Taste?
The unpleasant taste of burnt vapes is often caused by the atomizer coil's wick getting burnt and dehydrated. When the dry coil is heated, it produces a terrible burnt taste because the wick, which is supposed to vaporize the substance you are trying to consume, burns.
How Is The STIG Put To Use?
The STIG vape is a pre-filled and disposable vaping device that is user-friendly and uncomplicated. When the user takes a drag from the mouthpiece, a sensor is activated, causing the inner coil to heat up. This coil then converts the e-liquid in the pre-filled pod into vapor, which the user inhales.
How Should The STIG Disposable Vape Be Disposed Of?
Proper disposal of STIG vapes is crucial to minimize any potential harm to the environment. It is recommended to use the device until the battery is completely drained before disposing of it.
After the battery is depleted, it's advisable to detach the battery from the pod. If regional recycling initiatives allow empty STIG vape pods, they can be recycled. If not, it should be disposed of as regular garbage.

Best Vape Wholesale Supplier-UPENDS
We are thrilled to extend a warm welcome to you, inviting you to discover the wonderful world of Vape UPENDS! Our passion for vaping innovation is boundless, and we are excited to share it with you.
With our cutting-edge technology, stylish designs, and meticulous attention to detail, we are confident that we can offer you an unmatched vaping experience.
Our team of skilled professionals is dedicated to crafting exceptional devices that perform flawlessly. We aim to make you feel sophisticated and enchanted with our products. By being a part of the UPENDS Vape community, you will have the privilege to use our unique range of products that will astonish you and your customers, leaving them craving for more.
Our mission is to provide you with the most outstanding vaping experience possible, and we cannot wait to show you why Vape UPENDS is the ultimate destination for discerning users. So sit back, relax, and let us take you on an exhilarating journey that you will never forget.