The Innokin Endura T22 Pro represents an exciting evolution from the well-loved Endura T22 Kit. Designed with simplicity in mind, this lightweight mod is an excellent choice for beginners entering the vaping world. With a 3000mAh built-in battery and 4 levels of adjustable wattage, the Endura T22 Pro offers versatility and convenience. Additionally, the inclusion of a USB-C charging slot ensures faster charging times compared to its predecessor, the original T22.
Not only does the Innokin Endura T22 Pro boast an upgraded tank, but it also features an increased capacity of 4.5mL. Refilling the tank is a breeze, as all it takes is a simple twist of the top cap. The compatibility of the Endura T22 Pro with the original T18 (Alpha) coils and Innokin's latest T18E and M18 coils guarantee an exceptionally flavorful vaping experience. Prepare to immerse yourself in delightful flavors with the Innokin Endura T22 Pro.
What Is Inside The Box?
1 Innokin Endura T22 Pro battery
1 Innokin Endura T18 Pro tank
2 T18 1.7ohm coils
1 USB Type C charging cable
1 User Guide
Review Summary for T22 Pro
Design & Build Quality
However, the T22 Pro has undergone a transformation to not only enhance functionality but also to captivate with its aesthetics, making your transition away from smoking a visually pleasing experience.
The previously angular edges have been refined, resulting in a more ergonomic design that offers a comfortable grip and fits effortlessly into your pocket. Its sleek appearance is a definite head-turner.
The front side of the mod now features a wattage-level display system, utilizing four white LEDs. This understated yet informative display ensures you have the necessary information without the need for detailed color screens, conserving power and simplifying the user experience.
To protect the device's base and minimize noise when placing it on hard surfaces, four rubber nodes have been incorporated. Your furniture will surely appreciate this thoughtful addition!
The T18 Pro tank has also received a revamp, retaining its classic design but introducing a sliding top-fill method. This means you no longer need to juggle multiple parts while refilling on the go, providing added convenience.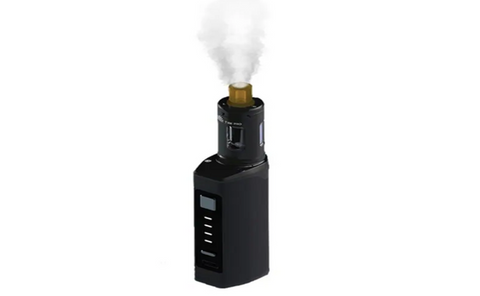 The drip tip has been upgraded to a non-conductive acrylic material, replacing the less comfortable steel tip. This change ensures a more enjoyable experience against your lips.
Furthermore, the glass panels on the tank have been slightly reduced in size, offering increased protection in the unfortunate event of accidental drops.
With its enhanced aesthetics and thoughtful design choices, the Innokin T22 Pro not only impresses the eye but also delivers a seamless vaping experience that will make your transition away from smoking a smooth and enjoyable journey.
Features & Functions
The original T22 gained popularity for its impressive battery life, as its, 2000mAh capacity surpassed that of most MTL kits in its size category.
The T22 Pro takes battery capacity to a whole new level, boasting an astonishing maximum capacity of, 3000mAh! This significant increase in power is remarkable considering that it remains a starter kit. Thanks to its lower wattage range, you'll find that a fully charged battery can often last several days, providing an extended vaping experience.
In addition to the battery upgrade, the T22 Pro introduces a welcomed feature of power adjustment. A button located near the base of the device allows you to switch between four distinct power settings: 9.5W, 11W, 12.5W, and a powerful 13.5W option for those moments when you crave a burst of intense vapor satisfaction.
To further enhance convenience, the unit now incorporates a power control switch on the base, allowing you to deactivate the device completely instead of merely placing it on standby. This prevents accidental activation while in your pocket or bag and ensures that your battery won't drain unnecessarily when not in use.
Coils
The T18E coil has consistently proven to be exceptional over the years, offering flavorful vaping experiences with moderate vapor production. These coils are widely available in vape shops across Europe, ensuring easy access for vapers.
What's even better is that the T18 Pro tank remains fully compatible with the classic T18E coils. So, if you have any of these coils on hand, there's no need to dispose of them. Additionally, the device is also compatible with the Innokin M18 1.7ohm coil, originally designed for use with the M18 pod system. This compatibility adds versatility to the legacy of the T18 tank.
Installing coils with Innokin remains a straightforward process. Simply unscrew the base cap, remove the old coil, and insert the new one, aligning it with the fittings on the base. It's essential to let the fresh coil sit in vape juice for at least 5-10 minutes before use. This allows the cotton to saturate properly, preventing the risk of burning and coil damage.
How to Use
The T22 Pro remains a device that prioritizes simplicity and user-friendliness, ensuring that you are never overwhelmed by complicated menus or functions.
To activate the device, ensure that the base switch is set to 'ON,' and then simply tap the fire button five times. Adjusting the power output level can be done using the small button located above the charging port. Once you have selected your desired power level, press and hold the firing button while inhaling the vapor. Release the button after each inhalation.
Designed for MTL (mouth-to-lung) use, the Innokin T22 Pro is best suited for thinner, PG-based, and 50/50 vape juices. When using the device, it is recommended to draw the vapor into your mouth as you would with a cigarette, rather than inhaling directly into your lungs like you would with an inhaler.
When you are satisfied with your vaping session, tap the fire button another five times to put the device in standby mode, conserving your battery.
For additional assurance in preserving battery life, switch the power setting to 'OFF' on the base of the device.
Battery Life & Charging
As previously mentioned, the Innokin T22 Pro impresses with its remarkable 3000mAh internal battery capacity. With a fully charged battery, you can enjoy several days of usage, especially if you make it a habit to keep the device in standby mode when not in use.
Even in the unfortunate scenario of having an empty battery without a charge, there's no need to fret. The T22 Pro now incorporates a Type C charging port, which is significantly faster than the standard Micro USB charging method used in the past. With the improved charging speed, the T22 Pro can go from empty to full in less than 3 hours, ensuring that you rarely find yourself without your dependable vape companion.
Performance
The Innokin T22 Pro provides a satisfying vaping experience with moderate-sized puffs that closely mimic the sensation of smoking a cigarette. It excels at replicating the familiar experience without generating an excessive amount of vapor, ensuring a more socially acceptable and discreet vaping session.
The device's adjustable power setting is responsive and allows for quick adjustments. While the power settings do not offer a wide range, they provide enough flexibility to find your preferred power level. However, it's worth noting that the T22 Pro is not designed for high-wattage cloud chasing. Innokin has specifically crafted this kit for MTL (mouth-to-lung) vaping, prioritizing the replication of the cigarette experience rather than producing massive clouds of vapor.
FAQs
Is the Innokin T22 Pro beginner-friendly?
Yes, the Innokin T22 Pro is considered a beginner-friendly device. It features a simplistic design, easy installation of coils, and user-friendly operation, making it a suitable choice for those new to vaping.
Can I use different types of e-liquids with the Innokin T22 Pro?
The Innokin T22 Pro is designed for use with thinner, PG-centric, and 50/50 vape juices, typically used in MTL vaping. It is recommended to avoid using high-VG (vegetable glycerin) e-liquids, as they may not work optimally with this device.
Best Vape Wholesale Supplier-UPENDS
Experience the fascinating realm of Vape UPENDS, where creativity and fashion perfectly blend to invite you to go on an exciting vaping trip. We cordially invite you to become a part of our community, where a wealth of special deals are ready to turn your vaping into pure joy.
Our cutting-edge inventions, elegant designs, and painstaking attention to detail give us at Vape UPENDS great joy. Our talented artisans work with the utmost devotion to create flawless, breathtaking products that will captivate your senses. Every time you inhale, we work to arouse your sophisticated taste buds and arouse a feeling of enchantment that will leave you speechless at the wonderful experiences we have in store for you.
Our ultimate goal is to give you a remarkable vaping experience, and we are thrilled to start this life-altering adventure with you. So relax for a while and allow us to show you why Vape UPENDS is the best option for discerning customers that demand nothing less than the best. Get ready to enter a world where wonder, creativity, and fashion coexist peacefully to provide an experience that will fascinate you and leave you wanting more.