It is an exciting world full of fun, all sorts of fun, and luxuries that keep you looking forward to enjoying more every day. Vaping has formed a major part of what keeps people going even in tough times. There are modern ways of vaping that deliver you the best flavors you can find. This article takes you to the light of the most eminent vape device; the Doja Cat Vape.
What is Doja Cat Vape Pen?
If you are looking for a disposable vape pen that is suitable and easy to use, then the Doja Cat Vape pen is the best option for you. The device is perfect for beginning and expert vapers because it offers various features that make it easier to use. You will find this device useful because the Doja Cat Vape contains the same nicotine salts, just like the popular Doja Cat Pods in a disposable form.
 You will love how easy to utilize the device! You will only be required to inhale from the mouthpiece. The device is also powerful in that it will allow you to enjoy beyond 2000 puffs of your favorite flavor of salt-nicotine e-juice. The device comes with a 50m-nic that will help you fix it without any harsh chemical state or harsh throat hit.
The vape comes with a pre-charged battery and a pre-filled cartridge. Furthermore, it is a wonderful vape as it offers a ceramic coil technology feature to vaporize the e-liquid to give you the real taste out of every puff you take.
The device also offers you an outstanding vaping experience with intense and flavorful clouds for every puff you take. Because of its convenient utilization, you will fall in love with the device!
Specs
50 mg nicotine by weight
Each stick yields about 2000+ puffs
Salt-based nicotine
Pre-charged battery type
Fruity variable e-liquid flavor
Pros
It is pocket friendly
It is easy to use
It features variable flavors that you can choose from
It guarantees you a flavorful vaping experience
Cons
It is not rechargeable, and once completed, it is disposed of off
Doja Cat Plus Disposable Vape Flavors
Doja Cat Vape features different flavors that you can select from. Some of these flavors include;
Berry Mist - This flavor will offer you a realistic berry taste that you prefer
Strawberry Lemon mint - This flavor offers you a strawberry taste that you love and some traces of mint while inhaling.
Watermelon flavor - When vaping, this flavor offers you a real watermelon flavor that you love.
Battery life and charging
Like any other disposable vape, the Doja Cat Vape pen features a pre-charged battery that powers the device. The battery that comes with the device is powerful in that it will allow you to make all the maximum puffs without running out of charge.
If you are a beginner or expert and you prefer a disposable vape, the Doja Cat Vape pen is the best option because of its convenience and ease to use. The device features a battery that is not rechargeable hence eliminating the need for recharging. This feature makes it possible for you to start vaping immediately after purchasing the device and dispose of it after you have completed your maximum puffs or after the battery has run down.
Even though the device is disposable after completion, the battery that powers this device can offer adequate power that will give you a long-lasting and enjoyable vaping experience. This ensures that you enjoy different flavors without worrying about recharging the device.
After you have completed the e-liquid in the device, you can safely dispose of the device and purchase another device if you enjoyed the vaping experience of the previous device. Nevertheless, to minimize environmental implications, it is essential for you to follow proper disposal rules and regulations and also adhere to the local disposal guidelines.
Cost of Purchase
The cost of the Doja Cat Vape pen may differ, with some shops offering the device at lower costs while others offering the product at relatively higher prices. Nevertheless, you can purchase the device at an average cost of $12.25. This price makes the device to be considered to be a pocket-friendly disposable vape. Before making the purchase, you can often check how different shops sell these devices and choose the shop that will sell you the device at the most affordable price. With $12.25, you will be given a full package containing a Doja Cat Vape pen that is pre-filled with an e-juice of your favorite flavor, a 1.0 ohmic coil, and a pre-charged battery.
If you want to purchase the device from online vendors, consider checking additional costs such as customs duties and shipment fees. You need to note that after you have purchased the product, you will not be required to incur additional costs, such as maintenance costs.
Ease of Use
If you are a new vaper and you are looking for a vaping device that will offer you convenience and ease of utilization, then go for the Doja Cat Vape pen. The device will offer you a long-lasting and enjoyable vaping experience without struggle and without the necessity of having any experience in vaping.
The device is perfectly designed with a draw-activated system and a wonderful ergonomic mouthpiece. Doja Cat Vape pen does not feature complicated buttons like other devices, and immediately after you start making a puff, the device automatically activates the vaping. The only effort you are required to make when using the device is to place the ergonomic mouthpiece on your mouth and start making puffs, and the device will activate and make it ready for you to start vaping.
The device is also considered an easy-to-use disposable vape since it is pre-charged and pre-refilled. Because the device is pre-recharged, you are not required to recharge the device while using it. Also, because it is pre-refilled, you do not need to go through the inconveniences of refilling the device before starting vaping. The device comes with all tools that make it easy for you to start vaping instantly after purchasing it. The device can offer you up to 2000 puffs before the e-liquid is consumed.
General Performance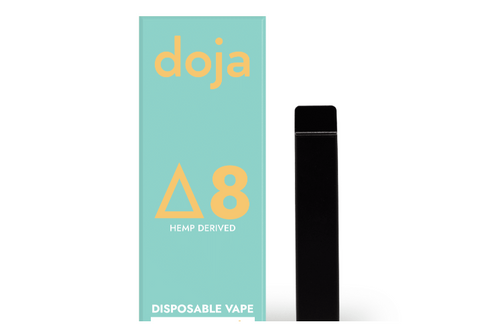 Doja Cat Vape pen has an excellent performance that is beyond most disposable vapes. The device features a 1.0 Ohmic coil that vaporizes the e-liquid. This heating element is the best because it offers the real flavor of the specific e-juice you prefer and provides dense clouds in every puff you make.
Furthermore, the Doja Cat Vape pen's high performance is facilitated by its draw-activated system, which is very sensitive to activating the device immediately after you start vaping. This sensitive feature is important because it detects when you stop making puffs and automatically shuts off the device to save on battery.
The battery of the device is designed in a manner that supplies the Doja Cat Vape with sufficient charge to help you enjoy a long-lasting vaping experience without running low. This implies that you make continuous puffs without the necessity of charging your device.
Frequently Asked Questions (FAQ)
How do I know that my device is depleted?
The Doja Cat Vape comes with a pre-filled e-liquid and pre-charged battery. These features are important because they allow for convenient utilization of the device. To know when the Doja Cat Vape is depleted, there are some specific indicators that you may look at. If the e-juice is completed, you may feel a burnt taste while vaping, indicating that the cartridge needs to be replaced. The second indicator to look at is the battery's response. You might try to take puffs when the battery runs down, but the Doja Cat Vape device may continuously fail to activate. If you see these two indicators, you know that the device is consumed and needs replacement to continue enjoying a satisfactory vaping experience.
What are some of the flavors that come with the Doja Cat Vape pen?
Doja Cat Vape pen offers you a wide range of flavors that will meet your different preferences and tastes. The vape is designed to mimic the traditional taste of tobacco. Also, the device has a flavor of cool menthol and fruity such as watermelon, berries, or mango. Finally, the vape will provide you with a refreshing mint flavor when you inhale. All these flavors aim to provide you with an enjoyable and satisfying vaping experience.
 Wholesale Vape Equipment Supplier; UPENDS
When it comes to sourcing wholesale vape equipment, UPENDS emerges as the premier alternative choice. This supplier presents a comprehensive range of vaping products that seamlessly address your wholesale needs. With a reputation for trustworthiness and forward-thinking solutions, UPENDS offers a diverse selection of vape equipment tailored to cater to your business requirements.
A standout offering from UPENDS is the UpBar Nano, a device designed to elevate your vaping experience. Boasting a substantial 2ml E-liquid Capacity, it ensures an ample reserve of your favored e-liquids. The 410mAh Capacity Battery extends usage periods, providing a reliable power source for uninterrupted vape sessions. Enhanced by a 1.3-ohm Resistance coil, the UpBar Nano delivers intensified flavor and vapor production, resulting in a deeply satisfying overall experience.
What truly sets the UpBar Nano apart is its groundbreaking FRESOR Integrated technology. This innovation is meticulously designed to optimize flavor production and maintain consistent performance. With each inhale, you're treated to indulgent and flavorful vapor, enhancing the enjoyment of your chosen e-liquids. The UpBar Nano's versatility extends further with its variable flavor options, enabling you to explore a diverse array of taste profiles that resonate with your preferences. Through its advanced features and cutting-edge technology, the UpBar Nano exemplifies UPENDS' steadfast dedication to delivering vape equipment of the highest caliber.