Disposable vapes, in particular, have gained widespread popularity due to their ease of use, affordability, and convenience. Among the different types of disposable vapes available in the market, fume disposable vapes have emerged as a popular choice for users.
In this article, we will dive into the world of fume disposable vapes, exploring what they are, how they work, and their advantages and disadvantages. Whether you are a seasoned user or someone who is just getting started, this article will provide you with valuable insights into the world of fume disposable vapes.
What Are Fume Disposable Vapes?
Fume vapes are disposable nicotine vapes that come pre-filled and are gaining popularity. They are made by QR Joy, a company based in Florida. Fume disposable vapes are known for their sleek and minimalist design, as well as their high-quality construction and user-friendliness. They require no additional setup and are ready to use as soon as you take them out of the packaging. Fume vapes come filled with nicotine salt e-liquid, with a strength of 5% or 50mg/mL.
Fume Disposable Vape Product Models
Fume Mini
The all-new Fume MINI disposable vape has been launched by Fume, a brand that consistently strives to innovate and offer new and exciting flavors with its popular disposable vapes. These Fume Mini Vapes have an upgraded airflow system that allows for larger hits with fewer pulls, as well as a higher concentration of flavor with each hit.
Featuring a cutting-edge mouthpiece design and a choice of 17 delicious flavors, this mini vape is both sleek and compact. Boasting a 400mAh non-rechargeable built-in battery, it is capable of delivering up to 1000 puffs.
With a 3ml prefilled pod of tasty e-liquid and a nicotine concentration of 5%, this draw-activated vape is easy to use, simply inhale from the mouthpiece to enjoy a satisfying throat hit. There are no buttons to press, and the device is ready to use right out of the box.
Features
1000 puffs
Box-style
3 mL illiquid capacity
5% nicotine salt
400 mAh battery
Non-rechargeable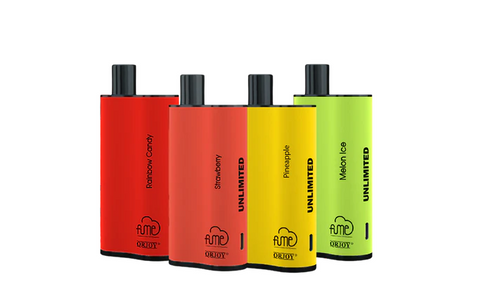 Fume Extra
The Fume Extra is the original and smallest disposable vape offered by Fume, priced between $12 and $14 per unit, with some retailers offering a slight discount on packs of ten. The available flavors are predominantly fruity, with most having a minty undertone, but there is also an option for those transitioning from traditional tobacco products with the Cuban tobacco flavor.
Fume Extra vapes are cost-effective, compact, lightweight, and discreet. They are convenient to carry around, and users can choose to bring multiple flavors with them for variety.
The bright colors of the vapes correspond to their respective flavors, eliminating any risk of confusion.
Features
1500 puffs
Pen-style
6 mL e-capacity
5% nicotine strength
850 mAh battery
Non-rechargeable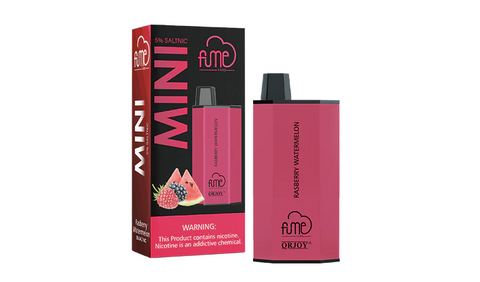 Fume Ultra
The Fume Ultra is the next level up in the brand's line of disposable vapes and boasts a larger capacity compared to the Fume Extra. Prices for this model vary greatly, so it's advisable to search around for the best deals. Although it can be found on sale for as low as $11, the average cost typically ranges between $13 and $17.
Fume's flavor selection is dynamic and may shift periodically. Past offerings have included flavors like lychee and apple, but currently, the range consists of 20 different options.
Features
2500 puffs
Pen-style
8 mL e-liquid
5% nicotine strength
1000 mAh battery
Non-rechargeable
Fume Infinity
The Infinity model is the largest disposable vape in Fume's product range, and also the newest one with a long-lasting battery. It is typically priced between $14 and $18, but some retailers offer discounts for bulk purchases.
Despite being a more recent addition to the lineup, the flavor options are similar to those available with the Extra and Ultra models.
The device is designed to comfortably fit in your hand with its contoured shape. It has a sturdy build quality, and the rubber coating provides a pleasant tactile sensation while holding it. Although it's slightly larger and heavier than the Extra and Ultra models, it remains portable and easy to carry around.
Features
3500 puffs
Box-style
12 mL illiquid
5% nicotine strength
1500 mAh battery
Non-rechargeable
Fume Unlimited
Fume family, the Fume UNLIMITED, is a disposable vape pod system device that comes pre-filled with a delicious e-liquid flavor. The device has a massive 14mL capacity that ensures a longer-lasting vaping experience, making it perfect for those who are always on the go.
Unlike the previous Fume INFINITY disposable, the Fume UNLIMITED is fully rechargeable, thanks to its USB-C rechargeable 400mAh built-in battery. With up to 7000 puffs per device, the Fume UNLIMITED offers unbeatable value for money.
Features
7000 puffs
Box-style
14 mL e-liquid
5% nicotine strength
400 mAh battery
Rechargeable with USB-C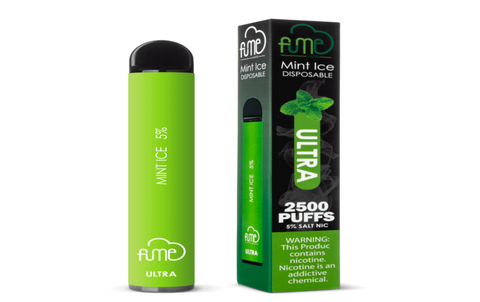 Fume Disposable Vape Best Flavors
Pineapple Ice Flavor
The Pineapple Ice flavor is an excellent choice for those who love menthol and its refreshing taste. The pineapple flavor is dominant on inhaling, and the menthol hit is mild but adds a perfect balance to the sweetness of the pineapple.
Tropical Fruit Flavor
Fume's Tropical Fruit flavor is ideal for those who love fruity flavors without one fruit overpowering the others. On the drawing, you get a taste of coconut and pineapple, followed by a subtle menthol finish that freshens up your mouth.
Fresh Vanilla
For those looking for dessert flavors, Fume's Fresh Vanilla is a popular option. The creamy flavor is similar to vanilla wafers, making it a hit with Fume enthusiasts.
Unlike other flavors, there is no cooling menthol in this one, making it a perfect choice for those who don't like minty tastes.
Purple Rain Flavor
Some Fume enthusiasts consider the purple rain flavor to be the best of the bunch. It incorporates the tastes of raspberries, blueberries, and blackberries, resulting in a delightful berry flavor.
It also has a sweetness that evokes memories of rainbow candy. Furthermore, it's a great alternative for individuals who don't like menthol.
Lush Ice Flavor
For individuals searching for a refreshing vape, Fume's popular Lush Ice is a great choice. It's Fume's version of the traditional watermelon-ice flavor, with a fresh mint aftertaste. The vape is smooth and simple to inhale, with a satisfying mouthfeel.
Blue Razz Flavor
The blue raspberry taste is a well-liked flavor across various vape brands. Fume's rendition of this classic recipe is brimming with tangy blue raspberry flavors, resulting in a tart and fruity taste.
Strawberry Banana
The strawberry banana flavor is a beloved fruit pairing that Fume has executed well, with just the right amount of sweetness from the strawberries and creaminess from the banana.
Cuban Tobacco
While not all users enjoy tobacco-flavored e-cigarettes, Fume's Cuban tobacco has garnered a following beyond just ex-smokers. It has a toasty taste with a subtle coconut undertone, and some even compare it to the flavor of Golden Graham's cereal.
FAQs About Fume Disposables
How Many Puffs Does A Fume Vape Have?
Fume offers five different models of disposable vape devices, with varying puff capacities ranging from 1000 to 7000 puffs. Regular users who use 5% nicotine usually take between 50 and 250 puffs per day. This means that depending on the model and the user's vaping habits, Fume vapes can last from a few days to several weeks before needing to be replaced.
Does Fume Vape Contain Nicotine?
The Extra, Ultra, and Infinity models of Fume vapes differ in the quantity of e-liquid used, leading to varying levels of nicotine content. The Extra model contains the least amount of e-liquid, resulting in the lowest total nicotine content, while the Ultra and Infinity models contain slightly higher amounts, with the Infinity having the highest.
However, all Fume vapes have the same concentration of 5% nicotine salts in their e-liquid, irrespective of the model selected. As a result, regardless of the model chosen, each puff will provide the same quantity of nicotine.
Best Vape Wholesale Supplier-UPENDS
Hello there and welcome to Vape UPENDS! We are absolutely thrilled to have you here with us in our fantastic world of passion and innovation. We can't wait to show you what we're all about!
Our mission is to provide you with an exceptional vaping experience that will blow your mind. We pride ourselves on designing visually stunning and cutting-edge vaping products that are not only sophisticated and charming but also perform beyond your expectations.
As a member of the Vape UPENDS family, you'll have access to our exclusive range of products that are guaranteed to leave your customers speechless and wanting more. We believe that our dedication to excellence and innovation sets us apart from the rest.
So, get ready to be swept away by our exhilarating journey as we explore the extraordinary world of Vape UPENDS together. We can't wait to share this incredible opportunity with you, and we're confident that you won't want to miss out. Let's dive in and see what amazing things we have in store for you!