If you're a fan of compact pod system vapes such as JUUL and STIG, then we have an exciting review for you today.
Introducing the Mojo Disposable Vape, an affordable and convenient vaping device created by MOJO US, based in Las Vegas, Nevada. Designed for smokers looking to transition or those seeking a hassle-free vaping experience, each device comes pre-charged and pre-filled with nic salt.
In this Mojo Disposable Pod review, we will cover all the essential information you need to know. Are you prepared to use your mojo now? To find out our conclusion, continue reading!
What Is Mojo Disposable Vape
The Mojo Disposable Vape is a type of vaping device that comes preloaded with a specific amount of e-liquid. It is designed to provide vapers with a similar number of puffs as they would get from smoking a whole pack of cigarettes. However, the Mojo offers a variety of delightful flavors to enhance the vaping experience.
What sets the Mojo apart is its use of concentrated nicotine salts, which are incorporated into the disposable vape pods. These nicotine salts aim to deliver the same level of satisfaction that smokers used to find in traditional cigarettes. The Mojo is available in two nicotine strengths: 50 mg and 20 mg, allowing users to choose the level that suits their nicotine preferences.
It is designed to be convenient and hassle-free. Each device comes with a fully charged 240mAh battery, eliminating the need for immediate charging. Users only need to take a draw to activate the device and enjoy the flavorful experience. Additionally, the Mojo requires no maintenance, making it a simple and easy-to-use vaping option.
What Is Inside The Box
Each Mojo Pod Device is thoughtfully presented in a compact and visually appealing box. The packaging prominently displays the flavor of the pod, ensuring that you are well-informed about your selection.
Upon opening the box, you will find the Mojo Pod securely sealed in a plastic package to maintain its freshness. The packaging design aligns with the specific flavor you have selected, adding a thematic touch. For instance, the "Cool Melon" packaging features charming melon illustrations, enhancing the overall visual appeal.
Features
All-in-One Device
Draw Activated
2ml E-Liquid Capacity
0% Nicotine Salt (50mg)
7 variety of flavors
Non-Refillable
Pre-Charged, Built-In Battery
250+ Puffs
Pros
Authentic flavors
User-friendly design
Comfortable mouthpiece
Color-coded flavors
Cons
Pricey assortment bundles
Why Choose Mojo Disposable Vape
Design & Build Quality
The Mojo Disposable Vape impresses with its sleek and compact design, making it a perfect choice for users who prefer a discreet and portable vaping device. The device comes neatly packaged in a small and visually appealing box, with the flavor prominently displayed on the front, allowing users to easily identify their preferred flavor.
The device itself is well-constructed and feels solid in hand, showcasing a durable build quality. Its compact size makes it convenient to carry around and fits comfortably in the palm of your hand.
Performance & Vapor Quality
When it comes to performance, it delivers a consistent and satisfying vaping experience. Because the device is draw-activated, there are no buttons or difficult settings required. Simply take a draw, and the device will activate, producing smooth and flavorful vapor.
The draw is smooth and comfortable, providing a satisfying throat hit that closely mimics the sensation of smoking a traditional cigarette. The vapor production is impressive, creating dense clouds of vapor that enhance the overall vaping experience.
Flavor Profiles
The Mojo Disposable Vape offers a wide range of flavors to choose from. With seven delicious options available, vapers can enjoy a variety of taste experiences. Each flavor is carefully crafted to provide an authentic and enjoyable vaping session.
Whether you prefer the refreshing Cool Melon, tropical Ice Pineapple, robust Classic Tobacco, sweet Lemon Dessert, invigorating Menthol, tasty Strawberry, or bold Cubano, Mojo has a flavor for everyone. Each flavor is well-balanced and delivers a burst of delightful taste, ensuring users can enjoy their favorite flavors throughout the day.
Mojo Disposable Vape Flavors Review
Cool Melon
The Mojo Disposable Vape in Cool Melon flavor offers a refreshing and delightful fruit experience, reminiscent of freshly cut honeydew. The accuracy of this flavor is truly amazing, as it captures the authentic taste of honeydew melon, delivering a burst of juicy sweetness with every puff. It's the perfect choice for a cool and refreshing vape, particularly enjoyable during hot weather or when you're in the mood for a fruity indulgence.
Ice Pineapple
Indulge in the tropical delight of Ice Pineapple, where the combination of menthol and pineapple creates a refreshing and invigorating vaping experience. The menthol brings a cooling sensation that nicely complements the sweet, tangy flavor of pineapple. Each draw provides a balanced blend of icy freshness and tropical fruitiness, leaving you feeling refreshed and satisfied.
Classic Tobacco
Designed for those who crave the taste of real tobacco without the need to smoke, the Classic Tobacco flavor in the Mojo Disposable Vape accurately captures the essence of Turkish tobacco. It successfully recreates the robust and rich flavor of traditional cigarettes, providing a satisfying alternative for tobacco enthusiasts. Each puff delivers a familiar and satisfying tobacco taste, allowing you to enjoy the sensation without the harmful effects of combustion.
Lemon Dessert
Satisfy your sweet tooth with the Lemon Dessert flavor in the Mojo Disposable Vape. This delightful blend combines the flavors of yellow cake infused with sweet and sour lemon. With hints of vanilla and a tangy lemon twist, this flavor replicates the indulgent taste of a lemon-infused dessert. It should satisfy the cravings of anyone wanting a sugary vaping session, providing a mouthwatering and satisfying experience.
Menthol
Experience the invigorating and icy sensation of Menthol flavor in the Mojo Disposable Vape. This flavor combines the coolness of spearmint and menthol, delivering a refreshing and revitalizing vaping experience. Each draw provides a burst of minty freshness that awakens your senses and leaves a pleasantly cool feeling in your throat. It's the perfect choice for menthol lovers or those seeking a refreshing and invigorating vape.
Strawberry
Enjoy the timeless and irresistible taste of strawberries with the Mojo Disposable Vape in Strawberry flavor. This flavor captures the essence of juicy and ripe strawberries, delivering a burst of fruity sweetness with each puff. It's a highly satisfying choice for strawberry lovers, providing an authentic and mouthwatering vaping experience that leaves you craving for more.
Cubano
Indulge in the rich and robust flavor of Cubano in the Mojo Disposable Vape. This flavor is perfect for cigar enthusiasts who want to enjoy the taste without the need to smoke cigars. The Mojo Cubano flavor replicates the essence of a Cuban cigar, providing a satisfying vaping experience that satisfies even the strongest cravings. Each draw offers a bold and complex blend of earthy and smoky notes, creating a distinct flavor profile that captures the essence of a fine cigar.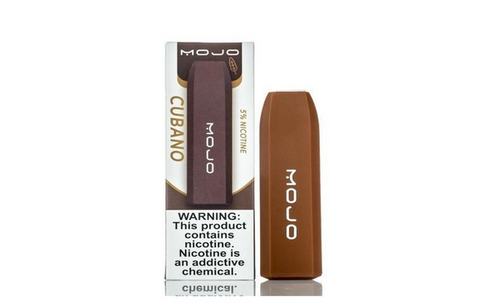 Peach
Mojo Peach is a disposable vape pod that guarantees a delightful experience from the moment you take your first puff to the very last. It offers the juicy and irresistible flavor of ripe southern peaches, leaving your taste buds in a state of bliss. The authenticity of this flavor is so remarkable that you might even check your mouth to ensure it's not dripping with juice.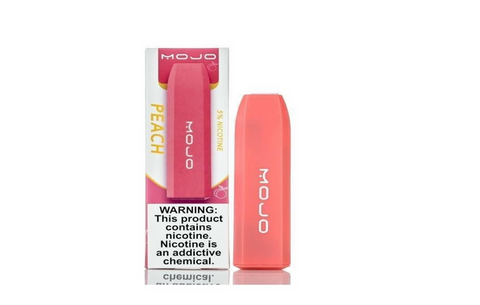 FAQs About Mojo Disposable Vape
Are Mojo Disposable Vape Pods suitable for experienced vapers?
Yes, experienced vapers can also enjoy Mojo Disposable Vape pods as a convenient and portable option for on-the-go vaping or as a backup device. Different preferences are catered for by the variety of flavors and nicotine levels.
How long does the battery last in Mojo Disposable Vape?
Each Mojo Disposable Vape device comes with a fully charged 240mAh battery. The battery life can vary depending on usage, but it is designed to provide sufficient power for the duration of the pod's e-liquid capacity.
Best Vape Wholesale Supplier-UPENDS
Welcome to Vape UPENDS' enthralling world, where the ideal fusion of innovation and design will transport you on an amazing and enchanted vaping adventure. Our state-of-the-art technologies, sophisticated designs, and thorough attention to even the smallest details will astound you.
As a valued member of our community, you'll have access to a range of premium products that will take your vaping pleasure to new heights. Our group of talented artisans devotes their entire lives to creating perfect and beautiful equipment. We want to leave you in the wonder of the stunning experiences we have in store for you by arousing your sophisticated taste senses and igniting a sense of enchantment with each breath you take.
Our ultimate goal is to provide you with an exceptional vaping experience, and we are delighted to embark on this incredible journey with you. So, unwind for a while and allow us to show you why Vape UPENDS is the ideal option for discerning customers that expect nothing less than the best. Prepare to enter a world where creativity, fashion, and awe combine to create an experience that will capture you and leave you wanting more.