Disposable vapes are ruling the vaping world by providing a quick, simple, and hassle-free alternative to cigarette smoking. They are also affordable, with many brands offering a wide range of vape products and accessories. Though there are many pros of disposable vapes, there are some cons to be mindful of too.
In this guide, we'll discuss disposable vape pods and what makes them a popular choice among vapers…
What are disposable vape pods?
Pod vapes or pod kits are generally low-powered vape kits that use a disposable pod, not a tank. Closed pod kits and open pod kits are the two main forms of pod systems. They are usually compact devices that are pre-filled with e-liquid. The disposable ones also come pre-charged.
A pod vaping system is a rechargeable and refillable device and requires a little setup. However, the disposable ones come ready to use and do not have too many buttons or complicated settings. These devices are growing in popularity as they offer so much more flexibility than other devices.
Let's discuss the two forms of vape pods…
A closed pod system uses pre-filled vape pods and features integrated coils. They cannot be pre-filled with any other e-liquid as they are a closed system. That's why they are more suitable for vape beginners who don't want to deal with complex processes.
Open pod kits come with empty pods that you can fill with your favorite e-liquid. Once the e-juice runs out, you can refill the tank, either with the same flavor or a different one. Some of these devices come with fixed coils while others give you the option to change the coils.
Unlike tanks, vape pods are easy to maintain and save money in the long run. They are simple yet functional devices with features like adjustable airflow, more power, the capability of taking sub-ohm coils, and more.
What are the advantages of using disposable vape pods? 
To help you fully weigh up your options, we've listed the benefits of using disposable vape pods. Here we go…
The Pros…
Flexibility of Choice
Using disposable vape pods doesn't restrict you to one hardware as they are designed for short-term use and you can buy a new one from a different brand. There are so many different types of vape pods available in the market and also a huge variety of flavors. If you want to experience something different with every vape, a disposable device can be a perfect pick.
Convenient and Portable
By far, a disposable vape pod is more portable and can easily be carried around in your bag or pocket. This makes it a travel-friendly and convenient vaping alternative. Once you use it, you can toss it away, and get a new one. Moreover, these devices are very slender which means they can fit into tight spaces, making them an ideal choice for travelers.
Less Time-Consuming
The disposable vape pods do not require refilling or recharging and that's why consume less time. Also, you do not have to worry about cleaning your vape pod especially when you're traveling. The disposables are designed to make you free from all the maintenance hassle and enjoy your favorite e-juice flavor in peace.
The Cons…
Less Environmentally Friendly
The disposable vape pods are not eco-friendly because they are used for one-time use and need to be discarded once finished. One of the biggest problems while using these devices is figuring out how to dispose of them responsibly. A disposable device may have components made from plastics and therefore, shouldn't be just thrown away in standard household trash.
An Expensive Alternative
Buying new disposable vape pods all over again after finishing the last one can be pretty heavy on your pocket. As these devices cannot be refilled with e-juice or used for months, you have to replace them with a new one over a shorter period.
Limited Options
Created to be disposable, these devices are available in some standard e-liquid flavors. On the other hand, vape pod kits are available in a huge variety of flavors. Also, with disposable, you never know how long the battery will last.
What is the difference between disposable pods and disposable vapes? 
Disposable Pods and Disposable Vapes are two different things. Yes, you read that right. All of the differences between these two devices lie in the way they work.
First, what is a disposable vape? It is a device that comes fully charged and filled with e-liquid which means they are ready to use straight from the package. All you have to do is remove it from the package and start vaping. These vapes aren't designed to be recharged or refilled which means the vape juice it comes with is all the e-liquid the device will ever have.
Coming to the vape pods, most of these are rechargeable and refillable devices which means they cannot be used right from the package. To use a pod system, you will need to do a little setup such as beginning by charging the battery, filling the pod with e-liquid, and doing some settings. However, the disposable vape pods are designed to be used right from the package.
Although vaping experience is almost the same whether you're using a vape mod or a disposable vape, the maintenance aspects make them completely different. The disposable vape devices require no maintenance as no refilling or recharging is required. On the other hand, regular vape pods may need some sort of maintenance.
5 Best Disposable Vape Pods of 2023
Elf Bar 5000: It is the longest-lasting vape bar powered by a 650 mAh battery that is rechargeable via a USB Type C. It features 13mL pre-filled juice capacity and can deliver around 5000 puffs. It has a dual coil for enhanced performance but can be a bit larger as compared to other vape pods. Also, the device is available in many different flavors. 

IVG Bar: This device is known for offering great flavors but there's a slight difference between the original bar and the latest one. It features a pocket-friendly design, a long-lasting battery, and 20mg nic salt. It is designed to provide a full day of pretty heavy vaping and one of the longest-lasting disposable vapes.

Zovoo Dragbar 5000: The vape bar is extremely popular as the two-tone bottle-shaped design is liked by many vapers. It features an internal 630 mAh battery that is rechargeable via USB Type-C and a 13mL pre-filled e-juice. It is designed to deliver around 5000 puffs per bar and also provide some great flavor but there could be more of them.
Lost Vape Orion Bar 7500: It is one of the most popular disposable vapes as it comes pre-filled with a huge 18mL of e-juice. The device is powered by a 650mAh battery that can be recharged via USB-C. It is designed to deliver around 7500 puffs and comes in some fantastic flavors. Also, it has adjustable airflow and provides a super smooth draw. 
Epuffer Xpod Mini
: This is one of the best disposable tobacco flavors and they come in packs of three. These vape pods are designed for vapers who are looking for tobacco vape rather than those fruity flavors. The devices are available in three nic strengths including 0mg, 12mg, and 20mg. It provides up to 500 puffs and is compact enough to fit your pocket. Apart from the discussed ones, there are many disposable vape pods out there that you can consider as per your taste and other preferences.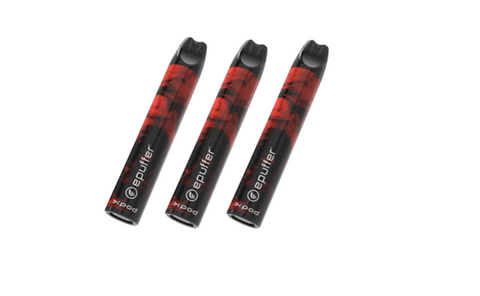 FAQ about disposable vape pods
Are disposable vape pods safe?
The disposable vape pods are safe just like any other vape device.
How long does a disposable vape pod last?
A vape pod is designed to last around 4-5 days but the duration will depend on how frequently you vape.
Are there any disadvantages of disposable vape pods?
Most disposable vape pods support a 2mL e-liquid capacity which means the juice will run out in just a few days and the device needs to be discarded.
Are Disposable Vape Pods worth buying?
Disposable vape pods are compact, easy to use, and have many options of e-liquid along with more features and settings options.
Are there any side effects of vaping?
Prolonged vaping or addiction may lead to coughing, headaches, dry mouth & throat, shortness of breath, mouth and throat irritation, etc.
How many puffs can I get from a disposable vape pod?
It will depend on the quantity of e-liquid like a 10mL of e-juice can give approximately 3000 puffs.
How do pods in vapes work?
The battery-operated vaping device has pods and when air is drawn via the mouthpiece, it activates the heating process which turns the e-liquid to vapor.
UPENDS: Best Platform for Wholesale Vapes
Whether you're choosing your first vaping product or you already vape, the myriad of options available can be a big challenge. It makes it difficult to choose the most suitable product as you may get confused. The best way to tackle this problem is by finding a reliable platform to buy vape products.
UPENDS brand is one of the most reputed and well-known names in the vaping world and offers an incredible variety of vaping products. The products include Disposable Aapes, Pod Systems, Pod Mods, and Accessories. All products are tested for quality and made from eco-friendly materials.
The company has a global presence and plans to reach a wider audience. For this, it welcomes vape distributors, agents, and wholesalers at different locations. If you want to partner with UPENDS and meet the requirements, get in touch for further details.