If you have been a vaper for some time, you might be one of those who want to transition to the no-nicotine zone, and that's fine. Also, it's acceptable if you're a newbie and would prefer to start with disposable e-cigarettes with no nicotine.
This article will tell you what you need to know about brands whose products are nicotine-free and why they can be considered in your newfound quest.
Upends UpBar RS (0% nicotine)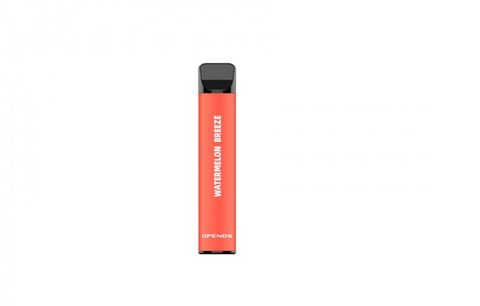 Upends is one of the leading e-cigarette production companies whose products offer pure natural contents with extremely quality-based devices. The brand is in the market to satisfy vapers of all experience levels with its unmatched precision. Speaking of disposable e-cigarettes with no nicotine, the Upends UpBar RS (0% nicotine) is here to stay!
The UpBAR RS is, interestingly, the latest wonder from UPENDS. This vape pen is a pre-filled 2 mL distillate with no nicotine. Its effects are still psychoactive and as satisfying as ever!
Featuring 600 puffs of iconic smacks, from its tasty, trippy Apple Ice flavor to its juicy Watermelon Cantaloupe strain, this device will grease your taste buds while giving you a mild buzz.
Features:
Prefilled 2ml e-liquid
Contains 0mg nicotine strength
Built-in 400mAh battery (pre-charged)
Delivers up to 600 puffs
Flavor profile:
Apple Ice: this flavor is a blend of crunchy green apples with a blush of cool ice.
Apple Guava: it combines the vivid smack of crunchy apples with the mild fruity taste of guava.
Banana Ice: a creamy blend of banana haze with a soft ice finish.
Blueberry Ice: this smack combines the great tasty strain of blueberries with a moderate touch of ice.
Blue Raspberry: this smack is a nicely meted ice-cold taste of a juicy blue slush puppy.
Cola Ice: a mouthwatering blend of ice-cold cola with a fine icy finish.
Cranberry Grape: a sweet-sour blend of cranberry in combination with the mild fruity taste of grapes.
Ice Mint: this smack delivers the delicious icy taste of candid cool menthol.
Kiwi Passion Guava: this flavor gives an entirely natural buzz with its tropical combination of kiwi, passion fruit, and guava.
Mango Ice: this flavor is a sweet soft mango contraction with an icy touch.
Orange Ice: a fruity, juicy orange smack with a fine frosty finish.
Passion Fruit: this flavor is a typical tropical taste of passion fruit blend.
Peach Ice: the peach ice flavor is simply a subtle peach taste in combination with ice.
Raspberry Lemon Ice: this strain is a classic fresh combination of raspberries, the juicy sour taste of lemon, and a touch of ice.
Strawberry Ice: this flavor is a perfect mix of sweet, creamy strawberries and ice, best for summer.
Tobacco: a smooth blend of the typical aromatic taste of tobacco.
Watermelon Breeze: this is a nicely meted summery blend of fruity watermelon smack and a fresh hint of ice.
Watermelon Cantaloupe: this is a smooth blend of a tropical watermelon smack and the natural taste of Cantaloupe melon.
Elfbar BC5000
Elfbar is another unique cannabis processing brand with highly effective blends of trippy compounds. It is also known for its ultra-potent disposable e-cigarettes with no nicotine, making waves in the cannabis community.
The launch of Elfbar's 0mg disposable was beyond expectations and satisfying to vapers who love the brand and want to reduce their nicotine intake; it doubles the love for Elfbar! Vapers retain their chosen Elfbar experience without sticking with nicotine-infused vapes mandatorily.
The BC5000 features a 13-ml prefilled e-juice that delivers up to 5000 nicotine-free puffs. This series of the brand's disposables is a state-of-the-art improvement. It comes with an integrated 650 mAh battery that is pre-charged and can be recharged via its USB-C port.
The flavors in this Elfbar's vape series are twice as delicious! A collection of excellent strains and perfectly blended blasts to give you just exactly what you desire. From the Rainbow Candy to the Watermelon Ice and Cranberry Grape, each will bring you clean vaping experiences.
Flavors:
Blue Razz
Cranberry Grape
Kiwi Passion Fruit Guava
Peach Mango Watermelon
Rainbow Candy
Strawberry Kiwi
Strawberry Mango
Tropical Rainbow Blast
Watermelon Ice
Strawberry Banana
Features:
Prefilled 13ml capacity
650mAh built-in battery
Up to 5000 puffs
0% nicotine strength
Draw-Activated vaping method
Mesh Coil heating process
USB type-C charging port
Vaportech Cube Zero
Cube Zero is also on the list of disposable e-cigarettes with no nicotine that deliver great punches and an energizing buzz. The 11-ml prefilled e-juice contains completely zero nicotine strength and, in all its glory, shows 3000 puffs!
The device is aesthetically structured with an integrated, pre-charged battery that gives long-lasting vaping and an unmatched aftertaste experience. It has an adjustable airflow pattern that regulates the velocity of your vaping experience and gives you streamlined throat hits. The clouds it emits are pretty cool, with fruity scents that stick around long enough throughout your day.
The flavors of this edition of the Vaportech Cube device will blow your mind. As is known, the sweetness and smooth blend of typical fruit strains are the core of a great vaping device. Cube Zero epitomizes The Tropic, Coffee, Strawnana, Red Apple, Summer Menthol, Melonerry, Slushy, Wildberry, Nirvana, and Dragonade, and they will get you ripped in no time! The only likely issue is choosing one favorite if you are new to these flavors.
Features:
11ml e-juice capacity
Adjustable airflow
Integrated battery
3000 puffs
0% nicotine strength
Mouth-to-lung buzz
Pros
It is disposable
A collection of trippy flavors
Long-lasting
Rechargeable
Cons
Uwell Whirl S2
One of Uwell's disposable e-cigarettes with no nicotine, the Whirl S2, is state-of-the-art. A simple, stylish pod kit with essential features that does twice as well for vapers of all experience levels. It brings you a whole vaping experience with 0% nicotine strength and a dual coil heating process!
The Unwell Whirl S2 is a good deal for everyone, with an easy-to-use layout and straight-to-the-point buzzing strains. It has a 900 mAh battery capacity and six attractive color variations.
The bar is sleek and pocket-friendly, comes in various flavors, and has adjustable airflow. It can be recharged via the USB Type-C charging port that comes with it, and its battery is sure to last long, delivering a high-quality mouth-to-lung buzz.
It features a refillable 2 ml pod tank perfect for higher-strength salt-nic or freebase nicotine liquids, so your e-juice can be customized to fit your choice.
The disposable also has an LED light indicator that blinks when the battery is low or when you're vaping. It comes with a power button, hence not draw-activated.
Features:
Sleek Pod Kit
mouth-to-lung buzzing
900mAh Built-in Battery
Button Activated
Refillable 2ml Pod
Mesh Build Coils
Pros
Rechargeable
Refillable
Disposable
Led light indicator
USB type-c charging port
Cons
FAQ
Does 0 mg mean nicotine-free?
A vape product with a 0 mg label has no nicotine and is therefore deemed nicotine-free.
Will vaping without nicotine give me a buzz?
Compared to smoking or using nicotine-containing vaping products, vaping without nicotine won't give you the same high or rush. Despite that, disposable e-cigarettes with no nicotine may still have an energizing effect, but not because of nicotine.
What are the side effects of disposable e-cigarettes with no nicotine?
Although we can't be sure, the risks of vaping without nicotine are probably relatively low. There hasn't been any research associating zero-mg e-liquids with adverse effects. Some people who vape excessively may develop minor adverse effects like thirst or dry mouth, which are easily treatable.
Can non-nicotine vapes be addictive?
The absence of nicotine makes non-nicotine vapes less addictive than regular vapes. However, there could also be an addiction to the vaping experience and other components in non-nicotine disposables.
Do non-nicotine vapes have adverse health effects?
Disposable e-cigarettes with no nicotine may have slight health risks but are still safer than smoking traditional tobacco. Some flavorings in vape juice may pose health risks, but most brands don't use them.
It is advisable to check the ingredients of your vape juice to avoid excessive flavoring. Carefully choose reputable brands while making your quest for a new vaping experience.
UPENDS: Your Partner in Safe and Affordable Vaping
UPENDS is a leading e-cigarette company that offers premium vaporizers worldwide. Our efficient production staff and extensive brewing system prioritize customer satisfaction with affordable and elegantly finished products.
We continuously update our brand list for safe and healthy vaping options. Contact us if you are a licensed broker, wholesaler, or retailer interested in working with us.